RTS CALL FOR ACTION
March 15, 2021
"Not everybody wants to vote, and if somebody is uninterested in voting, that probably means that they're totally uninformed on the issues. Quantity is important, but we have to look at the quality of votes, as well".
Rep. John Kavanaugh, R-LD23
The following is excerpted from the Civic Engagement Beyond Voting 3/14//21 newsletter:
Click HERE for the Legislature Weekly.
I've been thinking this week—is voting a RIGHT or a PRIVILEGE? If it's a right for American citizens, it is inherently granted and we should be able to opt-out (presumably by not voting); if it's a privilege, we must earn it and need to opt in (by registering, for example).
It appears that Rep Kavanagh agrees with the philosophy that voting isn't a right, but "something that only the right people should do," as historian and Columbia University professor Eric Foner put it in this 2012 article in the Atlantic by Garrett Epps. "That same panic is loose today in a number of state capitals, as the population grows less white, less Anglophone, and less Christian. "Real" Americans…are afraid of being swamped by ethnic, religious, and racial "minorities."
Assaults on voting rights aren't new in 2021, and aren't just recently prompted by fears of fraud. But the Arizona Legislature in 2021 has been gaining national notoriety for the number of voter-suppression bills and their incredibly flimsy connection to actual fraud prevention. Extra envelopes, purge of the Permanent Early Voting List, shortened mailing days, mailing original ID's along with the ballot, making it a felony to send a voter registration form to someone who didn't request it—the "solutions" to non-existent problems are ludicrous.
******************
Question: How much longer is Request to Speak active?
Answer: RTS is not eternal. In fact, the last day for bills to be heard in committees in the crossover house is March 26. So, for the most part, RTS, testifying for or against bills, and entering comments for legislators to see will no longer be available after March 26 since there are no more committee agendas.
Yes, we said "for the most part." You can still enter an RTS through "My Bill Positions" (how-to video HERE). However our calls to action after March 26 will be largely phone calls to your legislators.
Senator Karen Fann kfann@azleg.gov 602-926-5874
Rep. Judy Burges jburges@azleg.gov 602-926-3256
Rep. Qwang Nguyen qnguyen@azleg.gov (602) 926-3258
AZ is getting $8 billon from the American Rescue Plan – let's see what they do with it!
No matter what programs or directives are passed in the Legislature, they don't exist unless they're paid for in the budget. We are currently in the "Fog of Secrecy" part of the budget process. Since both houses of the Legislature are tilted by a single vote, and every single legislator has a pet project or priority, various coalitions are possible. Often the budget bills are released and rushed through votes in the dead of night. Stay tuned.
RTS HAPPY HOUR
Join Civic Engagement Beyond Voting for virtual Happy Hour:
Pre-register HERE
Sunday March 21, 4-6 pm

******************
The Sierra Club website has a Legislative tab for environmental issues.
https://www.sierraclub.org/arizona/2021-legislative-updates
******************
SOSAZ No. AZ
Support SB1558 Oppose SCR1024, SB1452 & SB1105
Read bill details and call and email the
House Ways & Means Committee all details are here: Full SOSAZ Weekly Education Report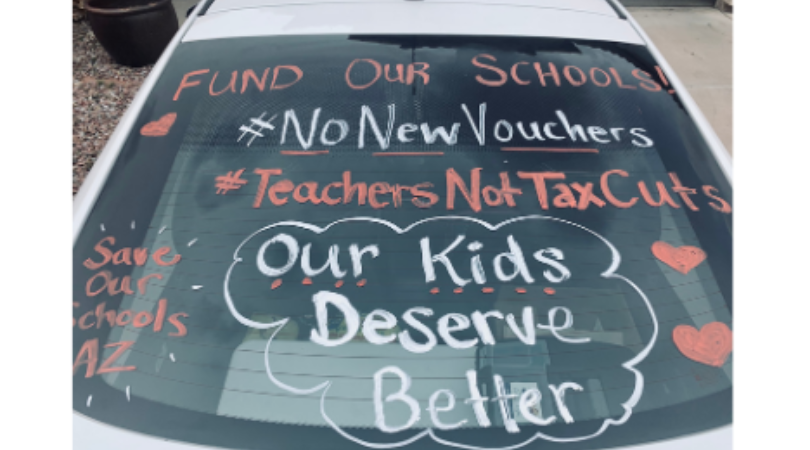 Nicky and Kari are leading a group to go down to Phoenix and greet the lawmakers with coffee and donuts on Wed. March 17. The plan for the day is to stay on site at the Capitol til 11, and try to meet with our LD 1 Reps. The statewide car parade starts at 3. Signage is support of schools: "I love my rural schools", "LD 1 supports their public schools", #NoNewVouchers". Anyone that would like to participate can
call or text 928.899.4388.
Support them and their efforts! Update on the Filibuster–Call/Text Sinema
This archaic Senate rule has become a brick wall for progress on immigration reform, gun safety, and now voting rights. Many policies heavily favored by the majority of Americans of all political stripes fail to progress because a single Senator can object. It's time for the filibuster to go!
The US House and Senate could pass the John Lewis Voting Rights Advancement Act, which updates the Voting Rights Act, and the For the People Act, which includes a broad range of democracy reforms, including clean elections, election security, ethics, gerrymandering, campaign finance reform, automatic voter registration, and other broadly popular changes.

We need to let Sen Sinema know that voting rights at home are undergoing an unprecedented assault. Take these easy actions today!
CALL HER NOW—CLICK HERE
EMAIL HER NOW—CLICK HERE
TWEET—CLICK HERE
WRITE A LETTER TO THE EDITOR HERE
MAKE YOUR OWN VIDEO—CLICK HERE
Start a discussion on:
TWITTER @IndivisPrescott
Facebook (Public page) /Facebook (Closed group)
prescottindivisible.org
Info@prescottindivisible.org
Prescott Indivisible on YouTube
---
DemCast is an advocacy-based 501(c)4 nonprofit. We have made the decision to build a media site free of outside influence. There are no ads. We do not get paid for clicks. If you appreciate our content, please consider a small monthly donation.
---