Prescott Indivisible AZ Legislature Updates & More 

May 17, 2021

Looking for your niche? Help Indivisible grow and bring back information to Prescott Indivisible by joining one of these statewide calls.
One of the editors of this weekly Legislative Update is a member of the Indivisible statewide Redistricting Team, as are many others. She states, "This has been an opportunity to connect and contribute to the Indivisible Redistricting effort with other dedicated people from around the state. You not only learn about the subject at hand, but have the chance to find out what other groups are doing."
Please complete the Indivisible census – this is how we determine where/what to focus on in the upcoming years. National Indivisible is excited to work with Dr. Dana Fisher, a prominent researcher on American political movements, and her team at the University of Maryland to launch the 2021 Indivisible Census, and we're asking you to participate. Please click here and take a few minutes to complete the Indivisible Census today.
You might find this of interest – The Yavapai County Democratic Party Monthly Meeting on Thurs., May 13 featured Arizona State Legislature Representatives Athena Salman and Judy Schwiebert. The PEVL purge law that Gov. Ducey signed on May 11 was discussed. It strikes at the heart of our freedom to vote & threatens our civil rights. Salman cited an article in Mother Jones with a leaked video showing the Heritage Foundation's Executive Director explaining how they are writing and influencing voter suppression laws. Click HERE to read about the YavDem meeting and watch the leaked video.
Donna Michaels, Yavapai Co. Board of Supervisors District 3 is inviting all of us to be as engaged as possible in the budgeting process. The next big milestone ahead is the scheduled June 30th vote to adopt a tentative budget. Please read "Supervisor on the Go" and sign up for updates. Feel free to contact her office with your thoughts – on this or any other issue.
AZ LegislatIve Updates
Read this week's edition of the Arizona Legislature Weekly Update
and what you can do to help HERE!
Monday marks Day 127 of what's supposed to be a 100-day legislative session, and we're all waiting on a budget. Both the House and Senate adjourned for a couple days this week to hold small group meetings, but came to no agreement.
The holdup centers on two things. First, Arizona is facing an unprecedented surplus. Any time there's extra money, everybody wants to spend some, making agreements more difficult. Second, lawmakers just can't agree on how much money to give away in taxes. House Republicans insist they have the votes to pass a flat tax proposal which would cut over $1 billion from state revenues, but that proposal is dead on arrival in the Senate. Until the House sees reason, there will be no budget.
     Budget talks have not stopped lawmakers from pushing bad bills through. Last week, Gov. Ducey signed the vote-by-mail purge bill SB1485 into law, less than an hour after it passed out of the legislature. (But that's not the end; court cases are a certainty, and we've heard rumors of a referendum or initiative. Stay tuned.)  And long-stuck bills on contentious topics like voting rights, school vouchers, sex ed and more are showing signs of life. As long as the Legislature is in session, we've got to continue making our voices heard, to help keep our state and everyone in it safe. (Reprinted courtesy of the AZ Legislature Weekly Update, Civic Engagement Beyond Voting).
THE CONTINUED FIGHT FOR PUBLIC EDUCATION
Read the Full SOSAZ Weekly Education Report
Join the SOSAZ Community Action Team tonight, May 16 at 6:30pm
Zoom in – 826 3852 4553 Passcode: 792437
Nicky Indicavitch and Kari Hull, No. AZ Outreach Coordinators
Contact:
Gov. Doug Ducey 602-542-4331 Twitter – @dougducey
Sen. Karen Fann kfann@azleg.gov 602-926-5874
Rep. Judy Burges jburges@azleg.gov 602-926-3256
Rep. Qwang Nguyen qnguyen@azleg.gov 602-926-3258Massive ESA voucher expansion bill SB1452 is no longer stalled. This past week it was brought before House Rules, where lawmakers discussed whether a bill to expand vouchers would violate the will of Arizona voters (who just rejected a massive voucher expansion in 2018 via Prop 305). It was approved by a 4-3 vote. After Rules, SB1452 could have been advanced to a floor vote, but that didn't happen, which indicates the bill currently lacks the votes to pass. However, the bill's sponsor, Paul Boyer, is unwilling to give up. The expansion could get wrapped into budget negotiations and passed as the price of his vote. Help keep it dead: use SOS Arizona's easy one-click tool and contact your lawmakers in one minute flat to ask them to stay strongly opposed.
Contact Sen. Karen Fann and ask her to oppose HB2035. It is now a double opt-in mandate for sex education, banning age-appropriate sex ed before 5th grade, and bans discussing gender identity and expression without parental consent. It would also require an opt-in for any teacher in any class to discuss something of a sexual nature, even Romeo and Juliet or the Supreme Court ruling that legalized same-sex marriage. How are teachers supposed to do their jobs if they're afraid of running afoul of the Legislature every time they crack open Pride and Prejudice? This is the wrong direction for our state. Prominent powerful social conservative group Center for Arizona Policy says they worked with the governor's office to address his concerns before reintroducing this measure, so there's a chance this measure could pass — Senate leadership continues to push it forward, so all the more reason to contact Fann.
SB1452 – massive ESA voucher expansion – see above, contact Sen. Fann.
SB1532 – now contains a surprise floor amendment to ban classroom discussion of "controversial" issues like racism and fine teachers $5,000–awaits a Senate final vote. Contact Sen. Fann.
SB1783 – tax cut designed to attack Prop 208 – passed the Senate and the House Ways & Means Cte – ready for a House floor vote. Call and email Burges & Nguyen.
HB2427 – contains a striker reviving SB1685 to create open enrollment / forced attendance lotteries – awaits a final Senate vote (Call Sen Fann)
SB1280 – contains a striker reviving SB1683 to create "transportation support grants" for choice academies, including untested and unregulated private companies, even though charter schools already receive additional funding for transportation – awaits House Rules
SB1041 – STO voucher expansion – passed the full Senate and House Ways & Means on party lines, awaits House Rules
SB1118 – STO voucher expansion – passed the full Senate and House Ways & Means on party lines, awaits House Rules
SB1273 – STO voucher expansion – passed the Senate and House Ways & Means Committee on party lines – Call/Email Burges and Nguyen
BE AWARE – the following bills did not advance, but may still get wrapped into the budget:
SB1058 – forcing teachers and schools to post materials a year in advance
SB1108 – tax cut designed to attack Prop 208.
SB1109 – tax cut designed to attack Prop 208.
SB1400 – Course equivalencies for inequitable private lessons, chips away at already underfunded arts/sports at public schools.

SIERRA CLUB – The Sierra Club has many important bills for you to weigh in on this week – go to https://www.sierraclub.org/arizona/2021-legislative-updates

KEEP CONTACTING SINEMA
PLEASE KEEP UP THE PRESSURE – New Video
For the People Act and the Filibuster!
                 Read Leah & Ezra's May Indivisible Newsletter
                  It is all about the Filibuster – Action Items Included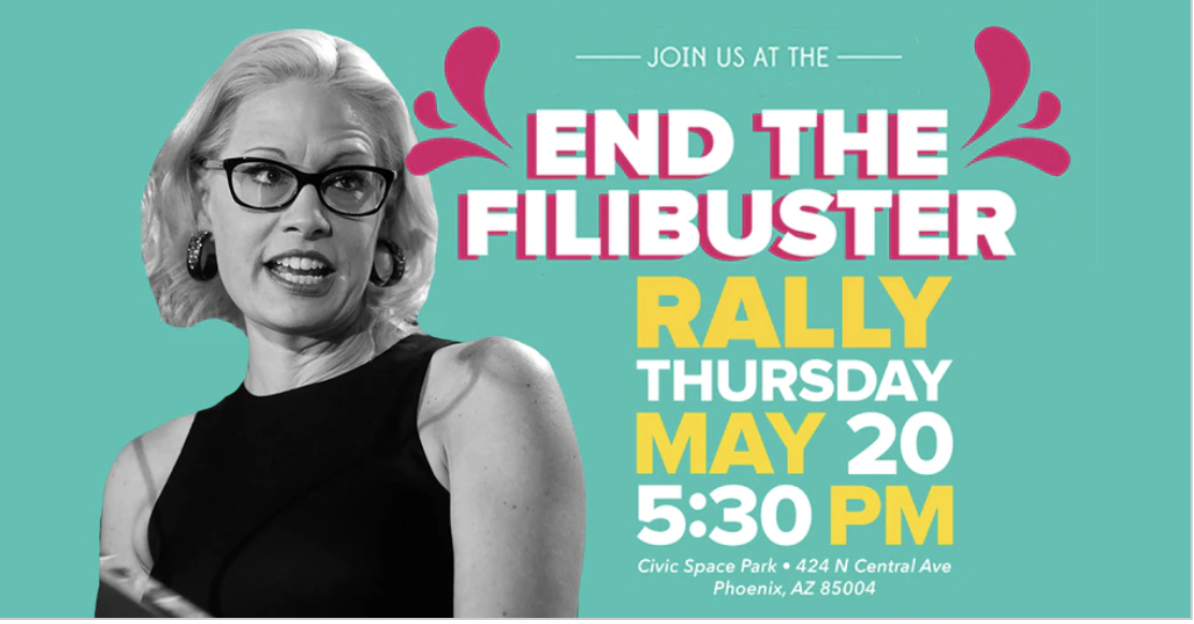 Thurs., May 20 5:30pm – Join at the Civic Space Park in Downtown Phoenix, Arizona for a large-scale End the Filibuster rally!
We need Sen. Kyrsten Sinema and Sen. Mark Kelly to listen to Arizonans–eliminate the filibuster so that we can pass all of the popular legislation constituents want! We will gather at Civic Space Park in Downtown Phoenix to send our Senators a BIG message that Arizonans demand an end to the filibuster–no excuses!
Masks required, vaccinations encouraged. Feel free to bring signs with messaging relating to the filibuster and legislation important to you. 
Senator Kyrsten continues to oppose the elimination of the filibuster.  She continues to say little about her views on the matter, and sends inquiring constituents — of which there are many, some angrier than others — lengthy explanations defending her stance.
Continue to contact Sinema's office via email or call: Washington Office –  (202) 224-4521; Phoenix – (602) 598-7327; Tucson – (520) 639-7080
Don't forget to leave your name and city/town. Remind her that you voted for her and contributed to her campaign and that she should listen to her constituents and vote against continuing the filibuster.
Please Assist if Possible – Granite Peak Unitarian Universalist Congregation "No Questions Asked Food Pantry" – Open 10-noon M-F to accept donations, they will also accept checks to GPUUC and cash to purchase supplies. (FYI – For our new members: GPUUC has welcomed us over the past four years. We have used their main meeting room and the building across the street, Faith Development Center, for our activities.) Their current needs: Non-food items:  toilet paper, paper towels, laundry soap, feminine necessities (pads);  Food items: rice (white, please); pasta/noodles; fruit; fruit juice; granola bars; vegetables, canned (no green beans please); refried beans; tomatoes, canned; canned meats/beef stew; soup (canned and dry packets); jelly/preserves; honey; flour; baby food/baby cereal; cookies; pudding; tuna; stuffing mix; dried potatoes  Condiments, etc.:  Cooking oil; salt/spices; ketchup/mustard; hot sauce/salsa; coffee; cocoa/hot chocolate mix; nondairy creamer.
      NATIONAL, STATE, AND LOCAL REPRESENTATIVES
National
SENATOR MARK KELLY
PO Box 27202, Tucson, AZ 85726
https://markkelly.com
https://www.facebook.com/CaptMarkKelly/
SENATOR KYRSTEN SINEMA
825 B&C Hart Senate Office Building Washington DC 20510
(202) 224-4521
contact@sinema.senate.gov
REPRESENTATIVE PAUL GOSAR
2057 Rayburn HOB, Washington, DC 20515 202-225-2315
6499 S. Kings Ranch Rd. #4, Gold Canyon, AZ 85118 480-882-2697
220 N. 4th St., Kingman, AZ (by appt. only)
122 N. Cortez St., Suite 104, Prescott, AZ 86301 928-445-1683
http://paulgosar.house.gov/contact/
Arizona
GOVERNOR DOUG DUCEY
State Capitol, 1700 West Washington Street, Phoenix, AZ 85007 602.542.4331
http://azgovernor.gov/governor/form/contact-governor-ducey
Legislature http://www.azleg.gov/
Senator Karen Fann kfann@azleg.gov 602-926-5874
Rep. Judy Burges jburges@azleg.gov 602-926-3256
Rep. Qwang Nguyen qnguyen@azleg.gov (602) 926-3258

Prescott
MAYOR GREG MENGARELLI
201 S. Cortez St. Prescott 928.777.1248
Start a discussion on: TWITTER @IndivisPrescott
Facebook (Public page) /Facebook (Closed group)
prescottindivisible.org
Info@prescottindivisible.org
Prescott Indivisible on YouTube
---
DemCast is an advocacy-based 501(c)4 nonprofit. We have made the decision to build a media site free of outside influence. There are no ads. We do not get paid for clicks. If you appreciate our content, please consider a small monthly donation.
---