Politicians choose their voters and suppress voters who don't support them. That's voter suppression.
That's not how it's supposed to be. Voters in a democracy choose their politicians, not the other way around."Republicans on the Virginia Electoral board closed downtown and South Richmond early voting locations. This leaves the general registrar's office in an out-of-the-way office park as the city's only voting location until election day. The office has been criticized for being difficult to reach, especially for those without car…25% of the early votes in last year's midterms were cast at the satellite locations slated to be shuttered this year." – AxiosWhich early voting locations are to be closed? What is the racial composition of the communities near these early voting locations? Are they close to low-income housing? Which voters will be hurt and find it harder to vote? How much further will they have to travel? Use this StoryMap to understand Virginia Republicans racist voter suppression scheme.
Making it harder for Black and brown Richmonders to vote
"The Republican-controlled board voted 2-1 on Tuesday to remove Hickory Hill and City Hall as early voting sites, leaving only the election office's Laburnum site. The decision was first reported by Axios Richmond."The Richmond electoral board made an intentional decision to make it harder for Black and brown Richmonders to vote, intentional decision to make it harder for Richmonders to vote," said Richmond Mayor Levar Stoney, who added 25% of the over 11,000 early votes cast in the last election were at those two locations."The Governor could do this today. He says he supports early voting. He could actually make a phone call. It was own party in his own backyard, but we're not holding our breath," said Aaron Mukerjee, Voter Protection Director with the Democratic Party of Virginia." – WTVR
Understand Voter Suppression
Politicians use voter suppression to pick the voters they want to vote and other voters they do not want to vote. What hurdles can be created to make it harder for the voters who politicians do not want to vote. This could include gerrymandering, ban voting by mail or restricting early voting.Republicans controlling the Richmond election board closed two early voting locations.
Check the racial composition of the areas around those early voting locations.
Are they mostly Black or White?
What is the racial composition in the area with the only remaining early voting location?
How far is the only open voting location from public housing? How easy it to get to the voting location without a car?Notice how Virginia Republicans have made it harder for voters or color and low income voters to vote by closing the satellite early voting locations near them at City Hall and Hickory Hill Community Center. Putting the only early voting location in a predominantly White area with little public transportation, makes it easier for White voters with a car and much harder and more time consuming for poor voters of color. That's racist Republican voter suppression.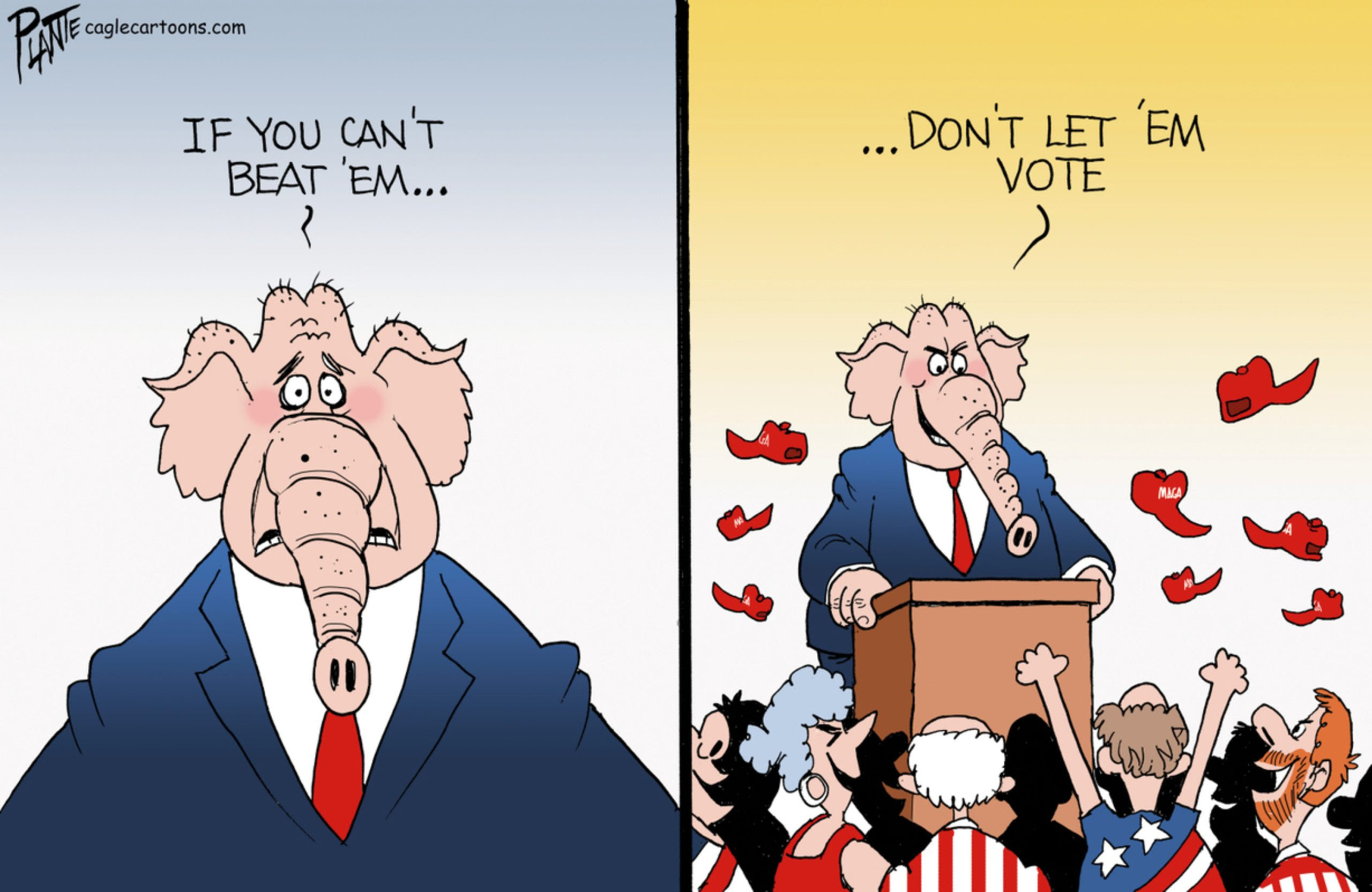 Common Cause
Common Cause has an innovative, pragmatic, and comprehensive pro-democracy agenda. Our work leads and defines the democracy reform movement, promoting solutions already succeeding in some communities to shift power to the people and away from wealthy special interests and partisan ideologues.As Americans, our right to vote is a right and a responsibility. The right to vote and have our voices heard is fundamental to our democracy. Our democracy is stronger when every eligible Americans participates, confident that when they cast a vote that it will be counted as cast, that the process is secure, and that anyone who interferes or tampers with our elections will be held accountable.Support COmmon CauseTakeAway: Learn to spot Republican voter suppression schemes and contact voting rights groups like Common Cause to make sure every eligible American gets to vote.Deepak
DemLabsDISCLAIMER: ALTHOUGH THE DATA FOUND IN THIS BLOG AND INFOGRAPHIC HAS BEEN PRODUCED AND PROCESSED FROM SOURCES BELIEVED TO BE RELIABLE, NO WARRANTY EXPRESSED OR IMPLIED CAN BE MADE REGARDING THE ACCURACY, COMPLETENESS, LEGALITY OR RELIABILITY OF ANY SUCH INFORMATION. THIS DISCLAIMER APPLIES TO ANY USES OF THE INFORMATION WHETHER ISOLATED OR AGGREGATE USES THEREOF.
Read in browser »
Reposted from Democracy Labs with permission.
---
DemCast is an advocacy-based 501(c)4 nonprofit. We have made the decision to build a media site free of outside influence. There are no ads. We do not get paid for clicks. If you appreciate our content, please consider a small monthly donation.
---