Persist and Resist  – September 28, 2020
---
Message from Mavis Brauer, Chair, Prescott Indivisible
Amy Coney Barrett: Trump's nominee to replace RBG
If Barrett, an ultra conservative who was a law clerk for Antonin Scalia, is confirmed as a Supreme Court justice, almost assuredly Roe v. Wade and the Affordable Care Act will be overturned, and the rest of RBG's legacy in women's and LBGQT rights will be gutted. This is not ok with me. I am going to call our two senators, McSally and Sinema, everyday and let them know that the majority of Arizonans are NOT in favor of confirming a new Supreme Court justice before the inauguration of our next president. Are you with me? Here's their contact information. Thank you.
MARTHA MCSALLY, B40D Dirksen Senate Office Building Washington DC 20510
Call: 202-224-2235
contact@mcsally.senate.gov
KYRSTEN SINEMA, 825 B&C Hart Senate Office Building Washington DC 20510
Call: 202-224-4521
contact@sinema.senate.gov
Here is an article from the AZ Republic on the nomination of Barrett with quotes from both Senators McSally and Sinema, (9/26/20).
If you are interested in calling key senators from other states, you are encouraged to join a phone banking team. You can go to indivisible.org to sign up for a shift. Do NOT call them directly and here's why.
Here's thelinkif you would like to go through an Indivisible 30-minute phone bank training on Mon. Sept. 28 or the link for training on Wed. Sept. 30.
Watch Joe Biden Live explain why Judge Amy Coney Barrett is wrong for the American People.
---
PI General Meeting: October 1, 2020, 6-7:30pm
Our meeting will be dedicated to hearing from our candidates, and about propositions and school bonds and overrides. Here's our lineup:
Arizona Corporation Commission: Bill Mundell, Shea Stanfield, and Anna Tovar (Vote for all 3!)
US House of Representatives from CD4: Delina DeSanto (No More Gosar!)
Arizona State House of Representatives from LD1: Judy Stahl (Single shot vote!)
Yavapai County Board of Supervisors from District 1: John Lutes
PUSD School Board: Hilary Cannizzaro (will also discuss PUSD bond/override)
Proposition 208: Nicky Indicavitch (will also will also discuss Humboldt bond/override)
Proposition 207: Alejandro Chavez
There will also be time for a few minutes of Q&A after each speaker. You won't want to miss this!
Register in advance for this meeting. After registering, you will receive a confirmation email containing information about joining the meeting.
Ballots will be mailed October 7:
Be ready to fill out your mail-in ballots and get them mailed by Oct. 16 or dropped them off at one of the many drop boxes (My personal choice!). We are working with the Democratic Women of the Prescott Area (DWPA) on a reference ballot. Look for a Special Edition – Elections!
For more information about Prescott Indivisible's Anti-Racism Education in Action, AREA-P, contact piar072020@gmail.com 
---
Twitter Office Hours
National Indivisible has started the Truth Brigade to combat disinformation. Prescott Indivisible will be one of the leaders in this area. If you'd like to learn more and make your posts more effective on Twitter and Facebook, come to Twitter Office Hours, every Monday afternoon from 1-3pm. Every week, you can use the same link: https://us02web.zoom.us/j/88604403935  
---
Election Information & Important Dates to Remember – Print this .pdf
I'm not sure if this is "Election Information", but it sure should effect it – "Truth or Consequence" perhaps? Read the New York Times article about Trump's Taxes–here are the first three paragraphs:
Donald J. Trump paid $750 in federal income taxes the year he won the presidency. In his first year in the White House, he paid another $750.

He had paid no income taxes at all in 10 of the previous 15 years — largely because he reported losing much more money than he made.

As the president wages a re-election campaign that polls say he is in danger of losing, his finances are under stress, beset by losses and hundreds of millions of dollars in debt coming due that he has personally guaranteed. Also hanging over him is a decade-long audit battle with the Internal Revenue Service over the legitimacy of a $72.9 million tax refund that he claimed, and received, after declaring huge losses. An adverse ruling could cost him more than $100 million.
 2020 First Presidential Debate –  Tues., Sept. 29  6-7:30p  Location: Cleveland, Ohio Host: Case Western Reserve University and Cleveland Clinic Health Education Campus. Moderator:  Chris Wallace, Fox News anchor.
We cannot ignore the threat that Trump poses to our democracy and a peaceful transition. We will stand together to ensure that if Trump loses the 2020 presidential election he will not throw our country into a constitutional crisis. We will honor the valid results of the 2020 election, ensure that every vote is counted, and show up to demand that the losing candidate put their ego aside and concede for the good of our country.  National Indivisibile is planning to mobilize after the election, along with 80 other organizations, if necessary. You are invited to join the major national effort at ProtectTheResults.com.
If you want to read another article about "The Legal Fight Awaiting Us After the Election" (The New Yorker, Jeffrey Toobin, 9/21/20). After you access the article, the little down arrow to the right of the banner on the bottom will clear it.  Click on the photo below to access the article:
Our job is to 1) ELECT BIDEN and 2) FLIP THE SENATE.  Go here to help! 
---
Help our Endorsed Candidates! Show up!!!
Judy Stahl – Single Shot Vote!  Vote ONLY for Stahl – AZ House, LD1
A Special Message from Judy: We have worked hard and come a long way in this campaign to help LD1 residents believe that we can win one of these two open state house seats. The third quarter ends this Wednesday, September 30. Our End of Quarter finance file will then be published by the Secretary of State. Your generous financial contributions made during these last three days of September represent our final opportunity before the election to demonstrate to the public the strength of this campaign. I am confident that 2020 is our year. If you believe, as I do, that we will win one of these two open seats, please give as generously as possible. Your donation, right now, could not have a greater impact. Thank you. Please go here to donate.
Thurs. Oct. 1-Sun. Oct. 4:  Art Auction Fundraiser featuring art from local artists. Join us for an Auction Opening Party, Oct. 1 at 4pm: Register  View items and register to bid here!
Judy Stahl Town Hall Series
Labor Rights Town Hall: Fri. Oct. 2 – 6 pm: Register | Submit Questions
Environment Town Hall: Sat. Oct. 10 – 11 am: Register | Submit Questions
Education Town Hall: Sat. Oct.18 – 4 pm: Register | Submit Questions
Healthcare Town Hall: Wed. Oct. 21, 2 pm: Register | Submit Questions
Volunteer! Help Judy bring balance to the AZ House for LD1
Today, Monday, Sept. 28, 6pm: Special #StahlForAll Education Phone Bank with SOS AZ Beth Lewis. Share Judy's fully-funded vision for Arizona schools with voters! Sign up form: https://docs.google.com/ Facebook event: https://www.facebook.
GOTV Phone Banks (Ballots drop Oct 7th!): Volunteer here.
Mon. Oct 5, 6-8:30pm; Tues.Oct 6, 11am -1:30pm; Wed. Oct 7, 4-6:30pm; Thurs. Oct 8 4-6:30pm
Weekly Phone Bank for Judy   Your voice gets out the vote. 4 weekly opportunities: Saturdays at 1:30pm; Mondays at 6pm; Wednesdays at 4pm; Sundays at 1:30pm. Volunteer here.
Contactless Canvass
You don't have to talk to anyone, you just get to drop literature at peoples' homes while going on a lovely walk! Email ren@judystahl.com
Saturdays: October 10th, 17th, 24th: Prescott + Chino  Meet at Yavapai Co. Democratic Headquarters, 1555 Iron Springs Rd. @ 10 am, go until 1
Wednesday October 7th, 14th, 21st: Prescott Valley –  Meet location TBA @ 10 am, go until 1 pm
Write Postcards for Judy. They really work! Volunteer here.
---
John Lutes. YC Board of Supervisors, Dist 1
Today! Special Invitation – Mon. Sept. 28 – 7:30 pm
John Lutes is rolling out a new campaign video!
Our Water, Our Future
The virtual rollout will feature our new video plus short speeches from John Lutes and a few special supporters! 
Broadcast live on Facebook. 
Visit the campaign's facebook page.
 Visit thewebsiteto view the video rollout.
 Donate to help put John on the Yavapai Co. Board of Supervisors, Dist. 1
---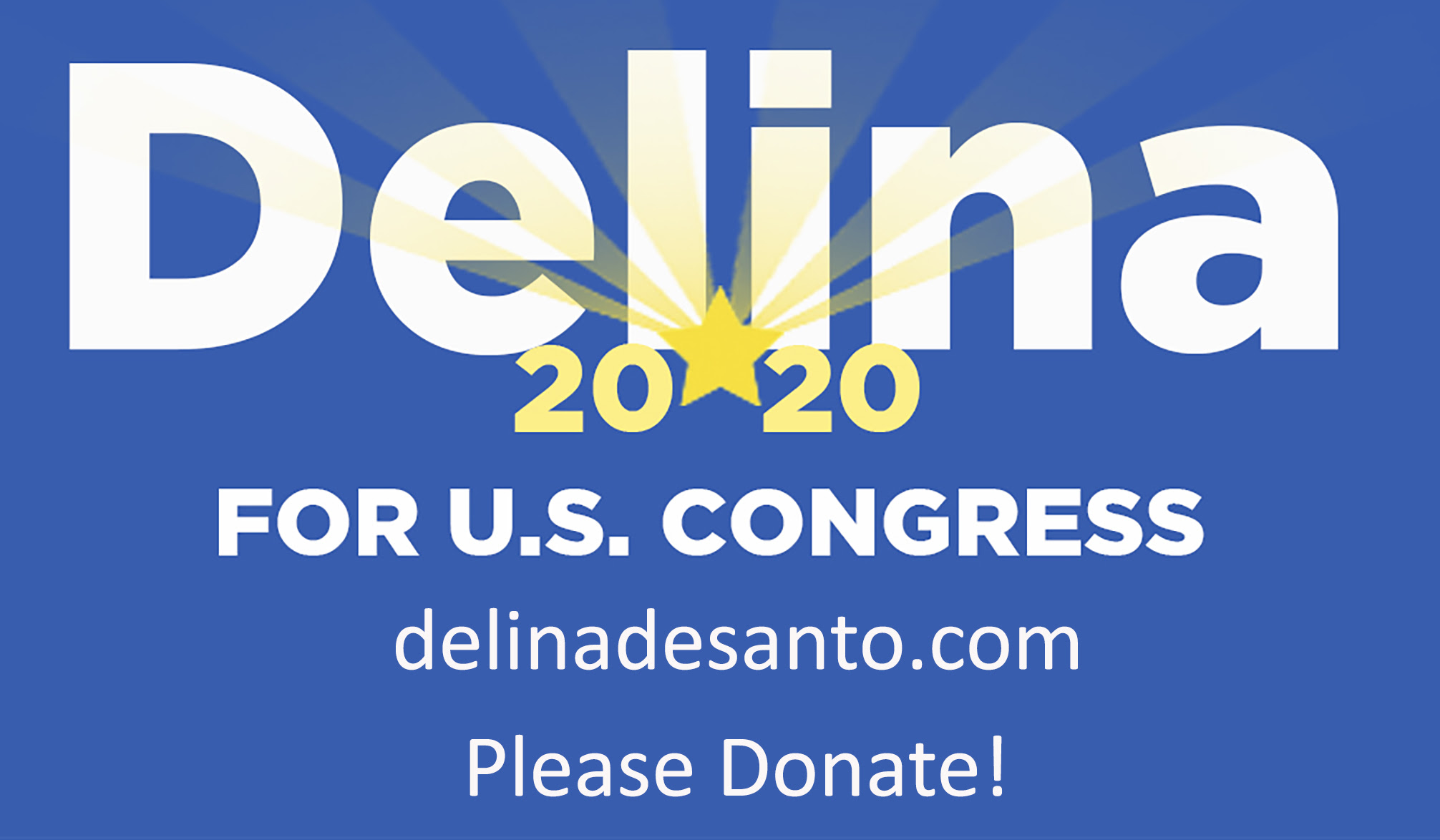 Help Delina DiSanto, CD4 House of Representatives
She requests that anytime you see one of her posts, please post it on Facebook or Twitter.
---
Help the Humboldt Unified School District Pass Their Bond Issue and Override
Go to this website to view the issues.
Get the facts about how the bond money will be allocated.
Volunteer Opportunities for Yes For Humboldt:
Read about the Prescott Unified School District's Bond Override
---
The Voter Values Project has completed their fourth research project, Healthcare Reform, an Overview of Healthcare in the United States. It was emailed to Survey respondents last week. Part 4, Healthcare Plans from Biden and Trump can be read here.
Check out the Prescott Indivisible Calendar.  It is up with a new look and lots of campaign activities.
---
At Home Activism
What you can do? Even though we have to social distance and cannot gather in groups, we can STILL MAKE A HUGH DIFFERENCE in this election. We just have to do it from home! So, choose what you enjoy and where YOU feel you can make a difference.
Make Phone Calls…Make Phone Calls….Make Phone Calls…Text – help our Endorsed Candidates 
Post On Social Media – Call Your Friends & Share This Info
The distribution of accurate and honest information is CRITICAL
Every day – call three people and remind them to vote for our slate–Biden, Kelly, DiSanto, Mundell, Stanfield, Tovar, Stahl, (Lutes – Dist. 1 or Michaels – Dist 3). Suggest that when they receive their ballot, to mail it immediately! Don't let that ballot linger!
Each Tuesday at 4pm, the Yavapai Co. Ferris Wheel Project phone banks. Training is provided. On Tues. Sept. 29 and Oct. 6, they will be calling and urging people to register to vote (9/29 only) and sign up for the PEVL (10/6). After that they will be ballot chasing, letting people know their ballots should be arriving soon and how to drop them off/fill them out.
Contact Amy Shunk for details (amy.shunk11@gmail.com)
---
The above calendar is from Mission for Arizona, the AZ Democratic Party's coordinated campaign.  They have been working tirelessly. The above calendar is for October.  Please plan to sign up and help out!  It depends on us.
Until 10/7, you can volunteer for the Mark Kelly Campaign, after that it will be rolled into the Mission for AZ Virtual Phonebank Schedule. To phone bank for the campaign, contact Linda Meigs: 256-509-9414 or linda@meigsmade.com.
---
PRESCOTT INDIVISIBLE
Start a discussion on:
TWITTER: @IndivisPrescott
Facebook (Public page) /Facebook (Closed group)
prescottindivisible.org 
New email – info@prescottindivisible.org
Prescott Indivisible on YouTube
Our mailing address is:
Prescott Indivisible
P. O. Box 12694
Prescott, AZ 86304
---
DemCast is an advocacy-based 501(c)4 nonprofit. We have made the decision to build a media site free of outside influence. There are no ads. We do not get paid for clicks. If you appreciate our content, please consider a small monthly donation.
---