Prescott Indivisible is a non-partisan community which seeks to promote a progressive and inclusive agenda in support of human rights and the environment.
---
INFORM CONNECT INSPIRE RESIST
---
… this will be a tough week: the bald-faced lying. It has already begun, and it is sickening to watch. There is an instinctual human revulsion to watching someone lie, particularly when they know you know they are lying, but are thinking to themselves, "I really don't care. Do you?" Yes, we do care, which is why it could be harmful to our mental health to watch non-stop lying. My advice is to ignore the Republican Convention as best you can. Like a defense lawyer who must sit silently during the prosecution's opening statement, you must steel yourself and know that the moment will come when we can speak. The good news is that we were able to speak first, and will be able to rebut the lies spewed during the Republican convention. Keep your powder dry this week.
From the Robert Hubbell newsletter. Sign up to get it in your email daily HERE.
Another enlightening daily analysis:
Heather Cox Richardson, Letters from an American: SUBSCRIBE HERE
---
UPCOMING
Democratic Women of the Prescott Area
Zoom Meeting
Wed. Aug. 26 1-2:15 pm
Join Zoom Meeting https://us02web.zoom.us/j/82893047497
Meeting ID: 828 9304 7497
Felecia Rotellini, Chair of the AZ Democratic Party
Delina DiSanto (CD4 House of Representatives)
Bill Mundell, Shea Stanfield and Anna Tovar, AZ Corporation Commission
Judy Stahl, LD1 AZ House
John Lutes, YCBoS, Dist 1
Donna Michaels, YCBoS, Dist 3
Toni Denis, Proposition Updates
Nicola Phillips & Derrick Honeyman, Mission for AZ
---
---
Indivisible Truth Brigade Campaign
Launch, Weds, August 26th at 3:30 PT
Register here
The 2020 political landscape and an ongoing global pandemic are creating daily opportunities for bad actors to create new conspiracies, push false information, and exacerbate social tensions. Disinformation and online attacks are spreading rapidly, leaving us to make difficult decisions about when and how to respond to what we see online.
The outpouring of support we've had in the last couple of weeks is incredible. Join the team!
---
---
NEWS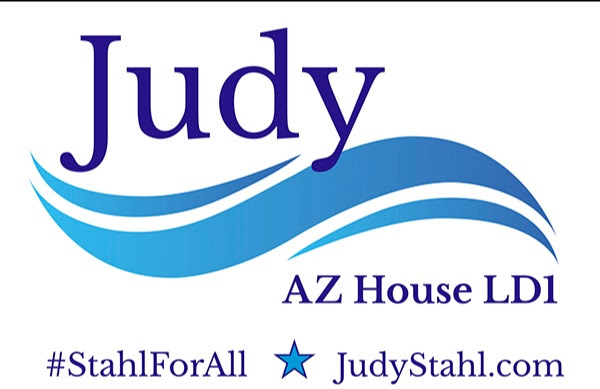 Virtual Economy and Business Town Hall
Thursday, September 10th at 6:00 pm!
Join the Judy Stahl for AZ State House campaign, partnered with local business owners and associations.
We want to hear from YOU. Submit your questions for Judy to respond to during this event–
SUBMIT QUESTIONS HERE
Your voice matters!
Sincerely, Team Stahl for All
---
INVEST IN ED
The Arizona Supreme Court on Wednesday ruled that voters in November will get the chance to decide whether to tax wealthy Arizonans to provide more funding to public schools, overturning a lower court that earlier tossed the Invest in Education Act after concluding that organizers crafted a misleading summary of the measure.
In a brief order, Chief Justice Robert Brutinel wrote that the Supreme Court unanimously concluded that the 100-word summary presented to voters "did not create a significant danger of confusion or unfairness."
Invest in Education's 100-word description stated that the proposal would impose a 3.5% surcharge on the income of individuals earning more than $250,000 per year, or couples earning more than a half million dollars.
The Invest in Education ballot measure would raise an estimated $940 million a year, about half of which would be dedicated for hiring new teachers and increasing teacher pay. Another 25% of the money raised by the tax would be devoted to increasing wages for support service workers at schools. The rest of the money would be divided to fund career training, mentoring for new teachers and university programs to train new teachers.
"Today's ruling by the Arizona Supreme Court s an important victory because it gives millions of Arizona voters the opportunity to put more resources into our schools. We are confident voters will say 'yes' to improving Arizona's K-12 schools by voting Yes on Invest in Education this November," said Amber Gould, the campaign's chairwoman.
CONTACT: https://investined.com
---
PI General Meeting: September 3, 2020, 6:00-7:30
Our next general meeting will focus on voting rights. According to our Voter Values Project (VVP) survey (go to VoterValuesProject.com to take it), voting rights are one of the most important issues. The VVP research tea– including Nancy Klick, Louise Clara, Doug Kearney, Abby Brill, and Peggy Glenn– will present their findings on voting rights. Also joining us will be Lynn Constabile, the YC Elections Director, and Lesley Hoffman, the YC Recorder giving an update on voting issues in this county and how they're being handled.
Democratic National Convention:
I was absolutely inspired by the DNC last week. As a Zoom aficionado, I appreciated how smoothly and effective the first ever virtual national convention was. Most importantly, I thought the speeches were inspiring especially those given by both of the Obamas, Kamala Harris, and for the finale, Joe Biden. I feel fortunate that we have such a strong ticket.

On a darker and more challenging note, it was also "interesting" how the disinformation campaign from the right included even more racist posts. Our work now is to voice the truth and not to let the lies that are the fabric of the current administration go unchallenged. Let's all be a part of this effort by choosing at least one avenue to communicate our message: talking with personal friends. phone banking or texting for a candidate's campaign, writing postcards, or having a presence on Facebook or Twitter. We all need to show up!
Voting Mantra:
Get it in the Mail.
Fill it out.
Mail or drop it off.
Do 'em all on the same day!
---
VOTING RIGHTS FROM THE VOTER VALUES PROJECT
Voter Suppression and Intimidation
Voter suppression in the United States has been around longer than the U.S. Constitution. The goal is to manipulate political outcomes by blocking the vote, and the result is a severely compromised democracy that does not reflect the will of the people.

The American Civil Liberties Union (ACLU) writes that suppression efforts range from the seemingly benign, like voter ID laws and cuts to early voting, to mass purges of voter rolls and systemic disenfranchisement. Long before election cycles even begin, legislators can redraw district lines that determine the weight of your vote. Certain communities are particularly susceptible to suppression and in some cases, outright targeted — people of color, students, the elderly, and people with disabilities,

Gerrymandering is the term used to denote redrawing of district lines to benefit a political party and thereby increase its power. Every ten years, the national census is conducted, and congressional districts are recalculated, based on that census. If the census fails to be counted accurately, residents of the United States are not granted equitable representation, health care or school funding. The 2020 census was suspended one month early with 60 million households uncounted.

Voter ID laws require presentation of specified documents before a resident may vote. The average citizen does not carry around a birth certificate and some may not have a driver's license. For some, the cost to obtain these documents is out of their reach, so they are denied the right to vote. Voter ID laws have been estimated to reduce voter turnout by 2-3%.

Purging of voter rolls has become popular since the Supreme Court gutted the protections in the Voting Rights Act. A recent Brennan Center study found that 16 million voters were purged from the rolls between 2014 and 2016. Jurisdictions with a history of racial discrimination had the highest purge rates.

Limitations on voter registration, reduced number of polling places, and the crippling of the Post Office are also forms of voter suppression. Voter intimidation is a time-honored and personal form of preventing minorities and people of color from voting.

Intimidation at the Polls for In-Person Voting
The New York Times details Republican efforts to train – and install – polling place monitors/monitors throughout battleground states. Read the NYT article HERE.

This week, Trump threatened to send law enforcement into polling places, "to prevent voter fraud." No one knows if he will follow through, but it is one more act of voter intimidation.

Voting is a right of every citizen in our country. It should be easy, convenient, and safe. Our democracy works best when all eligible voters can participate and have their voices heard.
---
There are 71 days left until the November election! If we want to see Arizona swing blue come November we must make each and every one of those days a day of action! Join us every Tuesday for a rotating phone bank building BLUE power in Yavapai County. Contact Amy Shunk at amy.shunk11@gmail.com to sign up! See you there.
---
Register to vote HERE.
►Update or check your voter information HERE.
►If you can't register online, print a registration form HERE, or request a form from your County Recorder.
►Sign up for Permanent Early Voting (PEVL) HERE.
►Check your vote-by-mail ballot status after sending HERE.
►In Maricopa County, request text & email alerts regarding your ballot status HERE.
---
---
RECOMMENDED PODCASTS
NPR FRESH AIR:
Why White Evangelicals Worship At The Altar Of Trump CLICK HERE
GOP Strategist Takes On Trump & His Party: 'It Was All A Lie' CLICK HERE
And a good laugh:
"Vote Him Away #2 (The Liar Tweets Tonight)" HERE
---
---
---
CONTACTS
PRESCOTT INDIVISIBLE
prescottindivisible.org
Calendar of Events HERE
Email info@prescottindivisible.org
Prescott Indivisible on YouTube
Start a discussion on:
TWITTER: @IndivisPrescott
FACEBOOK: (Public page) / (Closed group)
---
NATIONAL, STATE, AND LOCAL REPRESENTATIVES
National
SENATOR KYRSTEN SINEMA
825 B&C Hart Senate Office Building Washington DC 20510
(202) 224-4521
contact@sinema.senate.gov
SENATOR MARTHA MCSALLY
B40D Dirksen Senate Office Building Washington DC 20510
202-224-2235
contact@mcsally.senate.gov
REPRESENTATIVE PAUL GOSAR
2057 Rayburn HOB, Washington, DC 20515 202-225-2315
6499 S. Kings Ranch Rd. #4, Gold Canyon, AZ 85118 480-882-2697
220 N. 4th St., Kingman, AZ (by appt. only)
122 N. Cortez St., Suite 104, Prescott, AZ 86301 928-445-1683
http://paulgosar.house.gov/contact/
Arizona
GOVERNOR DOUG DUCEY
State Capitol, 1700 West Washington Street, Phoenix, AZ 85007 602.542.4331
http://azgovernor.gov/governor/form/contact-governor-ducey
Legislature http://www.azleg.gov/
Senator Karen Fann kfann@azleg.gov 602-926-5874
Rep. Noel Campbell ncampbell@azleg.gov 602-926-3124
Rep. Steve Pierce spierce@azleg.gov 602-926-5584
Prescott
MAYOR GREG MENGARELLI
201 S. CortezSt. Prescott 928.777.1248
---
Prescott Indivisible
P. O. Box 12694
Prescott, AZ 86304
info@prescottindivisible.org
---
DemCast is an advocacy-based 501(c)4 nonprofit. We have made the decision to build a media site free of outside influence. There are no ads. We do not get paid for clicks. If you appreciate our content, please consider a small monthly donation.
---