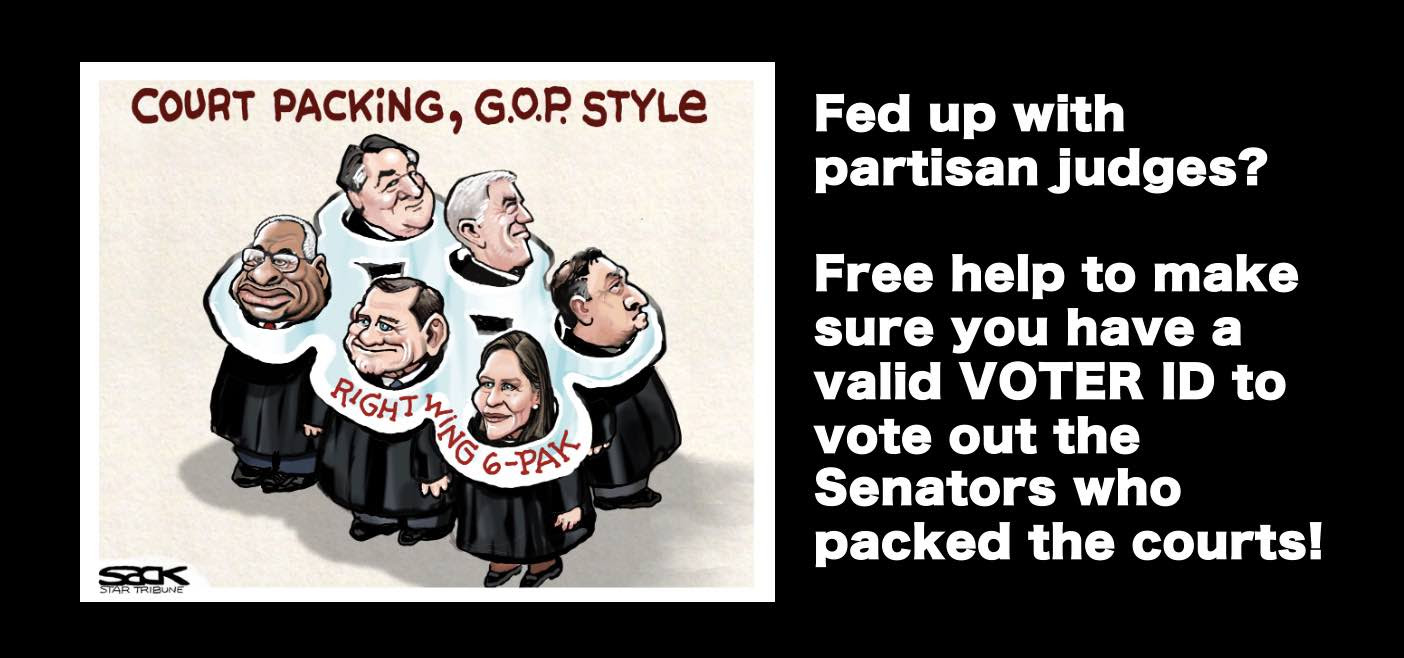 Elections have consequences: You get partisan, extremist judges who take away your freedoms.
How did the Supreme Court get so politicized? Mitch McConnell blocked President Obama's nominee to the Supreme Court, Merrick Garland for over a year. Neil Gorsuch later got that Supreme Court Seat.
McConnell then reversed himself and rushed to place Amy Coney Barrett on the court with just weeks before the next election. Both Gorsuch and Barrett voted to overturn Roe v Wade. End Affirmative action. Allow discrimination against LGBTQ. Deny students debt relief.
Which Republican Senators voted to pack the Supreme Court with right-wing extremist judges? Which of them are up for election in 2024?
Make sure you have a valid Voter ID to vote these Senators out of office. Listen to this podcast with Lauren Kunis the CEO of VoteRiders on how they can help you get a Voter ID.
Make sure your voice is heard
Republicans rely on voter suppression to stack the courts. Pass bills that favor the wealthy at the expense of working Americans. Voter suppression used harsh Voter ID laws to silence millions of Americans. Confusion about voter ID easily turns into disenfranchisement.
VoteRiders helps provide free voter ID assistance so that every American can cast a ballot that counts.
Don't wait to get ready to vote! VoteRiders can help you figure out what ID and documents you need to vote. It provides you with the practical, legal, and financial support to secure a Voter ID that's valid for your state. Volunteer with VoteRiders to make sure eligible voters have the ID and information they need to cast a ballot that counts.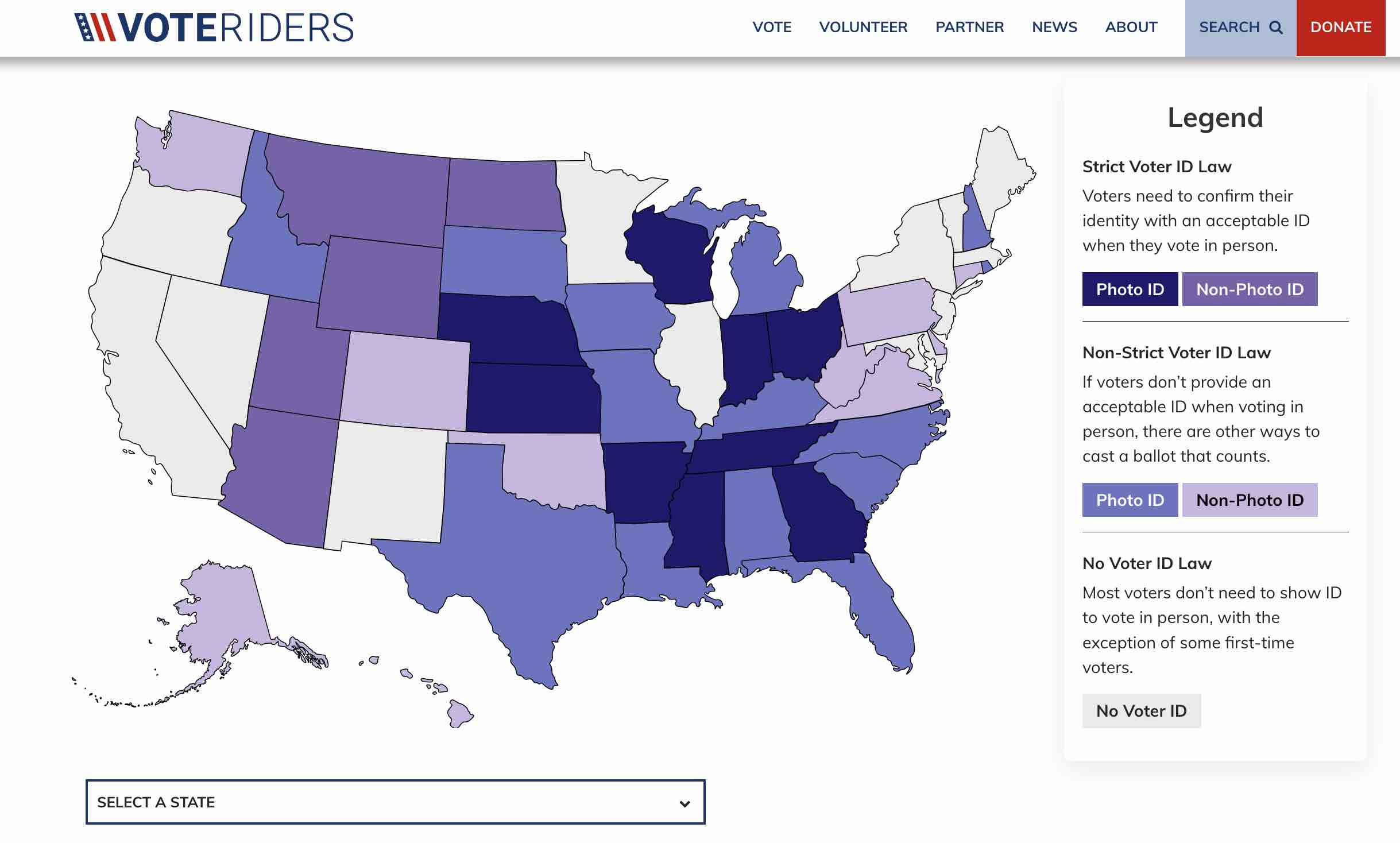 Make sure you a valid Voter ID
VoteRiders can help you get:
– Documents you need to show who you are (for example, your birth certificate or naturalization certificate)
– A copy of your Social Security card
– Proof of where you live
– Your ID
– A free ride to the DMV
– A photocopy of your ID to submit with your vote by mail application or ballot
Practical help:
– Figure out what documents you need to get ID
– Request and pay for those documents
– Pay the DMV fees for your ID
– Print a copy of your ID if you need to vote by mail
– Find a lawyer to help you if needed
– Make sure your are 100% ready to vote!
CALL OR TEXT THE VOTERIDERS HELPLINE 866-ID-2-VOTE
Curb extremist judges
"If right-wing Supreme Court justices want to make public policy they should quit the Supreme Court and run for political office." – Senator Bernie Sanders (I-VT).
"Six right wing politicians, masquerading as judges gleefully imposing their politics on the country by fiat." – Sen. Chris Murphy (D-CT).
"This notion of a colorblind nation is just bullsh*t. Let's call it what it is. This country has never been colorblind since the day the first Africans came to its shores and they enslaved them." – Michael Steele, a former chair of the Republican National Committee. – The Hill
SENATORS UP FOR REELECTION IN 2024
TakeAway: Make sure you have the voter ID you need to elect Democratic Senators to restore fairness to the American justice system.
Deepak
DemLabs
DISCLAIMER: ALTHOUGH THE DATA FOUND IN THIS BLOG AND INFOGRAPHIC HAS BEEN PRODUCED AND PROCESSED FROM SOURCES BELIEVED TO BE RELIABLE, NO WARRANTY EXPRESSED OR IMPLIED CAN BE MADE REGARDING THE ACCURACY, COMPLETENESS, LEGALITY OR RELIABILITY OF ANY SUCH INFORMATION. THIS DISCLAIMER APPLIES TO ANY USES OF THE INFORMATION WHETHER ISOLATED OR AGGREGATE USES THEREOF.

References:
The Memo: Trump's Supreme Court shows its seismic impact – The Hill
Brute force in the service of religious nationalism – Today's Edition Newsletter
Read in browser »
Reposted from Democracy Labs with permission.
---
DemCast is an advocacy-based 501(c)4 nonprofit. We have made the decision to build a media site free of outside influence. There are no ads. We do not get paid for clicks. If you appreciate our content, please consider a small monthly donation.
---