Voters often struggle to find their new voting districts after redistricting. A new map makes it free and easy.
What's your new district after Republicans have gerrymandered political district boundaries? Who are the candidates running for office in your new district?
Take the hypothetical example of Mickey at Disney World in Florida's 10th Congressional district and currently represented by Val Demmings (D-FL). Mickey isn't sure of his new voting district after DeSantis and Republicans have gerrymandered the 10th District. What's a mouse to do? Mickey should use this free map from USGeocoder to find his voting district.
Find your voting district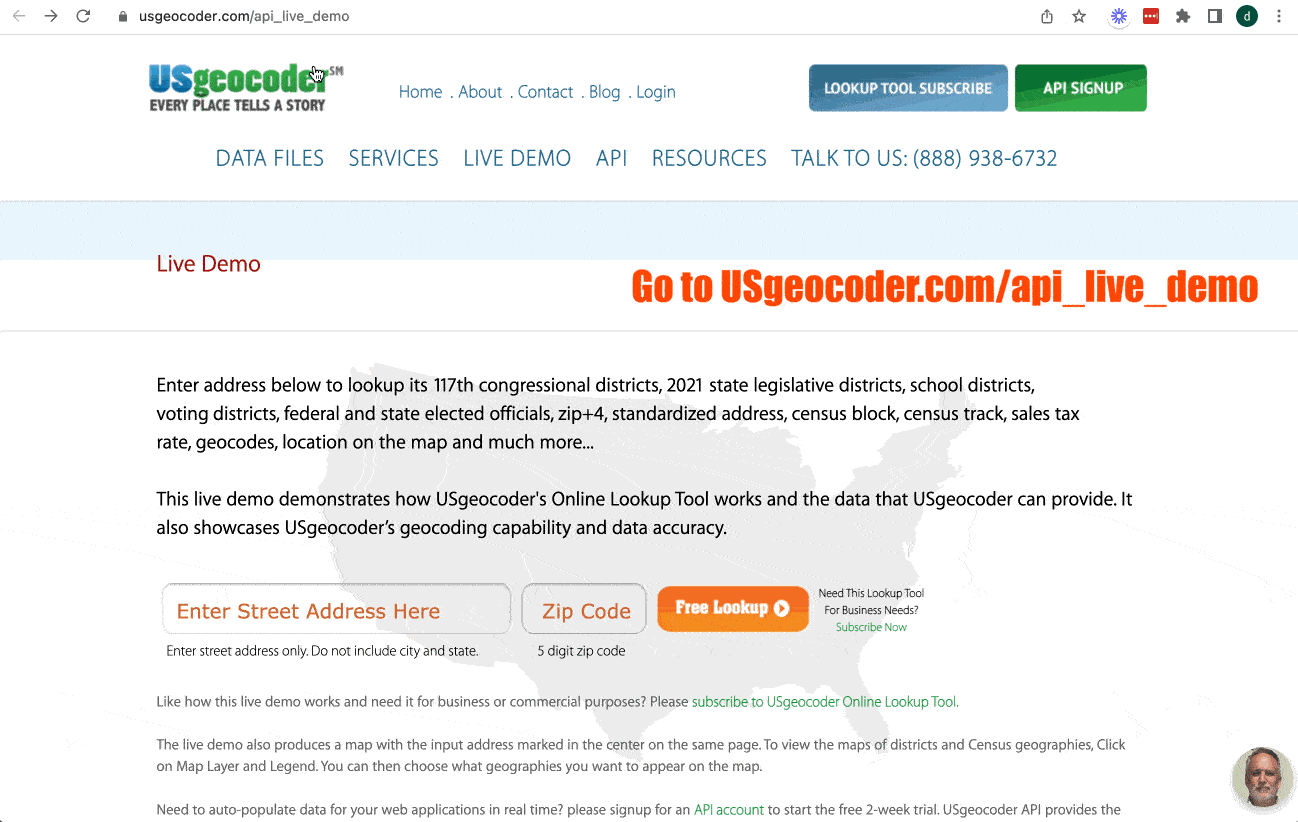 How to use this map
Go to the USGeoCoder Map
Enter your address and zip code
Choose Districts & Elected Officials
Zoom into the map for more details
Click on Map Layers & Legends to see the current and proposed boundaries
Redistricting
"State and local governments redraw congressional and state legislative districts after the 2020 US Census. Congressional redistricting must be completed prior to the filing deadlines for 2022 general elections. Each state has its own deadline to complete redistricting. As of April 24, 2022, many states have finished the redistricting for their congressional and state legislative districts. In some areas both congressional districts and state legislative districts have flipped." – USgeocoder. For example, for the address 2730 Randolph Rd, Charlotte, NC 28207:
Congressional district has changed from 12 (117th Congress) to 14 (118th Congress)
State Senate District has changed from 37 to 39
State House District has changed from 88 to 104
This US Geocoder report (as of April 24, 2022) tracks the redistricting status by state. Check the USgeocoder website for the latest update.
Don't let them get away with cheating. Vote.
"DeSantis's plan does not make a serious effort to comply with legal protections for minority voters. An amendment in the Florida constitution, overwhelmingly approved in 2010, makes it illegal to draw a district that diminishes the ability of a minority to elect the candidate of their choosing. DeSantis nonetheless eliminated two districts that allow Black voters to do so."
"For all intents and purposes, there's currently, in Florida, one-man rule. Democracy in Florida is not functioning." said Mac Stipanovich, a longtime Republican strategist. The Guardian
DeSantis' gerrymandered map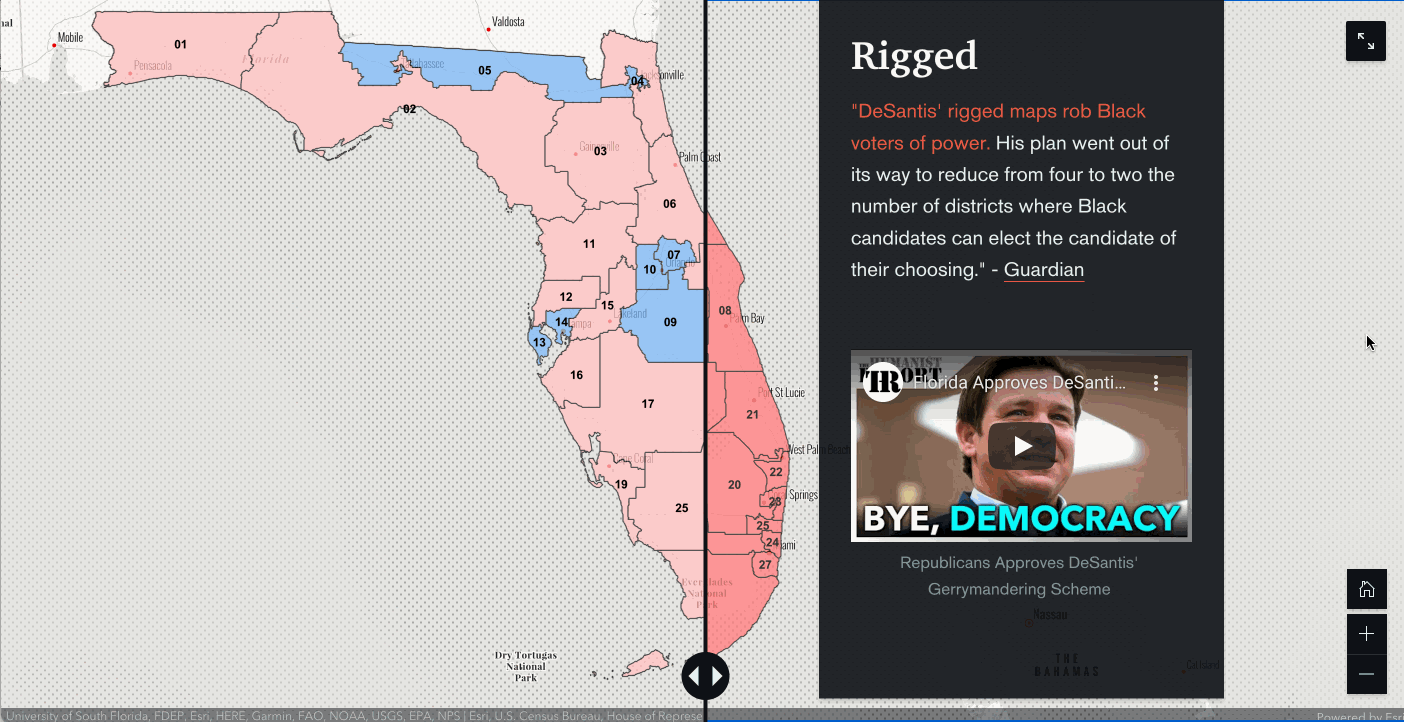 Florida tax payers stuck with $2 billion in taxes
"Ron DeSantis just raised taxes on Floridians in his bigoted war on Disney. DeSantis would eliminate a 1967 law that essentially created a 39-square mile area, now almost entirely occupied by Disney World, that enables it to act as its own government – including providing all the services, like power, water, sewers, police, and fire, that local governments do. Orange County would be on the hook for "all debt and obligations with no extra funds," meaning "Orange County would take on $163 million [in debt obligations] per year."
"If Reedy Creek is dissolved, Orange and Osceola counties would assume responsibilities handled by the district like sewer and road maintenance, meaning taxpayers in those counties would pay, The Miami Herald reports. "Taxpayers would also collect the tax revenue Disney pays itself, WFTV 9, an ABC affiliate in Orange County explains. But these counties' residents would also absorb a lot of debt, too. That debt is no small number: a reported $1 billion." That number could actually be $2 billion, as Inside The Magic's Luke Dammann reports. according to the Miami Herald's Capitol Bureau Chief, Mary Ellen Klas." – Alternet
TakeAway: Make sure voters' are denied their say by gerrymandered political districts and confusion about where to vote.
Deepak
DemLabs
DISCLAIMER: ALTHOUGH THE DATA FOUND IN THIS BLOG AND INFOGRAPHIC HAS BEEN PRODUCED AND PROCESSED FROM SOURCES BELIEVED TO BE RELIABLE, NO WARRANTY EXPRESSED OR IMPLIED CAN BE MADE REGARDING THE ACCURACY, COMPLETENESS, LEGALITY OR RELIABILITY OF ANY SUCH INFORMATION. THIS DISCLAIMER APPLIES TO ANY USES OF THE INFORMATION WHETHER ISOLATED OR AGGREGATE USES THEREOF.
Image Credit: Mickey Mouse / Walt Disney
Cartoons: Cagle Cartoons
Reposted from Democracy Labs with permission.
---
DemCast is an advocacy-based 501(c)4 nonprofit. We have made the decision to build a media site free of outside influence. There are no ads. We do not get paid for clicks. If you appreciate our content, please consider a small monthly donation.
---