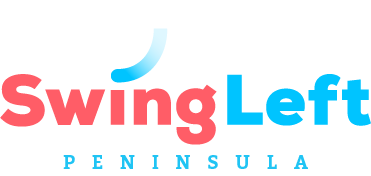 Hi Friends,
It's time to vote again!
Ballots for the Republican-led gubernatorial recall are out in California!. To defeat this ill-advised political gimmick and maintain Governor Newsom's strong leadership, we have three simple asks from you (Don't live in California? Skip to step three): Vote No and return your ballot! Got kids or grandkids in college? Make sure they vote "No" and submit their ballots before heading out to School. It won't take them more than a few minutes to do but will have a lasting impact on our state for years! Sign up for as many of the activities listed below as you can to stop this desperate Republican power grab. Last year, we worked together for our country and won back the White House. This summer, we work together to protect our beloved state.
Quick Links below: Phone bank to STOP the RecallHow We Defeat the Recall of Governor Newsom (8/17)Be Your Neighborhood Captain!Phonebank to Protect Voting RightsPledge to Vote No! Words that WIN (9/11)Events from Our Partners
---
Join Swing Left Peninsula as we call voters in nine Bay Area Counties to vote "NO" on the Republican Recall. We cannot afford to lose the gains we have made on climate change, education, and healthcare. And we simply cannot be wasting time playing political games amidst raging wildfires and a global pandemic.
RSVP: Phone Bank
Wednesdays, 6 – 8 PM PT
RSVP: Phone Bank
Saturdays, 10 – 12 PM PT
RSVP: Phone Bank in Spanish
Wednesdays and Saturdays
---
*Mark your calendars:
Saturday, Aug 21st: Kyra Sedgwick and Kevin Bacon kick it off!
Wednesday, Sep 1st: Dan Pfeiffer will join our phonebank
Have you phone-banked before? You can make calls anytime using this link. Please do not call at early or late hours.
---
Seminar: How We Defeat the Recall of Governor NewsomTuesday, August 17th at 6:30pm PT
Leaders from the California Democratic Community will join Swing Left San Francisco and the San Francisco Democratic Party to discuss the governor recall election. Register now to hear about background and perspective on the recall as well as insights from the field about how we can win this fight.
Panelists include:

David Campos, Vice Chair of the California Democratic PartyElizabeth Heyboer, Organizing Director, California Democratic PartyBryan Blum, Political Director of the California Labor FederationSusan Sacher, Campaign and Field Director, California Labor Federation
RSVP: Recall Seminar
Tues Aug 17th, 6:30 PM
---
Be Your Neighborhood Captain!
Get Those Steps In and Do Good!
All you need to do is distribute "No Recall" information in your community.
Conduct "Vote NO on the Recall" literature drops in your neighborhood through the Santa Clara Democratic Party (SCCDP) or trhe San Mateo County Democratic County: Help us defeat the Republican-funded Gubernatorial Recall Election.
Sign up for Santa Clara County and you will be contacted to schedule an appointment at the SCCDP's San Jose Headquarters for a five-minute training and materials to drop literature to your Democratic neighbors.
 Want to volunteer in San Mateo County or need yards signs? Email nacalibjo@gmail.com.
Sign up for Santa Clara County
Literature Drops
Volunteer for San Mateo County
Literature Drops
---
Phonebank to Protect Voting Rights
Saturdays at 1-3pm PT
Voting rights support all rights!
Join Swing Left Peninsula as we call residents of AZ and WV to call Senators Krysten Sinema and Joe Manchin. We need you more than ever to help convince these two Senators—it's now or never!
As always, we will train you! We will hold these phone banks every Saturday until the bill is passed or the Senate goes on recess.
RSVP: Protect Voting Rights
Saturdays 1 – 3 PM PT
---
Pledge to Vote No
Triple your Vote – Reach Out to Your Friends
Live in California? Pledge to vote no on the recall! We're asking you to reach out to three friends as well and encourage them to vote no. We have the highest impact with people we know. Once you pledge, we'll follow up with you in a few weeks to thank you and check that you've voted.
---
Words that WIN
Saturday, September 11th at 11am PT
Do you talk to voters? Write letters? Speak with friends, confer with activists, motivate others to act? This training is for you!
Join Swing Left Peninsula, South Bay Swing Left, and Swing Left SLO with Words That W!N an organization that teaches strategic messaging to help progressives get their ideas through to voters, counter right-wing dog whistles, and build solidarity between Americans no matter their differences. Learn how to express our values, the ones shared by many across our country, in ways that bring positive change.
RSVP: Words that Win
Sat Sept 11th, 11am PT
---
Events from Our Partners
Canvass and Engage Voters with Tracy Democrats
Please join the Tracy Democrats for door-to-door canvassing to get out information on the Recall Election and learn about issues that matter to the Tracy Community in CA10.
Sat, Aug 21, 28, 9:00am–1:00pm PDT
Sun, Aug 22, 29, 9:00am–1:00pm PDT
Sat, Sep 11, 9:00am–1:00pm PDT
---
---
DemCast is an advocacy-based 501(c)4 nonprofit. We have made the decision to build a media site free of outside influence. There are no ads. We do not get paid for clicks. If you appreciate our content, please consider a small monthly donation.
---