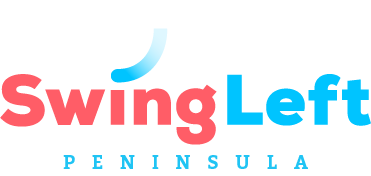 Hi Friends,
The fight for a better country is literally at our doorsteps. For the next few weeks, we will be focusing on the Gubernatorial Recall in California. See below for ways to participate in getting the "No!" votes out.
We also have a host of other activities including phone banking for Virginia (a bellwether battleground state), supporting the For the People Act, and in-person canvassing in Tracy.
Quick Links below:
"No on the Recall" Phone bank (7/24)
Phone Banks: Call Virginia Voters and Protect Voting Rights in Arizona
You and the 34% – Connecting with High-Potential Voters (7/28)
Central Valley Matters Update
Events from Our Partners
---
"NO on the Recall" Phone bank! Saturday, July 24th, 1pm – 3pm PT
The sheer absurdity of the Republican recall backed by the RNC and anti-American forces who want to overturn the last election make it critical for Californians to respond with a resounding "No!"
As we get close to ending the pandemic, California cannot afford to be sidetracked by partisan political games. Join us to call voters from your home and ask them to vote "NO" on the recall.
RSVP: No Recall
Sat July 24th 1-3pm
---
Phone Banks: Call Virginia Voters and Protect Voting Rights in Arizona
Call Virginia for Delegate Nancy Guy and Candidate Debra Gardner
Why does this race matter? The outcome sends a strong message nationwide and helps us keep Virginia blue.

Nancy Guy is running for re-election to the Virginia House of Delegates. She won in her district by only 41 votes! A retired lawyer and former school board member, she is committed to improving public schools, growing the economy, and building a more equitable criminal justice system.

Debra Gardner is running for delegate in Chesterfield County. A tireless advocate for Virginians, Debra has served at the chief deputy level of 3 state agencies and devoted countless hours to organizations that provide aid and services to the community.
Wednesday, July 21, 2-4 pm
Defeat the Recall: On Wednesdays, July 28th and August 4th, we'll shift from regular programming to call Democrats in California to get out the "No" vote for the recall.
Wednesday, July 28, 2-4 pm
Wednesday, August 4, 2-4 pm
Note: The registration link is the same as the Virginia phone banks.
RSVP: Phone bank
Wednesdays 2-4pm PT
---
The For the People Act Needs Your Support!
The For The People Act, also known as S1 and HR 1 will stop Big Money and special interests from calling the shots in our politics, end partisan gerrymandering, expand our right to vote and hold elected officials to high ethical standards.
Learn more about the bill here.

We are calling residents of Arizona using Center for Common Ground's script and CallHub platform. We can patch residents through to Senator Krysten Sinema's office and ask her to vote "yes" on modifying the filibuster and passing the For the People Act.
Note: On Saturday, July 24th, we will have a special breakout room for those who want to call to defeat the California Recall.
RSVP: Phone bank
Saturdays 1-3pm PT
---
You and the 34% – Connecting with High-Potential VotersWednesday, July 28th 5:30pm – 7pm PT
Last year 34% of the voting eligible population didn't vote. What would it take to change that, and build power for a progressive agenda?
We highly recommend this unique, interactive training for everyone. Learn how to use proven techniques to help voters find their motivations for voting and then follow through by casting ballots.
Whether you're brand new to phone banking and canvassing or have been talking with voters for decades, this interactive training will show you how to draw out voters' own desires for change, and channel that energy into voting.
Join Swing Left San Francisco to improve your conversational skills and help increase participation in the democratic process!
RSVP: Voter Contact Training
Wed, July 28th 5:30pm PT
---
A Huge Success for Central Valley Matters Fundraiser
Central Valley Matters' "Growing the Grassroots" fundraiser, in partnership with Swing Left Peninsula, surged past their expected goal, raising $157,373 at their June 10 online event. This money will support three locally based grassroots groups: the Dolores Huerta Foundation, Valley Voices, and Valley Forward.
These groups are already recruiting bilingual canvassers  and establishing ongoing relationships with citizens in Fresno, Kern and Kings counties, key areas in CA-21. They are educating people about COVID-19, redistricting, and the recall election and stressing the importance of exercising their right to vote.
---
Door-to-Door Canvassing and Voter Registration with Tracy Dems
Please join the Tracy Democrats for door-to-door canvassing to get out information on the Recall Election and learn of issues of importance to the Tracy Community in CA10.Saturday, July 24 & August 14th, 9am -1pmSunday, August 1 & August 22, 9am -1pmRSVP Here. For carpool information from Mountain View on Aug. 1 and 14, contact Carole at carflores18@gmail.com.
Follow us on Twitter (@SwingLeftPen) or join our Facebook group for updates on our latest events, actions, and news.
Questions? Email us:Voter contact: votercontact@swingleftpeninsula.org
Letter Parties: letterwritingparties@swingleftpeninsula.org
Fundraising: fundraising@swingleftpeninsula.orgCA-10 Outreach: ca10@swingleftpeninsula.org
CA-21 Outreach: ca21@swingleftpeninsula.org
Phone Banking: phonebanking@swingleftpeninsula.org
Join our email list: https://actionnetwork.org/forms/slp_subscribe
If all else fails: info@swingleftpeninsula.org
As always, thanks for your support!
Barb Berry, Judith Bolker, Linda Brummer, Scott Carlson, Michelle Chang, Carole Flores, Anne Frahn, Mary Gill, Colin Gottlieb, Laura Gottsman, Barbara Kyser, Bruce Knoth, Victoria Maxson, Aarthi Rayapura, Kirstin Sego, Karen Spiro, Deb Strichartz and Mary Takahashi.
---
DemCast is an advocacy-based 501(c)4 nonprofit. We have made the decision to build a media site free of outside influence. There are no ads. We do not get paid for clicks. If you appreciate our content, please consider a small monthly donation.
---