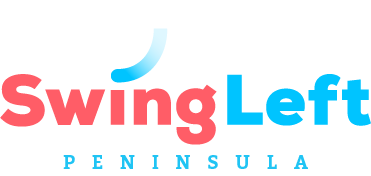 Hi Friends,
Happy Summer Solstice! Even though we are in an election off-year, we have so much to do to keep our democracy strong. We are continuing our Speaker Series with our partners with an exciting session on the Supreme Court this week. We are also taking a stand against the Governor recall in California. Help us staff tables at our local farmers markets this weekend if your feel comfortable and join our event with Governor Newsom himself! Save the date for a Weekend of Action in early July to phonebank for Virginia (a bellwether battleground state) and come to our in-person letter and postcard meetup! Read on for details…
Quick Links below:
Seminar: Expanding the Supreme Court
This Thursday! June 24th 6:00pm PT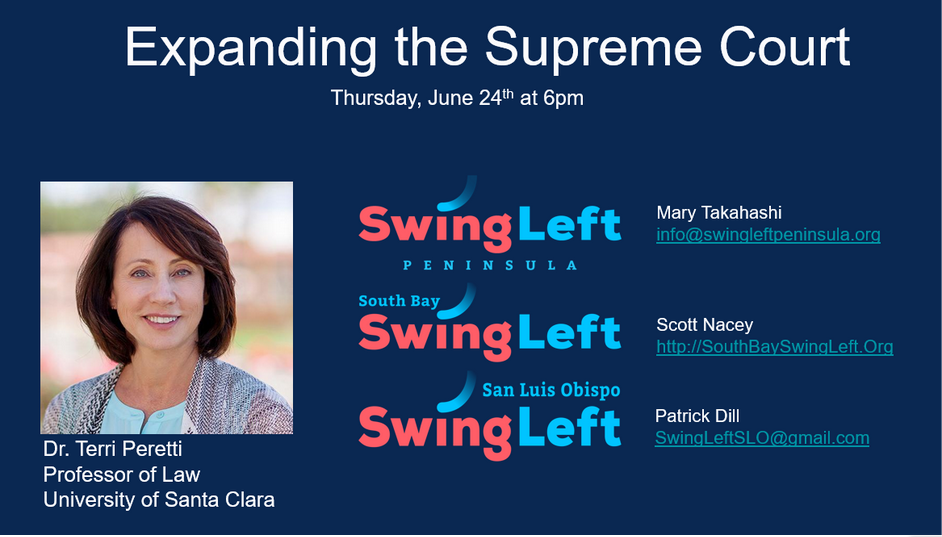 Join us as we explore the question "Should the Supreme Court be expanded now?" Professor Terri Peretti of Santa Clara University, a specialist in the role of politics in the Supreme Court, will lead a Zoom discussion addressing arguments resonating now in the media and within the Washington D.C. beltway about the future of the Supreme Court and whether court expansion is justified or likely.
Sign Up Now! Supreme Court
Thurs, June 24th 6:00pm PT 
The Big Reveal!
Swing Left's National Strategy
This Thursday! June 24th 5:00pm PT
Join Swing Left National for the first look at the national strategy in the post-Trump era. The target races for 2021 and 2022 are the first steps in the ten-year plan to protect democracy and bring progressive values to America. This nationwide plan guides Swing Left Peninsula's efforts. Please join this session to learn about this nationwide effort and how you can help us win!
RSVP: Swing Left National
Thurs, June 24th 5:00pm PT
Phone Banks: Call California! Call Arizona!
Join us on Wednesdays when we focus on California. We'll be calling CA-21 to register voters. We need texters too! We'll be texting California residents to defeat the expensive, desperate Republican attempt to grab power by recalling our state's governor. On Saturdays, we call Arizona and West Virginia residents and patch them through to their Senators' offices to support S1, For the People Act. Our amazing team will help you log in, walk you through the process of making the calls, and answer all your questions. Your help does make a difference!

RSVP: Call CA-12 and Text

Wednesdays 2-4pm PTRSVP: Call AZ and WV
 Vote NO on the Recall: Farmers Market Tabling!
Sunday, June 27th 9am – 1pm PTVote NO on the Recall tabling event this Sunday at the Mountain View Farmers Market. Help educate citizens and spread the word about the upcoming Recall. We need volunteers for two shifts 9-11am and 11-1pm. Please email Karl at karldpcvotereg@gmail.com if you are interested in a shift!   
A Conversation with Gavin Newsom
Tuesday, June 29th, 4:30 pm PTAttend this conversation with Governor Newsom and learn about his achievements. He will review the progress California has made during his administration: on the pandemic, on vaccinations, on education, and on the economy. Learn how you can reach out to all your friends and family in California to vote "NO" in the recall election. The event is free and hosted by the DVC, Peninsula Democratic Coalition and Swing Left Peninsula.
RSVP: Gavin Newsom
Tues, June 29th 4:30pm PT 
Virginia Weekend of Action
Phonebanking
Saturday, July 10th 10am – 12pm PTSunday, July 11th 12pm – 2pm PT
This fall's state elections in Virginia will be one of the first tests of public approval for the Democrats that swept into office statewide and nationwide over the past two years.

Join Swing Left on July 10, the "Weekend of Action" to phone bank for Nancy Guy. Nancy is running for re-election to the Virginia House of Delegates. She won by a razor-thin margin of 27 votes (less than 1%) in 2019. A retired lawyer and former school board member, she is committed to improving public schools, growing the economy, and building a more equitable criminal justice system.
 We'll be calling for Debra Gardner on July 11th – read about her in our next newsletter! We need volunteers for the July 10 and July 11th phone banks. We can train newcomers, so sign up now!
RSVP: Call for Virginia Victories
Postcard and Letter Writing Open-Air Meetup
Sunday, July 18th 1pm – 3pm PTSave the date! We will host an outdoor open house for postcard and letter writers in Palo Alto. Volunteers can stop by to pick up small packets of letters and postcards, and say just hi. 
Update: Central Valley Matters Fundraiser
The Central Valley Matters June 10th fundraiser raised over $135,000 (so far) exceeding all expectations! Thank you for your generous donations in support of the Dolores Huerta Foundation, Valley Voices, and Valley Forward. This was a truly inspirational event with over 250 attendees. If you missed the event, you still have a chance to contribute and amplify your impact! Donate here.
Walk the Walk House Party – Communities for a New California (CNC)
Sunday, June 27th 4:00pm PT
Join Pablo Rodriguez, Executive Director of Communities for a New California. Learn how CNC's work will help turn the Central Valley blue. RSVP Here
Canvass in the Central Valley with Tracy Democrats
Saturday, June 26th, 10am – 2pm PT
Tracy Democrats have changed the date and are going door-to-door on June 26th. Engage with the community in preparation for canvassing for Josh Harder next year. RSVP Here Follow us on Twitter (@SwingLeftPen) or join our Facebook group for updates on our latest events, actions, and news.

Questions? Email us:Voter contact: votercontact@swingleftpeninsula.orgLetter Parties: letterwritingparties@swingleftpeninsula.orgFundraising: fundraising@swingleftpeninsula.orgCA-10 Outreach: ca10@swingleftpeninsula.orgCA-21 Outreach: ca21@swingleftpeninsula.orgPhone Banking: phonebanking@swingleftpeninsula.org
Join our email list: https://actionnetwork.org/forms/slp_subscribe
If all else fails: info@swingleftpeninsula.org
As always, thanks for your support!Barb Berry, Judith Bolker, Linda Brummer, Scott Carlson, Michelle Chang, Carole Flores, Anne Frahn, Mary Gill, Colin Gottlieb, Laura Gottsman, Barbara Kyser, Bruce Knoth, Victoria Maxson, Aarthi Rayapura, Kirstin Sego, Karen Spiro, Deb Strichartz and Mary Takahashi.
---
DemCast is an advocacy-based 501(c)4 nonprofit. We have made the decision to build a media site free of outside influence. There are no ads. We do not get paid for clicks. If you appreciate our content, please consider a small monthly donation.
---