May 15, 2021
WORLDS SAVED: 1
PROGRESSIVES WE HELPED REGISTER: 2,940,883
TOTAL VOTERS REACHED: over 15,000,000
DAYS UNTIL FT. WORTH MAYORAL ELECTION: 23
DAYS UNTIL 2022 MIDTERM ELECTION: 543
---
DO IT FOR YOUR CAT
Ever tried to do 10,000 steps a day? It's a lot of steps.Ever realized you still need 5,000 steps at around 11:30 at night? And walked brisk laps around your living room like a weirdo, while your cat glares at you with undisguised disdain? I have. And the cat was justified. This is what happens with voter registration in a typical election cycle. Very few voter drives are held until the last couple months of the cycle, when it becomes clear our candidates need far more Democratic voters to win. But by then, it's too late. This is no typical election cycle. And that's why we've been registering swing state Democrats all year. When the stakes are democracy itself, there's no time to lose. We must pass the For the People Act and the John Lewis Voting Rights Advancement Act. But whether these pass or not, we will need more swing state Democrats to save the Senate and House in the 2022 midterms, and win down-ballot along the way. So turn your passion into action, and take that first step: reach out and register a Democrat!
---
BIG NEWS
NEW LIGHTSPEED VOTERIZER: FIELD VERSION!
Resident genius Adam Lesh, the creator of Voterizer, has outdone himself again. We are thrilled to present a Voterizer designed specifically for registering Democrats in-person! The biggest problem with online voter registration has always been "The Leaky Funnel." Every additional field the voter has to fill out is another leak in the funnel… another reason to get distracted and stop registering. We've eliminated the leaks… by eliminating the funnel! Our new Field Version of Voterizer asks for NO information from the voter before it whisks them directly to the exact page on the Secretary of State's website where they can register. This means far more Democrats will get registered. No other voter registration app is remotely this streamlined. Voterizer was already the fastest way to register a Democrat. Now it's lightspeed! But don't take our word for it. Take it for a spin at our test site HERE. Or use it to register Democrats right now! Just go to Voterizer.org/field! And massive thank you to Adam Lesh for this groundbreaking web app!!
---
JOHN LEWIS SOCIAL STORM: INCREDIBLE RESULTS!Saturday was a HUGE day on the social storm-y seas!
Thank you to every single person who logged on and got the word out about the democracy reform bills moving through Congress. In one day, we sent 4,100 tweets, with eye-popping results: 29,439 Retweets 36,435 Faves reach of 2,061,088…and nearly 9,000,000 impressions! What an incredible way to honor the work of the late, great John Lewis. And as always, much gratitude to our intrepid Social Storm Captain Deb Verla. If you'd like to join her next adventure on the social seas, RSVP HERE for our weekly Wednesday storm party!
---
VOTERIZER DATA TEAM APPRECIATION!
We all know and love Voterizer.org – but what you may not know is that it takes multiple in-house, all-volunteer teams to ensure that our Democrat-minting machine is always running in peak condition. Today, we spotlight the tireless efforts of the Voterizer Data Team. They work around the clock to keep the app updated with the most current information and reminders, while also ensuring that each potential voter arrives at the correct registration page. It's an enormous undertaking – we're talking integrating information from hundreds of counties in all 50 states, people! That's why we salute these absolute superstars: Barbara Gryglaszewski, Trudy Obi, Carolyn Hwang, Tony Arn, Jed Pauker, Deborah Person, Clare Luikart Rickard, Stephanie Hwang, and Peter Petre! [CUE CANNON BLASTS]
---
THURSDAY, MAY 27: EXPLETIVE NOT DELETED!
Politics is already pretty twisted, but on Thursday, May 27 at 5p PT, that's a good thing! Because that's when the vocal superstars of Futurama, Pinky & The Brain, Ren & Stimpy, Adventure Time, Samurai Jack, and more, partake in a raucous, live re-enactment of the most hilarious and/or awful remarks ever recorded… secretly or otherwise… by your favorite national leaders. (A term very loosely applied in some cases.) Moderated by David X. Cohen of The Simpsons and Futurama fame, the night features some of the best voice actors in the business giving the business to Richard Nixon, The Former Guy, Sarah Palin, Lyndon Johnson, Barack Obama, and many more. Proceeds from this virtual event benefit Field Team 6, and you can get your tickets HERE.
---
VOLUNTEER OPS
GOTV TX VOTERS!
Call and postcard to let registered Texan Democrats in Ft. Worth know they can elect a Democratic mayor on June 5!
CALL AZ & WV VOTERS TO GET THEIR SENATORSTO REFORM THE FILIBUSTER
To give us all the freedom to vote, we must reform the filibuster and pass theFor the People Act and the John Lewis Voting Rights Act.Senators Sinema and Manchin are publicly opposed to filibuster reform.Get their constituents to persuade them otherwise!

ADOPT-A-TRAITOR PHONE BANKSRegister Dems in districts whose representatives supportedoverturning the Biden/Harris election victory, and flip those seats blue! We're targeting traitors in CA, NC, and TX!

FLIP A "TRIPLE WORD SCORE" STATE
Register Dems in 8 key states to save the Senate and House, and win down-ballot.Join our phone banks into AZ, GA and PA!

POSTCARDING
Register Dems via postcard in the most flippable districtsand write with friends at our weekly postcarding parties!Send cards to PA, CO-03 (Lauren Boebert's district!),FL, NC, CA-08 and CA-25!

SOCIAL STORMING
Make a huge difference with a few keystrokes!Build awareness for our voter registration app #Voterizer,our registration programs, and help #RegisterDemocrats fromthe comfort of your social media accounts!Find camaraderie, and insider tips and tricks on our Zooms!

Click VOLUNTEER OPS below to get details and sign up!
---
SAVE THE HOUSE: ORANGE COUNTY, CA!
We know the road to preserving our House majority in 2022 runs straight through Orange County, California. That's why we've been raising money to register Democrats in three critical OC districts. BREAKING NEWS! Last night, thanks to the generosity of the Assembly District 72 Democratic Club, we hit our fundraising goal in CA-48! They passed a unanimous motion to donate the last $405 we needed. HUGE THANKS to them – and to everyone who donated and got us over the top! Now we can buy the data we need and set up postcarding and phone banking campaigns to contact every single unregistered Democrat in CA-48… so that in 2022, we can harness their voting power to oust Rep. Michelle Steel and flip the district back to blue! We still need your fundraising help in two more districts: CA-39 and CA-45. Please consider chipping in so we can launch voter registration efforts as soon as possible!
Donate to Flip CA-39 Blue!Goal: $1,175; Progress: $840 CA-39 was ruby-red for many years, but Gil Cisneros flipped it blue in the 2018 midterms… only to be unseated by Rep. Young Kim (R) last year, who has voted like a hardcore Trumper. She voted against impeaching Trump, against the COVID relief bill, against voting rights, and against the Equality Act. Let's make her a one-term wonder!
Donate to Keep CA-45 Blue!Goal: $2,300; Progress: $1249 Back in 2018, Rep. Katie Porter rode the Blue Wave all the way into Congress, where she's been kicking ass and writing names on whiteboards ever since. Let's keep this progressive hero (and FT6's 2020 Champion of Democracy Award Winner) in the House of Representatives where she belongs!
---
VIDEO SPOTLIGHT: A TRIBUTE TO JOHN LEWIS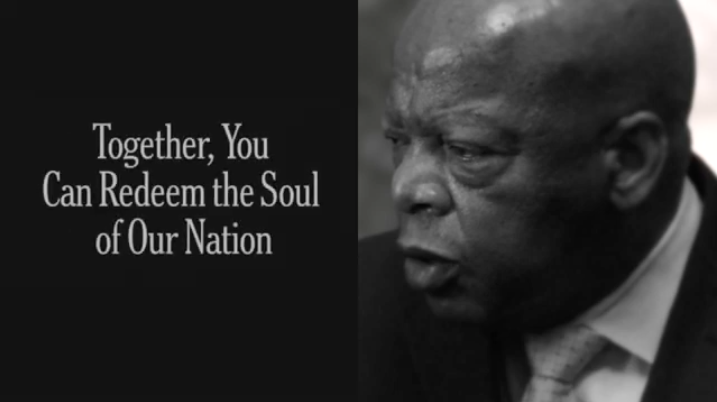 THE TRUTH IS STILL MARCHING ONShortly before his passing on July 17, 2020, legendary civil rights leader Representative John Lewis wrote a piece for the New York Times. Voice actor Amuche Chukudebelu reads his stirring words in this timeless new video. We must always remember what Rep. Lewis wrote: "Democracy is not a state. It is an act." WATCH HERE.
---
FIELD TEAM 6 NEEDS YOU
SEO SUPERSTAR NEEDED! Search engine optimization is vital to our online presence. And we're looking for a social-savvy supervolunteer to take the reins of all things SEO for FT6's YouTube, website, and social channels. We'll provide training! Wanna be our superstar? Let us know HERE!
SPANISH LANGUAGE PHONE BANKERS NEEDED! Want to help phone bank en Español? We have a leader! Now we need your help! Únete a nosotros! Join us HERE.
CALLING FOR A VOLUNTEER TO CALL VOLUNTEERS !It's a secret what you'd be calling them about (for now), but if you like to talk on the phone and enjoy catching up with volunteers who are engaged and inspiring, say so HERE.
LOOKING FOR A SOCIAL MEDIA HERO!Help needed in managing our social media accounts! Are you a natural at creating posts on Twitter, Facebook and/or Insta that are inspiring, funny, serious, poignant, informative and/or visually dazzling? Let us know HERE!
LEAD THE CHARGE FROM YOUR COMFY COUCH We're looking for people with a little time and almost any skill to share. Heck, it might be something we don't even know we need! Tell us about your chops and interests HERE!
---
BUT WAIT, THERE'S MORE!
TRUST THE VOTE
Rebuilding faith in America's voting systems is a crucial project, one that the nonprofit Open Source Election Technology (OSET) Institute is tackling head-on with their new TrustTheVote Project. Their plan is to build the most verifiable, accurate, secure, and transparent voting software in the world, with the entire code base available online for anyone who wants to look under the hood. OSET is trying to make this happen in time for the 2024 elections – and they need your help! If you believe that publicly owned and fully transparent election software is important for restoring trust in our democracy, please sign their petition HERE.
---
VACCINATION & REGISTRATION
SAVE THE WORLD TWICE!
What better way to share that you're vaccinated than with a t-shirt that celebrates your status and saves the world in one fell swoop? On the front: "I'M VACCINATED. CAN I REGISTER YOU AS A DEMOCRAT?" On the back: a handy QR code that sends new voters to Voterizer.org for instant registration. You spin around, they snap away with their smartphone, and VOILA – a Democrat is born. Fast, fun and stylish!
CLICK HERE to start shopping!
Field Team 6
Paid for by Field Team 6. www.fieldteam6.org.
Not authorized by any candidate or candidate's committee.Field Team 6
100 Los Angeles Road
Los Angeles, CA 90210
United States
---
DemCast is an advocacy-based 501(c)4 nonprofit. We have made the decision to build a media site free of outside influence. There are no ads. We do not get paid for clicks. If you appreciate our content, please consider a small monthly donation.
---