PEG 12th Congressional DistrictNewsletter #247.
Sunday, January 16, 2021
Critical Discussion on Redistricting Maps
Sunday, January 16. Redistricting Maps Discussion with Guest Experts

Now that the Michigan Independent Citizens Redistricting Commission has issued new maps, come learn what that means for you and for future elections. Guests on Conversations! will be Sergio Martínez-Beltrán, capital reporter for Bridge Magazine; Bob Chunn and Yalcin Yonikoglu of Next Vote; and Mark Brewer of Goodman Acker P.C.For comments and questions, contact Charles Newman at Chuck@Lba80.com. 7 pm
Click here for the Zoom Session on January 16 at 7 pm
---
Be a King on Twitter from Bernice King, daughter of MLK
Please don't quote #MLK on #MLKDay, then suppress the vote and support systemic oppression on Tuesday. pic.twitter.com/pFdliRInjD.
---
Watch the historic signing of the 1964 Voting Rights Act with President Lyndon B. Johnson and Rev. Dr. Martin Luther King, Jr.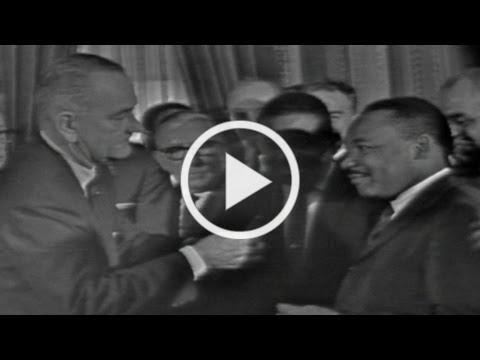 Voting Rights, Dr. Martin Luther King, Jr. Day and the Insurrection
On Tuesday, President Biden and Kamala Harris met with the family of Dr. Martin Luther King, Jr., laid a wreath at his crypt, and delivered impassioned remarks on the importance of passing voting rights legislation (APnews) "Will we choose democracy over autocracy, light over shadow, justice over injustice?" The family of Dr. King is calling for "no celebration" of MLK Day without the passage of voting rights legislation [click here]. Last week, with the Jan. 6 insurrection seen as an outright attack on democracy, Senate Majority Leader Chuck Schumer tied the absolute need for voting rights legislation to the attack on the capital [see NPR] and has vowed to call a vote on changing Senate rules by Martin Luther King Jr. Day on Jan. 17 if the GOP blocks voting rights legislation. What is "voting rights" anyway? According to the Washington Post, there are two pieces of legislation for which the Democrats are advocating, and one about which the Republicans are talking.
The Freedom to Vote Act – It would set national standards for how we vote, e.g., vote by mail, Election Day holiday, etc.
The John Lewis Voting Rights Advancement Act – It would allow the federal government to review state voting laws that could be considered discriminatory, in response to Supreme Court decisions that nullified the courts' power to do so.
The Electoral Count Act that governs how Congress and the vice president count states' electoral votes after a presidential election; Republicans want to strengthen it to prevent the federal government's ability to overturn states' results. See NPR for a further explanation of why Congress may change this arcane law.
This Washington Post article suggests that: 1) the Freedom to Vote Act will not pass unless there are changes to the filibuster; 2) the John Lewis Voting Rights Advancement Act, which is technically bipartisan due to the support of Sen Lisa Murkowski (R-Alaska) and has had Republican support previously for different versions of this, will also require filibuster rule changes; and 3) the Electoral Count Act has some Democratic support, but the Democrats "charge that just doing this over the other bills could leave other parts of the election process vulnerable to manipulation." It appears that the Democrats would have the votes to pass the federal bills if they can change the filibuster rules!
---
More Events
Monday, January 17. Rev. Dr. Martin Luther King, Jr. Day of Service
This year's MLK Symposium at the University of Michigan will provide opportunities to participate in lecture, live performances, exhibits, workshops and community service projects. Topics include reparations, incarceration, militarism and the Tulsa Race Massacre; and a discussion of Duke Ellington's "Three Black Kings" is also on the schedule on Jan 27. The full schedule of events can be found here. Please note that many events require an RSVP. The keynote address will be delivered by two noted journalists and commentators, Maria Hinojosa and Rashad Richey. The lecture will be streamed live here at 10 a.m. January 17.
EMU is celebrating the life and legacy of MLK with an extended weekend of events including the academic programs conference, performances, scholarships, awards, a keynote address, and more from June 14 – 17. The keynote will be delivered by Justin Hansford, Director of the Thurgood Marshall Civil Rights Center at Howard University, on Monday from 12:30 to 2:00 pm on the EMU Facebook page here.
Sunday's academic programs conference schedule can be found here. Check out the numerous other activities here.
Thursday, January 20. Race Class Narrative Training with We Make Michigan and Distill
PEG invites you to join We Make Michigan for an interactive, free Race Class Narrative training – messaging that has been proven to successfully achieve organizing victories and advance a progressive policy agenda from big cities to small towns across America and the world. We need to build a choir of activists and campaigns mobilizing our base and persuading the middle. To do this, we need more progressives skilled in how to implement the Race Class Narrative in their campaign work.
It has been made painfully clear how vital each of us is to building a better world where each of us can live with dignity and reach our full potential, no exceptions. And together, we can create a 'surround sound' experience that amplifies all of our work and makes those changes possible in Michigan. To register click here. 6:30 pm
Visit the PEG website to view the comprehensive listing of Upcoming Events
Things to do
Which companies fund the Sedition Caucus and which don't?

Following the riot at the U.S. Capitol on January 6, dozens of corporations pledged to stop donating to 147 Republican members of Congress who voted that day to overturn the results of the 2020 presidential election. Click HERE to see a list of the status of corporations and their contact information. You'll see which corporations to thank and which to demand they do what they said they would. Choose one of the template messages at the end of the document or create your own. Thanks to Cathy Murphree for creating the document, and to Popular Information, and Today's Edition for helping publicize this issue.
Call your Senators to pass Voting Rights Acts (find yours here)

Hi, I'm a constituent calling from [zip]. My name is ______.[If Democrat:] I understand that Democrats are considering changes to the Senate rules if Republicans keep obstructing progress on voting rights. I 100% support this, and want the Senator to as well. We should do whatever it takes to pass the Freedom to Vote Act and the John Lewis Voting Rights Advancement Act, then move on to pass Build Back Better and the many other excellent bills Democrats have already passed in the House. There's no time to waste, please get this done! Thanks.
[If GOP:] I understand that Democrats are considering changes to the Senate rules if Republicans keep obstructing progress on voting rights. I 100% support this, but hope it won't come to that. I want the Senator to change course and commit to voting for the Freedom to Vote Act and the John Lewis Voting Rights Advancement Act. S/he needs to put country over party now. As Liz Cheney stated this weekend, the Republican Party "can either be loyal to Donald Trump or… to the Constitution, [not] both." Tell the Senator that Cheney and one or two others shouldn't have to be the only courageous Republicans in Congress. Thanks.
Call Your House Rep (find yours here)
Hi, I'm a constituent calling from [zip]. My name is _______.
I'm deeply concerned about the partisan bias evident in the Supreme Court. We need to pass the Judiciary Act and add four more justices to rebalance it. Will the Congressmember co-sponsor HR 2584, the Judiciary Act? This is really important to me. Thanks.
From Jessica Craven's Chop Wood, Carry Water
Things to read, watch, and listen to
Democrats need not despair: six reasons to be hopeful about the 2022 midterms
It's midterm season and Democrats are in despair. Cheer up: 1. GOP's gerrymandering-pocalypse is a dud. Read more here. –Salon
---
DemCast is an advocacy-based 501(c)4 nonprofit. We have made the decision to build a media site free of outside influence. There are no ads. We do not get paid for clicks. If you appreciate our content, please consider a small monthly donation.
---