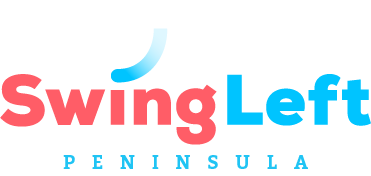 Hi Friends,
Things are revving up. We're a few days away from the inside story on the attempt to recall Governor Newsom, we're running phone banks to help citizens protect their voting rights, and we're excited to help Vote Forward send out new letters! On top of all that, we're looking for a few people who would like to join our leadership team and help with our digital communications or fire up our fundraising efforts. Read on for opportunities…
Quick Links below: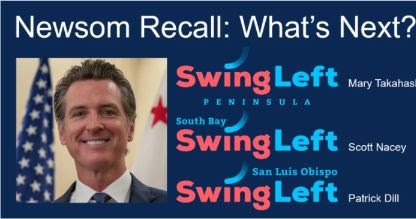 Newsom Recall Attempt – What's Next?
Thursday, March 18th 6:00pm
Join Swing Left Peninsula and Democratic Vice-Chair Daraka Larimore-Hall as he discusses the Gavin Newsom Recall attempt that is headed our way and how we can prepare. This event is co-hosted with South Bay Swing Left and San Louis Obispo Swing Left.
AZ and GA Phone banks to Protect Voting Rights
After historic turnout and increased mail voting in 2020, state lawmakers across the country are pushing restrictive voting laws through state legislatures. 37 states have submitted 253 laws. Join us to help protect our democracy. Phone banks are held every Wednesday and Saturday. We are calling the two states that have submitted the most egregiously suppressive laws: Arizona and Georgia. We will teach you how to use Call Hub, we leave messages and follow up with texts.
---
Letter writing: Thank You to Georgia Voters
Vote Forward is providing addresses to thank first-time and infrequent voters who cast ballots in the 2020 general election and encourage them to vote again. Share why you voted and recognize the contribution they made by voting! Sign up for addresses through Vote Forward.
---
Protect Voting Rights Nationwide!
GOP legislatures across the country are working hard to curtail Americans' fundamental right to vote. Conversely, the Democrats in the U.S. House just passed HR1 to protect everyone's voting rights and strengthen elections nationwide.  Now HR1 sits in the U.S. Senate, where Republicans can block the bill using the filibuster. Most Democratic Senators would rather protect voting rights than maintain a rule designed to prolong racism. At least three Democrats need encouragement to drop the filibuster, including our own Sen. Dianne Feinstein!  We're joining with grassroots organizations across California this week to saturate Sen. Feinstein with messages extolling voting rights over the Jim-Crow era filibuster rule. Please sign our petition to her and then call her office (and call every day this week – they tally the calls!) Sen. Dianne Feinstein: (202) 224-3841, (415) 393-0707, or (559) 485-7430
Petition and Call Sen. Feinstein
Once you've reached out to Sen. Feinstein, send messages to these two Senators – they need encouragement as well. Contact Senator Kyrsten Sinema (Arizona) Contact Senator Joe Manchin (West Virginia)
---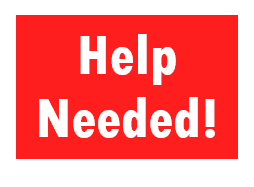 We, Swing Left Peninsula, are looking for someone to keep our fundraising efforts rolling. Help identify opportunities and gather volunteer teams to make it happen. Could include online fundraisers, live events, or whatever else feels like a good fit for our group. Is this you? Reply to this newsletter or email info@swingleftpeninsula.org.
We're seeking a volunteer to help with digital communications (assembling and sending this email, for example). Qualifications include experience with and/or interest in learning web-based email tools, such as Mail Chimp or Action Network, strong collaboration skills, being detail-oriented and able to meet deadlines. This position requires several hours of time on weekends. We also welcome people who have social media experience. Interested? Reply to this newsletter or email info@swingleftpeninsula.org.
---
Madam Vice President – Dan Morain on Kamala's Way
Wednesday, March 24th 4:30pm
Join Dan Morain, veteran California political journalist as he discusses his revelatory biography of the first Black, first Asian-American and first female Vice President, Kamala Harris. RSVP Here
H.R. 1 For the People's Act Event (Focus2020)
Wednesday, March 24th 5:00pm
Join Focus2020 for a discussion on H.R. 1 and how we can support the passage of the most comprehensive voting rights and democracy access legislation in a generation. Zoom event. RSVP Here
---
Follow us on Twitter (@SwingLeftPen) or join our Facebook group for updates on our latest events, actions, and news.
Questions? Email us:
Join our email list: https://actionnetwork.org/forms/slp_subscribe
If all else fails: info@swingleftpeninsula.org
As always, thanks for your support!
Barb Berry, Judith Bolker, Linda Brummer, Scott Carlson, Michelle Chang, Carole Flores, Anne Frahn, Mary Gill, Colin Gottlieb, Laura Gottsman, Barbara Kyser, Bruce Knoth, Victoria Maxson, Aarthi Rayapura, Kirstin Sego, Karen Spiro, Deb Strichartz and Mary Takahashi.
---
DemCast is an advocacy-based 501(c)4 nonprofit. We have made the decision to build a media site free of outside influence. There are no ads. We do not get paid for clicks. If you appreciate our content, please consider a small monthly donation.
---