IC-SS Weekly Update: September 14, 2020
---
From Postcards to Letters: Vote Forward
Sending a Vote Forward letter is one of the easiest things you can do to increase turnout. It takes two minutes and one stamp, and meaningfully increases the odds that the recipient will vote.
~Vote Forward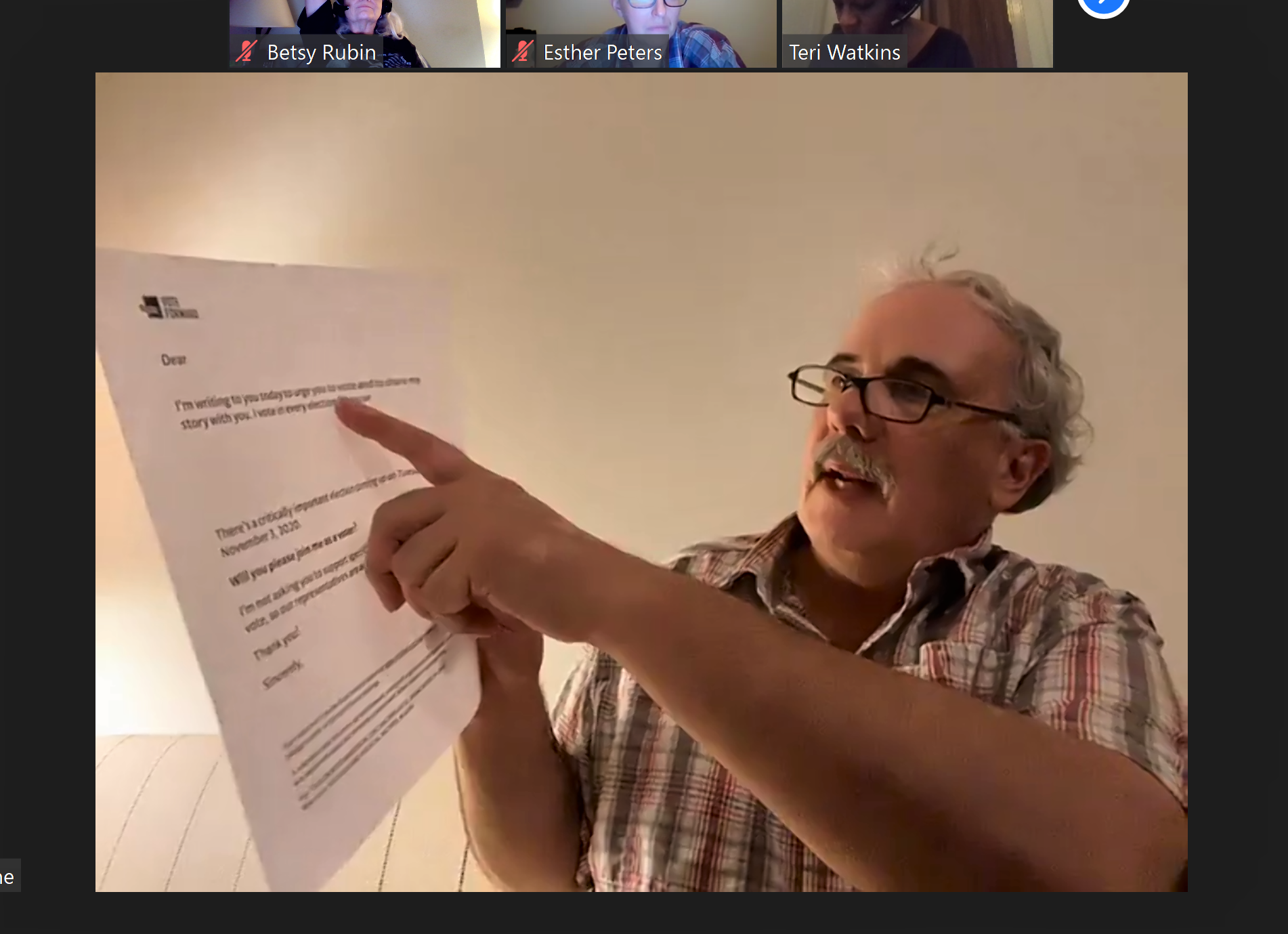 Big thanks to IC-South Side member Steve Kagan, who joined our last Zoom to talk about Vote Forward and a letter-writing project to encourage people in swing states to vote.
He's written over 1000 letters, and, as a group, we've decided to join him – though no one expects to rival Steve's productivity. To participate in Vote Forward, you need a printer, printer paper, envelopes, stamps, and a pen.
Steve gave an overview of the Vote Forward process:
Print out a pre-written letter for each voter on your list.
Customize the letter by writing what motivates you to vote.
Sign each letter, seal it in an envelope, stamp, and address (using a Vote Forward return address).
Save the finished envelopes until the specified mailing date.
We invite you to sign up now with Vote Forward so you can be ready to write with us when you are done with the postcard project. We'll be announcing our Vote Forward Zooms soon. 
[Vote Forward is a] concrete action you can take, no matter where you live, to get unlikely-to-vote fellow citizens to the polls.
---
September 29th Zoom – Special Time: 7:00 pm
Finish up your postcards – write Vote Forward letters – connect!
RSVP here for our special Tues, Sept 29th Zoom party, beginning at 7:00 pm (30 minutes earlier than usual). Schedule:
7:00-7:30: Check in, chat, sip your beverage, and feel free to write postcards or Vote Forward letters.
7:30-8:00: Hear from a member of Yes for Fair Tax who'll inform us about the Fair Tax amendment, a ballot measure that we'll all find on our November 3 ballot.
8:00-on: Stay with us to watch the first presidential debate! (Or hop off if you have another watch party to attend.)
💻️RSVP for our next Zoom: Tues, September 29th, 7:00-9:00 pm.
---
Write the Last Postcards & Turn 'Em In!
Let's finish up those postcards by September 30. Running behind? Ask your friends and neighbors to help you out.
If you received your postcards from Indivisible Chicago-South Side, eitherby picking them up from Esther Peters or having them hand-delivered by Esther or by Betsy Rubin, then:
You'll need to return them to us in batches of 100 along with the address sheets.
To arrange, you can reply to the earlier emails that you got from Esther or Betsy OR let us know right here.
If you received your cards from a different group or if the postcards were shipped to you in the mail, then please refer to the instructions that accompanied your order.
---
Volunteer Sept 22: Voter Registration Day
Would you like to do outdoor, face-to-face voter registration and voter outreach in Hyde Park?
Join the Neighbors Who Vote effort on Tuesday, September 22, National Voter Registration Day. There will be multiple locations in Hyde Park-Kenwood. Here are the Sept 22 Volunteer Shifts:
AM Shift 7:00-9:00 am
PM Shift #1: 4:00-6:00 pm
PM Shift #2: 5:00-7:00 pm
NOTE: If you can't volunteer on 9/22, there are other opportunities.
Volunteer – or Donate Materials/Supplies
To volunteer with or help Neighbors Who Vote, click on the relevant response to send them an email:
📝When you volunteer:
Wear a mask that covers your nose & mouth
Bring a clipboard (or clipboards) if you have them
Bring hand sanitizer
Be non-partisan when you register voters. Do not wear any political or partisan t-shirts, buttons, etc.
---
IC-South Side Leadership Update
Dear Members and Friends of Indivisible Chicago-South Side:
Indivisible Chicago-South Side is an independent group that participates in the citywide Indivisible Chicago Alliance. Our group is composed entirely of volunteers and has no budget. Originally inspired by the Indivisible Guide, IC-South Side fights for progressive values via grassroots influence on our elected officials.
A group of concerned neighbors created IC-South Side in early 2017 in response to Trump's election. Founding organizers were Doug Bishop, Josh Fox, Wendy Posner, and Mark Sorkin.
In late 2019 and early 2020, the group's co-leaders were Doug Bishop and Esther Peters until Doug, a molecular biologist, stepped aside in March 2020 to focus research efforts on the fight against COVID-19. At that time, Betsy Rubin was asked to become an acting co-leader, and then Teri Watkins joined Esther and Betsy as an acting co-leader in July.
Our current leadership is:
Esther Peters, Co-Leader
Teri Watkins, Acting Co-Leader for Membership
Betsy Rubin, Acting Co-Leader for Communications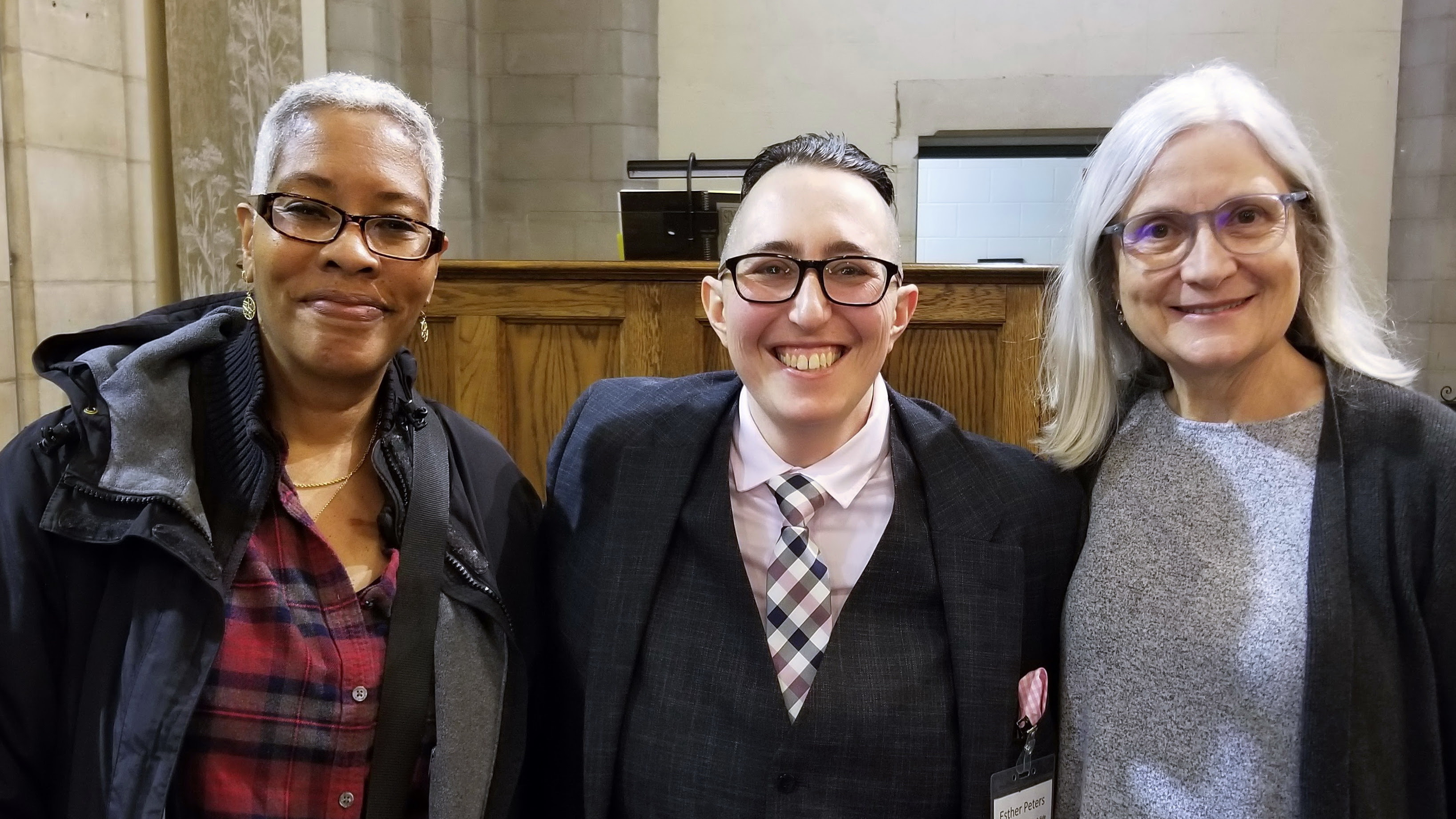 While IC-South Side is now focused on the November election, we know the work will continue at the national, state, and local levels, regardless which party controls the White House or Congress. The next election for IC-South Side officers will be held in early 2021.
With less than two months remaining before the most critical election of our lifetimes, we urge all members, old or new, to get active – and stay active as we fight for better and defend our very democracy. There are many ways to act. Get in touch – join us!
Esther, Teri, and Betsy
Indiv.Chi.South@gmail.com
---
Get Active with Indivisible Chicago Alliance
When we can't knock doors, we ring phones – a proven way to turn out citizens to vote, up and down the ballot. Thank you to Indivisible Chicago-South Side members for leaping into phonebanking in these critical months leading up to the November election.
Now that the postcard effort is finishing up, take the leap into phoning voters. The citywide Indivisible Chicago Alliance provides opportunities to act – safely from home – via their 3 States 1 Mission initiative.
Phonebanking Opportunities: Here's the phonebanking schedule via Indivisible Chicago's 3 States/1 Mission project:
Call Michigan or Wisconsin voters re candidates up & down the ballot
Call Michigan voters to help them register to vote
Call voters in IL's 14th District for Rep Lauren Underwood
Call Illinois voters in support of the IL Fair Tax Ballot Initiative
Call prospective volunteers for the Indivisible Chicago Alliance
And other opportunities, as announced
New to phonebanking or need a refresher? Sign up for a clear and friendly 30-minute online phonebank training here. 
Let us know if you've been phonebanking so we can give you a shout-out!
---
HPKCC Voting Forum: Sept 17
The Hyde Park-Kenwood Community Conference presents an online community dialogue on voting rights, hosted in collaboration with the League of Women Voters of Chicago: Thursday, September 17, 6:00 pm. Sign up here.
---
Be sure you are registered. Be sure you vote!
REMINDER: Chicago & suburban Cook County voters can drop completed vote-by-mail ballots in secured drop boxes at early voting sites.
---
Indivisible Chicago-South Side
Email: Indiv.Chi.South@gmail.com
Follow IC-SS on Facebook and Twitter
---
Chicago South Side · 5476 S. Harper Ave · Chicago, Il 60615
---
DemCast is an advocacy-based 501(c)4 nonprofit. We have made the decision to build a media site free of outside influence. There are no ads. We do not get paid for clicks. If you appreciate our content, please consider a small monthly donation.
---