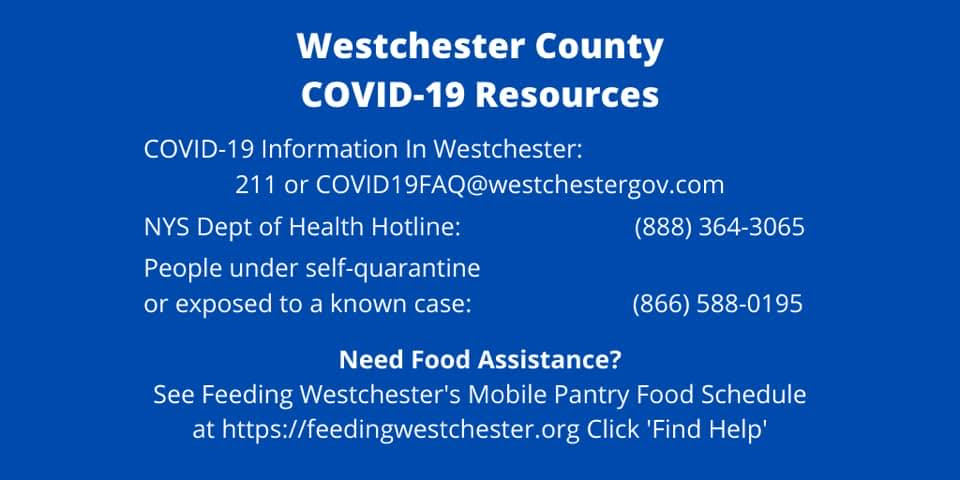 On Sunday, Governor Cuomo extended the state's "New York on PAUSE" policy until April 15th. That means non-essential businesses and schools will continue to stay closed. Gatherings of any size for any reason remain canceled and all New Yorkers continue to be directed to practice social distancing — by staying home and keeping six feet of space from others when in public.

Stay Informed: Get nightly updates from New York State with the latest news on our response to the pandemic by signing up here.
New York has reopened enrollment for those who need health insurance. Click here for more information.
New York has established a free hotline for people to call and make an appointment with a volunteer mental health professional.
The number is 1-844-863-9314.
Click here to access the Westchester County Department of Health's webpage for updated information about the virus and how to protect yourself. 
Westchester County has childcare available for first responders, medical personnel and essential employees during the week in White Plains. The program has a wonderful, safe, engaging set-up for children 4-12, nurses on staff and is providing two meals, plus a snack. For information, email Rosie at Rvf1@westchestergov.com.
Ways To Help Those In Need:
Episode 34: Sew For NY: Making Masks Matters
Healthcare workers on the front lines of fighting the coronavirus pandemic are suffering from a severe shortage of medical equipment – especially masks. We talk to one local Indivisible member – Jean Hee – who is organizing a massive mask making and distribution effort – one stitch at a time. Click here to listen to the podcast. 
Find out more @ www.sewforny.org. 
Click hereto read an article about why more Americans should probably wear more masks for protection.
Call your member of Congress today and advocate for passage of the H.R. 6139 Health Care Worker Protection Act to extend workplace protections against exposure to coronavirus and protect millions of healthcare workers and other workers at high risk!
And demand that the Trump administration activate the Defense Production Act to ensure that healthcare providers have all of the the tools they need to protect themselves and care for their patients.
Senator Chuck Schumer: 202-224-6542
Senator Kirsten Gillibrand: 202-224-4451
Congressman Eliot Engel: 202- 225-2464
Congresswoman Nita Lowey: 202-225-6506
Congressman Patrick Maloney: 202-225-5441
Read how the Act will save healthcare workers' lives.
Cuomo's done a solid job handing the coronavirus crisis but is seeking greater powers over the state's budget, which is due Wednesday.
Email and call your legislators to demand billionaires and ultra-millionaires pay their fair share (backed by 9 of 10 NYers). 
Learn more here and see the 14 ways NYS can generate $35-$40 billion annually.
Early voting for NY's Presidential primary starts 4/18. Call NYS electeds and sign this petition AND, contact our US Senators to voice strong support for the Klobachur/Wyden emergency bill to institute Vote by Mail.
Click here to read the NYT editorial about why "voting by mail is key to ensuring the integrity and accessibility of November's vote."
Fight Voter Suppression in NC. Postcard to bring 10,000s of purged voters back on line. Email communications@indivisiblewestchester.
org to get started.
We have sent thousands of postcards to voters!
This too shall pass. In the meantime, we stand Indivisible.  
---
DemCast is an advocacy-based 501(c)4 nonprofit. We have made the decision to build a media site free of outside influence. There are no ads. We do not get paid for clicks. If you appreciate our content, please consider a small monthly donation.
---