How can organizers with slim budgets and short timelines reach more voters?
Podcasts. Andrea Miller founder of Center for Common Ground recorded this podcast to emphasize the importance of voting in the upcoming Wisconsin Supreme Court election.
Podcasts are ideal for organizers. Podcasts are quickly produced, affordable and informative.
– More than 80% listeners spend more than seven hours per week tuning into podcasts. That's more time than they spend on social media or TV.
– 58% of the US population listened to podcasts at least once a month
– Nearly 75% podcast consumers say they enjoy tuning in to podcasts to learn new things (Oberlo)
This blog explains how Andrea recorded a podcast about how Center For Common Ground uses postcarding to mobilize hard to reach voters in underserved communities.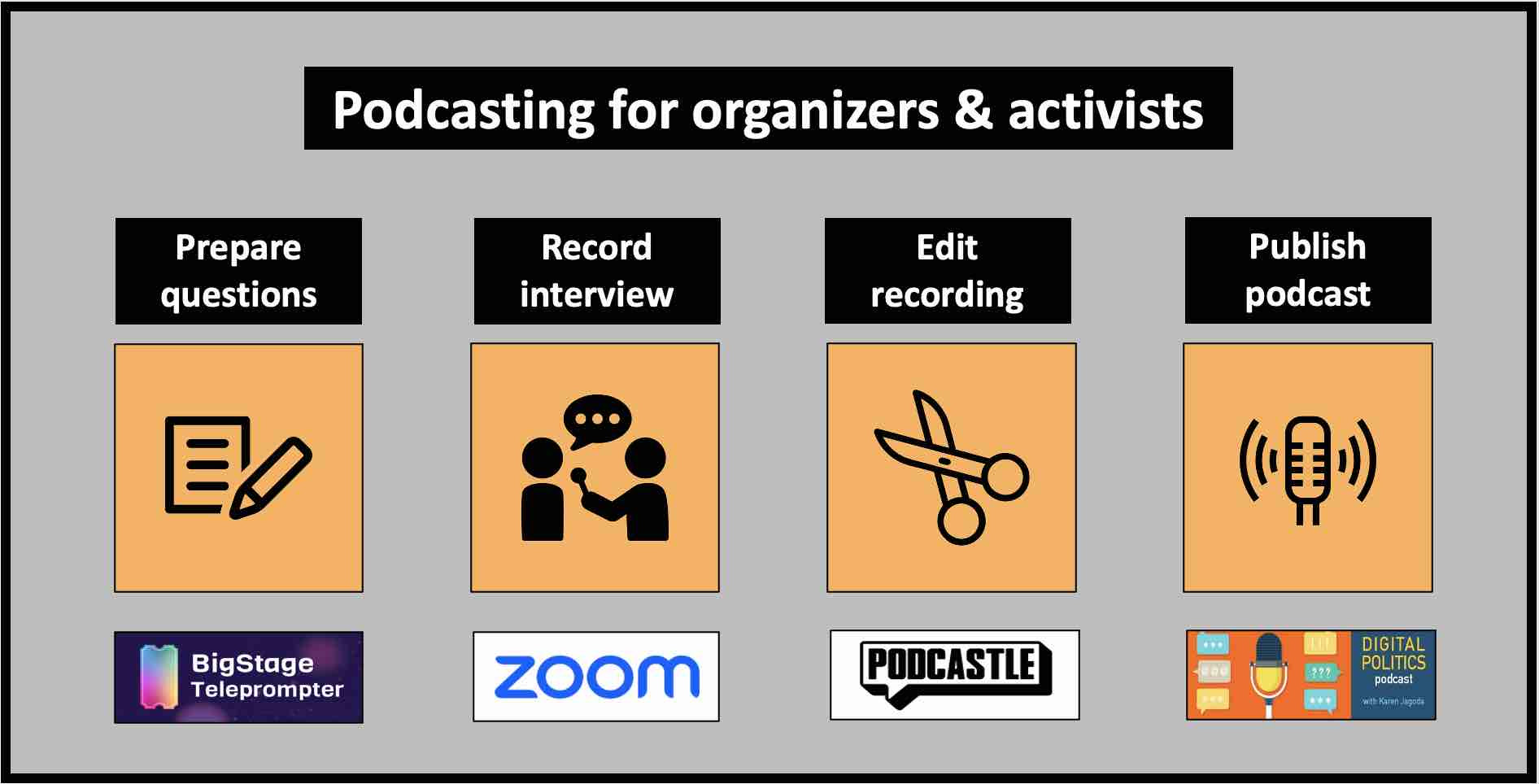 Producing a podcast
– The general script and questions to be asked in the podcast were saved in the free BigStage Teleprompter app to ensure a smooth flow during the recording.
– The interview was recorded remotely via Zoom
– The recorded file was edited with the free Podcastle app
– The podcast was was produced and published by Digital Politics
Digital Politics Podcast
DigitalPoliticsPodcast is a non-partisan podcast and the newsletter are projects of the E-Voter Institute, co-founded by Karen Jagoda in 1998 about the use of digital and traditional tools for political and advocacy campaigns. The audience includes digital and traditional political and advocacy strategists, solution providers to political and advocacy campaigns, pollsters, association leaders, activists, fundraisers, media planners, media buyers, media providers, elected officials, staffers, candidates, digital entrepreneurs, journalists, academics and investors.
Listen to Postcarding and Other Political Grassroots Innovations with Andrea Miller Center for Common Ground on the Digital Politics Podcast with Karen Jagoda.
This podcast is based on an interview I conducted with Andrea Miller. DemLabs is collaborating with E-Voter Institute to highlight grassroots campaign innovations. Find out more about how to be featured in a future podcast here.
Recent Digital Politics podcasts
Democracy Thrives When We Have Shared Facts with Nicole Bateman USAFacts
The Power of Women Voters with Taylor Salditch Supermajority
Training Winning Candidates with Patti Russo The Campaign School at Yale Universit
Empowering Campaign Volunteers to Build Relationships with Jono Kupferberg HubDialer
Editorial Cartoons Political Humor and Influencing Public Opinion with Daryl Cagle
Postcarding to contact the hard to reach

Center for Common Ground (CCG) is a nonprofit that educates and empower under-represented voters in voter suppression states to engage in elections and advocate for their right to vote. It uses a very cost effective, volunteer driven strategy to get out the vote in communities of color that are hard to reach and often ignored. Andrea Miller, the founder of Center For Common Ground explains how they are using postcarding to mobilize voters in the upcoming Wisconsin Supreme Court election.
Many Black voters never hear about upcoming elections or cannot find details of when and where they can vote. CCG uses the voter file to create list of voter to contact and volunteers to write and mail postcards to them. Many voters cannot be called by organizers because voter phone numbers are missing or incorrect. What are some of the other challenges?
– Many BIPOC (Black, indigenous, people of color) voters do not have a computer nor internet access
– Some do not have a smart phone or may have a disability that prevents them from using a keyboard
– Others live in an area that is hard to canvass
– Many voters of color may not spend much time on TV – making it hard to reach them through ads
What's at stake in the Wisconsin Supreme Court election?
A challenge to the state's legislative maps is likely to come before the court. In April 2022, the Supreme Court court ruled 4-3 in favor of a legislative redistricting plan drawn by Republican lawmakers, giving the party's candidates in the Legislature a bigger advantage, with 63 of the 99 Assembly seats and 23 of the 33 Senate seats leaning toward the GOP, according to a Milwaukee Journal Sentinel analysis.
New maps are redrawn every 10 years. But the court would hear a challenge to the current maps if a lawsuit is filed, as is seen as likely, and it makes its way through the system to the Supreme Court. Protasiewicz called the current maps "rigged" against voters in Milwaukee and Dane counties during a candidate forum in January, signaling she would support taking on a case that would redraw the maps before 2032. – Yahoo
TakeAway: Use podcasting for campaign outreach.
Deepak
DemLabs
DISCLAIMER: ALTHOUGH THE DATA FOUND IN THIS BLOG AND INFOGRAPHIC HAS BEEN PRODUCED AND PROCESSED FROM SOURCES BELIEVED TO BE RELIABLE, NO WARRANTY EXPRESSED OR IMPLIED CAN BE MADE REGARDING THE ACCURACY, COMPLETENESS, LEGALITY OR RELIABILITY OF ANY SUCH INFORMATION. THIS DISCLAIMER APPLIES TO ANY USES OF THE INFORMATION WHETHER ISOLATED OR AGGREGATE USES THEREOF.
Image credit: George Milton on Pexels
Reposted from Democracy Labs with permission.
---
DemCast is an advocacy-based 501(c)4 nonprofit. We have made the decision to build a media site free of outside influence. There are no ads. We do not get paid for clicks. If you appreciate our content, please consider a small monthly donation.
---