Use this free Dog Whistle Translator to understand politicians' coded messages.
"American Jews need to get their act together to show appreciation for Israel "before it's too late" sounded like a Trump threat, said Jonathan Greenblatt CEO of The Anti-Defamation League. "In this moment, Jewish people are feeling besieged, and when the former president of the United States makes if you will, an unveiled threat… In the past, Trump has leaned on stereotypes about American Jews' loyalty and power, and has "welcomed antisemites and extremists into the public conversation." The Hill
Politicians use such 'Dog Whistles' to send coded messages that's easily understood by a particular group of people, but not by others. This free translator makes it easier to understand what they really mean.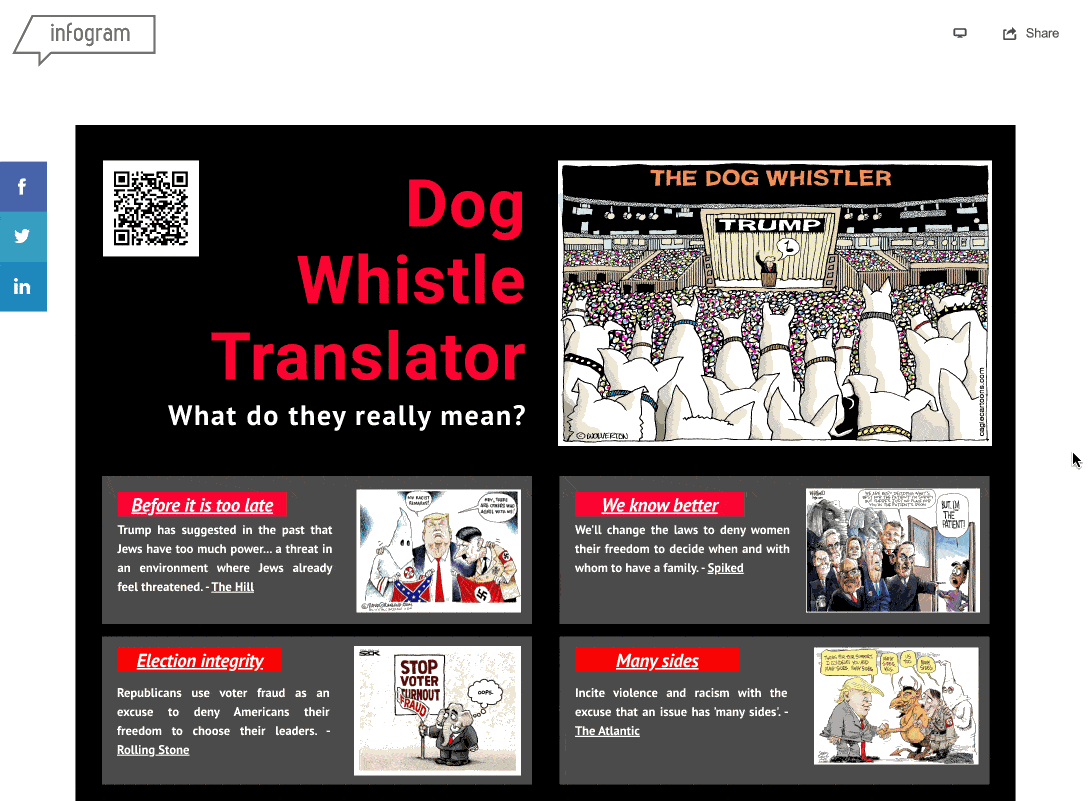 Dog-Whistle Politics: It's a Tradition with the GOP
Republican strategists have been capitalizing on white Americans' racial, ethnic, and religious sensitivities for decades. Dog-whistle politics often stoked worries about African Americans, Latinos and Muslims in their semi-concealed appeals. – History News Network
Freedom is on the ballot
Abortion/Reproductive Justice: our freedom to decide if and when we grow our families / our freedom to decide whether we have kids
Climate: our freedom to have clean water to drink, clean air to breathe / our freedom to breathe easier / our freedom to leave a better life for our children, grandchildren, and future generations
Democracy/Elections: our freedom to vote / our freedom to have an equal say in the decisions that impact our lives
Economic Well-being, Taxes and Social Supports, Wages and Jobs: our freedom to make a good living/ freedom to thrive / freedom to prosper/ freedom to care for our families/ freedom to retire in dignity with programs we rely on, like Social Security.
Education: our children's freedom to learn
Guns: our freedom from gun violence / our freedom to trust our kids will come home safe at the end of the day / freedom to go to the grocery store, send our kids to school, worship, live our lives, walk through our communities without fear of gun violence
Healthcare: our freedom to get the care we need (without fearing we'll go bankrupt to get it)
Immigration: our freedom to move / our freedom to give our families a better life / freedom to be who you want to be, say what you want to say, and go where you want to go
Labor and Unions: our freedom to join together in union / our freedom to negotiate a fair return on our work so we can provide for our families
Medicare and Social Security: our freedom to rely on programs we trust, like Medicare and Social Security
Paid Family and Medical Leave: our freedom to care for our loved ones/our freedom to be there for our loved ones/our freedom to recover from illness or injury
Police Brutality and Accountability: our freedom to breathe/our freedom to get home safe/our freedom from police brutality/our freedom to be treated with dignity by those sworn to protect and serve
Trans and Queer Youth: our children's freedom to be themselves and pursue their dreams / our freedom to be ourselves

TakeAway: Understand their dog whistles. Vote to protect your freedoms.
Deepak
DemLabs
DISCLAIMER: ALTHOUGH THE DATA FOUND IN THIS BLOG AND INFOGRAPHIC HAS BEEN PRODUCED AND PROCESSED FROM SOURCES BELIEVED TO BE RELIABLE, NO WARRANTY EXPRESSED OR IMPLIED CAN BE MADE REGARDING THE ACCURACY, COMPLETENESS, LEGALITY OR RELIABILITY OF ANY SUCH INFORMATION. THIS DISCLAIMER APPLIES TO ANY USES OF THE INFORMATION WHETHER ISOLATED OR AGGREGATE USES THEREOF.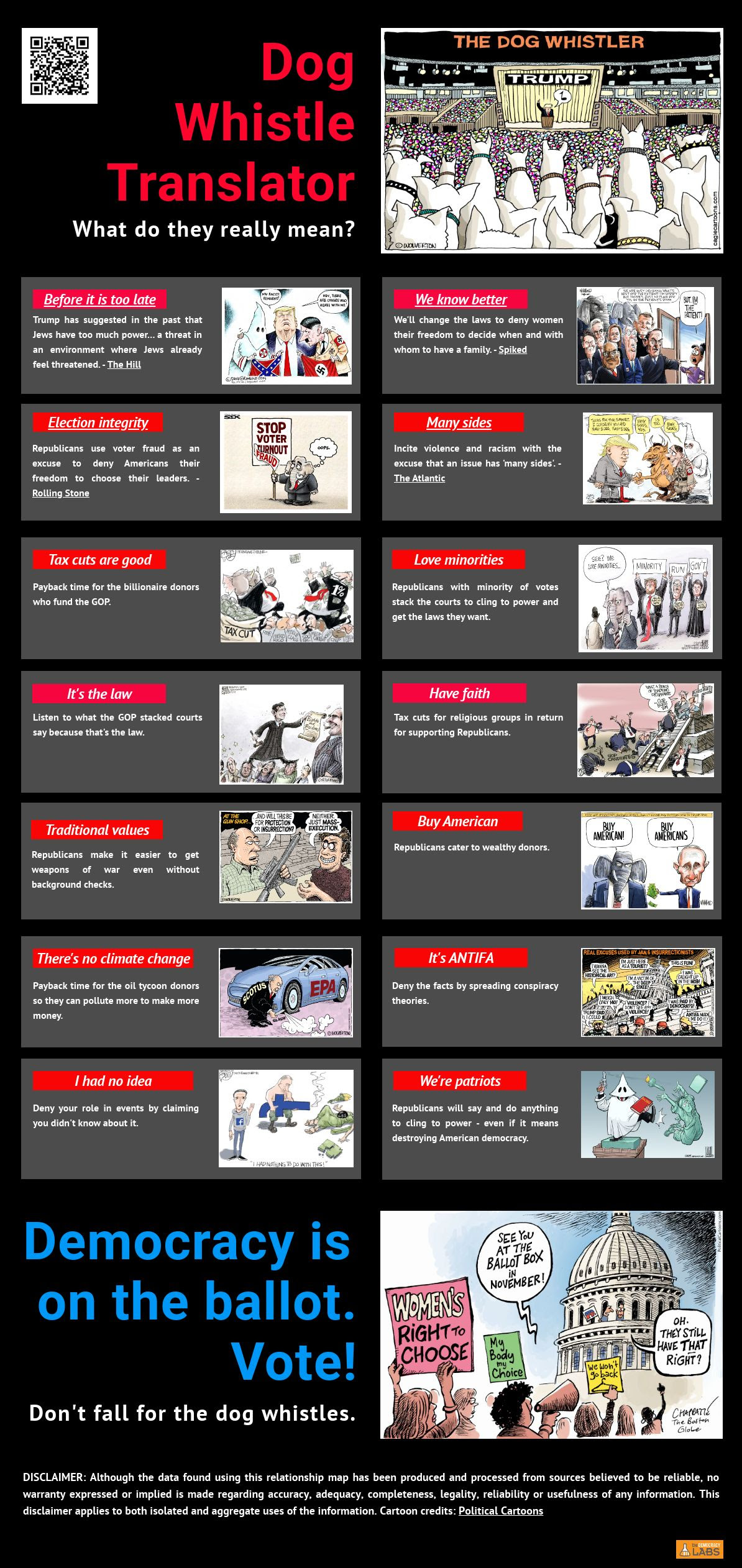 Reposted from Democracy Labs with permission.
---
DemCast is an advocacy-based 501(c)4 nonprofit. We have made the decision to build a media site free of outside influence. There are no ads. We do not get paid for clicks. If you appreciate our content, please consider a small monthly donation.
---