Can you spare an hour or two
to save our democracy?
Freedom to Vote Act
By working together, we can keep democracy-saving legislation on Congress's agenda and get the Freedom to Vote Act passed in the Senate. We need to send a clear message that Americans want this bill passed. Contact people in key states and ask them to pressure their Senators!
It's Time to Pass the Freedom to Vote Act!
Choose from 5 actions.
Let's help get this bill over the finish line!
---
States Matter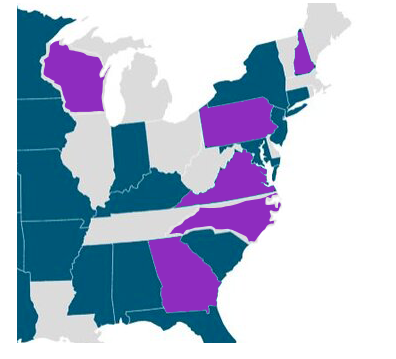 Virginia!  The entire nation is watching Virginia this November. If Trump-backed candidates win, then Republicans will be emboldened and our work in 2022 will be that much harder. Help Virginia elect a Governor, Lt Governor, Attorney General and their House of Delegates: recruit poll observers, help correct mail-in ballots, call for candidates, or GOTV in communities of color.
Learn more about the Virginia phone banks on our State Actions page
 then join the Lean Left community for an hour or two on Sundays.
Lean Left's VA PowerHour!
Sundays starting October 10th between 3 and 5 pm via zoom
Phone bank & tech support available
---
Pennsylvania!  
The PA Dems voter protection hotline is back! It is open to experienced and new volunteers. The hotline will go live on Monday, October 11. There are two trainings scheduled for Saturday, Oct 9 and Tuesday, October 12. Because there are changes in hotline procedure, everyone will need to attend, even those with experience. You may wonder what is on the line this year? Among other things key county positions and several judicial seats including an all-important State Supreme Court seat. Check out more actions on our State Actions page.
---
Fund the MovementLean Left's October BeneficiaryLocal Leadership Network (LLN) is a partnership among Democratic Town Committees and local progressive grassroots organizations in New Hampshire. The LLN is effectively building a down-ballot infrastructure to strengthen Democratic efforts and enable progressives to re-take the NH House, as well as other branches of government, in 2022.
You can make a difference in New Hampshire!
Or contribute through your Giving Circle!
Read more about our October beneficiary HERE.
---
Feeling lonely?
Frustrated and angry with the news about voter suppression?
Think about joining or starting a Good Trouble Cafe.
---
Check Out Actions & Events on Our Website
There is plenty to do! 
Have questions? Need support?
Get in touch with us here. 
 
---
DemCast is an advocacy-based 501(c)4 nonprofit. We have made the decision to build a media site free of outside influence. There are no ads. We do not get paid for clicks. If you appreciate our content, please consider a small monthly donation.
---