New Voting Bill: Freedom to Vote Act
Joe Manchin Got the Voting Bill He Wanted.
Time to Pass It.
The revised bill would:Make Election Day a public holidayEnsure same-day voter registration in every stateSet minimum federal standards on mail-in-votingBan partisan gerrymanderingYour hard work in pressuring Congress has made this bill possible.
We must continue our efforts to ensure that all Americans can cast their ballots by working to pass the Freedom to Vote Act and the John Lewis Voting Rights Act.We have 5 actions you can choose now!
Spend 1 hour this week helping strengthen our democracy. 
---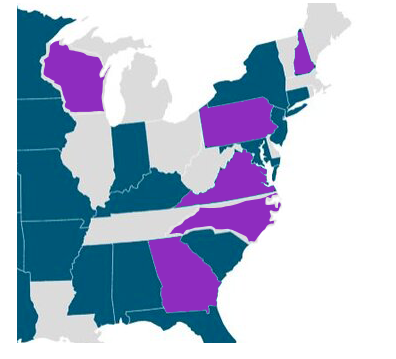 States MatterVirginia!  
The entire nation is looking at Virginia as a bellwether for next year's mid-terms. We need to prove to the country that it doesn't matter whether Trump is on the ballot — our energy and enthusiasm strengthening our democracy is higher than ever.
We have actions for you!
Fund the MovementTurn PA Blue's Vote by Mail CampaignWe Won the Presidency in Pennsylvania by the Skin of Our Teeth
 Vote by Mail Is Critical to Making Pennsylvania Solidly Blue!Every $25 that you donate will buy 500 more texts or phone calls for Turn PA Blue's get out the vote by mail program.The key to victory in PA is turnout and vote-by-mail is key to Democratic turnout. Democratic voters who have a tendency not to vote were ten times more likely to vote in 2020 if they requested a mail-in ballot than those who did not. Voting by mail is a habit we want to instill in these voters so we can not only win in 2021 but go on to flip a Senate seat, retain the governorship and flip the state legislature in 2022.  
Feeling lonely?
Frustrated and angry with the news about voter suppression?
Think about joining or starting a Good Trouble Cafe. 
Check Out Actions & Events on Our Website
There is plenty to do! 
Photo Credit: Susan Ritz
Have questions? Need support?
Get in touch with us here. 
 
---
DemCast is an advocacy-based 501(c)4 nonprofit. We have made the decision to build a media site free of outside influence. There are no ads. We do not get paid for clicks. If you appreciate our content, please consider a small monthly donation.
---