Monthly Newsletter September 2021
Scroll Down!
"With the release of the 2020 census last month, the drawing of legislative districts that could in large part determine control of Congress for the next decade heads to the nation's state legislatures, the heart of Republican political power…. According to Donald Kettl, a state government scholar at the University of Texas, Austin,"…the real point of the spear of Trumpism is appearing at the state and local level. State legislatures not only are keeping the flame alive, but nurturing and growing it."From "As Washington Stews, State Legislatures Increasingly Shape American Politics" New York Times, August 29, 2021
---
Let's Make Sure Virginia
Stays Blue! We could lose Virginia. The upcoming election in November will determine who controls the state legislature and executive branch.
We CANNOT lose this election.
Time Sensitive Action!
Make Calls to Register Voters of Color in Virginia:
A Four Day Call-a-Palooza! with the Center for Common GroundWednesday, September 1 through Saturday, September 4In partnership with Black Lives Matter, the Center for Common Ground is holding a phone bank action that will be calling unregistered voters of color in Virginia and assisting them with the registration process. The contact rates are excellent. This is one of the most effective phone banks the Center has ever done. Once you go through the initial training, you can make calls on your own time! We must win in Virginia this November.Sign Up Here!
More state actions on the WEBSITE check them out: Text Democratic voters who don't show up to vote in Pennsylvania. Action ends September 9! Write postcards to underrepresented and/or infrequent voters of color in Virginia. Urge Democratic voters to vote by mail in Pennsylvania. Join Virginia's Voter protection team. Make calls to recruit poll workers and register voters in Wisconsin.
---
Important Information Session
for Pennsylvania, Wisconsin, and Virginia
Tuesday, September 14th, 6:00 to 7:00PM
We can't let Virginia slip away. Keeping all of the statewide offices and the House of Delegates is far from a sure thing.
Pennsylvania has elections in 2021 too, including county offices and state appellate races. What happens there this year will help or hurt the cause to flip a Senate seat, retain the governorship and flip the state legislature in 2022.
Are you tired of hearing Wisconsin's Senator Ron Johnson push the Big Lie or deny the insurrection? Like PA, we need to flip a Senate seat in Wisconsin, hang on to the governor's office, and make inroads in one the most hard-core right-wing legislatures in the country.
There are things that we can do now from Vermont in each of these states.
Join us on Sept 14th to learn more.
Sign Up Here!
---
For the People Act and the John Lewis Act
As John Lewis was fond of saying, "When you see something that's not right, not fair, not just, do something!" Working hard in the states doesn't mean we give up on the federal legislation before Congress. These voting rights bills will get big money out of politics, stop gerrymandering, and protect the vote.

There are plenty of actions you can take right now to help pass this legislation! Check out the website to make calls, text, or use your social media skills!
If you want the latest information about where this legislation stands, jump on the End Citizens United/Let America Vote briefings held every Tuesday from 7:30 — 8:30, sign up here or at lunchtime on Thursdays, sign up here.
If you need inspiration, watch this film!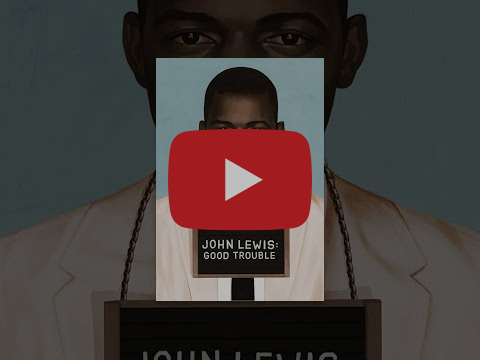 ---
Fund the Movement
September Beneficiary
Turn PA Blue's Vote by Mail Campaign
We Won the Presidency in Pennsylvania by the Skin of Our Teeth
Vote by Mail Is Critical to Making Pennsylvania Solidly Blue!
Every $25 that you donate will buy 500 more texts or phone calls for Turn PA Blue's get out the vote by mail program.
Pennsylvania has important elections this year, including county offices and state court justices. Counties run elections in PA and can set or remove obstacles to casting a ballot. AZ (the bad) and in NH (the good) have demonstrated the impact that state courts have on voting rights.
The key to victory in PA is turnout and vote-by-mail is key to Democratic turnout. Democratic voters who have a tendency not to vote were ten times more likely to vote in 2020 if they requested a mail-in ballot than those who did not. Voting by mail is a habit we want to instill in these voters so we can not only win in 2021 but go on to flip a Senate seat, retain the governorship and flip the state legislature in 2022.
---
Or contribute through your Giving Circle!
Check out the Pennsylvania page for more information about this battleground state.
---
Good Trouble Cafes + Giving Circles
Add Up to a Stronger Movement
Judy Cyprian of Plainfield reported that her Spruce Mountain Giving Circle has expanded into a Good Trouble Cafe. "We met in person on June 24. It was great! We had snacks and wine and spent time checking in with each other, discussing the current political issues, and sharing information about supporting the Giving Circle recipients for the month. Getting together over zoom or in person has been a source of support for most of us, as well as a place to re-energize and bond in our work to strengthen democracy."
Learn more about
Good Trouble Cafes and Giving Circles
Have questions? Need support?
Get in touch with us here.
---
DemCast is an advocacy-based 501(c)4 nonprofit. We have made the decision to build a media site free of outside influence. There are no ads. We do not get paid for clicks. If you appreciate our content, please consider a small monthly donation.
---