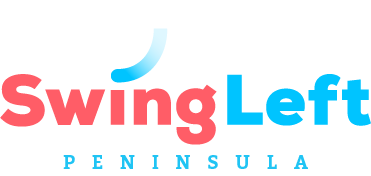 Hi Friends,
"California Could Throw Away What It's Won"
That's a headline from this week's The New York Times. While we all wish it wasn't painfully true, voter apathy in the current Gubernatorial Recall elections could have serious ramifications for our hard-won victories across every sphere of life—healthcare, education, civil rights, environmental protection, and everything we hold dear about our progressive state.
As columnist Paul Krugman warns in the article, we could end up with "a Trumpist governor who could never win a normal election."
To prevent this nightmare from turning into a reality, we need all hands on deck right now! If you haven't yet cast your ballot, do so TODAY!
If you've done your civic duty, thank you. Please see below for ways you can help get the vote out and defeat this Republican-led political ploy.
PHONE BANKING
Swing Left Peninsula Phone Banks
Join Dan Pfeiffer when he kicks off our Wednesday phone bank, September 1st!
We hold phone banks every Wednesday from 6 pm to 8 pm PT: Sign up here! 
We also have phone banks every Saturday from 10 am to 12 noon PT: Sign up here!
And we have SPANISH Speakers phone banks every Wednesday at 6 pm and Saturday at 10 am. Sign up here!  
Democratic Party Phone Banks
Phonebank with SCCDP (Santa Clara County Democratic Party), Kings County Democratic Party, and Kern County Democratic Party to engage "No Party Preference" voters in the Central Valley and help Stop the Republican Recall. Our calls will help determine which NPP voters are with us, and urge them to vote "No" on the recall. Tuesdays and Saturdays
Sign up here!
---
CANVASSING
Learn the PDI Canvassing Tool
Join the CA Democratic Party's Organizing Department to learn how to use the PDI Canvassing "OnTheGo" tool to walk neighborhoods and educate voters about the recall. This training is for canvassers and canvass captains, so sign up now!
Thursdays, 5:00 – 6:00pm PT
Sign up here!
---
RELATIONAL ORGANIZING
Train with Outreach CircleJoin the California Democratic Party for a statewide training on Outreach Circle, a relational organizing tool where you can invite friends and family to take action and talk to them about voting NO on the Recall!September 1st, 5:00 – 6:00pm PT
Sign up here!
Connecting with High Potential Voters
Learn how to engage your curiosity and compassion to have meaningful conversations with these "high-potential" voters. Whether you are phonebanking, canvassing or just communicating with your friends you need to take this workshop!
September 22nd, 4:30 – 6:30pm PT
Sign up here!
Polling Place Vote Tripling
Join a 30-minute zoom training led by VoteTripling.org. You'll learn how to multiply turnout for the recall election through Polling Place Vote Tripling (PPVT).
How does PPVT work? You simply stand outside of a polling place and ask exiting voters to text 3 friends a reminder to vote! An hour of PPVT nets many more additional votes (high-impact friend-to-friend contacts) than traditional GOTV tactics. After this quick session, you'll be ready to increase voter turnout!
Tomorrow, Tuesday August 31st, 4:00pm PT
Sign up here!
---
GOTV Rally and Neighborhood Walk
Sunday, September 12th at 9:30am PT
Please join us on the last Sunday before the election for the final push to get Democratic voters to vote No on the Recall. We'll meet at the Santa Clara County Democratic Party HQ, pick-up snacks and a list of Democratic voters, and deliver door hangers to near-by neighborhoods (no knocking necessary). When we're done, we'll come back to the HQ for food and much-needed Covid-safe socializing. We would love to see you so please Rally to Get Out the Vote!
COVID SAFETY: Everyone's safety is very important – please wear a mask!
Where: Santa Clara County Democratic Party Headquarters, 2901 Moorpark Ave. Suite 110, San Jose. Sign up here!
---
Seminar: Words that WIN
Saturday, September 11th at 11am PT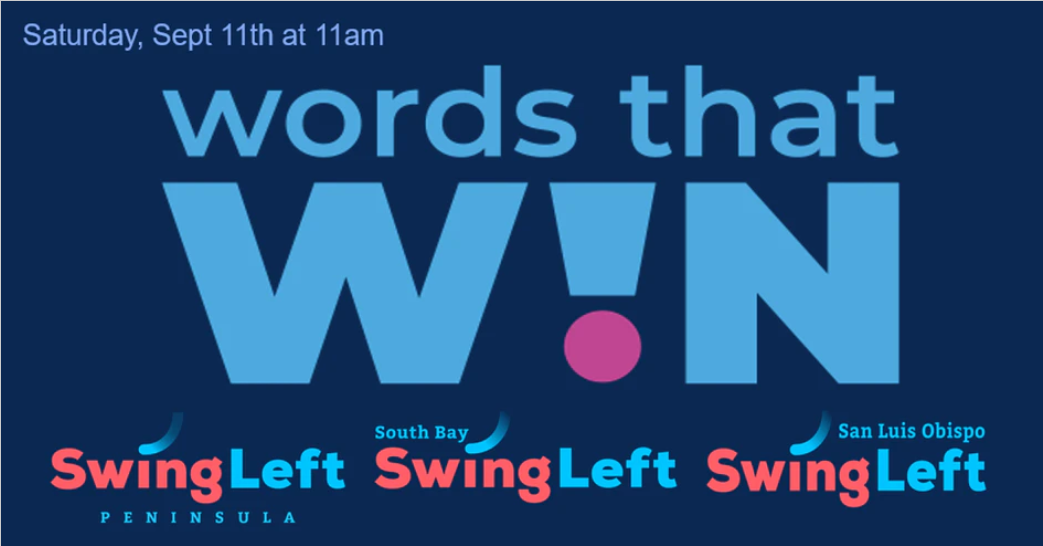 Words That W!N is dedicated to teaching and promoting strategic messaging to win hearts, minds, and votes. Strategic messaging is key to countering disinformation, inoculating against dog whistles, building a cross-racial coalition, and ultimately winning hearts, minds, and votes. Join presenters Ali Feldman, Melizza Knutson, and Lisa Wagner who have years of experience in advocacy, elections, and organizing.

Sign up here!
---
Support the Central Valley VoterPAC
Thursday, September 16th at 5pm PT
---
DemCast is an advocacy-based 501(c)4 nonprofit. We have made the decision to build a media site free of outside influence. There are no ads. We do not get paid for clicks. If you appreciate our content, please consider a small monthly donation.
---