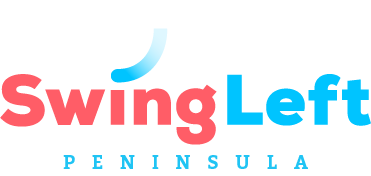 Hi Friends,
As we enjoy the summer, let's take a moment to be thankful for all that we have here in the San Francisco Peninsula—abundant natural beauty, clean air, and a vibrant and progressive community that always punches above its weight when it comes to political action.

It's time to put that power to work. Governor Gavin Newsom has worked hard for all Californians for the past two years. Now, however, a powerful right-wing faction wants to replace him with someone who will answer to special interests, defund our schools, and enrich the wealthy. Ballots go out on August 14th and many Democrats don't yet know about this attempt to grab power. It's time to step up and urge your friends, neighbors, and fellow citizens to vote "No!" on the recall.  We need you to call Democrats to action now!
Quick Links below:
---
Make the Pledge: Vote "NO"
Governor Gavin Newsom has worked hard for all Californians. He's expanded healthcare access, invested heavily in education, protected our civil rights, and supported working families.
We need to ensure that he stays in office by defeating the right-wing recall attempt. Ballots come out in two weeks! Please pledge now to vote NO on the recall and triple your vote by making sure three friends vote as well. Pledge now!
---
Join us to call key voters in California to Stop the Republican Recall of Governor Newsom.

Rather than supporting California's recovery from the pandemic, Republicans want to shift the focus and attention away from those who need it the most. Californians must respond with a resounding "No!" to their shenanigans.
We simply cannot allow a Republican takeover which is guaranteed to roll back much of California's progress. Their agenda includes repealing our clean air protections, rolling back gun safety laws, stripping immigrants and workers of their protections, and taking away access to healthcare from those who need it the most during a pandemic.

No experience required! Simply bring your enthusiasm and make calls from the comfort of your home. We'll provide training on both the script and how to use our call system.
RSVP: Phone bank
Wednesdays 6-8pm PT
RSVP: Phone bank Saturdays 10-12pm PT
---
Beating the Recall of Gavin Newsom: A progressive lens on protecting California's Democracy
Wednesday August 4th at 5pm PT
---
Events from Our Partners
Distribute "No on Recall" Signs with SMC Democrats
Want to take a walk around our beautiful Peninsula and do good for the community?
Distribute "No On Recall" yard signs, window signs, and voter information cards in San Mateo County with the San Mateo County Democrats.
Email Nancy Calibjo to pick up materials.
Door-to-Door Canvassing and Voter Registration with Tracy Dems
Please join the Tracy Democrats for door-to-door canvassing to get out information on the Recall Election and learn of issues of importance to the Tracy Community in CA10.
Saturday, August 14th, 9am -1pm
Sunday, August 22, 9am -1pm
For carpool information from Mountain View on Aug. 14, contact Carole at carflores18@gmail.com.
Photo by Office of the Governor of California – https://twitter.com/CAgovernor/status/1303752170081116161/photo/1, Public Domain, https://commons.wikimedia.org/w/index.php?curid=94037735
---
DemCast is an advocacy-based 501(c)4 nonprofit. We have made the decision to build a media site free of outside influence. There are no ads. We do not get paid for clicks. If you appreciate our content, please consider a small monthly donation.
---