Take the IC-SS Member SurveyMember Survey: Thanks to everyone who participates in the actions we share. Whether or not you've chosen to be a voting member of Indivisible Chicago-South Side, we want to hear from you – we invite you to fill out the survey.
Take 10 minutes and share your ideas and interests with the co-leaders of Indivisible Chicago-South Side. Your input will help us plan events or share opportunities in the year ahead. Hope you'll do it soon – deadline April 25. Fill in your member survey here.
A few of the folks who've been active with Indivisible Chicago-South Side. Let us hear from all of you!
---
Act NOW For Democracy

How will YOU help assure voting rights? You can help pass democracy legislation by getting informed and then writing, phoning, and using your social media to reach voters and lawmakers. Take your pick:
Phonebank For the People – Every Wednesday in April
Indivisible Chicago Alliance (ICA) has teamed up with Common Cause to expand support for the For the People Act by phoning and asking progressive voters in key states like ME, PA, AZ, and GA, to call their senators with a simple message: Pass this bill, whatever it takes.
Use your devices from home and get all the training, info, and support you need as you Zoom with the friendly phonebank pros at Indivisible Chicago.
Every Wednesday, different times. SIGN UP HERE.
---
April 13, 7:00 pm CT: Spotlight on the Filibuster
From DemCast and Fix Our Senate: Joinus Tuesday, April 13 at 7:00 pm CT (8:00 pm ET) as we shine a spotlight on the filibuster. Learn about the history, what the options are, and how we talk about the filibuster. Register here.
NOTE: On the registration page, you'll see multiple dates because DemCast has a Weekly Briefing every Tuesday at the same time. You are welcome to attend any of the events, but the filibuster event is on April 13.
---
April 14, 6:00 pm CT: John Lewis Mobilization Town HallFrom Public Citizen on Wed., April 14th, 6:00 pm CT/7:00 pm ET: Join activists for the John Lewis Mobilization Town Hall.
This April 14th town hall is for activists and local organizations to learn more about the May 8th John Lewis Voting Rights Advancement Day of Action mobilization where we will take the streets for more than 100 "Votercades" in more than 100 cities. [More info coming next week about the John Lewis day of action – mark your calendars now for May 8th!]
---
Learn how you can help mobilize to pass the For the People Act, the John Lewis Voting Rights Advancement Act, and DC Statehood – and address the filibuster. Together, we can build a better democracy! Sign up for the April 14 online event here.
---
Use Your Social Media & Email to Help Pass S1 
Join DemCast, the Democratic Coalition, and a team of everyday people using their social media accounts and email to spread the truth about the urgent need for Democracy Reform. Just head to the For the People Act: Action Center.
Republicans are working hard to make sure they'll never lose again: the GOP has proposed hundreds of voter suppression bills in state legislatures across the US, with an aim of disenfranchising enough blue voters that they can rule from the minority for years.
The For The People Act is amust-win because it would nullify their suppression efforts. This is the whole ballgame.
The American public needs to get behind this bill, but awareness is critically low.
Here's how you can help.
Sign Up/Take Action  •  Messaging Strategy  •  What's in the Bill?
UPDATES:
Use Your Social Media & Email to Help Pass S1
Most people get their news and information on social media. This joint effort between DemCast USA and the Democratic Coalition is empowering everyday activists to join a nationwide communications team pushing this bill. Join DemCast, the Democratic Coalition, and a team of everyday people using their social media accounts and email to spread the truth about the urgent need for Democracy Reform. Just head to the For the People Act: Action Center.

---
Midwest Indivisible Team: Democracy Links & Update
On March 23, Rep Jan Schakowsky and Meagan Hatcher-Mays of national Indivisible were guest speakers at the Midwest Indivisible Team's webinar on S1, For the People Act. The Team has just shared these resources from the event:
Rep Jan Schakowsky speaks about the For the People Act – full recording here
---
UPDATE: The Midwest Indivisible Team has cancelled the remaining four webinars it had originally announced. Meanwhile, be sure to check out the plethora of resources and information above and at the national Indivisible website.
Watch: ICA's Recorded Webinar on the For the People Act
The For the People Act webinar from Indivisible Chicago Alliance was last week on April 7th – did you catch it? If you couldn't attend, you can still learn from it:
---
Last Week: Rally to Demand Democracy
Last Thursday, Indivisible Chicago Alliance held a rally to Demand Democracy: Fighting for the Freedom to Vote. Maybe you were there.
Speakers included Kina Collins (gun violence prevention activist, recent candidate for Congress), Giselle Rodriguez (Center for Immigrant Progress), Denise Poloyac (Indivisible Chicago), Jay Young (Common Cause). Attendees included IC-South Side member Michael Aaron and Co-leader Teri Watkins.
 Folks from Indivisible Chicago chapters, Common Cause IL, Center for Immigrant Progress, and other organizations gathered in Federal Plaza to call on IL Senator Durbin and Senator Duckworth to do what it takes to pass S1, the For the People Act – even if it means abolishing the filibuster. Thanks to all who turned out on a cold rainy evening!
---
Encourage Voting: Write to New VotersPostcards to Swing States has launched its new campaigns! Encourage voting among new voters by writing postcards to them. This time around, you'll:
Order online and receive your postcards/addresses/instructions in the mail. (You'll choose from two campaign options.)
Buy your own postcard stamps ($36 per 100 stamps).
Write the postcards… then mail them by the specified deadline.
See the FAQ page here for specifics.
WHAT TO DO
Order your postcards here.
Buy your stamps at a post office or order from USPS.com.
After you order your postcards from Postcards to Swing States, let us know so we can schedule a Zoom postcard party.
---
Are you writing letters to voters via Vote Forward? If so, let us know so you can join any future postcard parties we offer.
---
Democracy Resources – NEW ONES!
Read listen and watch: Newly shared articles, podcasts, postings, and videos on democracy, voting rights, and the filibuster.
Read
Watch
Websites
---
Find more democracy resources listed in our newsletters from
Feb 15, Feb 22, March 1, March 8, March 15, March 22, March 29, April 5
---
Organizations & Opportunities
Indivisible Chicago-South Side shares information and action announcements from other organizations on issues important in our country, state, city, and communities.
Police Accountability – Support ECPS in the City Council
From CAARPR: The fight for a community-driven police accountability system has been going on for years in Chicago, and it's reached a historic moment in the Empowering Communities for Public Safety (ECPS) ordinance.
The coalitions behind the CPAC and GAPA ordinances have come together to put forward ECPS, which will create the strongest police accountability model in the country, and a pathway towards community control of the police.[Read about ECPS here and here.]
We demand the City Council vote on and pass this ordinance.
ACT
RALLY. Join CAARPR on Wednesday April 21st at 9:00 AM at the Thompson Center for a rally, car caravan, and noise demonstration to demand City Council pass the Empowering Communities for Public Safety ordinance (ECPS). Facebook event + Sign-up page
---
Lift the Ban on Rent Control: Tell Your IL State Rep!
From Lift the Ban Coalition: All across the state, more than half of all renter households are paying more than 30% of their income on rent. Because of a statewide rent control ban written by conservative lobbying group ALEC, no city in Illinois can enact any measure to stabilize rents. The Lift the Ban Coalition has been fighting to repeal this harmful and undemocratic ban and restore the rights of cities to enact rent control to keep families in their homes. We are excited to share that our bill, HB116, advanced out of the Housing Committee last month and is headed to a floor vote by April 23.
Photo from Lift the Ban Coalition website
ACT: Please call your IL state representative* and urge them to co-sponsor HB116 to lift the ban on rent control. Use this document for a sample script and to log the response you get. Reach out to info@ltbcoalition.org with any questions or to get more involved!*If your IL State House Rep is Rep Curtis Tarver, you can reach his office here. If you are not sure who your rep is or how to reach them, check here.
---
Gerald Reed Is Home – Now Free Them All
Now that Gerald Reed is home, hear from him and from the advocates who worked tirelessly for his release and who are calling on Governor Pritzker to free all people unjustly incarcerated after police torture or abuse. View the recorded livestream of last week's press conference convened by CAARPR. For a quick sum-up, see IC-South Side's own Twitter thread.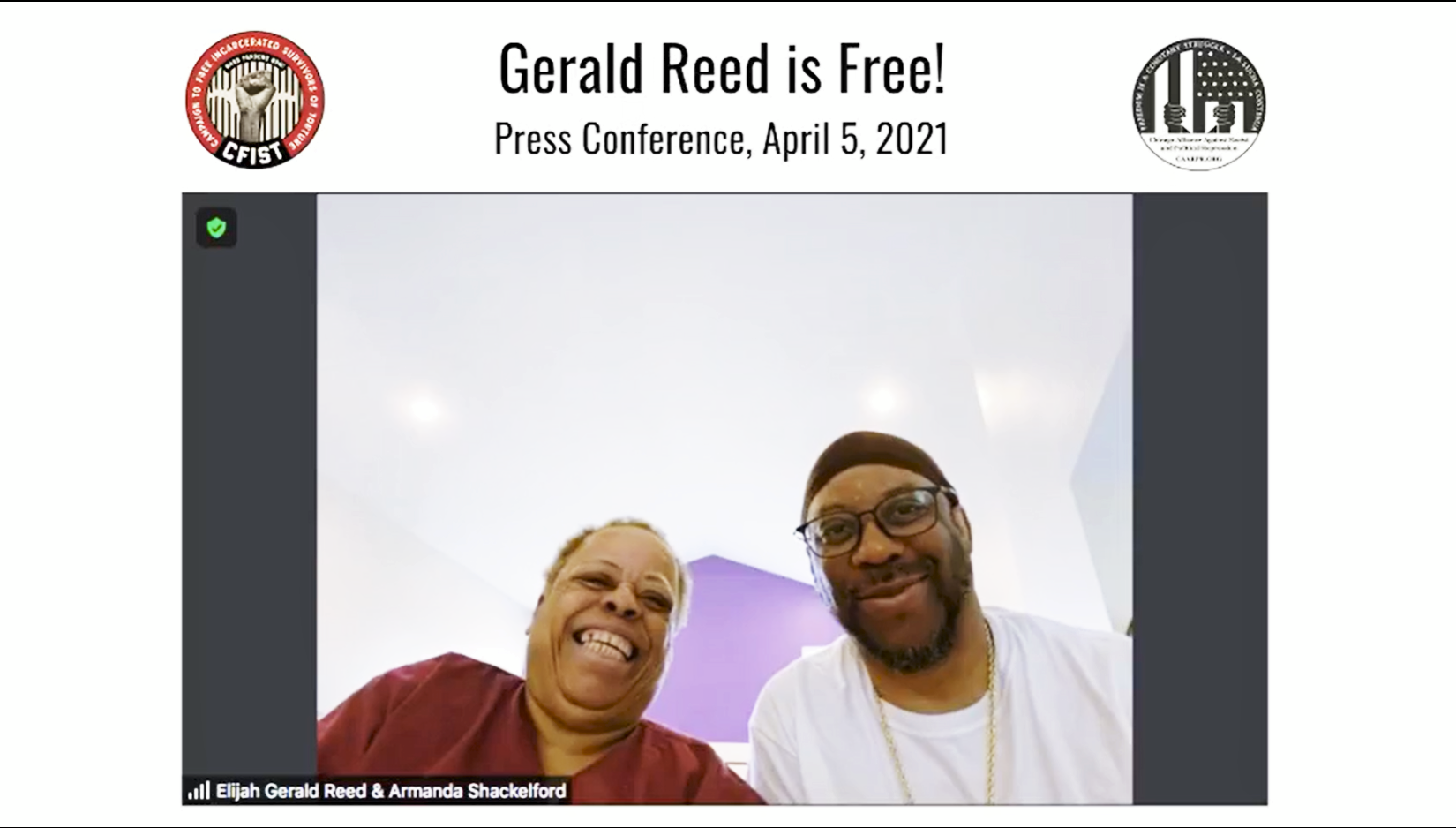 Gerald Reed/Free Them All Press Conference: View CAARPR's livestream or read IC-SS thread
ACT
---
#UnlockCivics: Our Democracy Must Include People Impacted by the American Legal System
From Chicago Votes: Given the impact of COVID-19 on individuals experiencing incarceration, the need to restore the right to vote to people in prisons and ensure people impacted by the legal system have access to all their civic rights and responsibilities is even more urgent.
Sign #UnlockCivics petition here. (Chicago Votes photo)
The lives of people in prison are influenced by policies made by elected officials and those who are elected are held accountable by their constituents. Until people in prison are given the right to vote, making up the constituency, they are unable to hold elected officials accountable.
Chicago Votes' #UnlockCivics legislative platform works at the intersection of organizing and advocacy to ensure that people affected by the American legal system have access to their civic rights and responsibilities.
ACT: Take the pledge to support a more inclusive democracy by signing our #UnlockCivics legislative platform. Read and sign here.
…
Indivisible Chicago-South Side
Email: Indiv.Chi.South@gmail.com
Follow IC-SS on Facebook and Twitter
Co-Leaders: Sarah Lincoln, Esther Peters,
Betsy Rubin, Teri Watkins
About: Group & Co-Leader Statements
---
DemCast is an advocacy-based 501(c)4 nonprofit. We have made the decision to build a media site free of outside influence. There are no ads. We do not get paid for clicks. If you appreciate our content, please consider a small monthly donation.
---