Field Team 6 Weekly
Register Democrats.
Save the World.
---
February 5, 2021

WORLDS SAVED:   1
TOTAL PROGRESSIVES REGISTERED:  30,098
TOTAL VOTERS REACHED:  over 15,000,000
DAYS UNTIL TEXAS MAYORAL ELECTIONS: 86DAYS UNTIL 2022 MIDTERM ELECTION: 642
PUT A RING ON IT
Every good thing we're seeing right now – the reversal of the Muslim ban, the reversal of the transgender military ban, the emergency family reunification task force, an all-of-government response to Covid as well as the climate crisis – all of it is happening because Democrats won. And on the Republican side, the parade of horrors continues. Minority Leader Kevin McCarthy flies to Florida to kiss the ring of the Fast Food Fascist… and grovel for his help taking back the House in 2022. Marjorie Taylor Greene – who advocated the assassination of Nancy Pelosi, and believes Jewish Space Lasers started California wildfires (for real) – gives a flaccid apology and receives a standing ovation from half the GOP members. Our work starts now. The fate of the Senate, the House, and crucial down ballot elections will be determined by how early we start organizing. Will we get the years we need to undo Trump's damage, strengthen our democracy against those who would destroy it, and build an America that fulfills its promise? We're seeing the great good we can do with even the slimmest of majorities, in just a few days. Imagine what we could do with more Democrats and more time. Fortunately, we can do more than imagine. We can make it happen! We've done the research and targeting to make sure your volunteer hours have the maximum impact. Sign up now for one of our Adopt-a-Traitor phone banks into the most flippable Republican districts in the most important states! Donate to unleash the full force of our texting on these districts! And starting next week, sign up for postcarding into these districts too (big news below)! Because that wave of sanity-ecstasy we feel when we see government actually working for the people?! We don't just like it… we wanna put a ring on it.
---
THE NEW PLAN
We've earned our survival, against all odds, by the thinnest of margins. In the Senate, our 50/50 majority is so small, it's not even a majority! And history tells us the winning party loses seats in the midterms. So there's only one thing to do. We need to change history. In 2022, we must grow our Senate and House majorities, especially in our 8 Triple Word Score states. Our new strategy is to also focus on down ballot races in swing states, harnessing them to register Democrats. We'll win small races to help us win bigger ones! LAUNCHED: Join our Adopt-a-Traitor campaign, already in progress! 147 Republicans voted to invalidate the 2020 election. So we've done a deep data dive, and targeted the most flippable seats in the most important swing states. With your help, we can register enough Democrats to boot these traitors from the House and Senate! NEXT: In March, we'll target Texas, which will hold mayoral elections across the state on May 1, 2021. After that, we'll roll out voter registration campaigns in each of our 8 target states: AZ, FL, GA, NC, NV, PA, TX, and WI. We'll also ramp up our nationwide efforts in targeted congressional districts to grow our House majority. (For a full overview of our plan for the next two years, check out our Strategy Briefing below!) Let's gooooo!!
---
BIG NEWS
SHEPARD FAIREY POSTCARDS!Field Team 6 is thrilled to announce that the one and only Shepard Fairey – the brilliant artist behind the iconic Obama HOPE poster – is providing art for our postcard campaign! See left for a sneak preview of one, featuring the visionary John Lewis. To get involved, please contact our brand-new Postcarding Czars Sharon Lord Greenspan and Janet Ho HERE. We'll be launching our first postcarding efforts into the same three districts we're targeting as part of our Adopt-a-Traitor efforts. Speaking of which…
ADOPT-A-TRAITOR PROGRESS REPORT!Our Adopt-a-Traitor campaign is officially up and running. To date, we've targeted three Congressional traitors from extremely flippable districts, with plans for many more to come. We've already set up phone banks (links below), but we can't add text banks, targeted emails, and social media ads to our efforts until we hit our fundraising targets. Please adopt one of our traitors today to help get us over the top! FT6 Media Team leader Jeff Sielaff made helpful introductory videos for each of our first three traitors…
Traitor Richard Hudson (R-NC)Goal: $7,548; Progress: $1,319 Click to Adopt Traitor Richard Hudson (R-NC)Phone Bank to Unseat Traitor Richard Hudson (R-NC) & Take a Senate Seat
TraitorCarlos Gimenez (R-FL)Goal: $5,106; Progress: $1,811 Click to Adopt Traitor Carlos Gimenez (R-FL)Phone Bank to Unseat Traitors Carlos Gimenez (R-FL) & Rick Scott (R-FL)
TraitorBeth Van Duyne (R-TX)Goal: $5,106; Progress: $2,398 Click to Adopt Traitor Beth Van Duyne (R-TX)Phone Bank to Unseat Traitor Beth Van Duyne (R-TX) & Ted Cruz (R-TX)
Remember, in 2022 every single Democrat we register in Florida will also help us beat Governor Ron DeSantis and Senator Marco Rubio. In North Carolina, they'll help us take the Senate seat Richard Burr is leaving open. In Texas, they'll help get rid of Governor Greg Abbott in 2022, and Ted Cruz in 2024. So don't wait… adopt a traitor today! Plus – if there's a particular traitor you'd like us to target (there are unfortunately so many to choose from…), let us know by contacting our new Adopt-a-Traitor Campaign Managers Susan Machtinger and Rob Fisher, M.D. HERE. If your preferred traitor gets enough interest and represents a district that's over our flippability threshold, we'll start a fundraising page to get that campaign going. And if you'd like to lead your own phone bank into the above or other target districts, WONDERFUL! Let us know HERE!
---
VOLUNTEER OPS
ADOPT-A-TRAITOR PHONE BANKSRegister Dems in districts whose representatives supportedoverturning the Biden/Harris election victory, and flip those seats blue!We're targeting traitors in North Carolina, Florida, and Texas! CALIFORNIA PHONE BANKS(Coming soon!) SEDITIOUS STORMINGWork on booting the 147 seditious House Republicans who voted to overturn the election… from the comfort of your social media accounts! Click VOLUNTEER OPS below to get details and sign up!
---
EVENTS
WEDNESDAY, FEBRUARY 10: FIELD TEAM 6 STRATEGY BRIEFINGIn case you missed our January briefing… It's 2021 and The Movement is well underway. But with Traitor KMac whisking off to Mar-a-Lago for more seditiony marching orders, this is no time to rest on our laurels. So join Jason Berlin this coming Wednesday, February 10 at 5:30p PT (now with ASL translation!) for a briefing on our plan for 2021-2022. We'll unveil our new battleground states and share our new strategies for building progressive power and defanging the GOP once and for all. RSVP HERE.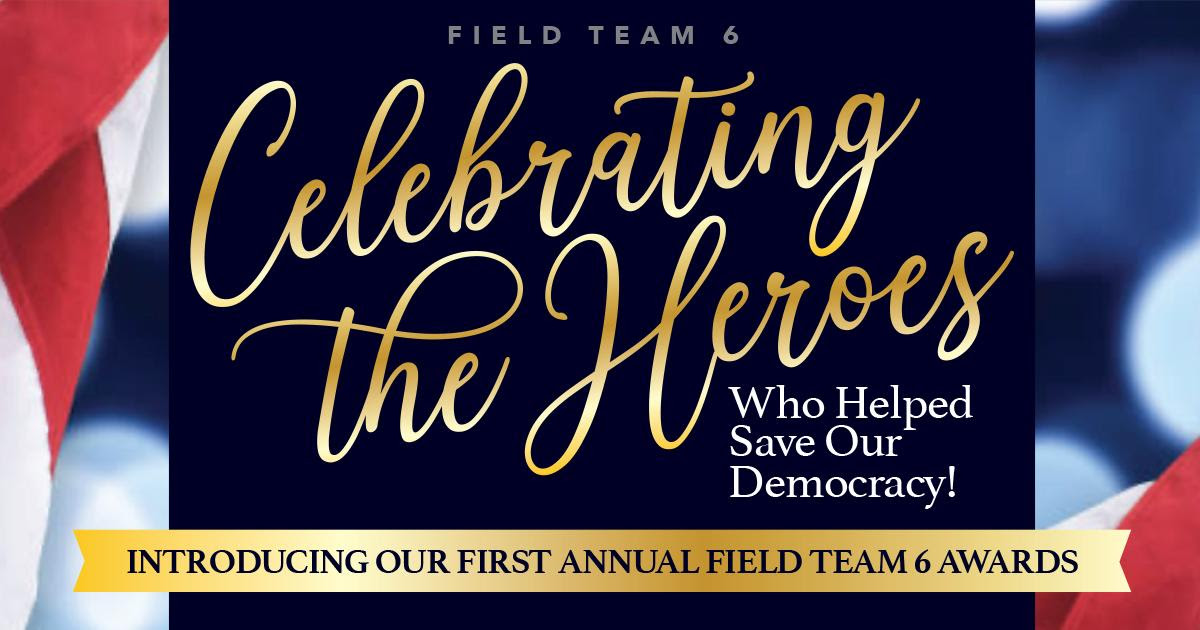 FRIDAY, MARCH 12:FIRST ANNUALFIELD TEAM 6 AWARDS!

Mark your calendars – Friday, March 12 at 5:30p PT, it's the first annual Field Team 6 awards! Father-daughter celebrity duo Jeff and Zoe Perry will host an incredible celebration of the heroes whose work literally saved the world. There'll be great stories, heartfelt gratitude, and lots of surprises! All proceeds fuel our work registering new swing state Democrats. CLICK HERE for tickets!
---
VIDEO SPOTLIGHT
We've taken a little inspiration from Field Team 6 favorite whiteboard enthusiast Representative Katie Porter for our latest video series, which answer burning questions like "Do Democrats control the Senate?" CLICK HERE to check it out, or HERE to see (and post) them all!
---
FIELD TEAM 6 NEEDS YOU
VOTERIZER PROMOTERIZER!Field Team 6 is looking for a super volunteer to join the team pitching our customizable voter registration portal – Voterizer.org – to partner organizations. We've built a great platform that makes voter registration a snap. Plus it captures shareable data of every voter registered! Perfect for phone banks, text banks, social media, and targeted ads… Let's get all members of the Resistance to use this simple, powerful and flexible tool. CLICK HERE to fill out our Field Team 6 Volunteer Questionnaire, and please mention that you're interested in becoming a VoteriCzar. JOIN THE FIELD TEAM 6 POSTCARDING TEAM!Our newest voter outreach effort is at the printer… which means this is your chance to get in on Team Postcard from the beginning!
---
DemCast is an advocacy-based 501(c)4 nonprofit. We have made the decision to build a media site free of outside influence. There are no ads. We do not get paid for clicks. If you appreciate our content, please consider a small monthly donation.
---