Surprise! Many people don't have a computer nor cell phone. Don't watch TV… How do you get them to vote?
Center for Common Ground (CCG) is a nonprofit that educates and empower under-represented voters in voter suppression states to engage in elections and advocate for their right to vote. It uses a very cost effective, volunteer driven strategy to get out the vote in communities of color that are hard to reach and often ignored. Postcards.
Contacting the hard to reach
Center For Common Ground has found that many Black voters never hear about upcoming elections or cannot find details of when and where they can vote. CCG uses the voter file to create list of voter to contact and volunteers to write and mail postcards to them. Many voters cannot be called by organizers because voter phone numbers are missing or incorrect. What are some of the other challenges?
– Many BIPOC (Black, indigenous, people of color) voters do not have a computer nor internet access
– Some do not have a smart phone or may have a disability that prevents them from using a keyboard
– Others live in an area that is hard to canvass
– Many voters of color may not spend much time on TV – making it hard to reach them through ads
Every voter matters
Postcards increase voter engagement. Geo-targeting Milwaukee shows how many Black voters with incomes under $50,000 income and aged over 64 years live in the area.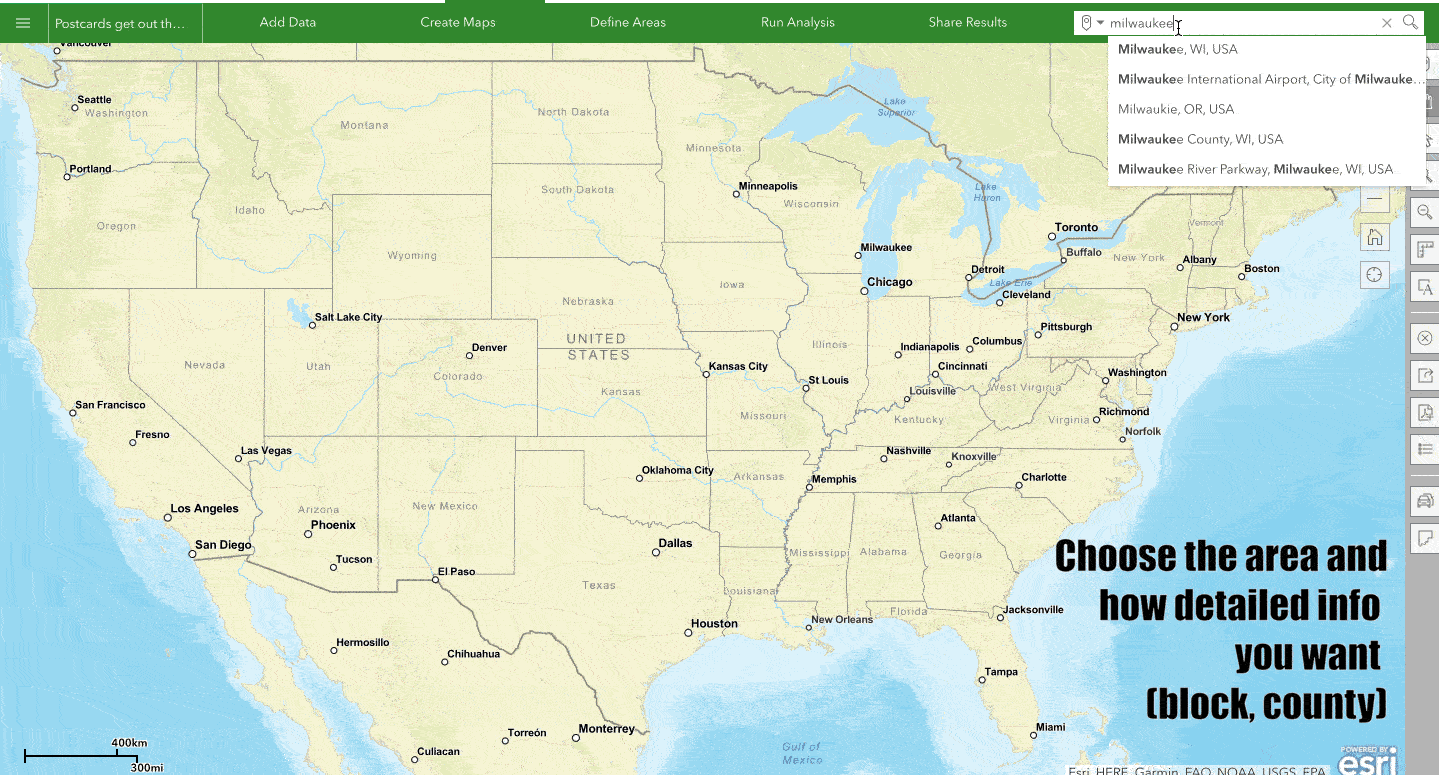 Postcard design
Volunteers get these instructions for Center For Common Ground:
– Before writing: If new to ROV, please watch our short video: bit.ly/postcard-video
– Use only Reclaim Our Vote cards, with inclusive, multi-racial images and uplifting messages. Ordering or printing info: centerforcommonground.org/postcards
– Please don't change, edit or add to scripts: wording is written in collaboration with our respected community of color partner organizations for specific voter groups.
– Please respect and protect voter privacy: Shred and delete voter lists when done. Cover personal info if taking photos of your written postcards to share with friends.
– Neatly hand write (print preferred) and address: a personal touch. Do not machine print addresses or script. If handwriting is iffy, please have your cards checked.
– DO use our printed Avery (type) labels with county info, for accuracy and legibility. If printing labels from our templates, use "actual size" printer setting for proper alignment.
– Please use color to underline or highlight key phrases, or decorate a bit.
– This makes our cards eye-catching and personal; more likely to be noticed, picked up and read!
– If new to ROV postcarding, send a pic of your first completed card to your organizer or distributor, or to postcard-review@reclaimourvote.org to check before continuing.
– Leave 1" under voter address for the PO to affix or print a barcode: and ample room at the top for the postmark. No decorative stickers, as they can jam postal scanners.
– Etiquette varies by region and culture, and shows respect. For salutations (e.g. Dear Mr _), please carefully follow the directions in your script for the list you're given.
– Sign up to stay informed, at cfcg.news/volunteer. Reclaim Our Vote is a campaign of the nonpartisan Center for Common Ground. Thank you for helping democracy!
Center For Common Ground
Center for Common Ground's Reclaim Our Vote Campaign, contacted 14 million voters in 2020. They sent over 9 million hand-written postcards, made 1.7 million phone calls and sent 2.9 million text messages to voters for voter registration, Pledge to Vote and Get Out The Vote (GOTV). Our 44,000 volunteers left hundreds of thousands of messages providing early voting locations and times, voter registration deadlines, how to get free rides to the polls and phone numbers for county election officials. We understand that information is power and we work to empower voters.
Support Center For Common Ground
Abortion rights are on the ballot in the Wisconsin Supreme Court election
Abortion rights. "After the U.S. Supreme Court overturned Roe v. Wade last year, Wisconsin reverted to a law from the 19th century banning abortion in nearly all cases — a policy at odds with the majority of Wisconsin voters, according to state polling. Following the ruling, Gov. Tony Evers and Attorney General Josh Kaul filed a lawsuit to overturn Wisconsin's 1849 criminal abortion ban — a case that's widely expected to end up before the state Supreme Court.
Protasiewicz is campaigning on restoring abortion access in Wisconsin. "Everything we care about is on the line," said Protasiewicz. "If Kelly is elected, Wisconsin's criminal ban on abortions will stand." – Yahoo
Voter suppression
A challenge to the state's legislative maps is likely to come before the court. In April 2022, the Supreme Court court ruled 4-3 in favor of a legislative redistricting plan drawn by Republican lawmakers, giving the party's candidates in the Legislature a bigger advantage, with 63 of the 99 Assembly seats and 23 of the 33 Senate seats leaning toward the GOP, according to a Milwaukee Journal Sentinel analysis.
New maps are redrawn every 10 years. But the court would hear a challenge to the current maps if a lawsuit is filed, as is seen as likely, and it makes its way through the system to the Supreme Court. Protasiewicz called the current maps "rigged" against voters in Milwaukee and Dane counties during a candidate forum in January, signaling she would support taking on a case that would redraw the maps before 2032. – Yahoo
TakeAway: Volunteer with Center For Common Ground to educate and empower under-represented voters in voter suppression states to engage in elections and advocate for their right to vote.
Deepak
DemLabs
DISCLAIMER: ALTHOUGH THE DATA FOUND IN THIS BLOG AND INFOGRAPHIC HAS BEEN PRODUCED AND PROCESSED FROM SOURCES BELIEVED TO BE RELIABLE, NO WARRANTY EXPRESSED OR IMPLIED CAN BE MADE REGARDING THE ACCURACY, COMPLETENESS, LEGALITY OR RELIABILITY OF ANY SUCH INFORMATION. THIS DISCLAIMER APPLIES TO ANY USES OF THE INFORMATION WHETHER ISOLATED OR AGGREGATE USES THEREOF.
Read in browser »
Reposted from Democracy Labs with permisssion.
---
DemCast is an advocacy-based 501(c)4 nonprofit. We have made the decision to build a media site free of outside influence. There are no ads. We do not get paid for clicks. If you appreciate our content, please consider a small monthly donation.
---