Persist & Resist – Jan. 22, 2021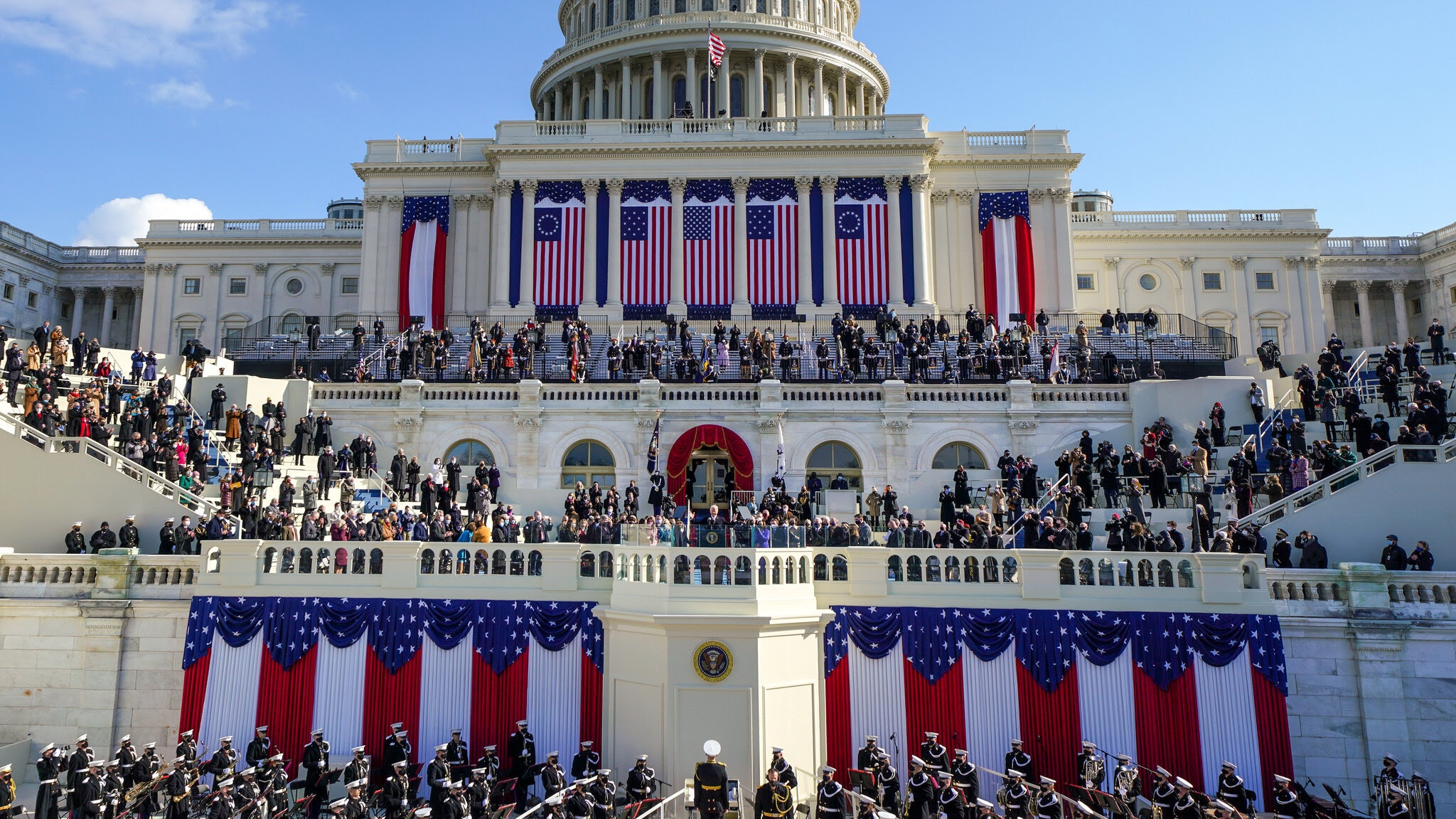 On Wed. we saw dignity return to our nation–truth and honesty prevailed. There are very uncertain months ahead, but if we start now looking ahead to 2022, we can make incredible gains. President Biden gave a remarkable Inaugural address, followed by the youngest Inaugural poet ever, Amanda Gorman. His address and her poem are now a part of history. (Photo NYTimes).
I met many of you for the first time four years ago at the first Women's March (pink pussy hats are now in the Smithsonian and the British Museum). We thought we had some idea of what was ahead of us. This year we are going to celebrate virtually.**
We organized and became Prescott Indivisible during the first few months of the administration's 'mild' intimidation–on his first day DT signed an executive order that would set about trying to repeal the affordable care act. This was quickly followed by more executive orders that set in motion travel bans and restrictions on refugees and immigrants from Muslim-majority countries, increased immigration enforcement including deportations, and expanded efforts to prevent illegal entry into the United States by building a wall along the border.
As the administration's actions were becoming more regressive, we grew and started working with other organizations, finding strength in our unity. We found our voice protesting (many hadn't protested since the Vietnam War) and writing letters to the editor, to our Senators, including John McCain. We worked with Desiree Perez and fed pink-frosted cupcakes to Sen. Jeff Flake, encouraging him not to defund Planned Parenthood (in front of the Republican Headquarters in downtown Prescott). This newsletter started out with 46 names quickly became available to hundreds of readers. We found our strength and new friends with Prescott Indivisible. We learned how to work with other progressive organizations and found strength in our unity. Our work is recognized by national Indivisible. Indivisible's co-founder, Ezra Levin, visited us twice and encouraged his staff to volunteer and canvass for the Brill campaign.
#45 was encouraging violence and racism and national Indivisible helped underwrite the Summit for Racial Equity in 2019.  This year we watched the undercurrent of racism surface. In response to the Sept. 4 BLM faceoff against White Supremacists, we started the Anti-Racism Education Action Team (AREA-P) under the leadership of Rosemary Dixon and many other of our founding members. Rosemary is now the leader of the statewide racism team. On Jan. 20 Rosemary and Jeff Daverman were interviewed by abc-15 in response to two hateful signs that were posted on Montezuma St. During the same interview, our Mayor Mengarelli made his excuses…"not indicative of mainstream Prescott…extreme groups…all across the country."  We will keep meeting, writing and encouraging our city government to provide anti-racist leadership. We deserve better.  (Maria Lynam, Editor) 
---
**Fri., Jan 22 4p – Virtual Women's March. Special Guest Speaker Dr.Frances Julia Riemer, will explore and discuss the many issues of social justice and gender inequity in a changing climate. It's no secret that climate impacts disproportionately disrupt and burden the lives of women and makes them more vulnerable to gender-based violence. Women make up a majority of the world's impoverished population, and as the primary food growers and water collectors, they're hardest hit by floods and droughts. Unequal participation in decision-making processes and labor markets compound these effects and prevent women from fully contributing to climate-related planning, policy-making, and implementation. Despite these challenges, women are beginning to band together around the world in grassroots efforts to protect and preserve the environment and mitigate the impacts of climate change. Followed by a social hour & virtual celebration of women coming together to fight for social justice and gender equity. 
If you haven't yet, make sure to review the new Indivisible Guide, A Practical Guide for Fixing our Democracy; it is a great roadmap to work from for organizing in this new era.
 
---
TO DO THIS WEEK
Demand Rep. Paul Gosar-R commit to vote yes on H. R. 1, the For the People Act, which focuses on key democracy reforms, when it reaches the House floor. H.R. 1 is an important first step towards building an equitable democracy, along with the D.C. statehood bill and John Lewis Voting Rights Act.
Demand Sens. Kelly and Sinema support the conviction and permanent disqualification of Donald Trump.  Two days after Biden's inauguration, Trump's GOP allies are already spinning up messaging to downplay the danger he poses to our democracy and deflect attempts to prevent him from running for federal office again. We can't lose sight of the imminent danger that Trump continues to pose to our republic.
Demand Rep. Paul Gosar – R support the D. C. Statehood bill.
#RemovePaulGosar 


By refusing to recognize the results of the certified election and supporting allegations without evidence Congressman Paul Gosar encouraged the terrorists and seditionists disrupting our constitutional process. Furthermore Paul Gosar encouraged the rally~riot~insurrection~coup attempt that stormed the capital building. He continues to agitate against the norms of our democratic republic.
Please help Prescott Indivisible and the Yavapai Democrats encourage current members of Congress to expel Paul Gosar. Share "Sedition Must Be Punished" Youtube
Please sign and share the#RemovePaulGosar Petitionwhich will be presented to House leadership and the Arizona Congressional delegation. Signers do not have to be from CD4, or Arizona. Please send to your friends and family.
The video, Sedition Must Be Punished is a production of thirdeyepushpinmedia. View a follow up video on their website: AZ is a frontline community in the struggle against misinformation and extremist fringe groups. "Big Questions" addresses the context of local source material in the original "Sedition Must Be Punished" video and addresses the questions, Who provides media platforms for the Oathkeepers to peddle their civil war vision? Did Paul Gosar provide financial support or tours of the Capital building to insurrectionists?  (thirdeyepushpinmedia encourages donations so they can continue their important work). 

FYI – Here is Section 3 of the 14th Amendment:.
No person shall be a Senator or Representative in Congress, or elector of President and Vice President, or hold any office, civil or military, under the United States, or under any state, who, having previously taken an oath, as a member of Congress, or as an officer of the United States, or as a member of any state legislature, or as an executive or judicial officer of any state, to support the Constitution of the United States, shall have engaged in insurrection or rebellion against the same, or given aid or comfort to the enemies thereof. But Congress may by a vote of two-thirds of each House, remove such disability.
APPLY FOR A PRESCOTT CITY COUNCIL VACANCY
By now you are aware that earlier this month, the Prescott City Council voted 4-2 in favor to appoint someone to fill the vacancy left by Billie Orr for the entire unexpired portion of her elected term (about 33 months) instead of allowing the public to vote for their representative in November. This will put someone in that seat for nearly 3 years without being elected by the voters of this City.
     
This decision is reprehensible, self‑serving, and limiting to public input and participation in the process, and everyone who agrees needs to speak up. We hoped that 2021 would be a year of greater transparency in the Council chambers, but it appears that City Attorney Paladini, Mayor Mengarelli, and Councilmembers Sischka, Scholl, and Blair would prefer to keep us in the dark. Many of you have written letter to the editor and sent emails to the council.  Here is a suggestion–apply for this vacancy.
WHY SHOULD I FILL IN AN APPLICATION?
Read this memo from Steve Ayres:
I've submitted an application for appointment to the seat on Prescott City Council that Billie Orr is vacating; I encourage you to do so as well, and ask that you pass this idea on to the community-minded people in your personal and business networks.

I consider it vanishingly unlikely that I would be selected for this, but winning the job is not really the point of applying to this process. If we hope to see City policy moving in a progressive direction or more progressives in office, we have to make our presence known and understood as significant.

If many people apply, it makes appointing the pre-chosen one (at this point probably Sherrie Hanna) more laborious, at least. If many of the applicants are progressives, it will say something important about progressive participation in local politics. If the list of applicants is published, and I'm gonna try to get that done, it'll point up how many good, qualified candidates were passed over, and let like-minded people know that they're part of an active, involved community.

So here's a toe-in-the-water opportunity to make several important statements at once, and to an extent hold Council feet to the fire. This initiative can only be effective with the participation of many. You can link below to the form, fill out and submit it by Jan. 28. Council will start considering the applications on Feb 2. The application filing deadline is 5:00 p.m. on Tuesday, January 27. Here is a copy of the application you can file.

Why would you bother? Here are some concerns to encourage you to step up:
Water policy and managing water use
Planning for and managing residential and commercial development balanced by preservation of open space and natural amenities
Public health related to pandemic management and economic recovery, including support for Prescott's small businesses
"Everybody's Hometown" – what does this mean?
Transparency and accountability in council actions and decision-making
Request to Speak – Sign Up, Join a Discussion Group Today!
As the 2021 session opens, Arizona is profoundly unsettled. We lead the world in coronavirus cases and, like the rest of the nation, we're mired in post-election unrest. A double row of fencing surrounds the state Capitol. Visitors will be allowed in only to actually participate in a committee hearing or for a prescheduled meeting with lawmakers or staff. (most info courtesy of the AZ Legislature Weekly Update)
Request to Speak. Sign up for an accountif you don't have one, dust off your password if you do. Need a refresher? Visit the Civic Engagement Beyond Votingwebsite, which features tons of resources, including atraining video that's 5 minutes well spent. Then come to CEBV's Zoom RTS Happy Hour every Sunday from 4-6 PM starting January 17. You'll hear updates, get help with the RTS system, and enjoy some social time with old and new friends. Local meet-ups are Mondays at 8:30am (email Abby Brill –abbrill@gmail.com) and Mondays at 2pm with Mavis Brauer (chair@prescottindivisible.org). Once you sign up for RTS, you will receive the AZ Legislative Weekly Update, which is your guide for actions to be taken for the week.
You will find out about opposing proposed legislation such as the proposal to abolish the permanent early voting list — which 3.2 million of the state's voters use to get their ballots in the mail for each election — and to require anyone voting by mail get their ballot notarized. Rep. Kevin Payne, a Republican from Peoria sponsoring both bills, said he wants changes to state election laws this year and argued the latter proposal in particular is meant to improve election security.
Be ready to contact your legislators. We are in LD1. Store the info for your representatives and senator (see below) in your contacts right now, so it's easy to reach out later. Pro tip: use a keyword such as "Rep" so you can pull them all up at once.
Know the committee chairs and legislative leaders. For a bill to become law, it must first be assigned to committee. Bills that never get assigned or heard quietly die. If a bill isn't assigned, contact the Speaker of the House and the Senate President. If a bill is assigned but isn't on an agenda, contact its committee chair. Here's a handy committee list with contact info, and an equally handy flowchart for how to weigh in as a bill becomes law.
Pick up the phone. If a state lawmaker gets 10 calls a day on any given topic, their phone is ringing off the hook. Emails, by contrast, are easy to ignore — especially since each lawmaker gets hundreds of them every day. Don't be afraid to make a call! Be polite, introduce yourself by name as a constituent. Be friendly to the assistants; they have tons of power. And consider reserving this strategy for less-friendly lawmakers, to avoid clogging the works for the ones who love us best.
Your presence matters. For every 10,000 people using RTS, 1,000 make a phone call. 50 attend a hearing. And 5 request a meeting with their lawmaker. This makes showing up in person one of the most effective ways to advocate. Even better, "in person" looks different this year — a Zoom meeting with your lawmaker is an effective way to advocate and logistically far simpler than the in-person hoops of the past. Don't be afraid to ask for 15 minutes of your lawmaker's time, and put it to good use.
February Prescott Indivisible Meeting
    Thurs. Feb. 4 – 6-8 pm
Perspective from Mavis Brauer, PI Chair: "Come to the General Meeting on February 4, 2021 at 6:00-8:00. It's important that you are there. We are going to figure out where we're going to put our focus in the future (now that President Joe Biden is in the White House!) and we need to hear your voice."
Speakers – "We, the People."
Steering Committee Elections will take place on Thurs., Feb. 4 at our General Meeting. You are invited to read the Prescott Indivisible Guidelines and ask questions about our various positions at this meeting. Sandy Baggenstos has stepped up as assistant treasurer and will work with Jane Doyle, treasurer.
Please review the role of the Steering Committee and what the members do. If you are interesting in stepping up and becoming a member, please submit a short bio and what you have to offer the team to info@prescottindivisible.org by Thurs. Jan. 28 and we will publish it before the Feb. 4 meeting. If you want additional information, contact Mavis Brauer, Chair (chair@prescottindivisible.org). Candidates are invited to introduce themselves at the the Feb. 4 General Meeting.
The Steering Committee is responsible for overall policy and direction of the Group. Their role is to plan and hold the monthly General Meeting, to settle disputes between teams, to approve major group expenditures (over $100), and to make sure that Prescott Indivisible abides by its Purpose & Guiding Principles. They also operate to support the work of the Teams. The Steering Committee consists of three (3) Members at Large, a Chair, a Treasurer, a Secretary, and a representative from each team and permanent committee, and receives no compensation. Currently the Steering Committee meets every other week.
Any member may attend and contribute to the discussion at the Steering Committee, but only Steering Committee members are able to vote.
The duties of the Steering Committee members are detailed in the Guidelines.
Join our Community Discussion! 
Directly after voting on the
Steering Committee members
On Feb. 4, Prescott Indivisible launches into a new era and we need your contribution to set our direction and growth moving forward.
Whether you are a new member or 4-year veteran, PI has a role for you in this new era!
The Community Discussion is a chance to learn more about the priorities of National Indivisible, the 2021 vision of our teams, our many volunteer opportunities and other ways to contribute, as well as have your voice heard in determining the direction of PI in 2021.
Prescott Indivisible has become an influential organization in our community, with your help we can continue to positively impact Northern Arizona and grow our voice for progressive values, join us! Information on registering for the meeting will be sent in the next newsletter.
Vaccination Information 
Yavapai Co. is reporting approx. 200 new cases of Covid a day. Please read the article (NYTimes 1/21/21)T re protecting yourself from the new variant, a highly contagious strain. 
If you are 75 and older and are in a congregate setting, there are no appts. left in January. Here is the link to keep trying – for.vaccinations given at Prescott Gateway Mall Sears Building, East doors, 3400 Gateway Blvd in Prescott. Additional dates will be added as vaccine supply increases. Appointments are REQUIRED. You will NOT be admitted without a scheduled appointment. You will have the option to make your 2nd appointment as you make the 1st one.
Spectrum Healthcare Appointments are REQUIRED, but are currently on hold until a new supply is guaranteed. If you have an appt., you will receive your vaccination. If you want to make an appt., check back often.
Federal Officials:
SENATOR MARK KELLY
PO Box 27202, Tucson, AZ 85726
https://markkelly.com
https://www.facebook.com/CaptMarkKelly/
SENATOR KRISTEN SINEMA
825 B&C Hart Senate Office Building Washington DC 20510
(202) 224-4521
contact@sinema.senate.gov
REPRESENTATIVE PAUL GOSAR
2057 Rayburn HOB, Washington, DC 20515 202-225-2315
6499 S. Kings Ranch Rd. #4, Gold Canyon, AZ 85118 480-882-2697
220 N. 4th St., Kingman, AZ (by appt. only)
122 N. Cortez St., Suite 104, Prescott, AZ 86301 928-445-1683
http://paulgosar.house.gov/contact/
AZ LEGISLATORS
Senator Karen Fann          kfann@azleg.gov                 602-926-5874  
Rep. Judy Burges              jburges@azleg.gov              602-926-3256
Rep. Qwang Nguyen         qnguyen@azleg.gov           (602) 926-3258
PRESCOTT INDIVISIBLE
Start a discussion on:
TWITTER: @IndivisPrescott
Facebook (Public page) /Facebook (Closed group)
prescottindivisible.org
New email – info@prescottindivisible.org
Prescott Indivisible on YouTube
---
DemCast is an advocacy-based 501(c)4 nonprofit. We have made the decision to build a media site free of outside influence. There are no ads. We do not get paid for clicks. If you appreciate our content, please consider a small monthly donation.
---