Photo by Markus Winkler via Unsplash
The Election is Now!
Absentee ballots have been sent out in North Carolina. This week, voters receive ballots in Georgia, Texas, Wisconsin, Michigan, Pennsylvania, and more (ballots will be out in half of the Super States!) More go out next week. The election has begun!
You get our email because you are a patriot, a person who loves our country, its promise, and its values. Our country needs you now! Channel your patriotism into action with us over the next few weeks and ensure victory!
Read on for ways to engage with us…
---
Strategic actions every day, every week (see details & more events below)
Mondays
Tuesdays
Wednesdays
Thursdays
Fridays
Saturdays
Sundays
Specific upcoming dates (more info below):
---
Friday, September 18 will be the last day to request printed letters from Swing Left Peninsula. Pick up/delivery of these requests will begin Tuesday, September 22. If you have had a letter "supplier" and need more, contact him/her; otherwise, email us at lettercaptains@swingleftpeninsula.org.
The Letter Date Will Be Moved Up!
If you're already writing letters for the Big Send and wondering if they should be mailed earlier than planned, Vote Forward is likely to move the date up (view the details here). Vote Forward intends to announce the "send date" in late September. We will provide updates as we learn more.
And finally, get your stamps now, if you don't have them already! More details on letter writing below.
A Letter Party with the Cast of Hamilton!
Mon, Sep 21st, 4:30 – 5:30pm Pacific
Vote Forward is partnering with the cast of Hamilton for a fun-filled event featuring performances from the Hamilton songbook, trivia, and lively discussion – all while learning how to write letters to voters! If you already know how, just grab a packet to fill out while you listen to the fun. RSVP Here.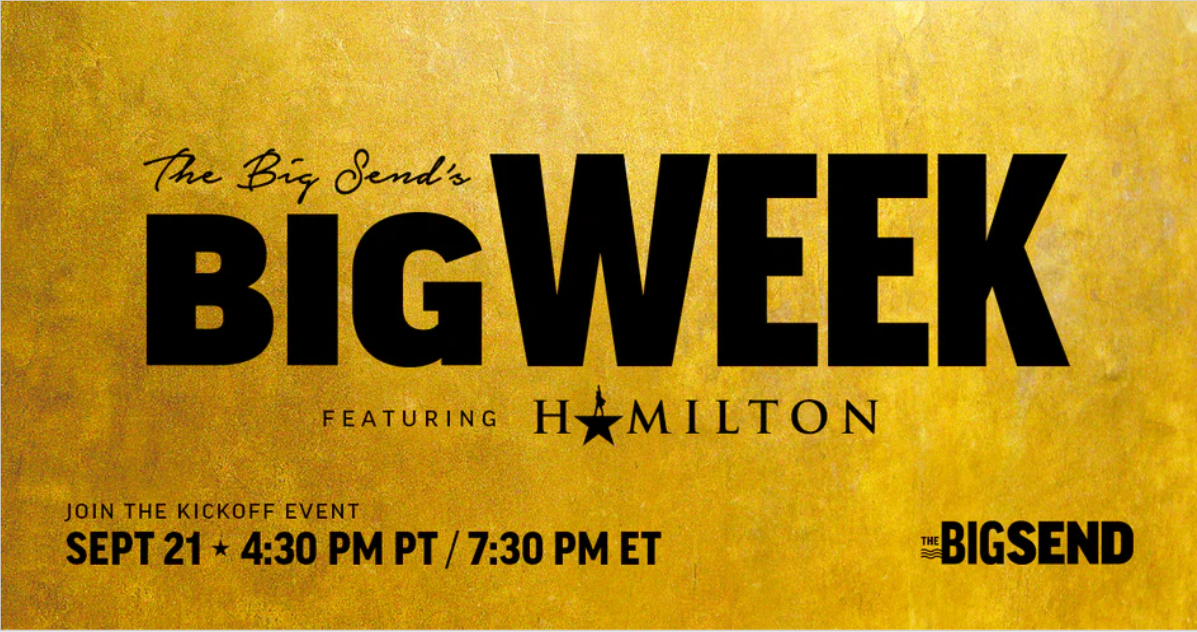 ---
All of us who cherish our shared American values and way of life have 50 days to do everything we can to protect it. And as members of Swing Left Peninsula, you know that this year, voting isn't enough. We have to make sure we get every last Democratic voter to the polls!
Our most effective method to do this is to talk to potential voters. This is even more critical now, during these last few weeks, as potential voters increasingly have questions about the changing vote-by-mail policies, early voting, polling locations, and so much more.
With door-to-door canvassing off the table this year, phone banking is our best bet! And phone banks now take place on Zoom, from the safety of your home. The good news is that you won't be doing it alone! There's always someone on the Zoom call to help you and provide you with all the training and community spirit you need!
Think Phone Banking Isn't for You? Training for New & Reluctant Callers, Mondays 2:30 – 3:00pm PT (with Swing Left Peninsula and CA-Dems) RSVP
Basic Zoom & Computer Skills for Phone Banks, Thursdays, 11am PT (with Swing Left Peninsula and CA-Dems) RSVP
Phone Banking 101, Wednesdays, 5:00 – 6:00pm PT (with Swing Left National) RSVP
---
Are You Conversant in Spanish?
If so, please click the button below and then check the "Conversant in Spanish" box. We have opportunities to reach out to Latinos, and we need your help. Thanks.

I SPEAK SPANISH!
To reach all of the people we need to win in November, we need more HOSTS.
Host a Virtual Phone Bank
Phone banking can help us secure the winning margins but only if we mobilize a lot of people to do it! Swing Left National will take you through all the steps for hosting your own VPB (Virtual Phone Bank), from creating an event, connecting to a phone bank, and giving your attendees the tools they need to be successful. And you'll get some top tips on how to foster community and make it fun!
Phone Bank Host Training: Thurs, 9/17, 5:00 – 6:00pm PT or Sun, 9/21, 5:00 – 6:00pm PT RSVP
Can't attend the training? See the Phone Bank Host Hub Here
Host a Virtual Relational Organizing Party
Relational organizing is simply the practice of leaning on the people you already know—your friends, family, and neighbors— to mobilize and build sustainable collective power. By working together (virtually) with other volunteers, we can lift each other up, brainstorm messaging, and identify members in our networks who are likely to volunteer to help us win the Super States.
---
To win up and down the ballot
All of us are understandably nervous about the Presidential and Senate elections because we know that everything we value as Americans is at stake. But, few of us realize that the results of state legislature races will empower the winning party to redraw voting maps next year, impacting our collective future for the next ten years! To prevent the GOP's gerrymandering tactics, we need you to call voters in strategic states and help flip them blue!
Calls to Arizona!
We're calling strategic parts of the state, mostly Legislative District 17 (LD17) in the Phoenix area. Our calls not only move us closer to flipping the state legislature (and ending gerrymandering), they also send "reverse coattail" ripples up the ballot for Mark Kelly and Joe Biden. Every voter we turn out gives us a triple effect! Training included.
Calls to North Carolina!
North Carolina is the only state that promises a QUADRUPLE win! We're going for its 15 electoral votes, Senate seat, and state legislature flip…and defending Governor Roy Cooper. One call advances 3 races: Biden, Cunningham & Cooper! Training included.
Call Other States!
Flip-the-Senate Priority Calls:
The DSCC will tell us which U.S. Senate race is most in need of calls each week, based on current polling data, fundraising totals, and advertising spending. Training included.
Mondays, 3:00 – 5:00pm PT (with Swing Left Peninsula & CA-Dems) RSVP
Spanish: Sundays, 4:30 – 6:30pm, PT (San Mateo County LatinX Democratic Club) RSVP
Swing Left National's Strategic Phone Bank Hub
Swing Left is working directly with campaigns in the Super States to let you know where your remote phone banking help is most needed. Additional opportunities will be added regularly, so check back here for updates. Current options:
Democratic Volunteer Center
Join a training below, then pick the state you want! Currently calling for U.S. Senate races in Arizona, Iowa, Maine, and North Carolina.
Newbies: Tuesdays & Wednesdays, 4:00 OR 5:00pm PT, Saturdays, 1:00 OR 2:00pm PT RSVP
Experienced callers, for AutoDialer training only: Tuesdays & Wednesdays, 4:30pm PT, Saturdays, 1:30pm PT; no need to RSVP, just join this Zoom Link
---
LD17 Fundraiser
Contribute to our fundraiser for LD17's Democratic candidates Jennifer Pawlik and Ajlan "AJ" Kurdoglu! Jennifer is the first woman and Democrat to be elected in LD17 in 54 years, Jennifer won by just 354 votes in 2018. And AJ is a first-generation American fighting to win a seat that the Democrats lost by only 1744 votes in 2018.
As of yesterday, we have raised $24,755 for these terrific candidates! We want to blast through $25,000. Please help us do that.
Texting
North Carolina: Texting with the NC Democratic Party Coordinated Campaign
For U.S. Senate Candidate Cal Cunningham and Joe Biden! Training included.
Tuesdays & Thursdays, 2:00pm PT & Saturdays, 9:00am PT. RSVP
Arizona: Text Training for the Mark Kelly campaign
Saturdays, 12:00 – 12:30 pm PT. RSVP
Letter Writing
Prepare letters for Vote Forward's "Big Send" campaign and help hit their goal of 10 million GOTV letters!
---
Local Event Calendar and Texting Help!
Our local DVC (Democratic Volunteer Center) maintains a fantastic calendar of events with phone banks, candidate fora, and more. Also, learn how to start TEXTING with the DVC's Getting Started Guide, or get texting help and sign up for a weekly summary of current texting campaigns on several platforms at texting@demvolctr.org.
Arizona "State of the Race"
Tues, Sep 15th, 6:30pm
Join us to hear the latest about the races in Arizona up and down the ballot. Charles Fisher, Executive Director at the Arizona Democratic Legislative Campaign Committee (ADLCC) will join us to talk about their mission, why flipping the Arizona legislature is so important, what they've achieved, and what's ahead. We'll also hear from other Arizona organizers, Swing Left's political team, and volunteers on the ground in Arizona about how you can help. RSVP here
"Rigged" Film Screening and Live Q&A
Free event via Zoom
Sun, Sep 20th, 7:00pm
"RIGGED: The Voter Suppression Playbook" is an award-winning documentary that exposes the nefarious tactics used to suppress the vote and sparks discussion on the actions needed to protect our democracy. We will watch the 70-minute film together via Zoom and then join in a live Q&A with the Producer Mac Heller. RSVP here.
Take Back Texas Fundraiser, with Beto O'Rourke
Help meet a $50K matching grant!
Tues, Sep 22nd, 4:00 – 5:00pm PT
Join Beto, the Texas House Democratic Campaign Committee, and Texas House candidates Akilah Bacy, Elizabeth Beck & Celina Montoya. Texas ballots go out this week, so it's more important than ever to support these candidates. Taking back the Texas House is crucial for stopping the institutionally sanctioned racism put in place during the past decade of gerrymandering. Republicans currently control both state chambers, but Democrats only need nine seats in the Texas House to gain a majority. In 2018, Democrats gained 12 seats, which was the biggest shift since Republicans gained control in 2010. There are nine House seats currently held by Republicans, where Beto won in 2018 (in some cases as much as 60%). If we can win one chamber, Democrats will have a critical seat at the redistricting table. Minimum suggested donation: $50. Donate and RSVP here.
Phone (and Text) Bank for TJ and Josh
---
Finally…
Follow us on Twitter (@SwingLeftPen) or join our Facebook group for updates on our latest events, actions and swing district news.
---
DemCast is an advocacy-based 501(c)4 nonprofit. We have made the decision to build a media site free of outside influence. There are no ads. We do not get paid for clicks. If you appreciate our content, please consider a small monthly donation.
---