---
Prescott Indivisible General Meeting
Thurs. Sept. 3 6-7:30pm
Register in advance for this meeting:
Add your own information. After registering, you immediately receive a confirmation that contains the zoom link so you can join the meeting.
The September GM will focus on Voting Rights which will be presented by our Voter Values Project (VVP) team and two county officials. If you're interested in learning more about the VVP, you can go to VoterValuesProject.com and take the survey. 
The Prescott Indivisible VVP Team members who will join the discussion are: Nancy Klick, Team Leader as well as the VP for DWPA; Doug Kearney is the PI Steering Committee (SC) Team Leader for Human Rights and has taken on a role of researching VVP issues; Abby Brill is also researching VVP issues, is an Associate Editor for 5enses, and a local potterer; Peggy Glenn is a writer and editor, and joined PI in 2019. She has taken on the role of digesting all of the research from Doug and Abby and writing succinct weekly messages; Louise Clara is a retired nurse practitioner and joined PI in January. She is on the PI SC as the Volunteer Coordinator Team Leader and is the co-chair of the VVP Committee. Louise takes Peggy's weekly messages and puts them into different forms to post as emails, FB posts and on the PI website. Jeff Daverman is on the PI SC as the Co-Team Leader of the Communications Team and is the media consultant to the VVP.
Also joining us will be Lynn Constabile, the YC Elections Director, and Lesley Hoffman, the YC Recorder who will give an update on voting issues in this county and how they're being handled.
The match of $350 from national Indivisible was accomplished! Thanks to all to helped us. Assist us in continuing our efforts. Please donate.
Twitter Office Hours: National Indivisible has started the Truth Brigade to combat disinformation. Prescott Indivisible will be one of the leaders in this area. If you'd like to learn more and make your posts more effective on Twitter and Facebook, come to Twitter Office Hours, every Monday afternoon from 1-3pm. Every week, you can use the same link: https://us02web.zoom.us/j/88604403935
---
Racial Equity Education
Prescott Indivisible's Anti-Racism Education in Action – Prescott Team is known as AREA-P. If you want more information about the group, send an email to PIAR072020@gmail.com.
Jackie DeSa, the team administrator, forwarded the following book recommendations from other team members:
"The Autobiography by Malcolm X as told to Alex Haley"
"The Night Watchman" by Louise Erdrich is a historical novel about the Termination Act of 1954, another example of racism, family and home…and greed. As you read about the Termination Act, be aware that this year the Trump Administration revoked the reservation status of the Mashpee Wampanoag of Rhode Island. They have no jurisdiction over their own lands, where they have lived since time immemorial, because the US refuses "trust" status. Head to google to find out more.
Hoods in My Hymnal – "Singers and musicians also have a responsibility to reevaluate what music they use, assessing the value of the song and weighing it against the creator's hate…look at every piece and say, does the art here or the deeper truth here overcome whatever other history this music or this writer has?" 
From Indianapolis Monthly – An excellent, insightful article about how an Indiana county deals with it's past and the Klan. 
Honoring Emmett Till: 65 Years after his murder galvanized the civil rights movement (So. Poverty Law Center)
Check out UltraViolet, a community of one million people that drives feminist cultural and political change. Through people power and strategic advocacy, they work to improve the lives of women and girls of all identities and backgrounds, and all people impacted by sexism, by dismantling discrimination and creating a cost for sexism.
---
Election Information
Mon. October 5 is the deadline to register to vote.
Wed. October 7 – early ballots begin arriving in the mail and early voting in-person begins
Fri. October 16 – we recommend this be the last day you mail in your ballot
Fri. October 23 – last day to request a early ballot and the last day to mail your early ballot
Fri. October 30 – last day to vote early in person
This year, because of the pandemic, we emphasize and recommend EARLY voting. Voting begins October 7; it ends at 7 pm on November 3. 
Protect yourself and our poll workers by voting early rather than crowding the polling places on Election Day. Official Ballot Drop Box locations will be published closer to the ballot "drop". Don't risk muddy roads, bad weather, or COVID exposure on November 3 — vote when your ballot comes in the mail.
Getting your ballot by mail is safe; 80% of Arizonans do that and have for years.  There are options for returning your ballot directly to official election locations without using the U.S. mail to return ballots. We'll be following developments with the U.S. Postal Service and getting advice for the DNC/ADP Election Integrity lawyers as the time gets closer. Stay tuned.
Vote as soon as you can! Every signature on the outside of your returned ballot is verified by a county staff person trained in handwriting recognition — so get that ballot in way before Election Day so the rest of us don't have to wait days for a result while your signature is being checked!
---
Information Sent by the Voter Values Project
Click on the VVP logo to read Part Four of the Information sent to the Arizona Voter and VVP Survey Respondent. It is all about Voting Rights, a complex entity with many elements. It also describes the positions of Arizona candidates on this issue.
---
Mark Your Calendar!
Join Mission for Arizona and the Yavapai County Democratic Party on Thurs.Sept 10 at 6:30pm for a virtual Candidate Rally! Hear from the Democratic candidates running for office in Yavapai County and show your support for them going into the home-stretch before Election Day. Candidates include Mark Kelly, Tom O'Halleran, Delina DiSanto, Felicia French, Judy Stahl, Coral Evans, John Lutes and Donna Michaels.
The virtual Candidate Rally is in lieu of the Yavapai Democrat's traditional annual fundraiser, the Truman-Clinton dinner.
Sign up today and get ready for this fun virtual event!
---
Election Strategies
Judy Stahl – single shot vote. 
Just vote for your ONE FAVORED CANDIDATE and they can beat the electoral odds. ONLY vote for Judy Stahl, LD1., because it will only raise your opponent's total.  Don't check that second box Arizonans elect two representatives from each district to the House of Representatives and can cast 2 votes for their top 2 candidates. But what if you like only one person?
Arizona Corporation Commission: 3 seats, vote for all 3 Democrats  Bill Mundell, Shea Stanfield and Anna Tovar are the 3 Democrats who are running for the ACC. There are also 2 Republicans on the ballot. Three will get elected so the strategy is to vote for all 3 Democrats!
---
Community Activities
Check out the Prescott Indivisible Calendar.  It is up with a new look and lots of campaign activities.
News of the Shoe Strike, Prescott Courthouse Square, Aug. 29
220 pairs of shoes were placed on Gurley from Montezuma to Cortez and up to the Courthouse steps. This peaceful, instructive event was interrupted by a Qanon march with flags, whose loud protesters made toxic remarks about Dems who were involved in international child sex trafficking.
NAACCC (No. AZ Climate Change Coalition) made the decision to close down early.  They plan on gathering 200 more pairs of shoes and will "Strike" again in Sept.
If you are unfamiliar with Qanon, here is a good explanation from the NYTimes.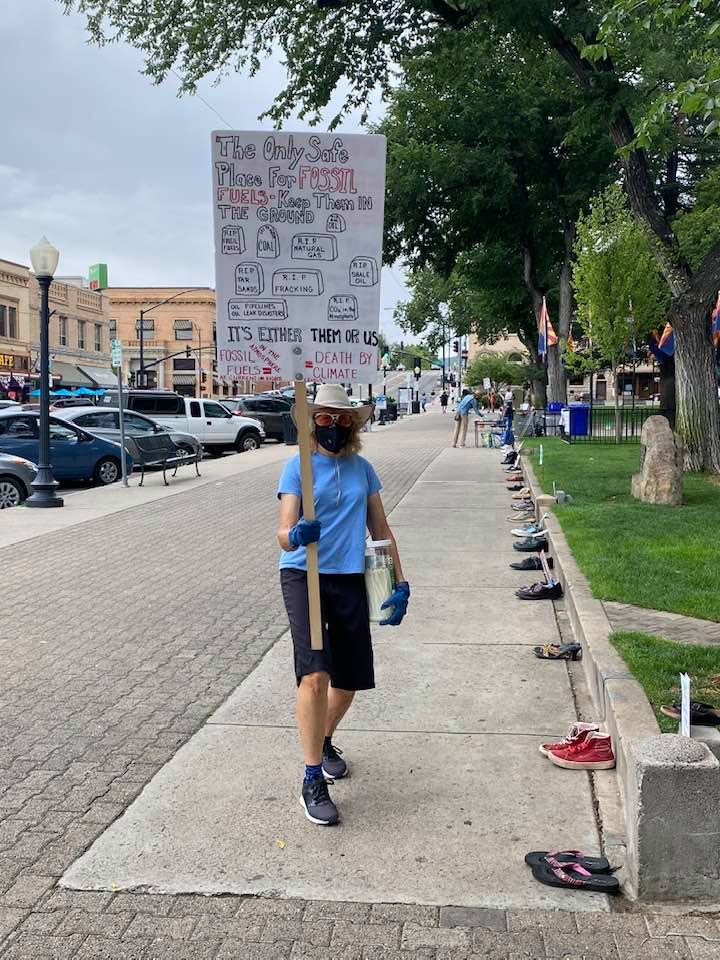 Masks for Safe Schools
Donations for Yavapai Co. public schools continues! Prescott Indivisible and the Democratic Women of the Prescott Area and other community members are providing masks for children and teachers when they return to school. Please contact Maria Lynam, maria488@icloud.com and she will send you pattern info and criteria for elastic; materials can be provided. There is a great need for the Yavapai County Public Schools–requests for over 1,500 masks remain.
Volunteer to be an Election Observer.
Poll Watchers will serve 2 – 3 hour shifts at our Yavapai County vote centers representing the Democratic Party on Nov. 3rd for the general election. If you know anyone in Bagdad or Seligman who would like to help, please contact Vivian Perry at 928-830-9165, vivianperry45@msn.com.
No New Jail Rally is scheduled for this Wednesday, September 2, from 8:30 a.m. to 9:30 a.m.
At 1015 Fair Street, Prescott, AZ. This may be our last chance to have our voices heard. Please come and tell this Board NO! For more information contact Pam Pearsall at pampearsall@gmail.com
On Tues. Sept. 8, 6-7:30p, a Food Justice Panel featuring local and national speakers will present info re the root causes of food insecurity and hunger, systemic change, and food sovereignty. This event will be held on Zoom and Facebook Live. Register here.
This event is free and open to everyone.  If you're able, please consider making a ticket donation of $10.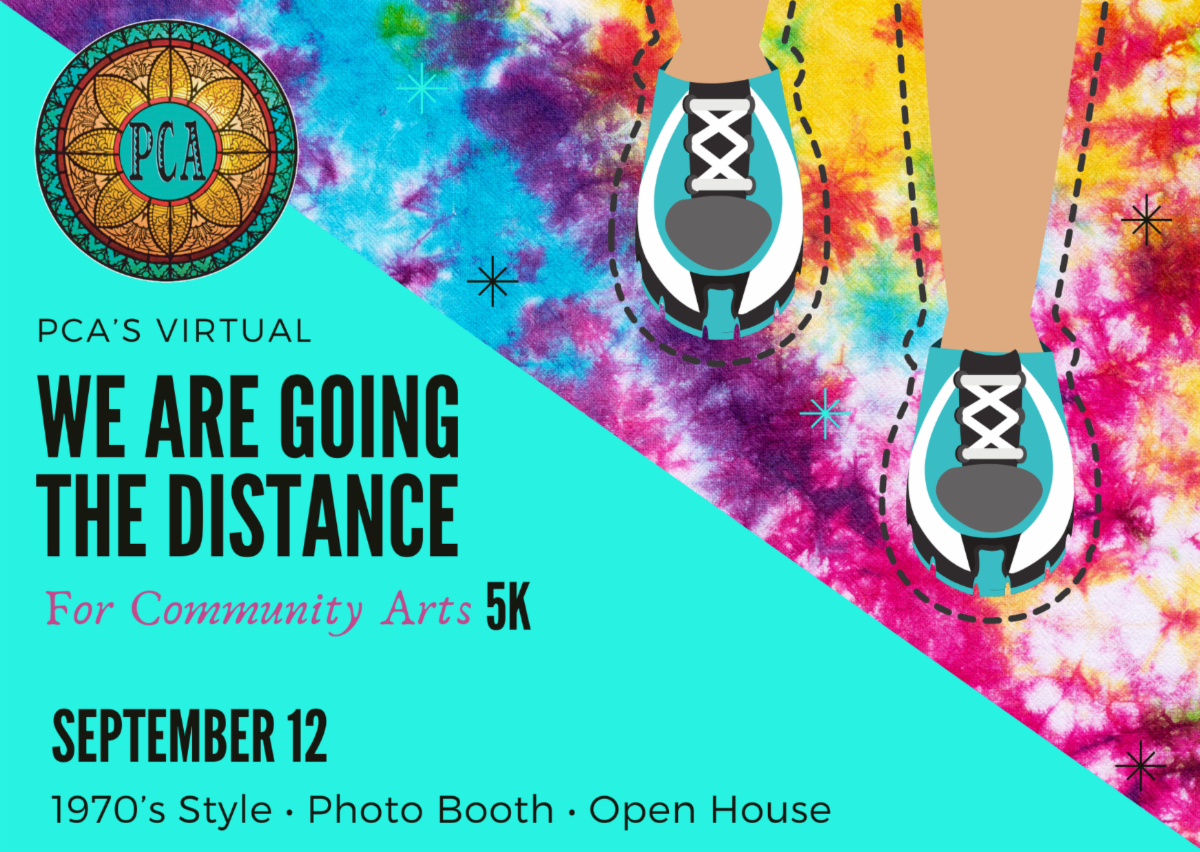 Go the Distance for Community Arts on Sat., Sept. 12 – Celebrate over 50 Years of Prescott Center for the Arts and join a 5K in 1970's style. That's right, get your far-out jewelry, your tie-dyed clothes and jam with us by running, walking, or biking various 5k routes throughout Prescott. You can even bring your groovy dog! Sign-up with friends and get some exercise as a small group. The more the better for a great cause.  Entry Fee $25  Early Bird Entry $20 before September 7, 2020.
Get ready for Empty Bowls (9/13 and 9/19)
An iconic Prescott annual event in which committee members from the Unitarian Universalist Congregations organize local artists and chefs to raise money for local food banks to feed the hungry.
Guests are invited to a simple meal of soup and bread. In exchange for a cash donation, guests are asked to keep a bowl as a reminder of all the empty bowls in the world. The money raised is donated to…organization[s] working to end hunger and food insecurity." This year, due to the pandemic you will not have to wait in line for hours for your bowl of soup. You can purchase your bowl here. (You can also purchase chances for the Potter's Wheel Opportunity Spin). Bowls will be distributed Sunday, Sept. 13 (10 a.m. to 4 p.m.) or on Saturday, Sept. 19 (1 to 5 p.m.) at Granite Peak Unitarian Universalist Congregation, 882 Sunset Ave., Prescott. A bowl donation is $15 and includes a soup recipe.
Go to their website for more information.
---
At Home Activism
What you can do? Even though we have to social distance and cannot gather in groups, we can STILL MAKE A HUGH DIFFERENCE in this election. We just have to do it from home! So, choose what you enjoy and where YOU feel you can make a difference.
Write Letters – Write Post Cards – Make Phone Calls – Text – help our Endorsed Candidates below
Post On Social Media – Call Your Friends & Share This Info
Time is short. The distribution of accurate and honest information is CRITICAL
Every day – call three people and remind them to vote for our slate–Biden, Kelly, DiSanto, Mundell, Stanfield, Tovar, Stahl, (Lutes – Dist. 1 or Michaels – Dist 3). Suggest that when they receive their ballot, to mail it immediately! Don't let that ballot linger!
Our Endorsed Candidates continue to need your assistance.
Why endorse a candidate unless you will help them and promote their campaign? What can you do to help them?
Open your pocketbook – contribute on ActBlue or send a check!
Delina DiSanto, CD4 House of Representatives
Delina won the primary in the beginning of August. She also won Prescott Indivisible's endorsement at their Aug. meeting – we are waiting to hear about her endorsement from the Indivisible Team.
She needs your donations to keep her campaign on track. She plans on developing tv ads and they are expensive. Please help her defeat Gosar by going on ActBlue and donate. Her yard signs are available at the YavDem Headquarters, 1555 Iron Springs Rd., Prescott 9:30-noon on Saturdays. (Click on her logo to donate).
John Lutes
Postcard Writers!    Click on the logo below to volunteer and help John's campaign out.
Phone bank volunteers!  John has a new phonebank captain, Amy Hurst.  She has scheduled Lutes4ycbos Phone training every Monday from now until Sept. 14 at 3:30pm.  Join Zoom Meeting
Judy Stahl
Postcard Writers!    Click on the logo below to volunteer help out.
Join Weekly Phone Banks!  Sat. 1:30 pm; Mon.6 pm; Wed.4 pm, Sun.at 1:30 pm. Sessions will begin on ZOOM for training and phone script/process review.
Each Tuesday at 4pm, the Yavapai Co. Ferris Wheel Project phone banks.  Training is provided.  This week (9/1), they will reach out to inactive voters, along with Mission for Arizona, making sure that voters are registered to vote and have signed up to Vote-By-Mail.  On Tues. Sept. 8, calls will be made for John Lutes.
Contact Amy Shunk for details (amy.shunk11@gmail.com)
Mark Kelly Campaign
To phone bank for the campaign, contact Linda Meigs: 256-509-9414 or linda@meigsmade.com
---
Really? There is a pandemic? – News from our front line
In Trumpville, it is "behind us" – Do you believe that?
On 8/31, Yavapai Co.had 2,273 confirmed cases, 78 deaths, 996 recovered.1,229 active cases.  A decrease of 113 cases in two weeks. 
On 8/14, Yavapai Co. had 2117 confirmed cases, 72 deaths, 775 recovered. 1,342 active cases. An increase of 187 cases in two weeks.
On 7/31, Yavapai Co. had 1768 confirmed cases, 60 deaths, 613 recoveries.  1,155 active cases in the county.(an increase of 230 active cases in one week)
On 7/24, Yavapai Co. had 1534 confirmed cases, 54 deaths, 609 recoveries. 925 active cases in the county.
Our local school districts are being cautious about sending kids back to school. Check each school district for opening guidelines.  
Please, continue to stay out of crowds; stay far away (more than "social distance", if possible) from someone who is unmasked; keep washing those poor hands and keep your hands away from your face. 
The US just surpassed 6 million Covid-19 cases with (by the time you read this), over 183,000 deaths. Over the past week, there have been an average of 41,924 cases per day, a decrease of 4% of the average two weeks ago. A well-known model previously cited by the White House forecasts more than 317,000 deaths from Covid-19 by Dec. (CNN)
---
---
Signs for the Democratic Candidates are available
on Saturday mornings, 9:30a-noon
at the Yavapai Co. Democratic Headquarters
1555 Iron Springs Rd., Prescott.
It is a no-contact pick up.
---
PRESCOTT INDIVISIBLE
Start a discussion on:
TWITTER: @IndivisPrescott
Facebook (Public page) /Facebook (Closed group)
prescottindivisible.org 
New email – info@prescottindivisible.org
Prescott Indivisible on YouTube 
---
DemCast is an advocacy-based 501(c)4 nonprofit. We have made the decision to build a media site free of outside influence. There are no ads. We do not get paid for clicks. If you appreciate our content, please consider a small monthly donation.
---