IC-SS Weekly Update: August 24, 2020
---
Zoom with Us: Thurs, Aug 27, 7:30-9:00 pm
with Special Guest Olivia Sullivan
Join us on Zoom this Thursday, Aug 27th, 7:30-9:00 to learn, share, and fellowship. RSVP here.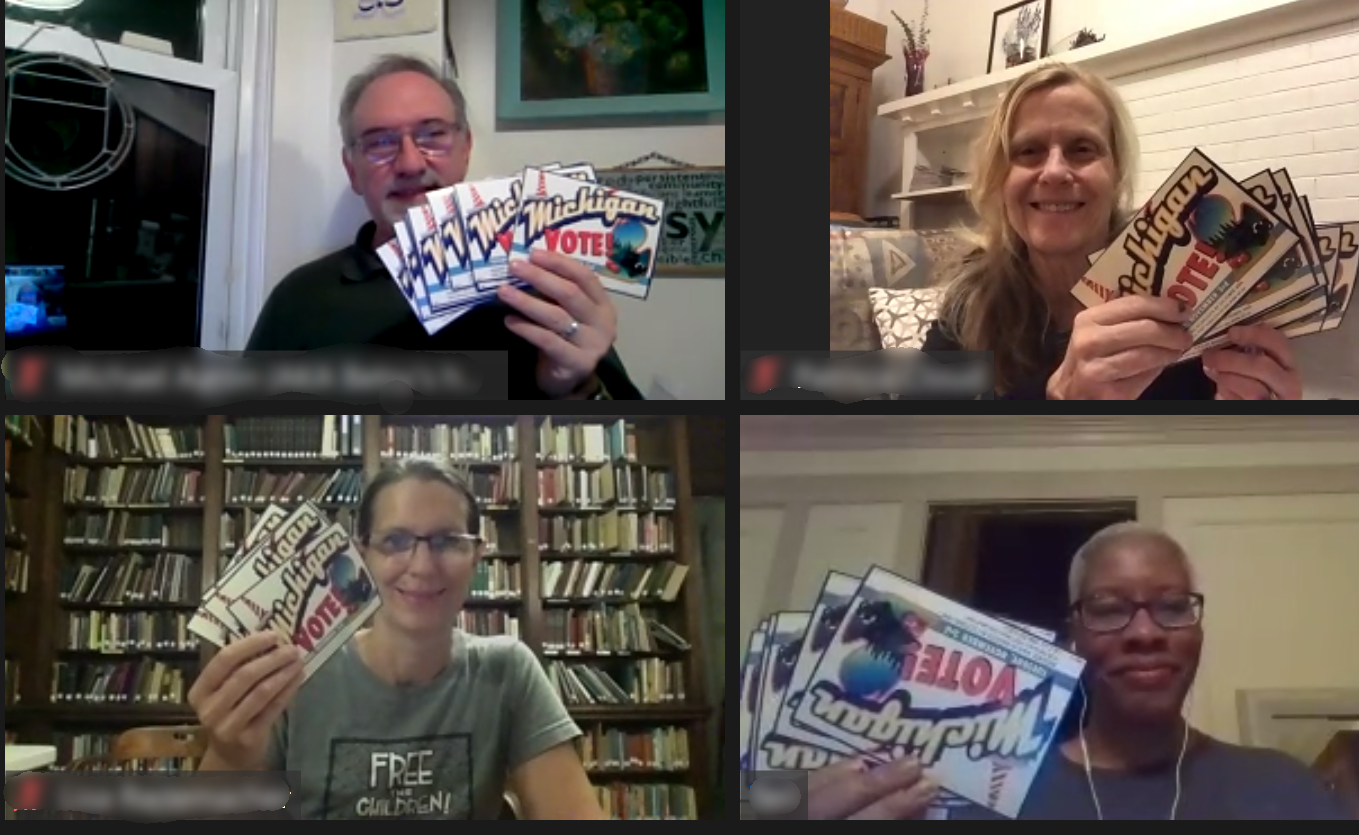 This week, we'll welcome special guest Olivia Sullivan of the Winning CPAC – 4th Ward group. She'll drop in during the session to give a brief presentation and answer questions on CPAC (Civilian Police Accountability Council).
Olivia will focus on the effort to convince 4th Ward Ald. Sophia King to join the 19 alderpeople supporting the ordinance in the City Council.
So grab your fave beverage and your postcards to write, chat, and learn along with us. But postcards aren't required. We invite ALL our members and friends. RSVP for our Aug 27 Zoom here.
📢 Announcement: Sign up for one of our September Zooms: Thurs, September 10th + Tues, September 29th, 7:30-9:00 pm. RSVP for September Zooms here.
---
Turn In Postcards – Get More!
We still have over a month to go in the great postcards-to-voters project. Join dozens of South Side and South Suburban postcard writers from Bronzeville to Oak Lawn and beyond!
Turn in the postcards you've finished… and order more. Get the full instructions in the "All the Info" BOX near bottom of this email.
---
IC-South Siders Are Phonebanking!
When we can't knock doors, we ring phones – a proven way to turn out citizens to vote, up and down the ballot. Thanks to Indivisible Chicago-South Side members for leaping into phonebanking in these critical months leading up to the November election.
Last week, at least 6 of us joined the Indivisible Chicago group to call voters in Illinois's 14th District with the campaign to re-elect Rep. Lauren Underwood: Pam Northrop, Marva Watkins, Nancy Joseph, Teri Watkins, Betsy Rubin, and Kineret Jaffe. And even more folks have been joining calls to voters in Michigan and Wisconsin.
Hey, did we leave out your name? Let us know if you've been phonebanking so we can give you a shout-out!
Remember: There are all kinds of phonebanking opportunities.Here's the phonebanking schedule via Indivisible Chicago's 3 States/1 Mission project:
Michigan Mondays (1:00-3:00 pm)
Lauren Underwood Tuesdays (6:00-8:00 pm)
Wisconsin Wednesdays (6:00-8:00 pm)
Volunteer Recruiting Thursdays (1:00-3:00 pm)
New to phonebanking or need a refresher? Sign up for a clear and friendly 30-minute online phonebank training here.
---
Defending the Post Office!
In conjunction with national Indivisible and MoveOn's "Save the Post Office Saturday," a dozen South Siders headed to the McGee Post Office at 46th and Cottage Grove on August 22.
At McGee, lots of drivers honked their horns and raised their fists in solidarity.  After all, who doesn't want mail service that works to deliver our prescriptions, letters, and packages — and allows people to vote safely from home? (Rhetorical question.)
Did you attend a protest on August 22 downtown or elsewhere? Please share photos and your story. and we'll share on social media or in the next newsletter. And see more photos from the McGee protest on Facebook.
On Saturday, the House passed the Delivering for America Act (HR 8015), with Rep Bobby Rush (IL-01) and Rep Robin Kelly (IL-02) joined by the other Democratic reps from Illinois in co-sponsoring and voting for it. Now it's on to the Senate.
Meanwhile, Rep Kelly sits on the House Oversight Committee and will be among the representatives questioning Postmaster General Louis DeJoy today (Aug 24). Read Rep Kelly's letter to DeJoy in this Twitter thread.
---
How 'Bout That Convention?
Last week, Rep Lauren Underwood said to phonebankers, "As I watched the first night of the convention, I felt a strange sensation. I realized it was hope."
Many of us shared this sensation and now feel powerfully motivated to act. Join us in phonebanking, calling our representatives, and writing postcards to voters.
Need more motivation? Re-watch some of these highlights:
Michelle Obama's speech
President Barack Obama's speech
Elizabeth Warren's speech
Bernie Sanders's speech
Kamala Harris's speech
Joe Biden's speech
The ROLL CALL!
Don't see your favorite speakers in that list? Look 'em up, and watch again!
---
All the Info on Postcards to Voters
As part of Indivisible Chicago Alliance's 3 States/1 Mission project, IC-South Side is participating in the citywide Postcard Posse, writing postcards to voters in swing states.
The project has been so successful that all the Michigan and Wisconsin cards have been written, and numerous other swing states have been added to the effort. What to do for postcards:
1. ORDER POSTCARDS. Fill in the form at the Postcard Posse order page. Ask for 100 or more (in increments of 100) and select HYDE PARK as your pickup/delivery point.
 2. REGISTER. Register at the Postcard Posse registration page. Sign up to write on your own, or choose one of our two teams (by zip code): South Side Scribes, Local 15 or 37.
 3. IF YOU CAN, BUY STAMPS. You aren't required to stamp your own postcards, but if you can afford to, you can order online: Here's a link to postcard stamps at USPS.com.
DONE WITH YOUR POSTCARDS? Contact IC-SS Co-Leader Esther Peters to arrange for safe return of your postcards (in batches of 100). You can reply to Esther's previous emails to you OR let her know right here.
QUESTIONS OR CONCERNS?
Contact us at Indivisible Chicago-South Side
---
Indivisible Chicago-South Side
Email: Indiv.Chi.South@gmail.com
Follow IC-SS on Facebook and Twitter
---
DemCast is an advocacy-based 501(c)4 nonprofit. We have made the decision to build a media site free of outside influence. There are no ads. We do not get paid for clicks. If you appreciate our content, please consider a small monthly donation.
---