IC-SS Weekly Update: August 17, 2020
---
TOMORROW: Phonebank for Rep Underwood
In Illinois Congressional District 14, Democrat Lauren Underwood faces a battle for her seat. Want to help – and meet – US Rep Lauren Underwood?
Tuesday, August 18, 6:00-8:00 pm: Phonebank from home for Lauren Underwood, and meet the Congresswoman during the Zoom orientation! Sign up here to phonebank for and meet Rep Underwood.
Can't make the August 18 phonebank for Rep Underwood?  You can find other phonebanking dates. And you can support her campaign.
Remember: There are all kinds of phonebanking opportunities. Here's the general phonebanking schedule via Indivisible Chicago's 3 States/1 Mission project:
Michigan Mondays (1:00-3:00 pm)
Lauren Underwood Tuesdays (6:00-8:00 pm)
Wisconsin Wednesdays (6:00-8:00 pm)
Volunteer Recruiting Thursdays (1:00-3:00 pm)
---
Phonebanking Preview + Training
Why the push for phonebanking – does it really work? Watch Kathleen Long and Bill Mengebier's presentation on phonebanking, recorded at our last Zoom meeting. 
New to phonebanking or want a refresher? Attend one of Indivisible Chicago's 30-minute Phonebanking 101 trainings – and get the info to become a confident and effective phonebanker. Find trainings here.
---
Zoom with Us: Thurs, Aug 27, 7:30-9:00 pm
Join us on Zoom to learn, share, and fellowship. Grab your postcards and fave beverage, and write along with us. But postcards aren't required. We invite ALL our members and friends. RSVP here.
---
Supporting Protesters
You may have heard about Saturday August 15 demonstrations downtown that resulted in police violence and multiple arrests. Illinois State Senator Robert Peters joined with other elected officials in signing a letter condemning the "use of police force against these demonstrators on Saturday night, and for the continued escalation of surveillance, violence, and detention of protestors."
Berto Aguayo, Director/Co-Founder of Increase the Peace and Political Director of Marie Newman's primary campaign, wrote this account of the non-violent Saturday demonstrations.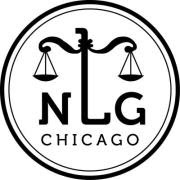 If you would like to support legal action to defend arrested protesters, consider a donation to the National Lawyers Guild Chicago – donate here. Note: Gifts to the National Lawyers Guild Chicago are not tax deductible.
---
Defend the Post Office!
Alarmed about Trump's threats to the USPS and our mail? Call your representative in Congress to cosponsor this new bill: The Delivering for America Act.
The Delivering for America Act would prohibit the Postal Service from implementing any changes to the operations or level of service it had in place on January 1, 2020, until the COVID-19 pandemic has ended.
Get more info on the Delivering for America Act from national Indivisible. (Want more? See Indivisible's Twitter thread.)
PS If you are in Rep Robin Kelly's district (IL-02), first thank her and her fellow Democrats on the House Oversight Committee for calling on USPS Postmaster General Louis DeJoy to testify on August 24th. Then ask her to co-sponsor the Delivering for America Act.
Contact info:
Rep Bobby Rush (1st District):
Rep Robin Kelly (2nd District)
Live in a different district – or not sure which district you're in? No worries! Find your rep here.
---
#SaveThePostOffice – Saturday, Aug 22
We just learned about #SaveThePostOffice Saturday, organized by MoveOn for Saturday, Aug 22 across the USA. Get info & sign up here.
---
Have YOU Applied to Vote By Mail?
Don't let the pandemic – or any obstacle – stop you from casting your vote this fall. Practice #VirusFreeVotingILLINOIS and apply to vote by mail in Chicago or suburban Cook County.
NOTE: In both Chicago and suburban Cook, you can avoid the mail and drop your completed ballot in a secured elections drop box.
---
Watch Party, Aug 23: Slay the Dragon
Postcarders, phonebankers, textbankers, rally participators, voter registrars, concerned voters, one and all: You won't want to miss this!
Slay the Dragon is a riveting documentary about gerrymandering and the vital importance of grassroots activism.
SIGN UP HERE for the Slay the Dragon watch party, Sunday, Aug 23, 4:00-7:00 pm. You'll watch the movie and then a panel discussion with filmmakers and activists from the film. Note: Once you sign up, you'll get a confirmation and a link to choose your platform for viewing the movie itself; it will cost $4.99 for you to rent the movie.
---
All the Info on Postcards to Voters
As part of Indivisible Chicago Alliance's 3 States/1 Mission project, IC-South Side is participating in the citywide Postcard Posse, writing postcards to voters in swing states. What to do for postcards:
1. ORDER POSTCARDS. Fill in the form at the Postcard Posse order page. Ask for 100 or more (in increments of 100) and select HYDE PARK as your pickup/delivery point.
2. REGISTER. Register at the Postcard Posse registration page. Sign up to write on your own, or choose one of our two teams (by zip code): South Side Scribes, Local 15 or 37.
3. IF YOU CAN, BUY STAMPS. Youaren't required to stamp your own postcards, but if you can afford to, you can order online: Here's a link to postcard stamps at USPS.com.
And when you're done with your postcards... Contact IC-SS Co-Leader Esther Peters to arrange for safe return of your postcards (in batches of 100). You can reply to Esther's previous emails to you OR let her know right here.
QUESTIONS OR CONCERNS?
Contact us at Indivisible Chicago-South Side
---
Indivisible Chicago-South Side
Email: Indiv.Chi.South@gmail.com
Follow IC-SS on Facebook and Twitter
---
DemCast is an advocacy-based 501(c)4 nonprofit. We have made the decision to build a media site free of outside influence. There are no ads. We do not get paid for clicks. If you appreciate our content, please consider a small monthly donation.
---