Persist and Resist – August 17, 2020
---
Until Sept. 21st, every dollar made through ActBlue as a General Contribution is matched by national Indivisible, up to $350. Take advantage of this doubling of your contribution by selecting General Donation. Please donate.
---
A huge success, the masked progressives of the Prescott area drove a route through downtown, over past YRMC, to Prescott Lakes Parkway and back down Rt. 69 to their starting point on Gurley St. Seventy-five cars participated and everyone wanted to do it again! (Fri. Aug. 14 was the hottest day of the summer, too).
A huge thanks to Maria-Elena Dunn, Marion Pack and Jeff Daverman for organizing us–they coordinated the decorations, signs, maps, videographers and photographers and drove the route many times to make sure that there were no issues due to construction. Jeff also contributed his graphic design skills to the logo and the professional signage. A video will be up on the website shortly. Stay tuned for information on similar events.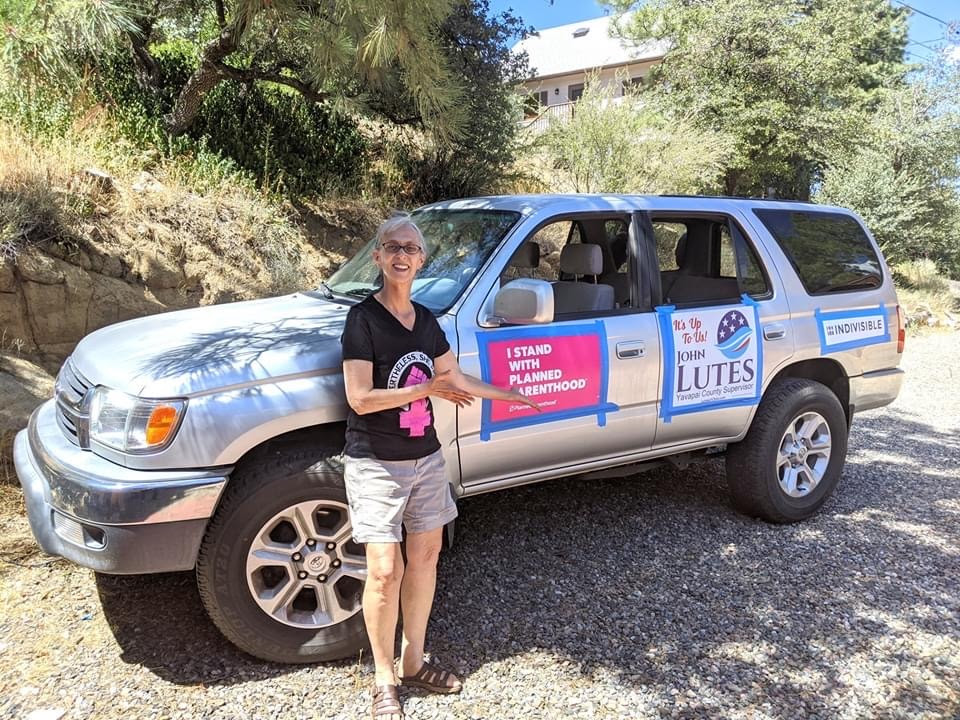 ---
Message from Mavis Brauer, Chair, Prescott Indivisible
Election Strategies:
Judy Stahl – single shot vote.
Just vote for your ONE FAVORED CANDIDATE and they can beat the electoral odds. ONLY vote for Judy Stahl, LD1., because it will only raise your opponent's total. Don't check that second box Arizonans elect two representatives from each district to the House of Representatives and can cast 2 votes for their top 2 candidates. But what if you like only one person?
Arizona Corporation Commission: 3 seats, vote for all 3 Democrats Bill Mundell, Shea Stanfield and Anna Tovar are the 3 Democrats who are running for the ACC. There are also 2 Republicans on the ballot. Three will get elected so the strategy is to vote for all 3 Democrats!
Twitter Office Hours: National Indivisible has started the Truth Brigade to combat disinformation. Prescott Indivisible will be one of the leaders in this area. If you'd like to learn more and make your posts more effective on Twitter and Facebook, come to Twitter Office Hours, every Monday afternoon from 1:00-3:00. Every week, you can use the same link: https://us02web.zoom.us/j/88604403935
Racial Equity Education: This week several people recommended seeing the Netflix series, "Immigration Nation." Fair warning: like some of the other recommendations, this series can be hard to watch.
---
Volunteer Opportunities
Mask Donations Continue! Prescott Indivisible and the Democratic Women of the Prescott Area and other community members have now donated over 7,000 masks to the Navajo Nations.
There is now another need–masks for children and teachers when they return to school. Please contact Maria Lynam, maria488@icloud.com and she will send you pattern info and criteria for elastic. There is a great need for the Yavapai County Public Schools–requests for over 3,000 masks have been received.
---
Our Endorsed Candidates continue to need your assistance.
Why endorse a candidate unless you will help them and promote their campaign?
What can you do to help them? Open your pocketbook – contribute on ActBlue or send a check!
John Lutes:
Postcard Writers! Click on the logo below to volunteer help out.
Phone bank volunteers! John has a new phonebank captain, Amy Hurst. She has scheduled Lutes4ycbos Phone training Every Monday from now until Sept. 14 at 3:30pm. The first one is Monday, Aug. 3 – they all have the same zoom meeting no. Join Zoom Meeting
Judy Stahl:
Postcard Writers! Click on the logo below to volunteer help out.

Join Judy's Phone Banks! Saturdays at 1:30 pm, Mondays at 6:00 pm, Wednesdays at 4:00 pm, Sundays at 1:30 pm
The session will begin on ZOOM for training and phone script/process review.
This week the Yavapai Co. Ferris Wheel Project will make calls for Judy. Contact Amy Shunk for details (amy.shunk11@gmail.com)
Mark Kelly Campaign
To phone bank for the campaign, contact Linda Meigs: 256-509-9414 or linda@meigsmade.com
---
From Tricia Sauer, AZ Indivisible Team Leader
VICE video on vote by mail in Arizona – this is an amazing video; well worth watching. Maricopa Co. is the second largest voting jurisdiction in the US! (2.4 million voters)
Watch Maricopa County Recorder Adrian Fontes explain how he and the other 14 AZ counties worked together to determine vote by mail safety and return by date. (Informative and entertaining).
---
Re Voting and the USPS
As you all know, I highly recommend subscribing (free-here) to Robert Hubbell's Today's Edition). He presents even the most dire news evenhandedly, with no drama. Here is a an excerpt from the 8/14 issue:
If the Post Office were to shut down tomorrow, we could still vote, and we could still defeat Trump. We could drive to collection boxes maintained by election officials, we could vote early, or we could vote on election day. And if we do vote by mail, sending ballots at the first possible moment will minimize any effect that slower mail delivery may have on the election. Yes, Trump's actions are reprehensible. Yes, they are real. Yes, they are serious. But the Post Office delivers 450 million pieces of mail a day, from 32,000 Post Offices, with 650,000 employees. It is a beast—and I mean that in a good way. Try as he might to subdue it, the Post Office will abide and persevere. On 8/17, Hubbell writes: But above all, you must believe this: Trump wants to you distrust the Post Office's ability to deliver your ballot. If he does that, he has succeeded—regardless of whether he is actually able to hobble the Post Office. If you let Trump manipulate your emotions to the point that you don't vote or expose yourself to coronavirus because you don't trust the mail, Trump wins. Don't let Trump win. Sadly, it appears that he is making progress in his plan to undermine confidence in the Post Office. See WaPo, "State officials rush to shore up confidence in Nov. 3 election as voters express new fears about mail voting," and The Hill, "Clyburn: Trump 'signing a death warrant for a lot of people' with mail-in voting opposition."
In just a few short weeks, Trump has shaken public confidence in an institution that is as old as our nation. Please don't fall into that trap. We must be stronger and more disciplined than to allow ourselves to fall prey to Trump. And it is trap. Guess what Trump is doing in the battleground state of North Carolina? Answer: He is urging his followers to vote by mail! See CNN, "Voters in North Carolina have received absentee ballot request forms in the mail with Trump's face on them." While telling followers to vote by mail, he is trying to persuade you that your mail ballots will not be counted!
After you listen to Adrian Fontes' video from Maricopa Co., sign up for this important meeting on Aug. 18:
Katie Hobbs and Lynn Constabile will discuss Voter Security and Election Protocols in place in Yavapai County. Time will be provided for questions and answers.
Please join the Verde Valley Yavapai Democrats for their virtual monthly meeting using Zoom on Tuesday, August 18, 5-6pm. To join the Zoom meeting, please register in advance at: http://bit.ly/VerdeValleyDemocrats.
After signing up, you will receive a confirmation with information about how to join us on Zoom.
By the time you read this, it may be "old news", but Pelosi recalled the House of Representatives this week, specifically to question Postmaster General DeJoy.
Do you want more information about the USPS? Go to their website. It states that the 9 governors of the Governing Board select the Postmaster General, who becomes a member of the Board, and those 10 select the Deputy Postmaster General, who also serves on the Board (that chair is vacant). The Postmaster General serves at the pleasure of the governors for an indefinite term and the Deputy Postmaster General serves at the pleasure of the governors and the Postmaster General.
ALL of the Governing Board have been appointed under the current "Not My President".
Government Relations and Public Policy is responsible for managing public policy issues at all levels. This includes legislation and other policies affecting the Postal Service, as well as developing public policy strategy, tactics and messaging and serving as the primary representative with Congress, the Executive Branch and other government leaders. If you want to write a letter (good luck, I can't find an address) or call – Kristine Watts, Executive Administrative Assistant (202) 268-2505.
---
Take an Action a Day!
Every day – call three people and remind them to vote for our slate–Biden, Kelly, DiSanto, Mundell, Stanfield, Tovar, Stahl, (Lutes – Dist. 1 or Michaels – Dist 3). Suggest that when they receive their ballot, to mail it immediately! Don't let that ballot linger!
Any day – call Vivian Perry and Volunteer to be an Election Observer. (Poll Watchers) will serve 2 – 3 hour shifts at our Yavapai County vote centers representing the Democratic Party on Nov. 3rd for the general election. Please contact Vivian Perry at 928-830-9165, vivianperry45@msn.com.
Monday, Aug. 17, 4pm -Yes for Humboldt PAC Meeting! We will be discussing what our PAC has been up to over the past few weeks and the exciting projects and events we will focus on going into the fall. Feel free to invite fellow Yes for Humboldt supporters. Here is the Zoom link to the meeting: https://us02web.zoom.us/j/81631537112
Tues. Aug. 18 – see above. Join the Ferris Wheel Project at 4pm (see information under Judy Stahl's campaign).
From this date on, see the Shoe Strike Drop Off Locations, flyer below.
Wed. Aug. 19, 5-6:30pm 'AREA-P' will meet via zoom. The acronym stands for ANTI RACIST EDUCATION AND ACTION – PRESCOTT.
Their next Zoom meeting is Wednesday, August 19, from 5 – 6:30 PM. Hope to see many of you. Will send out a reminder a a few days before.
Look forward to an interesting exchange of ideas, and suggestions on our path ahead. At the last meeting they viewed "Race: The Power of Illusion" a video from the Ford Foundation and others. (Join Zoom Meeting – https://us02web.zoom.us/j/81552104160)
Wed. Aug. 26 3-5p – The League of Women Voters of Central Yavapai County (LWVCYC) will be hosting a celebration of the 100 Anniversary of the 19th Amendment with a virtual presentation and discussion of Arizona Women and their role in the passing of the amendment. Arizona journalist and writer Jana Bommersbach will be our keynote speaker. Included in this event will be a virtual fundraiser recognizing Elisabeth Ruffner as our inaugural honoree and a long-time member of the League. Money raised for the nonprofit LWV Education Fund will be applied to a civics-oriented scholarship for a student League member exemplifying the qualities of Elisabeth's social involvement. Write to info@lwvcyc.org for registration and donation details.
Join the Shoe Strike – Sat., Aug. 29 10am
Donate a Pair of Shoes – Why Would I Do That?
Changing conditions from drought to floods to wildfires to massive hurricanes are leading to millions of climate refugees all over the world. Twenty-four million people were displaced by climate disasters in 2019, and the World Bank projects that climate change will displace 143 million people per year by 2050, unless we do something about it right now. While the USA is among the biggest polluters causing greenhouse gas emissions, we seem to be unable to take responsibility for the consequences of our actions. Across the world and in the US, it is people of color who are being most negatively affected by climate change.We cannot join in a rally or protest, so your shoes stand for you, for your values, your convictions!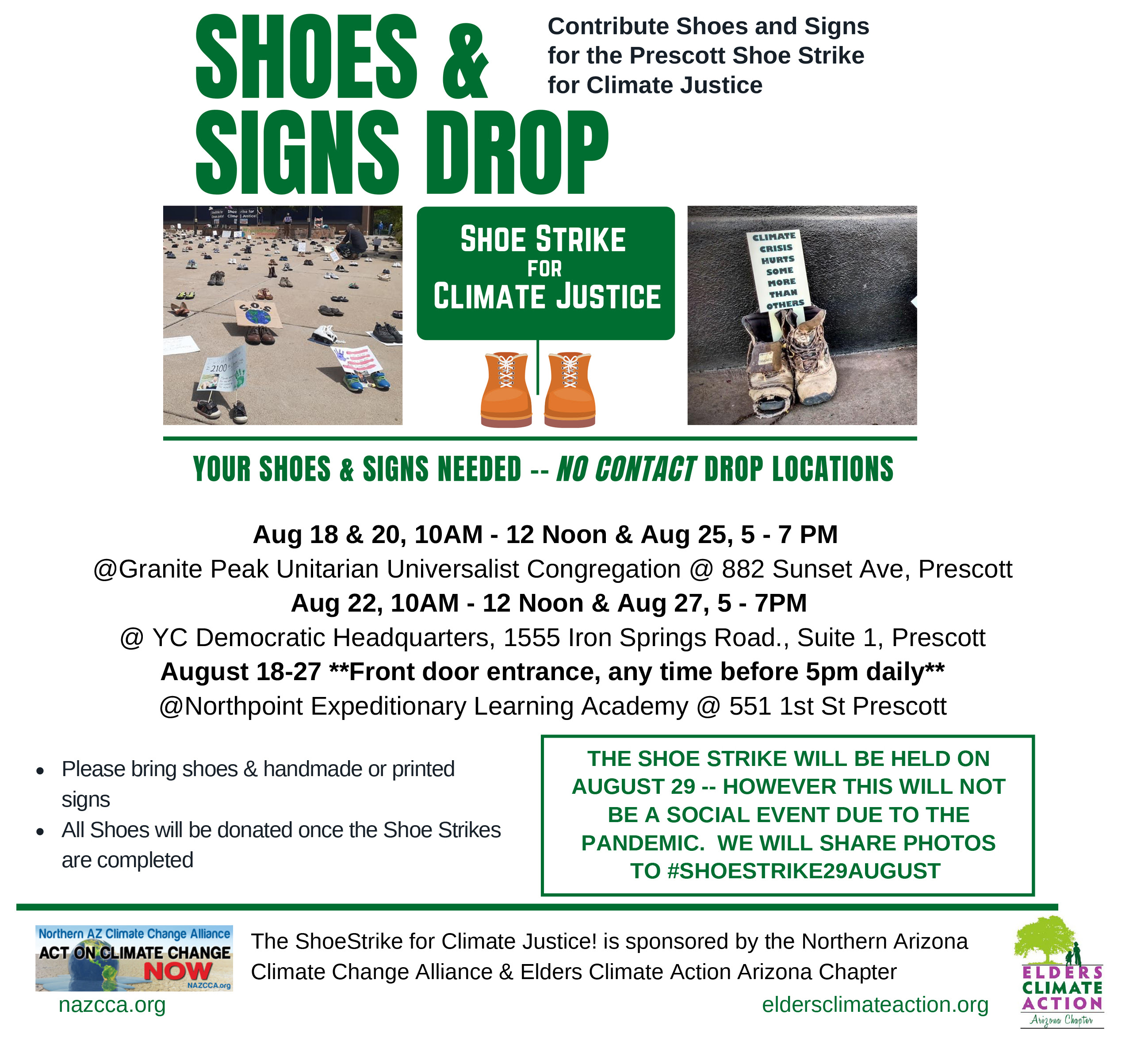 ---
From Prescott Indivisible's Voter Values Project
History of National Voting Rights
1700s: Voting generally limited to white male property holders.
1870: The 15th Amendment granted African American men the right to vote.
1920: The 19th Amendment granted women the right to vote.
1960: Southern states ramped up barriers to voting.
1964: The 24th amendment targeted poll taxes.
1965: Voting Rights Act enacted by Congress, signed by LBJ after mass civil rights protests.
1966: Poll taxes in state elections were banned in 1966 by the U.S. Supreme Court.
1971: Young people won the vote bringing down the voting age to 18 from 21.
1975: Voting Rights Act expanded to protect language minorities.
1982: Congress requires new voting protections for people with disabilities.
1993: "Motor Voter" became law.
2000: Election problems spotlighted the need for reform.
2002: Congress passed the Help America Vote Act.
2010: Philanthropy embraced the need for reform.
June 2013: The Supreme Court struck a blow to the Voting Right Act.
August 2013: States ramped up barriers to voting.
2014: The voting rights movement coalesced to fight suppression.
October 2018: State, local officials continued to erect new barriers to voting.
2019: Voting rights groups prepared for the 2020 Census and redistricting.
2020: COVID-19 pandemic impacted voter turnout, causing delays in multi-state primary elections.
August 2020: Trump attempting to cripple the Post Office in order to sabotage the November election.
Read more:
https://www.history.com/this-day-in-history/johnson-signs-voting-rights-act
https://www.carnegie.org/topics/topic-articles/voting-rights/voting-rights-timeline/?gclid=Cj0KCQjw7Nj5BRCZARIsABwxDKK5tZYZ5dglm9iaNebLWnDdfzFbNRCuKbjjCRsKCOj9nkICDJtT9KYaAgIdEALw_wcB
Brief History of Arizona Voting Rights Issues
Arizona has a recorded history of challenges with guaranteeing the rights of their citizens to vote. In its early days, Arizona prohibited Native Americans from voting due to their residency and ward status, disenfranchised voters from the polls by requiring literacy tests, and failed to print election materials in languages other than English even as the state's Spanish-speaking population grew. In the last two decades, Arizona continues to face scrutiny over access to polling locations, language access, voter ID law, dual voter registration, and a restriction on mail-in ballots that may have had a disparate impact on voters in protected classes. See more below.
Source-An Advisory Memorandum of the Arizona Advisory Committee to the U.S. Commission on Civil Rights July 2018 https://www.usccr.gov/pubs/2018/07-25-AZ-Voting-Rights.pdf
Requirement for a physical address affects some voters' ability to register.
Online voter registration is currently handled by the Motor Vehicle Division's website: ServiceArizona.com, which requires a residential address. Native American residents on reservations may not have a street address and often share post office boxes with more than one family.

Military personnel on active duty out of the state also have issues with providing an Arizona address if they do not maintain a residence in the state. Review of the registration site concludes that these individuals must fill out an in-person voter registration form and provide documentation of residency.

In person registration forms and help are available at the Yavapai County Recorder's Office, both in Cottonwood and Prescott, at city or town clerk's offices, libraries throughout Yavapai Co., Dept. of Motor Vehicles (appt. needed) and U. S. Post Offices.
The Yavapai County Elections and Voter Registration website is most helpful. The phone nos. are listed and they are always available to assist.

Last day to register for the November 3, 2020 election is October 5, 2020
---
Information for those effected by Covid
Understanding the Governor's Executive Order extending the eviction moratorium until October 31.
*Note: To qualify for the moratorium extension, you have to have applied for housing assistance prior to August 21st, in addition to completing these steps. Please see the housing assistance list below.*
To qualify you must have demonstrated financial hardship due to COVID-19 or have a medical condition that puts you at increased risk. Find a list of risk factors here.
It is important that you communicate with your landlord and keep written documentation of your attempts to establish a payment plan and apply for rental assistance.
See this list of resources for information on legal aid and housing assistance available in Arizona.
If you are facing eviction, contact CLS's Tenants Eviction Assistance Program at 602-385-8880.
Community Legal Services will be hosting a webinar in Spanish on understanding the Executive Order. The webinar will be on August 21 at 12:00 PM and you can register here.
Rental and Mortgage Assistance
Utility Assistance
Learn about utility assistance programs in every county here.
Learn if you qualify for Low-Income Home Energy Assistance Program (LIHEAP) here.
Contact your internet provider to see if they are offering special deals or payment plans for those affected by COVID-19.
See if you qualify for Cox's low-cost Connect2Compete plan here.
---
Really? There is a pandemic? – News from our front line
On 8/14, Yavapai Co. had 2117 confirmed cases, 72 deaths, 775 recovered. 1,342 active cases. A increase of 187 cases in two weeks.
On 7/31, Yavapai Co. had 1768 confirmed cases, 60 deaths, 613 recoveries. 1,155 active cases in the county.(an increase of 230 active cases in one week)
On 7/24, Yavapai Co. had 1534 confirmed cases, 54 deaths, 609 recoveries. 925 active cases in the county.
On 7/17, Yavapai Co. had 1329 confirmed cases; 26 deaths and 516 recoveries. 813 active cases in the county.
Today I heard someone say that sending kids back to school was submitting them to being the "canary in a coal mine". Our local school districts are being cautious.
Stay out of crowds; stay far away (more than "social distance", if possible) from someone who is unmasked; keep washing those poor hands and keep your hands away from your face.
---
Testing Blitz in Yavapai County
Spectrum Healthcare will conduct a Testing Blitz in Yavapai County from 8 a.m. to noon August 22 and 29. The drive-through COVID-19 testing locations are: 990 Willow Creek Road in Prescott and 651 Mingus Avenue in Cottonwood. Patients can pre-register online, which will save time processing in-line, at spectrumhealthcare-group.org, but it is a first come first serve basis and while supplies last, Spectrum said in a press release. The testing service is free from Spectrum, however the actual lab test will be charged to insurance. The results take three to five days to return. Participants are asked to bring a photo identification and wear masks to help protect healthcare workers who will be doing the testing. There is no need to get a physician order.
---
Signs for the Democratic Candidates are available
on Saturday mornings, 9:30a-noon
at the Yavapai Co. Democratic Headquarters
1555 Iron Springs Rd., Prescott.
It is a no-contact pick up.
---
PRESCOTT INDIVISIBLE
Start a discussion on:
TWITTER: @IndivisPrescott
Facebook (Public page) /Facebook (Closed group)
prescottindivisible.org
New email – info@prescottindivisible.org
Prescott Indivisible on YouTube
---
DemCast is an advocacy-based 501(c)4 nonprofit. We have made the decision to build a media site free of outside influence. There are no ads. We do not get paid for clicks. If you appreciate our content, please consider a small monthly donation.
---