Another crazy week, seems like a month passed since the last newsletter. I'm not going to even try to categorize or analyze it– BUT instead give us all some ACTIONS that hopefully cut through the ongoing surge of spin mania.
Molly Beverly, Newsletter Editor
PROTECT OUR ELECTIONS
YOUR CALLS TO ACTION THIS WEEK: Let's use this time to protect our values with action. Here are two opportunities to have an impact from the safety of your home.
✔︎ DEMAND ALL-MAIL PRIMARY AND GENERAL ELECTIONS
Explained by Adrian Fontes, Maricopa County Recorder, HERE
URGENT: the Recorders must order materials. Citizens' Engagement Beyond Voting (CEBV) calls us to Action: "To support a safe and secure election for the Primaries in August AND the General Election in November, it's time to demand that Gov. Ducey order a statewide all mail-in ballot.

1. Call Gov Ducey 602-542-4331
2. Tweet Gov Ducey @dougducey
3. Email Gov Ducey: CLICK HERE
4. Submit a letter to the editor

Tell him that an all mail-in ballot is the safest way to ensure that Arizona's elections are accessible to all. Experts say that COVID-19 could subside a bit in the summer and re-emerge ferociously in the fall. We MUST ensure safe access to the ballot, and critical planning needs to start NOW."
✔︎ FILL OUT YOUR ONLINE CENSUS QUESTIONNAIRE. AZ Census results will determine huge federal payments to Arizona and the number of Arizona members in the U.S. House of Representatives. Keep the Census worker from coming to your house by taking 10 minutes to fill the form out online HERE.
Tricia Sauer, Indivisible Arizona Senior Statewide Organizer
AND standindivisibleaz.org
---
JOIN THE VOTER VALUES PROJECT: Voter Lab
The Art of Sincerity & Persuasion
Constructing Positive Voter Contact Moments with your Voice and Mind
We are looking for dedicated participants who want to develop their skills at persuasion calls through practice by doing AND through collective reflection.

Persuasion calls are the critical calls to undecided and work with voters that can shift an election.
EACH Voter LAB is a group research container dedicated to progressive electoral change. Throughout 2020 and the time of the Corona Virus the EACH Laboratory will meet weekly by ZOOM to examine strategies and engagement techniques in reaching voters.
Participants are asked to:
•Do a minimum three hour shift each week in a persuasion campaign.
•Participate in a weekly 45 minute discussion with the other participants reviewing call strategies and techniques, sometimes with guest speakers
•Abide by our manifesto
Working Manifesto
– Treat Each voter called with respect
– Try to understand the perspective of each voter
– Speak each question that arises
– Receive each answer with an open mind
– Remind each voter of the choice they have
– Remember and share each insight with your colleagues
– Each contact is an opportunity for kindness and care
The group will train in advance of a round of calls to discuss objectives, techniques, and set up questions to analyze our approaches. After the round of calls the group will meet to discuss the experiences within the calling, and how to learn from one another's experiences. The goal is to develop a cohesive team that gets better and better at connecting with voters over the phone.
TO GET INVOLVED CONTACT Jay Ruby jruby@azdem.org
"Be Realistic, Demand the Impossible"
---
IT'S EARTH WEEK 2020!
Prescott Earth Week 2020 Digital Events, April 21 – 24
CLICK HERE FOR PDF LISTING OF EARTH DAY EVENTS
While we can't celebrate Earth Day in the ways we're used to, there's plenty of ways to be involved in the climate change movement!
Your voice and opinions are powerful. Officials are elected to represent your concerns. NAZCCA (Northern Arizona Climate Change Association) Earth Day Events bring together local elected leaders, future candidates, and sustainability leaders in Cottonwood, Prescott, Sedona, and Flagstaff to discuss climate change. Join the conversations! Continue reading to register and find out more details on the three digital Earth Day events that NAZCCA is hosting!

Tuesday, April 21st 6:30-8:30pm –
Climate Change Solutions: Political or Personal?
Dr. Gary Beverly explores both personal and policy solutions, including the Green New Deal and the book "Drawdown". Dr. Beverly will be available for a LIVE Q & A for those attending the webinar.
Space is limited; register as soon as possible to secure your spot!
CLICK LINK TO REGISTER: Webinar Registration

Wednesday, April 22nd 1:30-3:30pm –
2020 Fifty Years of Earth Day Celebration
It is essential for all of us to hear from our community leaders, lawmakers and candidates. We need to acknowledge the climate crisis and seize the enormous opportunities of a zero-carbon future. NAZCCA welcomes Tim Eliniski – Cottonwood Mayor, Doug VonGausig – Clarkdale Mayor, Coral Evans – Flagstaff Mayor & candidate for State House LD6, Nancy Steele- Friends of the Verde River, Kathy Kinsella – Former President League of Women Voters of Greater Verde Valley, Walt Blackman – LD 6 representative , Delina DiSanto – candidate for US Congress CD4, Stuart Starky – candidate for US Congress CD4, Felicia French – candidate for State Senate LD6, Randy Garrison – Board of Supervisors District 3, Art Babbott – candidate for State House LD6, and Donna G. Michaels – candidate for Board of Supervisor D3.
Space is limited; register as soon as possible to secure your spot!
CLICK LINK TO REGISTER: Webinar Registration
Wednesday, April 22nd 4-6pm –
Sustainability: Think Globally, Act Locally
Join us for a regional look at local practices around sustainability, resiliency, and climate planning and preparedness. A better world is possible. Patrick Grady, YCCC and NAZCCA, will be moderating a webinar panel featuring: Laird Christensen – Director, Prescott College; McKenzie Jones – City of Sedona Sustainability Coordinator; Darcy Hitchcock – Sustainability Alliance; and Debbie Cotton – Lead volunteer on city engagement from YCCC.
Space is limited; register as soon as possible to secure your spot!
CLICK LINK TO REGISTER: Webinar Registration
Wednesday, April 22nd 5pm-7pm –
Earth Day Cyber Celebration
Jump on board to celebrate our Earth and learn how you can fight climate change at the Earth Day Cyber Celebration. Hear from Mayor Coral Evans,Liz Archuleta, Art Babbott, Matt Ryan, Jim McCarthy, Adam Shimoni, Austin Aslan, Charlie Odegaard, Jamie Whelan, and Regina Salas . Elected officials will be asked questions about climate change designed by NAU students, local high school students, and activists.
CLICK FOR LINKS TO WATCH: Nazcca.org

Visit our website for detailed information on all the digital events that Northern Arizona Climate Change is sponsoring/co-sponsoring during our first ever REGIONAL "VIRTUAL" EARTH WEEK 2020.
Prescott Event Calendar
Flagstaff Event Calendar
Cottonwood Event Calendar
Sedona Event Calendar

Each year, we depend on your generosity to support our nonprofit organization. If you love the work that we do to engage and empower our local communities, please consider supporting our efforts today! Our cause needs your support more than ever! DONATE HERE!

If you have any questions or are looking to get involved in the Climate Movement beyond Earth Week, please reach out to your community organizer: 
Kari Hull (West Region) kari.nazcca@gmail.com  
---
ANNOUNCEMENTS
IMMIGRATION TEAM REPORT
Two days ago I learned that one of our Dreamers (who we have now twice supported with our DACA fund) has volunteered to go serve as a Certified Nursing Assistant (CNA) in New Jersey. He has been studying computer science on line through both YC and ERAU. To help pay for his coursework he has worked for several years at a nursing home in Prescott Valley. He continues to do so and is exposed to the virus every day. When he found out that there is a greater need in NJ he applied. He knows that it presents a greater risk to his health but he wants to do it because it's the right thing to do and because he feels that he must support his family who are all now out of work. (NJ pays significantly more.) I think it's a beautiful story which demonstrates that these young people, oft maligned, are hard working, dedicated, caring humans who support the community that they live in, the only country they have ever really known – and to which, amazingly enough, they still feel loyal.
By the by, the Governor of California (oh, to live there!) just announced that the they will be giving financial help to the undocumented who will not qualify for the federal aid (the checks "signed" by Mr DT) because, as he put it, through their payment of taxes, they contribute greatly to the state and federal coffers yet are eligible for no benefits.
María-Elena Dunn, Immigration Team Leader
---
Thanks From Prescott Indivisible
Not one person in America has been spared the suffering caused by the COVID-19 pandemic. Perhaps the silver lining of this great equalizer is that, as a people, we will regain our humanism, empathy, and kindness. That evolution is already taking place and could not be better demonstrated than by the actions of the many who have found numerous ways to help their fellow neighbors.
In that spirit, the community that is Prescott Indivisible decided to place an ad in the the Daily Courier, to say Thank You to all the local individuals (many of them anonymous) and organizations who are taking action to help those in need in our Quad City area.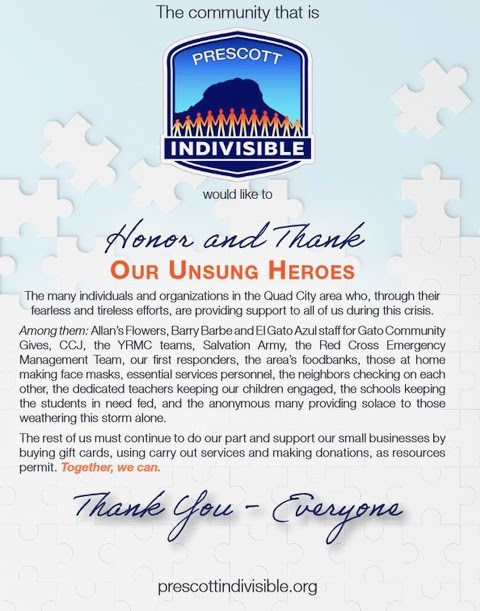 ---
CALENDARS
Prescott Indivisible Calendar LINK
Community Resources LINK
---
CONTACTS
Contact Your Members of Congress
KYRSTEN SINEMA
825 B&C Hart Senate Office Building Washington DC 20510
(202) 224-4521
contact@sinema.senate.gov
MARTHA MCSALLY
B40D Dirksen Senate Office Building Washington DC 20510
202-224-2235
contact@mcsally.senate.gov
PAUL GOSAR
2057 Rayburn HOB, Washington, DC 20515 202-225-2315
6499 S. Kings Ranch Rd. #4, Gold Canyon, AZ 85118 480-882-2697
220 N. 4th St., Kingman, AZ (by appt. only)
122 N. Cortez St., Suite 104, Prescott, AZ 86301 928-445-1683
http://paulgosar.house.gov/contact/
Arizona
Governor, Doug Ducey
State Capitol, 1700 West Washington Street, Phoenix, AZ 85007 602.542.4331
http://azgovernor.gov/governor/form/contact-governor-ducey
Legislature http://www.azleg.gov/
Senator Karen Fann kfann@azleg.gov 602-926-5874
Rep. Noel Campbell ncampbell@azleg.gov 602-926-3124
Rep. Steve Pierce spierce@azleg.gov 602-926-5584
Prescott
Mayor Greg Mengarelli 
201 S. Cortez  St. Prescott  928.777.1248
---
---
DemCast is an advocacy-based 501(c)4 nonprofit. We have made the decision to build a media site free of outside influence. There are no ads. We do not get paid for clicks. If you appreciate our content, please consider a small monthly donation.
---