Political extremism spreads like cancer on democracy. A few malignant cells infect others till the body dies. Watch for these symptoms.
Trygve Olson has trained thousands of activists in forty countries with International Republican Institute (IRI) to build democracies. As a Senior Lincoln Project Advisor, he now trains Americans about political extremism.
How do people become extremists? What are symptoms of this political cancer? How can it be fought? How can the others be trained to identify and counter political extremism? This blog covers:
The four stages by which people turn into political extremists
How to train others on spotting and countering political extremism
How to give better Powerpoint presentations with an onscreen teleprompter
Slides, script and video clips of "Faith or Fear: The Steps To extremism"
Faith or Fear: The steps to extremism
The foundation of political extremism lies within events causing distress like the pandemic. Political extremism in a society results from credible individuals – politicians, media, or pundits for example — who take advantage of this distress by providing cognitively simplistic answers to achieve their objectives.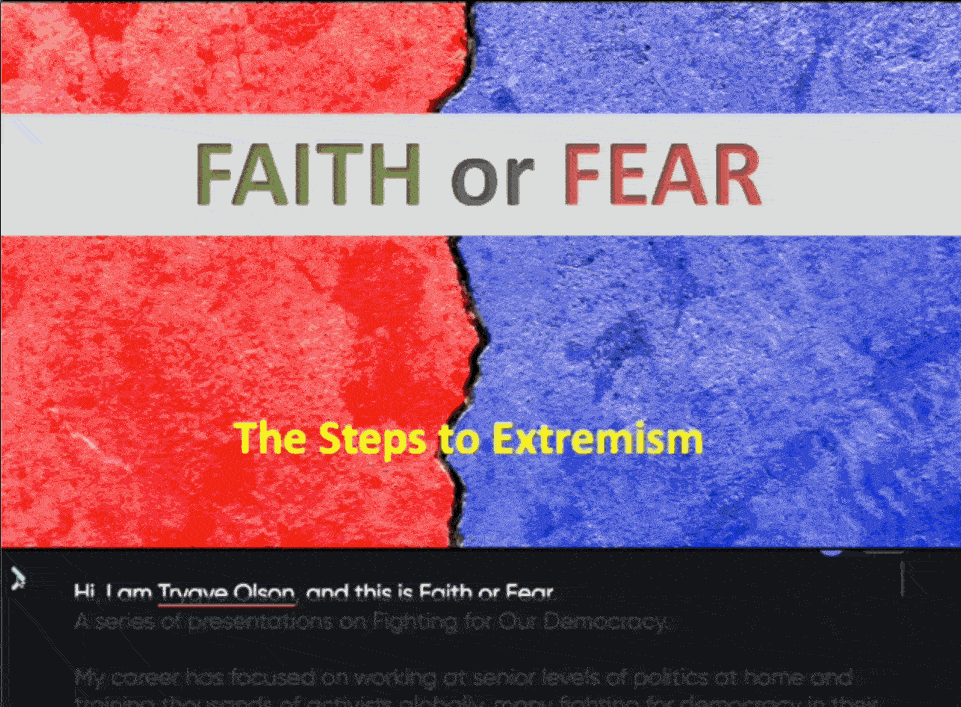 Four stages of extremism
Psychological distress: Events such as the pandemic, unemployment, poverty that increase people's need for answers.
Simplicity: It is human nature to want simple solutions. They provide stability and certainty when confronting complex problems.
Overconfidence: The point of becoming an extremist occurs when individuals become overconfident in their perceived truths from cognitively simplistic answers – even when facts and sometimes they themselves realize the answers might not be true. Those succumbing to political extremism see themselves as enlightened – they have found the answer even in cases going against their known self-interests.
Intolerance: Many of us have experienced lately the frustration of talking with people we love or respect who have reached the point of overconfidence. When we confront them with facts, they often become angry with us. They feel you are rejecting the enlightenment they have found. They are reaching the irrevocable step of political extremism – intolerance. When people reach this stage those who don't share their beliefs become political enemies who must be defeated. This leads to violence, riots and insurrection.
Train the trainers
Trygve is an expert in political extremism and training others to protect democracy. How can his advice be shared with others so they can train more people? Trygve used PowerPoint, Microsoft Teams, BigStage Teleprompter and YouTube to train other trainers.
PowerPoint presentation 'Faith or Fear: The Steps to Extremism' prepared along with talking points for each slide
The script for each slide is automatically separated and uploaded into the BigStage Teleprompter
The script scrolls on screen so the presenter never loses eye contact with the audience.
Trygve records his 3 minute video on political extremism
The script is saved and shared in a free teleprompter to make it easier for others to present.
Presenters can use the free teleprompter with apps such as Microsoft Teams, Zoom or Webex.
Download 'Steps to Extremism' slidesUse free teleprompter app with script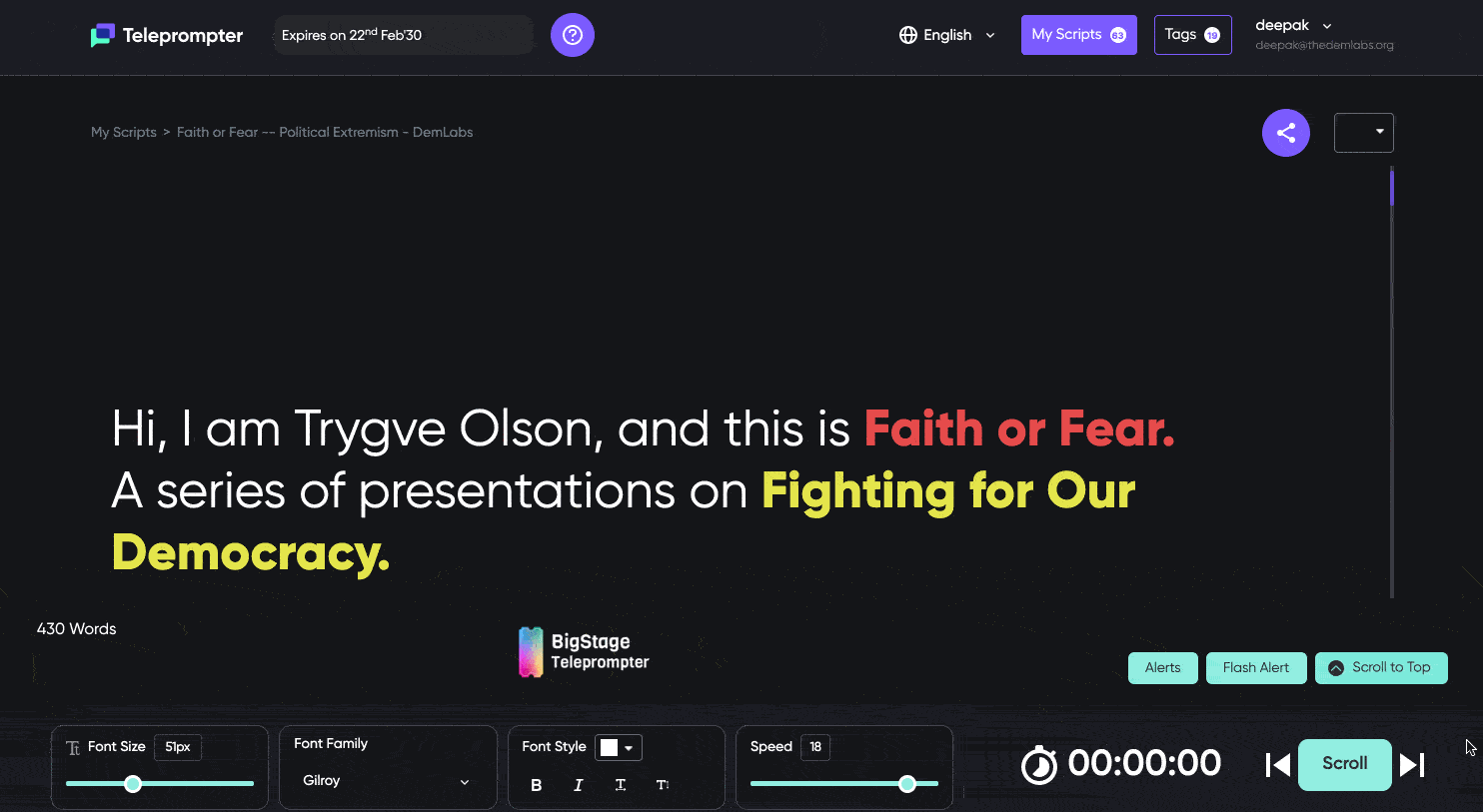 Lincoln Project
The Lincoln Project is a leading pro-democracy organization in the United States — dedicated to the preservation, protection, and defense of democracy. It holds those who would violate their oaths to the Constitution to account.
TakeAway: Watch for symptoms of political extremism and learn how to fight this cancer.
Deepak
DemLabs
Resources
Image credit: Laurenz Heymann on Unsplash
Read in browser »
Reposted from Democracy Labs with permission.
---
DemCast is an advocacy-based 501(c)4 nonprofit. We have made the decision to build a media site free of outside influence. There are no ads. We do not get paid for clicks. If you appreciate our content, please consider a small monthly donation.
---