Republicans make it harder for rural communities and tribal lands to vote. Canvass smarter with innovative apps to increase voter participation.
Republicans exploit rural communities' remoteness, lack of internet access and cell coverage. Conservative media outlets control what information they get. This voter suppression denies millions of Americans living in rural areas and on tribal lands their freedom to vote by which they could demand better political representation and resources to improve their lives.
Lack of internet access makes it hard for residents to get accurate information, apply for jobs, find out about and benefits register to vote
Conservative control of media outlets (FOX, Sinclair and iHeart Radio) determines what community residents hear
Cutting postal services, vote by mail and reducing the number of polling places forces resident to travel miles to vote
Check these maps to see the harm from rural Republican voter suppression, learn about the challenges of canvassing in remote areas and how to overcome these barriers with affordable, new technology.
Why is it hard to canvass in rural areas?
Canvasser have to cover large distances with few roads
Houses may not have street addresses
Lack of cellular coverage and internet access in these areas
Sparse information on residents – many who are not in the voter file to begin with
Ability to confirm that the canvasser actually visited the house
Organizers canvass locally but can integrate the data they collect into a central voter file
Lack of internet access
Republicans deny rural communities internet access. This makes it harder for people in rural areas and on Native American tribal lands to get unbiased information online, register to vote and learn about the candidates who are running for office. This lack of internet access reduces their income and access to information about federal benefits.
Right wing media blankets rural areas
Billionaire owned media outlets like FOX NEWS, Sinclair Media, iHeart Radio and Metric Media control the news that rural communities get. This allows Republicans to control the messages that people in rural areas get to see and hear. Without internet access they do not have any other way to get the facts.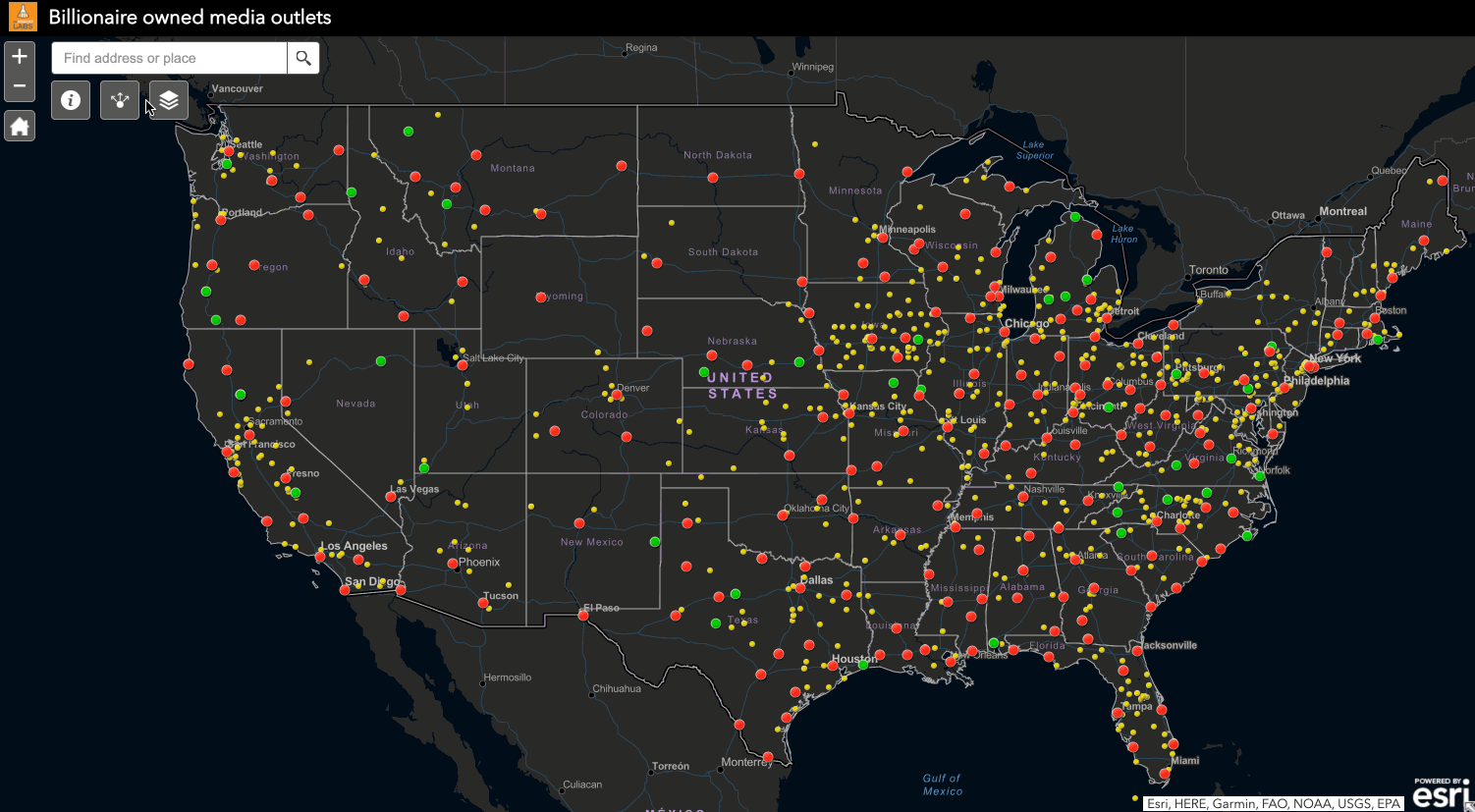 Making it harder for Native Americans to get to a voting place
Native Americans face even more hurdles in registering to vote and getting to a polling location due to Republican voter suppression.
How to canvass in rural areas?
Yesterday's weapons won't win tomorrow's battles. Corporations invest billions of dollars to create sophisticated solutions to reach, persuade and serve their customers. Campaigns and organizers benefit from using the same technology to increase voter participation rather than trying to reinvent the wheel. It costs less, works better and will be around long past the next election cycle.

This canvassing solution uses ArcGIS Online from esri (a fifty year old software firm with thousands of employees). This approach is similar to using Microsoft Excel to create a budget. The innovation isn't in developing a spreadsheet app like Excel, but rather in making the best use of the features that Microsoft already provides. DemLabs designed this solutions for organizers canvassing in rural areas with these needs in mind:
Is affordable and does not vary depend on the number of canvassers.
Works with any contact list or can be used to find new unregistered voters not on any list
Easily use from the phones they already have
Works in areas with or without cellular coverage
Integrate the data collected back to the voter file or some other follow-up system
Works in real time so results collected are immediately visible to organizers and other canvassers
Collect detailed information including photos and videos
Learn more about how to freely use the same design for canvassing campaigns to increase voter participation.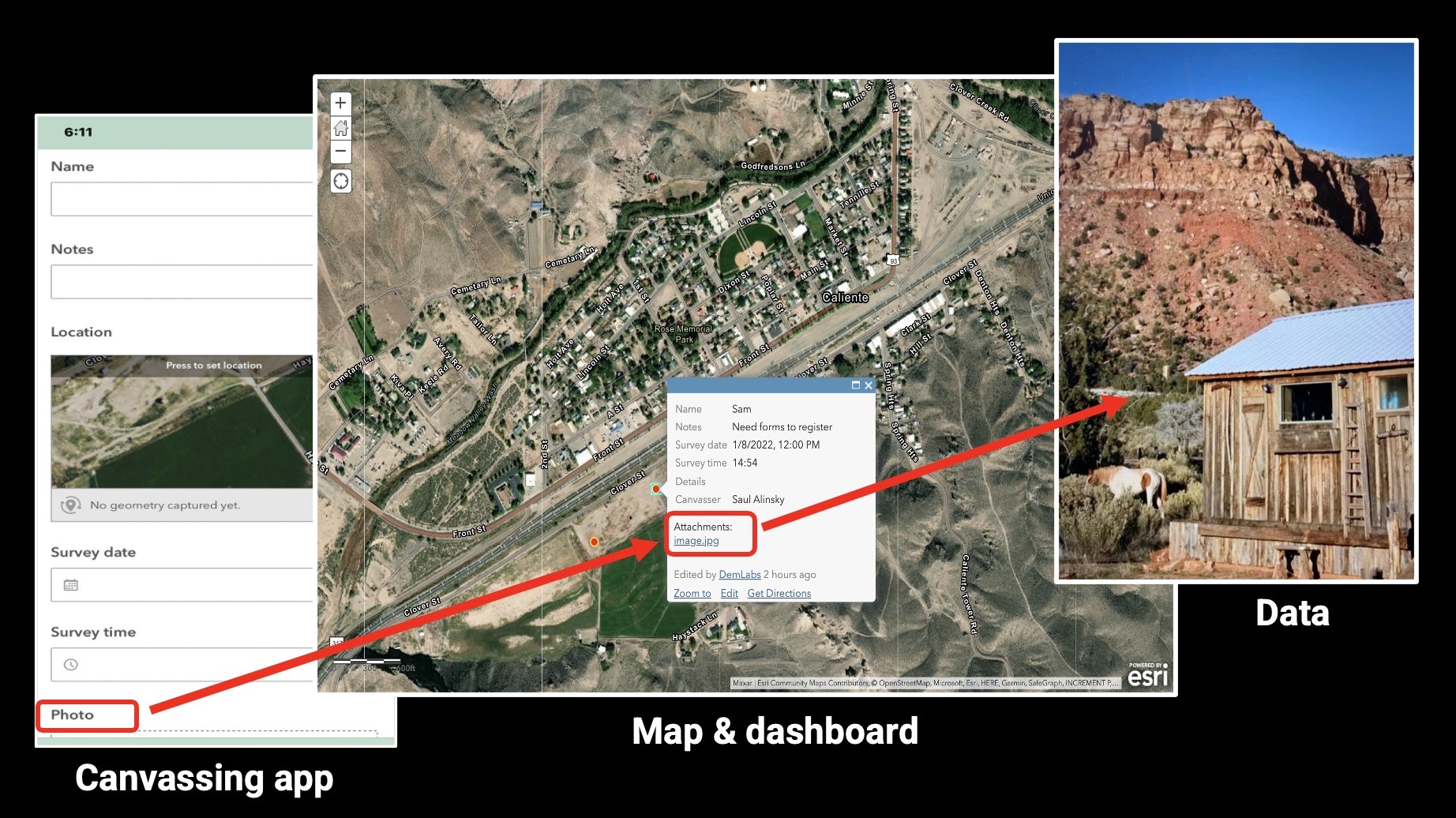 Canvassing solution design
This canvassing solution consists of an app that is shared with canvasser in the form of a link so they do not have to install any software on their phone
Campaign organizers assign areas to canvass (cut turf) and customize questions for canvassers to ask
Detailed maps of the area to canvass are loaded. This could include known voters in the area if available.
Results collected by canvassers are displayed immediately
The data collected can be exported to other systems such as the Voter File (VAN) for follow-up
Organizer dashboard
Canvasser experience
TakeAway: Use the best technology available to fight for every American's freedom to vote.
Deepak
DemLabs
Reposted from Democracy Labs with permission.
---
DemCast is an advocacy-based 501(c)4 nonprofit. We have made the decision to build a media site free of outside influence. There are no ads. We do not get paid for clicks. If you appreciate our content, please consider a small monthly donation.
---