The Filibuster:
Change It or Dump It
But Get Voting Rights Done!
To get the Freedom to Vote Act through the Senate the filibuster either has to go or be completely overhauled. Republicans have to actually stand before the American people and say publicly why they are against giving people the right to vote. And the 60-vote rule has to go so it takes only a majority vote to pass voting rights legislation. 
It's Time to Pass the Freedom to Vote Act!
Senator Schumer, as Senate Majority Leader, represents us all.

Call : 202-224-6542 or email and tell him to support filibuster reform in order to get national voting rights protections done: 
https://www.schumer.senate.gov/contact/email-chuck
It's time for President Biden to put his full weight behind the Freedom to Vote Act. Email President Biden here: https://www.whitehouse.gov/contact/
As President Pro-temp Senator Leahy has power. He needs to use it and come out for overhauling the filibuster or getting rid of it. Call his office: 202 224 4242
Let's get this bill over the finish line!
---
States Matter
"We don't have time to be tired."
Barack Obama, Richmond, Virginia 10/23/21
November 2

9 Days to Keep Virginia Blue

The entire nation will be watching Virginia on November 2. If Trump-backed candidates win, then Republicans will be emboldened and our work in 2022 will be that much harder. Help Virginia elect a Governor, Lt Governor, Attorney General and their House of Delegates: recruit poll observers, help correct mail-in ballots, call for candidates, or GOTV in communities of color.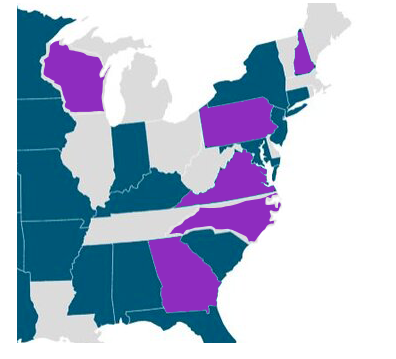 Learn more about the Virginia phone banks on our State Actions page
 then join the Lean Left community for an hour or two on Sundays.
Lean Left's VA PowerHour!

Sunday October 31 between 3 and 5 pm via zoom
Phone bank & tech support available
---

Pennsylvania!  Ballot Chase Actions
You may wonder what is on the line this year? Among other things key county positions and several judicial seats including an all-important State Supreme Court seat. We have make sure people return their ballots.
*PRIORITY* Turn PA Blue is making sure voters return their ballots on time so their voices count in this election. Ballot chase texting is happening on Tuesday October 26, 3-6 PM EDT. If you're new to texting, Turn PA Blue offers training each action day on Zoom at 2:30 ET.
Vote by Mail Chase Phone Banks:  Reach voters who have requested vote by mail ballots and help confirm that they have returned their ballot. Calls will be on the autodialer ThruTalk. Training before each shift, and TurnPA Blue organizers stay on Zoom while volunteers make calls for support and camaraderie. Wednesday, October 27 from 4 -6 PM or 6-8 PM.
---
Fund the Movement
Lean Left's October Beneficiary
Local Leadership Network (LLN) is a partnership among Democratic Town Committees and local progressive grassroots organizations in New Hampshire. The LLN is effectively building a down-ballot infrastructure to strengthen Democratic efforts and enable progressives to re-take the NH House, as well as other branches of government, in 2022.
You can make a difference in New Hampshire!
Or contribute through your Giving Circle!
Read more about our October beneficiary HERE.
---
Feeling lonely?
Frustrated and angry with the news about voter suppression?
Think about joining or starting a Good Trouble Cafe. 
---

Check Out Actions & Events on Our Website
There is plenty to do! 
---
DemCast is an advocacy-based 501(c)4 nonprofit. We have made the decision to build a media site free of outside influence. There are no ads. We do not get paid for clicks. If you appreciate our content, please consider a small monthly donation.
---