CONTENT TO SHARE THIS WEEK ON SOCIAL
HELP SAVE DEMOCRACY WITH US
More Perfect Democracy has a new website and logo! We're ready to go out into the wider world with our tested messages and compelling content. Stand with us to to preserve our freedoms and #defenddemocracy! Share and amplify our content so we can all speak with a loud and consistent message. 
TL;DR: Keep your message real. Share it with others so they can deliver it well too and expand the outreach. 
PRIORITY CONTENT THIS WEEK
1. KEEP VIRGINIA BLUE
2. BUILD BACK BETTER ACT 

#1. KEEP VIRGINIA BLUE — President Obama, Stacey Abrams, and others will be campaigning for Terry McAuliffe this week and next. We know what states under GOP control look like: Texas and Florida, which are the two states with the highest Covid mortality numbers and large shares of gun ownership. 

Sample Messages: "The Virginia GOP is part of the national anti-Patriotic MAGA faction. If we want to keep Virginia from instituting vigilantism like in Texas, or poorly managed Covid, everyone needs to get to the polls and vote for the entire Dem ticket." #KeepVABlue "Keeping Virginia Blue and electing a Dem delegation to Congress guards against the election sabotage that the MAGA Faction is planning for their power grabs now and in the future."#KeepVABlue #StopElectionSabotage 

#2. BBB | FREEDOM TO THRIVE — Time to show what America would gain from this legislation. We need to change the discussion around the Build Back Better Act. Current commentary is alienating even the most ardent activists. So…what do we do? We must show how life would look if we had the freedom to thrive. 

Sample Messages:
"Imagine being a 10 year old kid who has never drunk a clean glass of water from the tap, and having your first sip of clear, healthy water." "Don't you want to be able to go to the pharmacy to pick up your meds and not have to ration either the meds or your food for the month? Do you fill that eyeglass prescription you've had for 10 years but haven't been able to afford?" #BuildBackBetter "What would it be like to watch your child's first smile? Be able to work and support your family while your kid attends universal pre-K? Be able to go to community college because you no longer have to go into debt to get this education?" #BuildBackBetter
1. KEEP VIRGINIA BLUE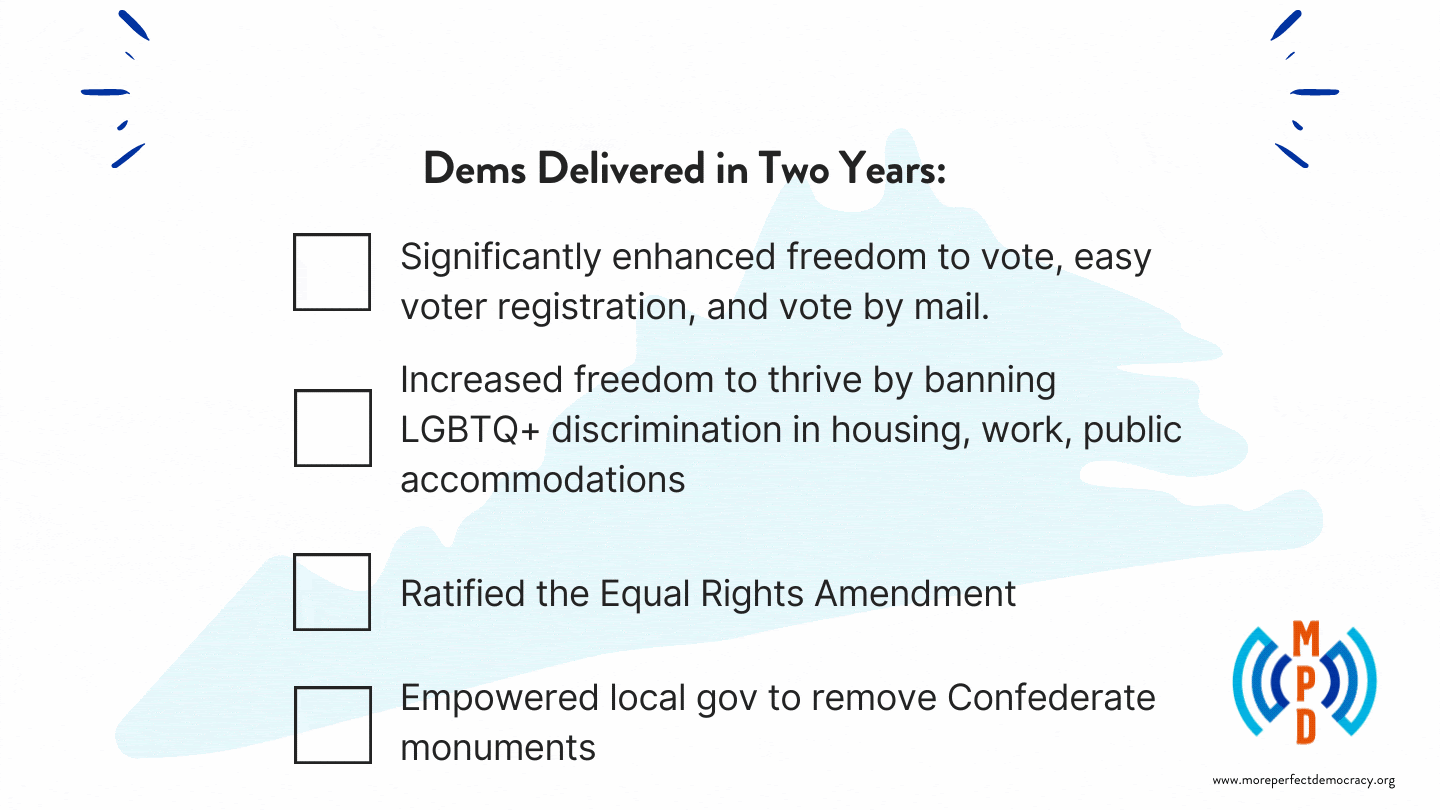 2. FREEDOM TO THRIVE
Please chip in to support More Perfect Democracy. We're young, scrappy, and hungry and we need help to get going and pay a few bills. Chip in here. Thank you. Thank you also to More Perfect Democracy graphic artists and the artists at IntoAct!on. Huge shout-out and gratitude to Danielle Ramos, Dani Lou Illustrates, for her amazing creation of the new logo and branding.
Follow Us on Facebook and Twitter. Share from there!
PLEASE ENCOURAGE YOUR CONTACTS TO SIGN UP FOR CURATED, TESTED CONTENT.
Add your email…Subscribe
Share this newsletter!
---
DemCast is an advocacy-based 501(c)4 nonprofit. We have made the decision to build a media site free of outside influence. There are no ads. We do not get paid for clicks. If you appreciate our content, please consider a small monthly donation.
---