Monthly Newsletter October 2021
Don't Miss the Action Scroll Down! 
Freedom to Vote Act
A Revision of the "For the People Act"
Joe Manchin, You Got the Voting Bill You Wanted.

It's Time to Pass It, Joe.

Congress must pass the Freedom To Vote Act  — a bold, comprehensive package of democracy reforms including fair redistricting standards, citizen-funded elections, closing the revolving door between government and corporate interests, and protecting voters against discrimination. We must continue our efforts to ensure that all Americans can cast their ballots by working to pass the Freedom to Vote Act and the John Lewis Voting Rights Act. We have5 actions you can choose now!
Spend 1 hour this week helping strengthen our democracy. 
---
October Beneficiary
Fund the Movement
New Hampshire Local Leadership Network
 "We are optimistic that we can take back the legislature in 2022, but that is not assured. The results from the 2020 election came as a surprise to us all. We did not expect the other side would resort to a state-wide campaign of outright lies, funded by out-of-state money. That is not the New Hampshire way, and we are committed that it will not happen again!"
Kate Murray, State Representative, Rye and New Castle. New Hampshire's state legislature is *bright red*? In 2020, it was the only state where party control of the state legislature changed hands. Today, despite up-ballot blue wins, the New Hampshire legislature is in fact dominated by the ultra-right-wing.  
A little money goes a long way at the local level, especially now in New Hampshire thanks to a new initiative, the Local Leadership Network (LLN). As a partnership among Democratic Town Committees and local progressive grassroots organizations, the LLN is effectively building a down-ballot infrastructure to counter the right-wing's well-funded campaign. You can make a difference in New Hampshire! Your financial support today will further strengthen LLN's political infrastructure effort and enable progressives to re-take the NH House in 2022 and other branches of state government in the years to come."Click here to learn more about what this means.
Or contribute through your Giving Circle!

Check out the New Hampshire page for more information about this battleground state.
---
States Matter!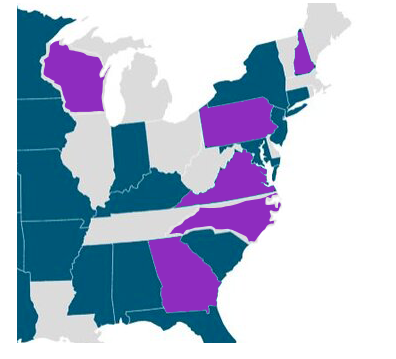 The Path to 2022 Success Begins Now!
First Up 
Virginia Votes on November 2, 2021
The entire nation is looking at Virginia as a bellwether for next year's mid-terms. We need to prove to the country that it doesn't matter whether Trump is on the ballot — our energy and enthusiasm strengthening our democracy is higher than ever.
---
We have actions for you!
Check for more State Actions here!
Election Work Is Hard!
Let's Do It Together. 
Join a Cafe or Start Your Own. 
Check it out here.
---

Actions on Your Schedule
Want to help Virginians keep their state blue? Want to make sure the 2022 elections are fair and safe? Want to save democracy? 
BUT
you don't have a lot of time?
Check out our new action calendar and pick actions that fit your schedule!
Have questions? Need support?
Get in touch with us here. 
 
---
DemCast is an advocacy-based 501(c)4 nonprofit. We have made the decision to build a media site free of outside influence. There are no ads. We do not get paid for clicks. If you appreciate our content, please consider a small monthly donation.
---