Scroll Down! Don't miss the important pieces!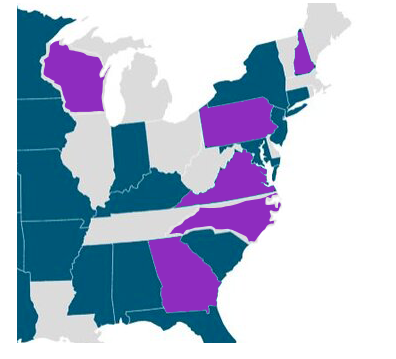 States Matter
  Check out the actions below and keep checking the website for more actions and information!
Wisconsin
Recruit Poll Workers 

Texting: A chance to help out in Wisconsin on August 25th. Poll workers are the backbone of our democracy and are the key to running smooth elections. Recruiting poll workers now ensures that every polling place in the state is staffed next year and that voters have all the resources they need. The WisDems want to be sure that there are enough qualified, fair-minded people on the list.  The deadline for nominations is November. Sign up for texting here!
Make calls: The WisDems ongoing effort to recruit poll workers is done via phone. You can call with the WisDems team on Mondays and Thursdays or the WisDems will provide the tools for you to call on your own.  
Virginia
On Nov 2nd, Virginians choose their Governor, Lt Governor, Attorney General, and House of Delegates. These are the first statewide elections that will challenge Democratic staying power since President Biden took office. What's at stake? Fair elections, affordable health care, environmental security, gun safety laws, and more. We can help keep Virginia blue.Every Wednesday evening you can make calls for our Sister District candidates, Delegates Lashrecse Aird and Wendy Gooditis. You can also make calls on your own: email us and we'll give you all the information you need. Phone banking is the most effective remote action you can do. If you want to call on your own, email us and we'll get you set up.We continue with postcards to underrepresented and/or infrequent voters of color in Virginia. Learn more and sign-up for addresses HERE.
Sign up for making calls here!
Fund the Movement! August Beneficary
Virginia House of Delegates:
Debra Gardner (HD 27) and Wendy Goodities (HD10) 
Make your contribution to keep Virginia Blue here!
---
The For the People Act "Politicians move when pushed, and it's our job to push them."
—Ezra Levin
 Indivisible co-founder
Although the Senate did not pass S.1 before the release of census data to the states, Democrats are renewing their efforts to find a path forward. Grassroots pressure is essential.

Ezra Levin, co-founder of Indivisible, tells us why. Continue to pressure Senator Leahy to be an active, public champion of voting rights and to pass filibuster reform. Ask him to demand that President Biden engage with this fight and throw the full weight of his power into the effort. Call 888-453-3211 or email today."Our star player isn't even in the game." President Biden can't sit by and watch voting rights fall. He must use the weight of his presidency to end/reform the filibuster and he must pressure Democratic Senators to do the same. He must make a regular, firm, and public commitment to voting rights and demand that Democrats do the same. Call 1-202-456-1111 or email Joe today. Join End Citizens United//Let America Vote for their ongoing weekly discussion about the For the People Act. They'll provide updates on S-1, current misinformation and how to respond, tips for talking about the bill with your friends and family, and actions you can take. Join the discussion every Thursday at 1 pm here. Check out more recommended actions by visiting the Lean Left website.
Check Out Actions & Events on Our Website
There is plenty to do! 
Photo Credit: Susan Ritz
Have questions? Need support?
Get in touch with us here. 
---
DemCast is an advocacy-based 501(c)4 nonprofit. We have made the decision to build a media site free of outside influence. There are no ads. We do not get paid for clicks. If you appreciate our content, please consider a small monthly donation.
---