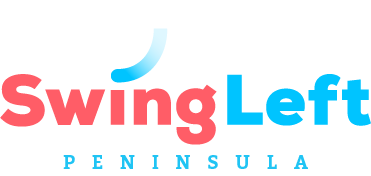 Hi Friends,
Here are three easy ways to help protect democracy this week.
Attend Swing Left Peninsula's General Meeting!
Thursday, June 3rd 7:00pm PT
Learn how you can support our efforts to build a progressive future. We'll focus on our upcoming work in California's Central Valley, as well as the forthcoming recall election, phone banks, and other efforts as well.
RSVP: SLP General Meeting
Thurs, June 3rd, 7pm PT
---
Sign Up For the Central Valley Matters Fundraiser
Thursday, June 10th 5:00pm PT
We will demonstrate our support for the people of the Central Valley by learning about their communities and contributing money to help them raise their political voices! Join hundreds of like-minded supporters and hear from Dolores Huerta (UFW co-founder) about organizing in the Central Valley.
RSVP: Central Valley Fundraiser
Thurs, Jun 10th 5:00 PT
---
Make Calls! GOTV and Protect Voting Rights!
Join us Wednesdays, to get out the vote for important elections in Virginia and New Mexico. On Saturdays, we call Arizona and West Virginia residents and patch them through to their Senators' offices to support S1, For the People Act. We will train you!
RSVP: Call VA and NM
Wednesdays 2-4pm PT
RSVP: Call AZ and WV
Saturdays 1-3pm PT
---
DemCast is an advocacy-based 501(c)4 nonprofit. We have made the decision to build a media site free of outside influence. There are no ads. We do not get paid for clicks. If you appreciate our content, please consider a small monthly donation.
---