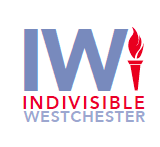 County Clerk Democratic Primary 
The Westchester County Clerk race is the only countywide Democratic primary election being held on June 22nd. Click here to register for the June 7th forum featuring the two candidates running.Email your questions to Countyclerkforum@gmail.com.
NY Voting Rights
Learn why it's crucial we pass the NY Voting Rights Act, our state version of the John Lewis Voting Rights Act. Click here to RSVP to the even on May 26th @ 6PM.
Join Common Cause NY and Let NY Vote for the launch of their "Democracy Defender" relational program in support of the "For the People Act" (S.1/H.R.1)! The goal of this training is to learn the best practices of telling your S.1 Story and the most effective ways to share it with others! At the end of the training, all will sign the "Democracy Defender Pledge" to help at least 3 people take action in support of the "For the People Act", as well as other opportunities for action. We need to make sure that as many people as possible are invested in S.1–our Democracy Defenders will be a key part of this. Click here to register for the training. Click here to phone bank and connect voters in AZ and WVA with their senators in support of the For the People Act. Click here to phone bank with Center for Common Ground to AZ in support of the For the People Act, to fight voter suppression bills in TX, and get out the vote in VA.
Special Immigrant Visas
Our friends at the Westchester Jewish Coalition for Immigration have asked us to help with outreach to see that that Afghans employed by the Federal Government are granted Special Immigrant Visas before we pull our troops out of Afghanistan on September 11th. This NYT Opinion piece explains, "We have obligations to the thousands of Afghans who supported us, mainly as interpreters for our military. They were promised special immigrant visas to get them out of harm's way, but many have yet to materialize. The Taliban view them as traitors: Since 2014, there have been at least 300 targeted killings of people who worked with us. Many more will die if the administration doesn't take immediate steps to speed up the process to get them out safely."There are 10 families in Westchester County who are here thanks to the SIV program and many others throughout the metro area. But more families need help. Here's what you can do. Click here for a script to use to send an email, letter or make a call to President Biden and your representatives in Congress asking that they approve Special Immigrant Visas for Afghans who were employed by the U.S. government by 9/11. 
Take Action For Parole Justice
With roughly 9,000 New Yorkers serving life sentences, our state ranks among the harshest in the nation, surpassing states like Texas and Georgia. 3,500 New Yorkers in state prisons have already served 20 years. Some were as young as 15 when they went to prison. Roughly one-in-four are now 50 or older; notably, the average age of death of New Yorkers in prison is only 58 years old. Many others are already parole-eligible, yet face denial after denial based solely on the one thing they can never change, namely their crime of conviction.
Click here to send an email to your state legislator in support of parole justice.
Click here to join Senate Majority Leader Andrea Stewart-Cousins, Shelley Mayer and Steve Otis at a rally in support of Parole Justice on Thursday, May 27th @ 3PM, 1 Library Plaza, New Rochelle.
Postcard to West Virginia
We have 2000 postcards going to activists in West Virginia, asking them to contact Sen. Joe Manchin to support HR1, For the People Act, which would guarantee every citizens' right to vote and override the voter suppression laws being passed nationwide. 
Say No to Airport Expansion That Threatens Our Drinking Water
Westchester County has allowed Million Air to build a hangar and terminal for corporate and private jets at Westchester County Airport, despite the company failing to get environmental approval for the project, as explained in this LoHud article. And now Million Air wants to build an even bigger hanger for private and corporate jets.
The bottom line in regard to Westchester Airport is this: It's an industrial facility located directly adjacent to the Kensico Reservoir, which is the drinking water supply for millions of people. Therefore, nothing should be done on the ground that would enable expanded air traffic and all environmental regulations must be followed. The County must allow the FAA's federal NEPA review to proceed and comply with the permit from NYS to complete the storm-water treatment project.•The Board of Legislators must reject Million Air's request to build a proposed 80,000 sq. ft. hangar.Click here to sign the petition saying no to airport expansion.
State of the County Recap
Click here to watch or read a recap of County Executive George Latimer's State of the County Address.
COVID Resources
Westchester County has plenty of vaccines on hand for those eligible for the vaccine.
Vaccines for 12-15 year olds are now available.
Schedule an appointment here.
View the Westchester County COVID dashboard here. 
The NYS COVID vaccination hotline is (833) NYS-4 VAX; (833) 697-4829. 
#Filibuster FridaysEach Friday, activists across the county send social media messages to members of Congress to tell them why we must end the Filibuster!
---
DemCast is an advocacy-based 501(c)4 nonprofit. We have made the decision to build a media site free of outside influence. There are no ads. We do not get paid for clicks. If you appreciate our content, please consider a small monthly donation.
---