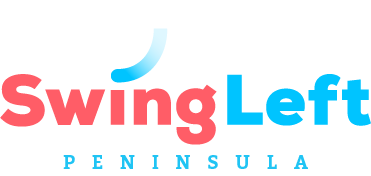 We're growing ties with local and national groups to reach voters in the next elections and our neighbors in the Central Valley are important partners. Valley voters are critical to winning the looming recall election in the fall and to defending the U.S. House in 2022. When we empower the valley, we impact the nation.

We'll be building new ways to engage valley voters. That includes creating relationships that help voters improve their lives and build a progressive future. We're having a general meeting on June 3rd so you can learn more, and we're proud to co-sponsor a June 10th fundraiser to benefit three grassroots groups in the Central Valley.
---
Swing Left Peninsula's First General Meeting!
Thursday, June 3rd 7:00pm PT
You're invited! We're having a general meeting on June 3rd! Learn how you can support our efforts to build a progressive future. We'll focus on our upcoming work in California's Central Valley, as well as the forthcoming recall election, phone banks, and other efforts as well.
Shannon Edwards of Central Valley Matters will provide insights about the Central Valley and how we can be effective there.
RSVP: SLP General Meeting
Thurs, June 3rd, 7pm PT
---
Central Valley Matters Fundraiser
Thursday, June 10th 5:00pm PT
"Now is the time to empower communities, ordinary people, with the tools they need to build a more equitable, democratic, and just society" – Dolores Huerta
Join us! We're co-sponsoring "Growing the Grassroots", a fundraiser for three on-the-ground effective community-organizing groups focused on empowering under-represented people in the Central Valley.
Hear legendary organizer Dolores Huerta, co-founder of the United Farm Workers, Ruth López, executive director of Valley Voices, and Reyes Uviedo, a canvasser with Valley Forward. Each will share their insights on engaging voters in the large, rural California Congressional District 21 (a toss-up district between Bakersfield and Fresno, now held by a Republican).
The Central Valley is critical to retaining and expanding Democratic control of the U.S. House of Representatives in 2022! You do not have to donate to attend – you'll learn why we're advocating for these organizations. Inspiration guaranteed!
---
GOTV and Protect Voting Rights in VA, NM, AZ, and WV
Join us Wednesdays, to get out the vote for important elections in Virginia and New Mexico. In Virginia, we are calling and texting under-represented voters about the upcoming state primary election on June 8th. We want to turn voters out and make sure they are engaged now and in Virginia's general election in November.
There is also a special election on June 1 in New Mexico. Congresswoman Deb Haaland made history this year when she was confirmed as the first Native American Secretary of the Interior. Now, we must defend her former seat by electing Democratic nominee Melanie Stansbury to New Mexico's First District. We are using Virtual Phone Bank (VPB) system for calls on this phonebank.
On Saturdays, we call Arizona and West Virginia residents and patch them through to their Senators' offices to support S1, For the People Act. This is the most important legislation this decade! McConnell said he is working 100% for this to fail. We need to be 100% committed to passing it! We will be using CallHub and HubDialer systems for this phonebank. Speak Spanish? We have a special session calling Spanish speaking voters and you will have a Spanish trainer!
As always, we will help you log in, walk you through the process of making the calls, and answer your questions. We're looking forward to seeing you!
RSVP: Call VA and NM
Wednesdays 2-4pm PT
RSVP: Call AZ and WV
Saturdays 1-3pm PT
Don't forget! Join Swing Left Peninsula, Swing Left San Louis Obispo, and South Bay Swing Left as we explore the question "Should the Supreme Court be expanded now?" led by Professor Terri Peretti of Santa Clara University.
RSVP:Supreme Court
Thursday, June 24th 6:00pm PT
---
Valley Blue in 22!
Thursday, May 27th, 7:00 PM
Several Democratic Party County Central Committees are raising funds to defend and retake House seats in the Central Valley! Speakers include Zoe Lofgren, Josh Harder, Katie Porter, and TJ Cox. Donate here and join a fun-filled event to celebrate our work to paint our Central Valley Blue in 2022! Speakers include Zoe Lofgren, Alex Padilla, Josh Harder, TJ Cox, Katie Porter, and more!
Write Letters and Postcards Anytime
Pick up your own voter outreach package, CONTACT-FREE, from Mariya's porch bench in Mountain View at any time. The packages contain addresses, postcards, letters, envelopes, stamps, or whatever is needed to complete it (campaigns sourced from multiple organizations). Write when you can at home and pick up again at your convenience. Sign up to pick up
---
Follow us on Twitter (@SwingLeftPen) or join our Facebook group for updates on our latest events, actions, and news.
---
DemCast is an advocacy-based 501(c)4 nonprofit. We have made the decision to build a media site free of outside influence. There are no ads. We do not get paid for clicks. If you appreciate our content, please consider a small monthly donation.
---