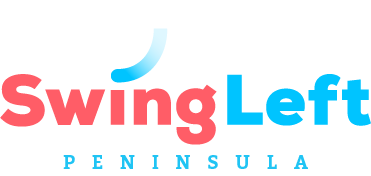 Breaking! In just two weeks, we're hosting a forum focused on applying affordable technology to voter outreach, with emphasis on the Central Valley. We're also supporting nationwide efforts to protect voting rights and you can look back to see our impact in the tumultuous year of 2020.
Quick Links below: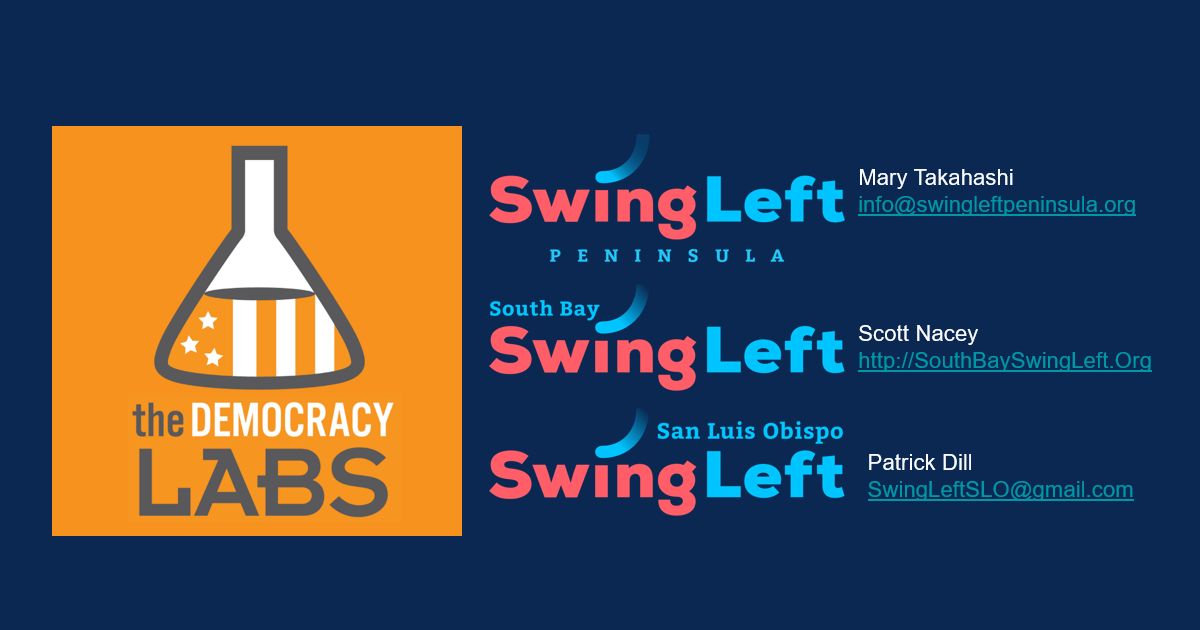 Wednesday, April 14th 6:00 PM Pacific
How can affordable technology help us organize? We must register voters, reach voters, motivate voters, and persuade voters. Door-knocking, tabling, phone banks, letters, and texts serve us well now. How can we supplement them with inexpensive technology?
Deepka Puri of Democracy Labs will introduce innovations that can help us win elections and drive positive social change. TJ Cox will update us on what's happening in the Central Valley and we'll explore how innovation can lead us to victories in California and beyond
Protect Voting Rights Phonebanking and Textbanking
Georgia's Governor Brian Kemp just signed SB 202 into law even though it's perhaps the the most dangerous anti-voting bill since the days of Jim Crow. 37 states have submitted 253 laws aimed at preventing people from voting! Take action to help protect our democracy now! Enough is enough.
Phonebanks to critical states AZ and GA
Phone banks are held every Wednesday and Saturday. We will teach you how to use Call Hub, we leave messages and follow up with texts.
RSVP: Wednesdays 2 – 4pm PT RSVP: Saturdays 2 – 4pm PT
Send texts!
Join the The New Georgia Project Action Fund to contact voters and ask them to urge their members of Congress to vote YES on H.R. 1 and H.R. 4 to expand voting rights for all. This multi-day event lasts from now until April 6th, 9am PT (12pm ET). (If the RSVP link doesn't work, open it in a private window).
RSVP: Through April 6, 9am – 1pm PT
Curious about how Swing Left did in 2020? Read what Swing Left Groups in more than 250 cities and towns across 40 states accomplished in the Swing Left 2020 Impact Report!
Democrats in the U.S. House just passed HR1 to protect everyone's voting rights and strengthen elections nationwide. Of course, bolstering democracy does not sit well with the Republicans in power (only three had the courage and integrity to vote yes).
Now HR1 sits in the U.S. Senate, where Republicans can block the bill using the filibuster. Most Democratic Senators would rather protect voting rights than maintain a rule designed to prolong racism. At least three Democrats need encouragement to drop the filibuster, including our own Sen. Dianne Feinstein!
Please call Senator Feinstein's office now (and every day this week – they tally the calls!)
Sen. Dianne Feinstein: (202) 224-3841, (415) 393-0707, or (559) 485-7430
Once you've reached out to Sen. Feinstein, send messages to these two Senators – they need encouragement as well.
Contact Senator Kyrsten Sinema (Arizona)
Contact Senator Joe Manchin (West Virginia)
Are you comfortable speaking or texting in Spanish? If so, please click the button below and then check the "Conversant in Spanish" box. When we have an opportunity to reach out to Latinos we'll send an email asking for help. Thanks.
Follow us on Twitter (@SwingLeftPen) or join our Facebook group for updates on our latest events, actions, and news.
Questions? Email us:
Join our email list: https://actionnetwork.org/forms/slp_subscribe

If all else fails: info@swingleftpeninsula.org
As always, thanks for your support!
---
DemCast is an advocacy-based 501(c)4 nonprofit. We have made the decision to build a media site free of outside influence. There are no ads. We do not get paid for clicks. If you appreciate our content, please consider a small monthly donation.
---