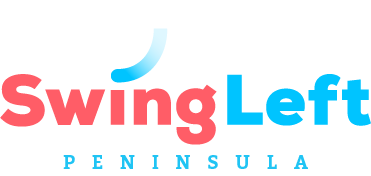 ---
Read about two opportunities below. One is to get an update on the State of California with Lt. Governor Eleni Kounalakis through on an online political salon. The second is, believe it or not, we need people to make calls to Georgia voters to help them protect their voting rights, for those rights are now under attack by Republican legislators. Read on for details…
---
@Home Political Salon Series
State of CA & COVID-19 w/the Lt. Governor
Thursday, Feb 17th @ 4:30 pm PT
Please join Lt. Governor Eleni Kounalakis  on Wednesday, Feb 17th at 4:30pm to discuss California's response to COVID-19 including what the future looks like for our public universities and businesses. There are no fees for this event. You will receive a confirmation with the Zoom login info the day prior to the event.
---
Call Georgia to Protect Voting Rights
Georgia citizens' voting rights are under assault! New legislation proposed by Republicans will suppress voter turnout and disenfranchise tens of thousands of Georgia voters. These bills aim to end automatic voter registration, ban all absentee ballot drop boxes, prohibit new Georgia voters from voting in runoff elections, requires two Photo ID copies to vote via absentee ballot and so on…
Join us the next few Saturdays and Wednesdays from 2 to 4 pm PST to call Georgia voters of color in key districts. We'll connect them directly to their state senators to oppose new voter suppression bills. We will use Call Hub, a dialer that allows you to patch the voter directly to their state senator's phone number.
As always, we'll be there to train you and answer questions. All you need is a computer or tablet and earphones. Call hub works best with Chrome, so please download chrome to start calling.
---
Follow us on Twitter (@SwingLeftPen) or join our Facebook group for updates on our latest events, actions, and news.
Questions? Email us:
Join our email list: https://actionnetwork.org/forms/slp_subscribe
If all else fails: info@swingleftpeninsula.org
---
| | |
| --- | --- |
| | As always, thanks for your support! |
| | Barb Berry, Judith Bolker, Linda Brummer, Scott Carlson, Michelle Chang, Carole Flores, Anne Frahn, Mary Gill, Colin Gottlieb, Laura Gottsman, Barbara Kyser, Bruce Knoth, Victoria Maxson, Aarthi Rayapura, Kirstin Sego, Karen Spiro, Deb Strichartz and Mary Takahashi. |
---
DemCast is an advocacy-based 501(c)4 nonprofit. We have made the decision to build a media site free of outside influence. There are no ads. We do not get paid for clicks. If you appreciate our content, please consider a small monthly donation.
---