IC-SS Weekly Update: January 25, 2021
---
Join Us to Talk about the Filibuster: Wed Feb 3
On February 3, join Indivisible Chicago-South Side on Zoom to learn about the filibuster — and why the Senate needs to get rid of it. IC-SS Co-Leader Esther Peters will give a brief background of the filibuster and how it's been used since the Jim Crow era. Find out why the filibuster is fundamentally undemocratic and how it can hinder today's Democratic agenda. Then take part in the discussion!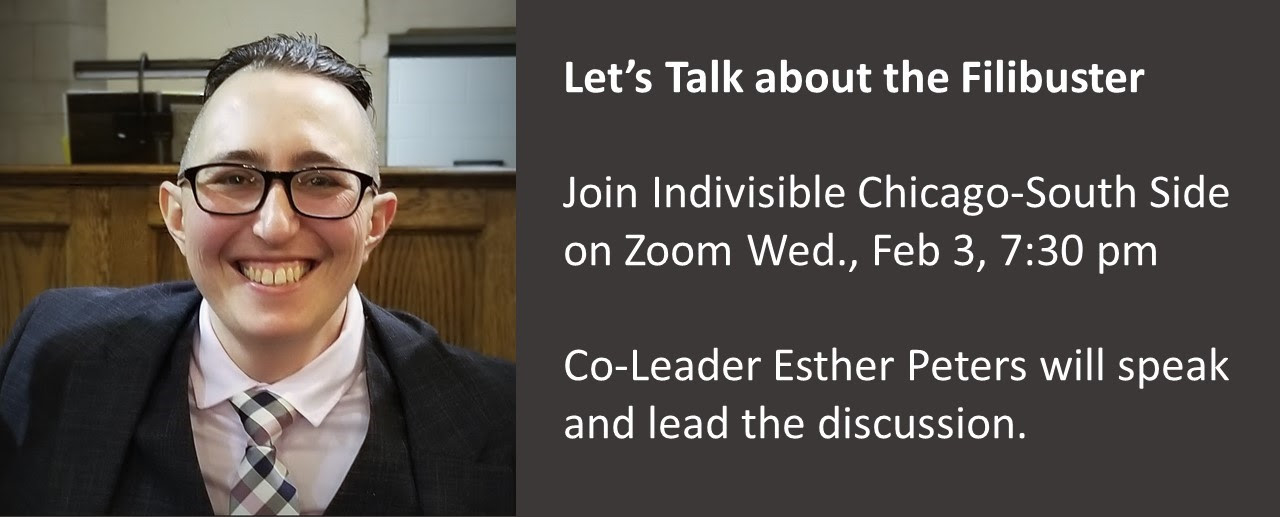 EVENT: Let's Talk about the Filibuster, an IC-South Side Zoom session
EVENT LEADER: Esther Peters, Co-Leader, Indivisible Chicago-South Side
DATE/TIME: Wednesday, February 3rd, 7:30-8:30 pm (on Zoom)
REGISTER ONLINE: Click here to register
Get a head start — read up on the filibuster in the box below.
---
Let's Push Congress: National Indivisible Tells How
We're thrilled and relieved that President Biden and Vice President Harris are now in office, with thanks to all who labored for four years toward this day. Everyone's taken a bit of breather, but now let's step up again.
Democratic Trifecta – Use It or Lose It
We've got a Democratic trifecta: Democratic control of the (1) White House, (2) the Senate, and (3) the House of Representatives. But midterm elections are in 2022, and, even if we work hard on elections, we cannot be certain we will hold onto Congress. That means we have a two-year window in which to pressure our elected officials to pass progressive legislation and build a stronger democracy. National Indivisible has outlined priorities and concrete actions we can take. Let's get started!
---
Must-Read
To help us move forward at this critical time, national Indivisible has just released its 2021 guide: Indivisible: A Practical Guide for Fixing Our Democracy. The guide begins: "We've defeated Trump. We've defeated his cronies. We won in Georgia and took the Senate. We've celebrated. Now, we have a short window to save our democracy. Getting it done depends on all of us, and this new Indivisible guide provides a blueprint."
Read the new Indivisible Guide here.
---
ACT: End the Filibuster and Build Democracy
We must convince Democratic senators to end the filibuster. Senate bills will pass if they get 51 votes (for us right now, that means 50 Democratic senators + tie-breaker Vice President). But bills won't pass if the filibuster prevents them from coming to a vote in the first place. So if we want progressive legislation — and if the Democrats want to have any legislation to show when the 2022 midterms come around — we need to end the filibuster, a relic of the Jim Crow era.
If you know all about the filibuster, skip to the highlighted ACT NOWsection below.
Background on the filibuster and why we must end it: In the Senate, a bill becomes law with a simple majority of votes — 51 out of 100 senators. But a filibuster can stop a bill in its tracks — before it comes to a vote. The filibuster is the ability to keep debate open on a legislative item until 60 of our 100 senators vote to close the debate.
Can't get 60 senators to stop the debate? Then the legislation can't come to a vote. The filibuster is a way for a minority of senators to stop a bill — even when there would be at least 51 votes to pass the bill if it it actually came to a vote. The filibuster cloaks itself in the language of minority empowerment, while simultaneously preventing the passage of the very legislation that would protect the most oppressed members of our society.
Indivisible explains, "The filibuster is inherently undemocratic, and not required under the Constitution. In recent years, it has been weaponized to a greater extent than ever before by Republicans in order to kill landmark pieces of legislation." Read more about the filibuster here and here.
Some wonder if eliminating the filibuster could hurt the Democrats in the future. Indivisible says no. For one thing, the Republicans can change procedural rules themselves as they have done in the past. Read Indivisible's FAQ page for more information.
For even more info on ending the filibuster, see Vox:
ACT NOW TO END THE FILIBUSTER & BUILD DEMOCRACY. Today and all week, contact Senator Durbin and Senator Duckworth. Tell our senators we support ENDING THE FILIBUSTER so that the Senate can pass progressive legislation and so they will have legislation to show when 2022 midterms come around. Also, urge the Senators to convince their fellow Democrats to support ending the filibuster. Explain that the matter is urgent — Democrats have a trifecta for only two years and there's no time to lose.
*E-mail the Senators via their websites, AND phone them. If you can't reach a staffer in the DC or Chicago offices, try one of their downstate offices.
—–
Want to get more specific regarding strategy in your message to the senators? See the recommended action from national Indivisible: Demand your Senator Stay Strong on the Organizing Resolution and Refuse to Give in to McConnell
---
TONIGHT – Mon, Jan 25: Kick-Off for National Indivisible's Climate Working Group 
Here is national Indivisible's page on Climate Justice. If you want to act on climate justice, consider joining national Indivisible's Climate Working Group. This group will be led by Nick Uniejewski, Senior Regional Organizer at Indivisible Project (and Chicago resident). The Working Group Kick-Off is TONIGHT, Monday, January 25th, 7:00 pm Central Time: Sign up here.
Kick-off description:Join national Indivisible's Climate Working Group for our inaugural kick-off call! This working group will bring together Indivisibles from across the country to coordinate federal advocacy efforts around climate justice issues. Please reach out to aftyn@indivisible.org for any additional questions! Sign up here.
NOTE: If you decide to attend the Climate Working Group Kick-off, please let us know at Indivisible Chicago-South Side so we can connect. Thank you!
---
IC-SS Leadership Elections
Elections Schedule — Indivisible Chicago-South Side
Indivisible Chicago-South Side will hold formal elections in late February for the four leadership positions. Here's the schedule:
Mon. Feb 15-Sun. Feb 21: Nominating period. Voting members may nominate themselves or another person (with permission from that person)
Sun., Feb 21, 4:00 pm: Nominations Meeting. Voting members are invited to attend this meeting to meet the nominees. Voting members will receive an emailed invitation with a link to register for this meeting (attendance is encouraged but not required).
Mon., Feb 22-Sun., Feb 28: Elections. Voting members will submit their ballots electronically.
Register as a Voting Member
To become a voting member of IC-SS, pleaseregister via this voting member registration form as soon as possible and no later than 5:00 pm, February 21. If you have been active with our group in any way, youqualify.
If you are already a voting member and received our January 8 email asking you to confirm, you need only reply to that email to remain a voting member. If you did not receive the January 8 email, please complete the voting member registration form instead.
---
Indivisible Chicago (ICA) Actions
Here are actions and opportunities with citywide organization Indivisible Chicago Alliance (ICA).
---
Watch ICA's Jan 20 Inauguration Event
Did you miss Indivisible Chicago Alliance's inauguration night event, Everything New Is Blue Again? Watch the recording! Some highlights:
1. Volunteer Profile of Indivisible Chicago-South Side super volunteer Marva Watkins. Host Justin Kaufmann gives a shout-out to all volunteers and introduces the video with IC-SS member Marva Watkins and ICA volunteer Maureen Hickey at about minute 51:40. (We'll share the video created by IC-SS member Irene Claude in next week's newsletter!)
---
2. Panel discussion with three members of Congress that YOUR work helped elect in 2018, 2020, or both. Hear from Marie Newman, Sean Casten, and Lauren Underwood in conversation with ICA leader Marj Halperin and Indivisible Chicago Podcast host Tom Moss, starting at about minute 16:25.
---
Sign the Petition: Restore Our Skyline – Remove the Sign The Indivisible Chicago Alliance calls on the City of Chicago to remove the Trump sign and writes: "It's long past time to remove the symbol of hate on the building at 401 N. Wabash… Add your name to the growing chorus of Chicagoans demanding this signs removal and help us spread the word." Sign the ICA petition to remove the sign!
Take Action for Our Community, City, State
Indivisible Chicago-South Side shares information and action announcements on issues important in our state, city, and communities.
---
Tell Your Alder: Accessible Vaccination Sites Now!
From People's Response Network:The People's Response Network points to the critical need for accessible COVID-19 vaccination sites to be made available to Chicago's most vulnerable communities. PRN writes:
"Ald Byron Sigcho-Lopez (25th ward) and others have brought to the City Council a resolution that clearly speaks to the challenges we face — it would commit the city to accessible safe sites for [COVID-19] vaccination and testing — targeting the most at-risk communities, and also to investment in the hiring of people from those communities to be public sector/public health educators, contact tracers, testers and vaccinators.
"But instead of the desperately needed public discussion and action — the resolution was sent to die in the Rules Committee by Alderman Sposato.
"We have very little time to lose. Alderman Sigcho-Lopez's resolution must get to the Health Committee and then quickly to the floor of the City Council with rapid adoption and implementation. If not, we will face a spiraling increase in infections and deaths at the very time when new vaccines have created the possibility of reversing the public health disaster. The Mayor appears to be focused on reopening restaurants and other businesses, as well as schools, and is content to continue the fatal course of chaotic privatization instead of real public health."
TAKE ACTION: People's Action Network asks us to phone our alders and call on them to co-sponsor Ald. Sigcho-Lopez's "Vaccination For All" Resolution.
Resources for this action:
Thanks to Black Women Organizing for Power (BWOP) for the alert to this action from the People's Network.
---
The Effort to Save Mercy Hospital
If you missed the virtual town hall on saving Mercy Hospital, hosted January 19 by the Chicago Health Equity Coalition (CHEC), you can watch the video here. Elected officials in attendance included Alderman Sophia King, State Senator Robert Peters, US Rep. Bobby Rush, Cook County Commissioner Bill Lowry, and others.
ACTION FROM CHEC: Call Governor Pritzer at 312-814-2121 or 312-814-2122, asking that he:
1. Meet with the Chicago Health Equity Coalition (CHEC) to create a plan to ensure Mercy Hospital stays open.
2. Assist in the sale of Mercy Hospital from Trinity Health to a buyer committed to continuing care in Bronzeville.
3. Place a statewide moratorium on hospital closures for the duration of the COVID-10 pandemic.
---
IL General Assembly Votes to End Money Bond
On January 13th, the Illinois General Assembly passed the historic Pretrial Fairness Act. This bill, championed by IL State Senator Robert Peters, now goes to Governor Pritzker, who has previously signaled his support for the bill. For background on the bill, see IC-South Side's newsletters from 11-16-20 and 11-23-20. The passage of the bill was widely covered in local media; now The Guardian has published a story about the Pretrial Fairness Act: Illinois poised to become first state to end wealth-based pre-trial detention. Thank you to Senator Peters for fighting so fiercely for this landmark bill to ensure that no one is locked up for being poor.
---
Indivisible Chicago-South Side
Email: Indiv.Chi.South@gmail.com
Follow IC-SS on Facebook and Twitter
Co-Leader: Esther Peters
Acting Co-Leaders: Betsy Rubin, Teri Watkins, Sarah Lincoln
---
DemCast is an advocacy-based 501(c)4 nonprofit. We have made the decision to build a media site free of outside influence. There are no ads. We do not get paid for clicks. If you appreciate our content, please consider a small monthly donation.
---