IC-SS Weekly Update: November 30, 2020
Join Us Dec 1 + 15: IC-SS Writing Zooms

Will we see you tomorrow? Join with IC-South Side friends on Zoom to write to Georgia voters and keep up with our plans moving forward – tomorrow, Tues., Dec 1st, and two weeks later on Tues., Dec 15th.
Whether you're working on Vote Forward letters or Postcards to Swing States, let's write together! And please join us even if you aren't writing to voters – we want to keep in touch and share ideas.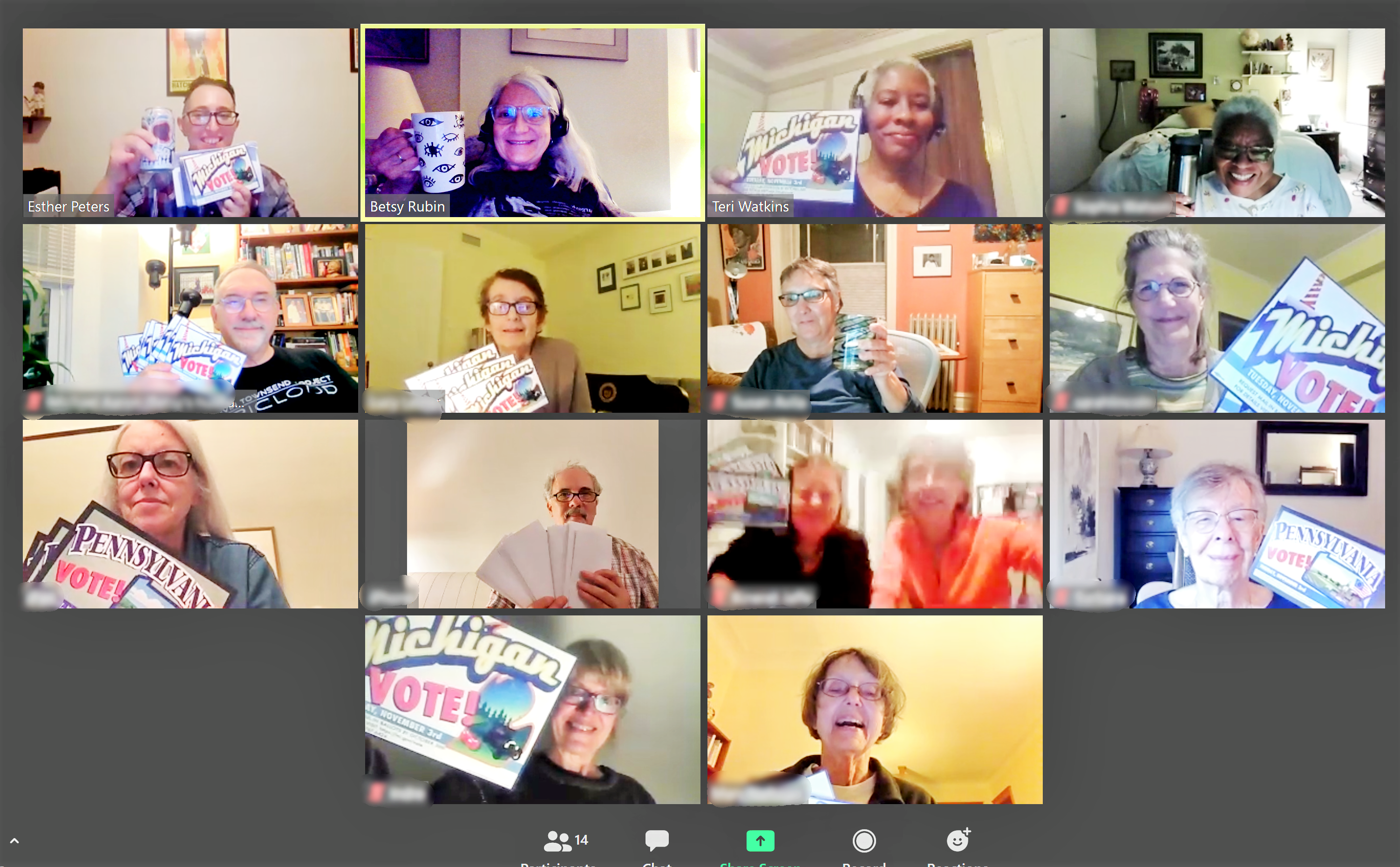 Attend one or both of our December Zooms:
Two December Dates: Tues, Dec 1st  + Tues Dec 15th
Time: 7:30 pm
RSVP: Email us here
---
Write to Georgia Voters – Two Ways
The Georgia run-off elections are right around the corner. Help get out the vote for Democratic Senate candidates Raphael Warnock and Jon Ossoff by writing to Georgia voters. Here are two ways:
Postcards
Want to write postcards to Georgia voters? Join Indivisible Chicago's citywide effort to of send 200,000 postcards to Georgia voters in just one month. You can order your postcards online and then pick them up at Indivisible Chicago-South Side's Hyde Park hub c/o Esther Peters. 
ORDER POSTCARDS HERE
Instructions: This special Georgia run-off project has a quick turn-around, so the procedures are different from the big summer/fall postcard project. You will:
1. Order your postcards in increments of 100 and pick them up yourself from a local hub. (The Hyde Park hub will again be c/o Co-Leader Esther Peters.) Order here.
2. Write the specified (short!) message on each postcard with the addresses on the list you receive.
3. Buy your own 35-cent postcard stamps and stamp the postcards yourself. You can order postcard stamps delivered to your home through USPS.
4. Mail the postcards yourself on the specified date (likely Dec 26-28).
  Act now! Get all the info and ORDER HERE.
NOTE:If you aren't able to pick up your postcards from a Chicago postcard hub, you can purchase your own postcards from the Postcards to Swing States website and have them shipped to you.
Write Letters with Vote Forward The Vote Forward Georgia project is now live. If you've previously signed up with Vote Forward, you can just go to the website and choose your voters. If you're new to Vote Forward, you'll need to apply at the website.
You'll need a printer, printer paper, envelopes, pen, and first-class stamps, as you'll print out, personalize, stamp, and mail your own letters. Go here to get info and get going!
---
Other Ways to Help the GA Run-off Effort
Both national Indivisible and the Indivisible Chicago Alliance have vetted action opportunities with groups on the ground in Georgia – including Indivisible Georgia Coalition and organizations like Fair Fight.
Phonebank and More Indivisible Chicago has a WHOLE PAGE OF OPPORTUNITIES. Find lots of ways to help on their Georgia run-off webpage.
Donate
Help Democrats Warnock and Ossoff win by supporting them with your dollars. You can also support Stacey Abrams' Fair Fight to promote fair elections in Georgia and the New Georgia Project to register voters.
---
Tell Joe: Say NO to Rahm

 We're relieved that Joe Biden and Kamala Harris won the election, and we want to support a strong new administration. That's why it's troubling that the Biden-Harris transition team has not moved to quash rumors that Rahm Emanuel is being considered for a White House role (see stories in Vanity Fair, Sun-Times, and Crain's).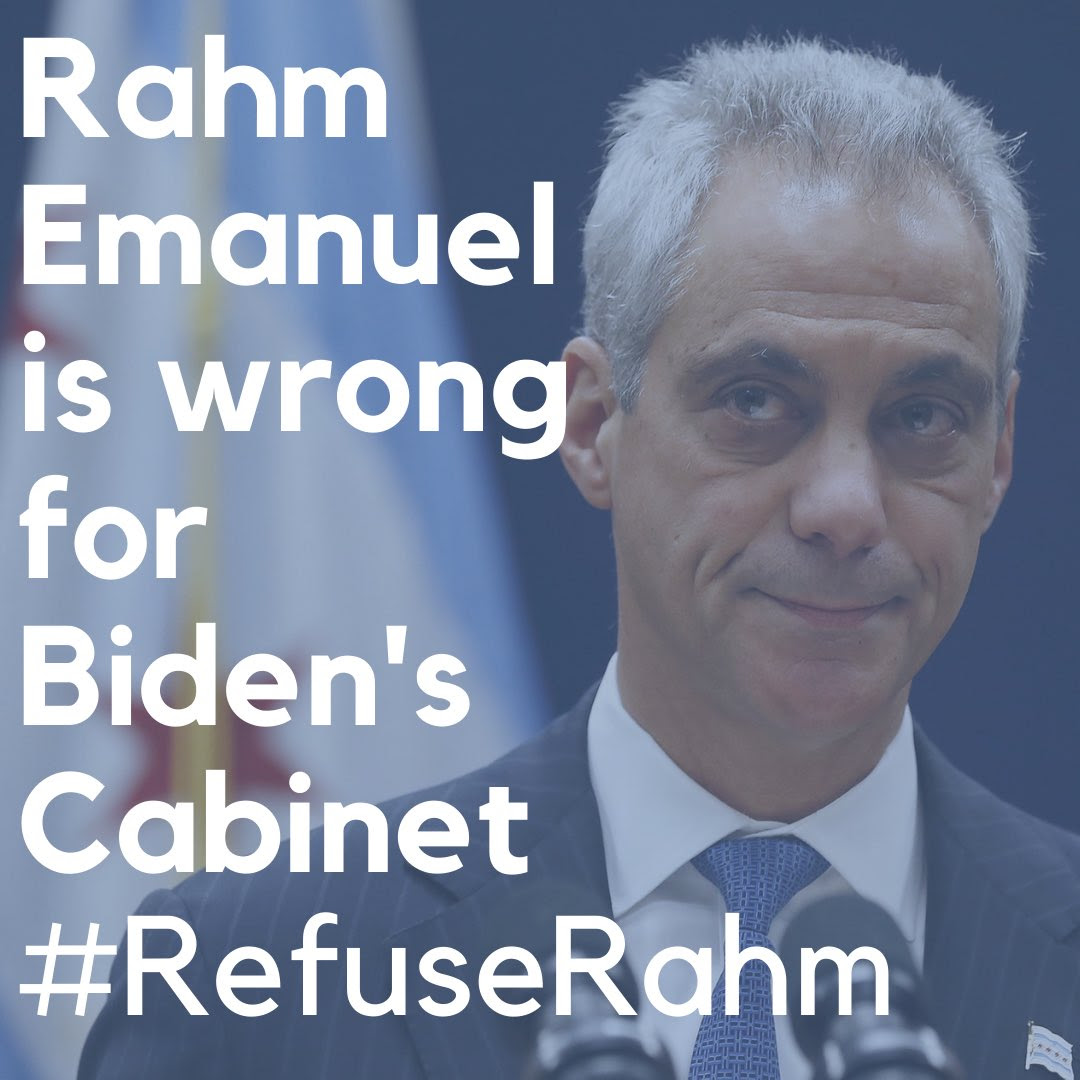 We oppose any White House role for Rahm Emanuel because he:
Helped cover up the police murder of Laquan McDonald
Closed South Side & West Side schools and mental health clinics across Chicago
Argued against comprehensive health care reform under Obama
Supported numerous regressive policies (see a list in this In These Times story)
In addition, an Emanuel appointment would mean the Biden-Harris administration risks losing vital support from overlapping constituencies including Black voters, progressive voters, and Chicagoland voters.
Make your voice heard.

1. PETITION. Sign the "no Rahm" petition started by Ald Rossana Rodriguez Sanchez (33rd ward).
2. CALL OR WRITE. Tell our Senators to urge the Biden-Harris transition team to refuse to consider Rahm Emanuel for any role in the White House:
Script recommended by Indivisible Chicago:Hi, my name is [NAME] and I'm calling from [ZIP CODE] with Indivisible Chicago. The Biden Presidency gives us a critical opportunity to direct the machinery of government toward serving people, not profits. Rahm Emanuel and other elected officials who failed to protect the lives and well-being of all their constituents must be excluded. I'm calling to ask _____ to use his/her influence to ensure all members of a Biden-Harris cabinet meet this community-first standard. 
---
Indivisible Chicago-South Side
Email: Indiv.Chi.South@gmail.com
Follow IC-SS on Facebook and Twitter
---
DemCast is an advocacy-based 501(c)4 nonprofit. We have made the decision to build a media site free of outside influence. There are no ads. We do not get paid for clicks. If you appreciate our content, please consider a small monthly donation.
---