IC-SS Weekly Update: September 28, 2020
Make Sure Marie Triumphs Nov 3
We endorsed and worked for Marie Newman for Congress for IL's 3rd district in the Democratic primary. She made it then, and now we must make certain she triumphs over her Republican rival on Election Day. Time for Indivisible Chicago-South Siders to step up again to elect Marie Newman to Congress.
Marie Newman will fight for healthcare for all, lower prescription drug costs, paid leave, universal childcare, a jobs engine, protection and advancement of everybody's rights, investment in infrastructure, and a green economy looking to the future. We need her in Congress.
Your help is needed now! Go to the Marie Newman for Congress website to support Marie's campaign and sign up to volunteer. You can phonebank or find other opportunities.
---
Zoom with Us: Sept 29, Oct 8, Oct 14
Finish your postcards – write Vote Forward letters – learn – connect!
---
TOMORROW: Tuesday, September 29, 7:00 pm
RSVP here for our special Tues, Sept 29th Zoom party, beginning at 7:00 pm (30 minutes earlier than usual). Schedule:
7:00-7:30: Check in, chat, sip your beverage, and feel free to write postcards or Vote Forward letters.
7:30-8:00: Hear from a member of Yes for Fair Tax who'll inform us about the Fair Tax amendment, a ballot measure that we'll all find on our November 3 ballot.
8:00-on: Stay with us to watch the first presidential debate! (Or hop off if you have another watch party to attend.)
---
Thursday, Oct 8 + Wednesday, Oct 14, 7:30 pm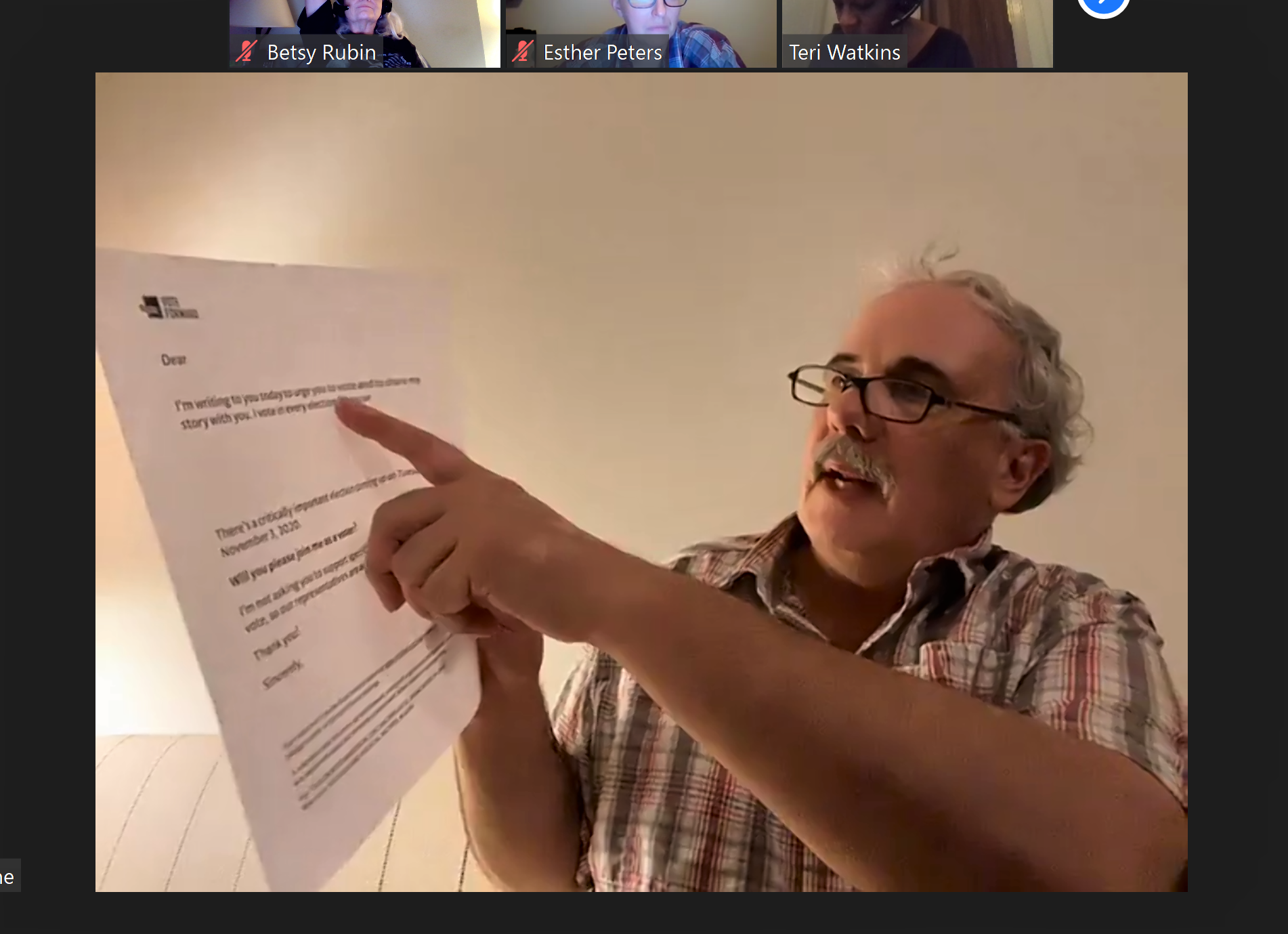 RSVP here for one or both of our October Zooms: Thursday October 8 and Wednesday, Oct 14, at the usual start time of 7:30 pm.We'll be writing Vote Forward letters, and Steve Kagan will be on hand to answer questions.

But please join us even if you aren't writing. We'll be sharing election info and other opportunities to act. Let's stay strong together as we count down to November 3!
---
Indivisible Writing Marathon: Oct 3-4
Let's join the Indivisible Writing Marathon: 24 hours of postcard & letter writing to get out the vote

Join Indivisibles across the country for a 24-hour postcard and letter writing marathon! The goal is to write postcards and letters to as many voters as we can in a 24-hour period, while enjoying live music, visits by activists and candidates, and good company. This is a collaboration of many local Indivisible groups, our friends and allies.
Shifts are broken out into 3-hour slots. For each segment, there will be speakers, music, and hosts from different Indivisible groups.
Sat, October 3rd at 6pm CT to Sun, October 4th at 6pm CT
— Zoom Sign up Link
— Facebook event
If you are working on postcards to voters via any group or project, work on those! Otherwise, we recommend Vote Forward.
---
Phonebank with Indivisible Chicago
You can make a difference by phoning voters in Michigan, Wisconsin, and the 14th Congressional district in Illinois. The citywide Indivisible Chicago Alliance provides opportunities to act throughout the week – safely from home.
Findopportunities that fit your schedule: 3 States 1 Mission initiative. Indivisible Chicago provides training and support for both novice and experienced callers.
PS If you've already been trained in text-banking, there are texting opportunities too.
---
Help Register & Inform Voters
Neighbors Who Vote volunteers Nora McConnell-Johnson, Rhea Ramsey, Denise Ruffin, Kevin Murry, Devon Braunstein at the Silver Room on National Voter Registration Day 9/22 (Photo: Julia Kline)
Want to do voter registration and voter outreach in and around Hyde Park? Read the Block Club Chicago story about Neighbors Who Vote. Then email NWVoteChicago@gmail.com to find opportunities.
---
Voting By Mail & More
The Chicago Board of Elections (for city voters) and Cook County Clerk (for suburban) are encouraging people to vote by mail. When it comes to in-person voting, they recommend early voting over Election Day voting.
In Chicago and in suburban Cook County, you can directly drop off your mail-in ballot in a Secured Drop Box. Get info on Drop Boxes for and Early Voting here:
Virus Free Voting Illinois
Be sure to check all the information above from Chicago Board of Elections (for city voters) and Cook County Clerk (for suburban Cook). Then get even more information from Virus Free Voting Illinois.
Indivisible Illinois has a webpage devoted to their Virus Free Voting Illinois initiative. Their webpage is based on detailed information provided directly by Illinois election authorities, including answers to specific questions posed by Indivisible Illinois.
Virus Free Voting Illinois has answers to many FAQs. For example:
Q:Will mail-in voting be counted as quickly as in-person voting?
A: YES. Virus Free Voting Illinois states: "Unofficial election day totals, early vote totals, and all mail-in vote totals (that have been received and processed by election day) will be tabulated and reported on election night in most parts of the state [including Chicago]." Get the details here.
Vote By Mail, Chicago – Presentation & Resources
On September 23 Chicago Hyde Park Village (CHPV) hosted a presentation on voting by mail in Chicago. The guest presenter was IC-South Side's co-leader Betsy Rubin. Thanks to IC-SS and CHPV member Mary Naftzger for assisting in the development of the presentation.
Got 70 minutes and want a step-by-step intro to voting by mail and other aspects of voting in Chicago? See Betsy's "Vote by Mail, Chicago" video of full presentation
Just want the slides? "Vote by Mail Chicago" slides PDF
Just want the handout? "Vote by Mail, Chicago" resource handou
---
Vote Forward: Sign Up Now!
Want to keep writing to voters in these last weeks before the election? SIGN UP NOW for Vote Forward.
IC-SS member Steve Kagan has described the Vote Forward process:
Have on hand a printer, paper, envelopes, stamps, and a pen.
Print out a pre-written letter for each voter on your list.
Customize the letter by writing what motivates you to vote.
Sign each letter, seal it in an envelope, stamp, and address (using a Vote Forward return address).
Save the finished envelopes until specified mailing date in October.
We invite you to sign up now with Vote Forwardso you can be ready to write with us during our September 29, October 8, and October 14 Zooms – and make a difference in November.
---
ANNOUNCEMENT: New Mailing Date: Oct 17th!
Vote Forward is now asking letter-writers to mail their letters to voters on an earlier date than originally planned. Mail your Vote Forward letters on October 17th!Mailing info here.
---
Write the Last Postcards & Turn 'Em In!
Esther Peters receives a completed batch from yet another postcard writer
Let's finish up those postcards by September 30. Running behind? Ask your friends and neighbors to help you out.
If you received your postcards from Indivisible Chicago-South Side, eitherby picking them up from Esther Peters or having them hand-delivered by Esther or by Betsy Rubin, then:
You'll need to return them to us in batches of 100 along with the address sheets.
To arrange, you can reply to the earlier emails that you got from Esther or Betsy OR let us know right here.
If you received your cards from a different group or if the postcards were shipped to you in the mail, then please refer to the instructions that accompanied your order.
---
---
DemCast is an advocacy-based 501(c)4 nonprofit. We have made the decision to build a media site free of outside influence. There are no ads. We do not get paid for clicks. If you appreciate our content, please consider a small monthly donation.
---