Debate Deets
The first of four presidential debates is this Tuesday night. Click here to register for a pre-debate program before cheering on Biden as he takes on Trump.
Be A Weekend Warrior And Phone Bank With Us
You can help get out the vote in swing states. Last Saturday we phone banked into Texas where polls show a race within the margin of error. Sign up here and join us! We need all hands on deck!
Find text banks postcards and more here:
www.newyorkforbidenharris2020.com
Important Voting Information
Early Voting is Oct. 24 through Nov. 1st.
Vote by mail by clicking here to apply for an absentee ballot.
You can drop off your ballot at the Westchester Board of Elections, at any one of 17 early voting sites, or on Election Day at polling places across Westchester if you don't want to mail it in.
Election Day is November 3rd.
Episode 43: Turning Out the College Vote
Polls show that college students support Biden by large margins but getting them registered to vote is unchartered territory during a pandemic.
We talk with Abe Baker-Butler, founder of Frosh Vote, about what he is doing to make sure college students in key states are registered to vote and head to the polls in November.
Learn more about Frosh Vote: www.froshvote.org.
Click hereto listen to the podcast.
Swing State Canvassing
Contact the folks at Changing the Conversation Together if you are interested in joining some Westchester area activists who are door knocking in crucial parts of Pennsylvania to register voters and get out the vote for Biden/Harris.
Battle for the Supreme Court
Trump's nominee to replace Justice Ginsburg, Amy Coney Barrett, would tip the Supreme Court in Trump's favor to gut the Affordable Care Act (ACA). If the ACA is overturned, millions of Americans will be left without health care at a moment when we are breaking records for COVID-19 cases and deaths. In addition to threatening Roe and rolling back LBGTQ rights, her nomination is the latest in Trump's attempt to steal the election if it ends up atthe Supreme Court like Bush V. Gore. Call and demand that your Senators refuse to confirm a new justice until a we have a new president.
Postcarding
Buying postage helps the USPS and postcarding helps us reach voters in key states. Email us at IWPostcarding@gmail.com and we will get you set up with cards and lists. Looking for other ways to get involved? The Indivisible Westchester website has a ton of ideas. Click here to take action now!
Winning Swing States
Arizona, Florida, Michigan, Pennsylvania, North Carolina, and Wisconsin – are crucial to a Biden victory and the twin goal of flipping the US Senate. Click here to adopt one of these states thanks to Vote Save America. "No matter where you live, you can directly support the work of organizers, volunteers, and candidates in the six key battleground states that will be most important to delivering a progressive majority in 2020. Just pick a state below, sign up, and we'll get you everything you need to make a big difference this November."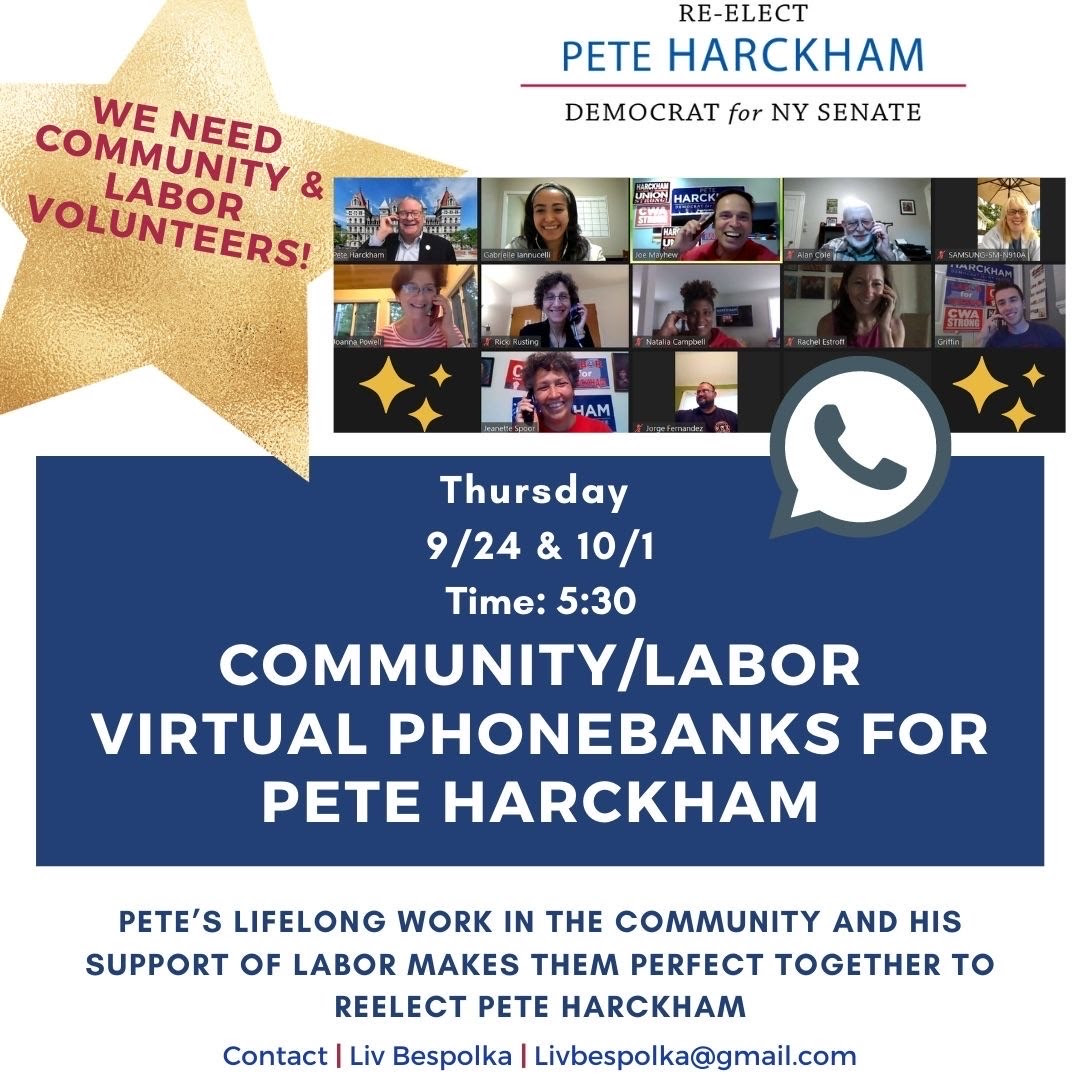 Click here for a YouTube link to Pete Harckham's new commercial.
Stephanie Keegan is running for the Assembly in the 94th District against a candidate who wrote an editorial praising Donald Trump's COVID response despite the fact that 204,000 Americans have died. She could use fundraising support – click here to donate.
Fill Out The Census
The Census deadline has been extended to October 31st and it's crucial that everyone fill out the census.
Click here to get started.
---
Together, we stand Indivisible against the Trump administration.
---
Visit us: https://www.indivisiblewestchester.org/
---
DemCast is an advocacy-based 501(c)4 nonprofit. We have made the decision to build a media site free of outside influence. There are no ads. We do not get paid for clicks. If you appreciate our content, please consider a small monthly donation.
---