---
Ruth Bader Ginsburg:
March 15, 1933 – September 18, 2020
On Saturday night, a candlelight vigil was held in Granite Creek Park to honor the life of Ruth Bader Ginsburg.

People spoke about how her actions had personally affected them, recited poetry and in general, talked about her remarkable life and her 27 years as a justice on the Supreme Court.

I came away from the ceremony deeply touched not only by what RBG had done with her life but how she inspired others, like me, to be a better person. The effect of her life on others felt even more magnified by her death.

I think the legacy of this really remarkable woman is that we don't have to do what RBG did but that we are so inspired by her that we work toward our own greatness in our own style that is authentically who we each are. I think RBG would like that.

In her honor, I challenge each one of us to call and email our senators to insist that they not vote on her replacement until after the election.
Mavis Brauer, Chair Indivisible Prescott
I saw the movie RGB
A force of Nature surely was she
She reminded me of my ideal mom
A feisty little phenomenon
Like Superwoman she fought for Truth
A wiser woman from her youth
With wicked wit, she was a charmer
Nothing, it seemed, did disarm her

I can say we will rue the day
When this great one was taken away
In her memory, we must fight on
Until injustice is surely gone
She towered above the tallest of men
We hope to be blessed with one like her again
She fought for fairness and equality
So the truth of our liberty we might see

Goodnight Ruth; Goodnight Moon
Sleep in the slumber of your cocoon
A life well lived is laid to rest
Throwing off the chains of weariness
In her memory, mankind will rise
To see Law's truth before our eyes
Blest and blessed are the same
Basking within her eternal flame

...Linda Lutes
---
Save SCOTUS: Call, Email & Write Senators
Call your Senators now and demand they REFUSE to consider any Supreme Court Justice until the new president is inaugurated. The American people deserve to have their voice heard in what could shift the courts irreparably for our lifetimes.
Indivisible Save SCOTUS link: https://savescotus.indivisible.org/
If you have never called a Senator's office and you do not know what to say, here is a quick guide:
There are 9 Senators listed to be called.  These are the only ones you need to call.  We need 4 to vote with Dems in order to prevent an appointment.  You will be leaving a message.  In fact, if phone calls make you nervous, call after hours or on the weekend.  You only need to leave a message….not have a policy discussion.

You could say: (Make the message your own!)
 My name is…….  I am calling because there is now a vacancy on the Supreme Court due to the passing of Justice Ruth Bader Ginsburg. Senator McConnell set the precedent in 2016.  Now the Senate should follow it.
 No vote on a Supreme Court nominee just before or after an election until the President is seated on January 20, 2021.

Susan Collins, Maine 202-224-2523
Joni Ernst, Iowa  202-224-3254 
Thom Tillis, North Carolina  202-224-6342 
Cory Gardner, Colorado 202-224-5941
Steve Daines, Montana 202-224-2651
Martha McSally, Arizona 202-224-2235
Kelly Loeffler, Georgia 202-224-3643
David Perdue, Georgia  202-224-3521
MITT ROMNEY, Utah…THE MOST IMPORTANT ONE TO CALL  202-224-5251 
Lindsey Graham, South Carolina (who is chair of senate judiciary cmte) 202-224-5972 
Lisa Murkowsi, Alaska 202-224-6665 

Let's keep the pressure on them!  Share widely.
---
MARK YOUR CALENDAR
SIGN PICK UP
BIDEN HARRIS & DEMOCRATIC CANDIDATE
Saturday, Sept 26, 12 – 2:30 pm  (Please do not arrive early)
YCDP headquarters – 1555 Iron Springs Rd, Prescott
Drive-by Contact-free pickup from your car!
Reserve yours today!    Email Lesley McKeown info@yavdem.org
---
Prescott Indivisible General Meeting
Thursday, October 1, 2020, 6:00-7:30
The next general meeting is 6 days before the ballots are mailed on October 7. We will feature our state and local candidates, and a discussion of the propositions.
Register in advance for this meeting: HERE
After registering, you will receive a confirmation email containing information about joining the meeting.
---
VOTING INFORMATION
REGISTER TO VOTE  HERE
VERIFY YOUR REGISTRATION, REQUEST A BALLOT BY MAIL, VERIFY YOUR BALLOT BY MAIL STATUS   HERE
VOLUNTEER DRIVERS NEEDED
If any of you would like to be part of a group that will be driving voters to the polls or to a ballot drop box, please contact Maria Lynam at maria488@icloud.com
GAVEL WATCH 
FROM civil engagement beyond voting– cebv.us
See judges statewide rankings:   HERE
---
NEWS
Fundraiser: Pacific Fire Aid Fund
DONATE HERE: gofundme.com/f/pacific-fire-aid
Wild lands firefighters need our help! Donations will be used to purchase and deliver much needed supplies for fire crews throughout Oregon and California. PFAF is partnered with the Seven Fires Foundation in Bandon, OR, enabling us to assist where the need is greatest. www.7fires.org.
Fundraiser started by Renee Girard, PI member
Under Seven Fires Foundation's 501c3, your donation to the Pacific Fire Aid Fund is tax deductible.
---
VVP REPORT
votervaluesproject.com
---
FOR YOUR INFORMATION 
Democracy Unchained: A Conversation Series | Episode One:
"The Moral Foundations of Democracy" HERE
Democracy Unchained brings together thought leaders in politics, environmental science, religion, and other disciplines to create dialogue about how we rebuild democracy and U.S. government to serve ALL American 
FROM abovethelaw.com
"Sorry To Interrupt Your Pumpkin Spice Latte, But The Attorney General Has LOST HIS DAMN MIND  Here's the top 4,957 batsh*t things he said … in the past 48 hours".
CLICK HERE
---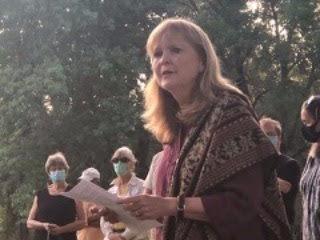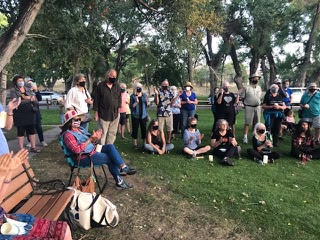 Images from the Ruth Bader Ginsburg Memorial on Friday
---
---
CONTACTS
PRESCOTT INDIVISIBLE
prescottindivisible.org 
Calendar of Events HERE
Email      info@prescottindivisible.org
 Prescott Indivisible on YouTube 
Start a discussion on:
TWITTER:@IndivisPrescott
FACEBOOK:  (Public page) / (Closed group)
NATIONAL, STATE, AND LOCAL REPRESENTATIVES
National
SENATOR KYRSTEN SINEMA
825 B&C Hart Senate Office Building Washington DC 20510
(202) 224-4521
contact@sinema.senate.gov
SENATOR MARTHA MCSALLY
B40D Dirksen Senate Office Building Washington DC 20510
202-224-2235
contact@mcsally.senate.gov
REPRESENTATIVE PAUL GOSAR
2057 Rayburn HOB, Washington, DC 20515       202-225-2315
6499 S. Kings Ranch Rd. #4, Gold Canyon, AZ 85118  480-882-2697
220 N. 4th St., Kingman, AZ (by appt. only)
122 N. Cortez St., Suite 104, Prescott, AZ 86301 928-445-1683
http://paulgosar.house.gov/contact/
Arizona
GOVERNOR DOUG DUCEY
State Capitol, 1700 West Washington Street, Phoenix, AZ 85007 602.542.4331
http://azgovernor.gov/governor/form/contact-governor-ducey
Legislature  http://www.azleg.gov/
Senator Karen Fann kfann@azleg.gov 602-926-5874  
Rep. Noel Campbell ncampbell@azleg.gov 602-926-3124
Rep. Steve Pierce spierce@azleg.gov 602-926-5584
Prescott
MAYOR GREG MENGARELLI
201 S. Cortez  St. Prescott  928.777.1248
---
Prescott Indivisible
P. O. Box 12694
Prescott, AZ 86304
---
DemCast is an advocacy-based 501(c)4 nonprofit. We have made the decision to build a media site free of outside influence. There are no ads. We do not get paid for clicks. If you appreciate our content, please consider a small monthly donation.
---