Just 50 days left before Election Day and there's much to do! This week's newsletter includes 5-minute actions to support voting access and clean elections; briefs on legislative candidates Gabe Perkins and Charles Galemmo, quick reads on a new whistleblower complaint and Trump's economic struggles, and more. If you haven't made your voting plan, do that now! Request an absentee ballot online or by calling your town clerk and find more on voting in November and where to volunteer to help turn out the vote in our Maine Votes 2020 elections guide. Want to hear from us more often? Follow us on our website, Facebook, Twitter, and Instagram. Thanks for everything you do!
In solidarity,
The Suit Up Maine Admin Team
---
QUICK ACTIONS
Ask Mills to increase voting access. The League of Women Voters of Maine and other voter rights groups are asking Gov. Janet Mills to issue another executive order to help ensure that voters are able to safely cast their votes. Among the groups' requests is ballot drop boxes at all town offices; pre-paid postage on all return envelopes for absentee ballots; and barcode tracking of returned absentee ballot envelopes to allow voters to track their ballot status. Read the full list HERE and email Gov. Mills ASAP and ask her to approve these measures! Email her HERE
---
Support clean elections in Maine.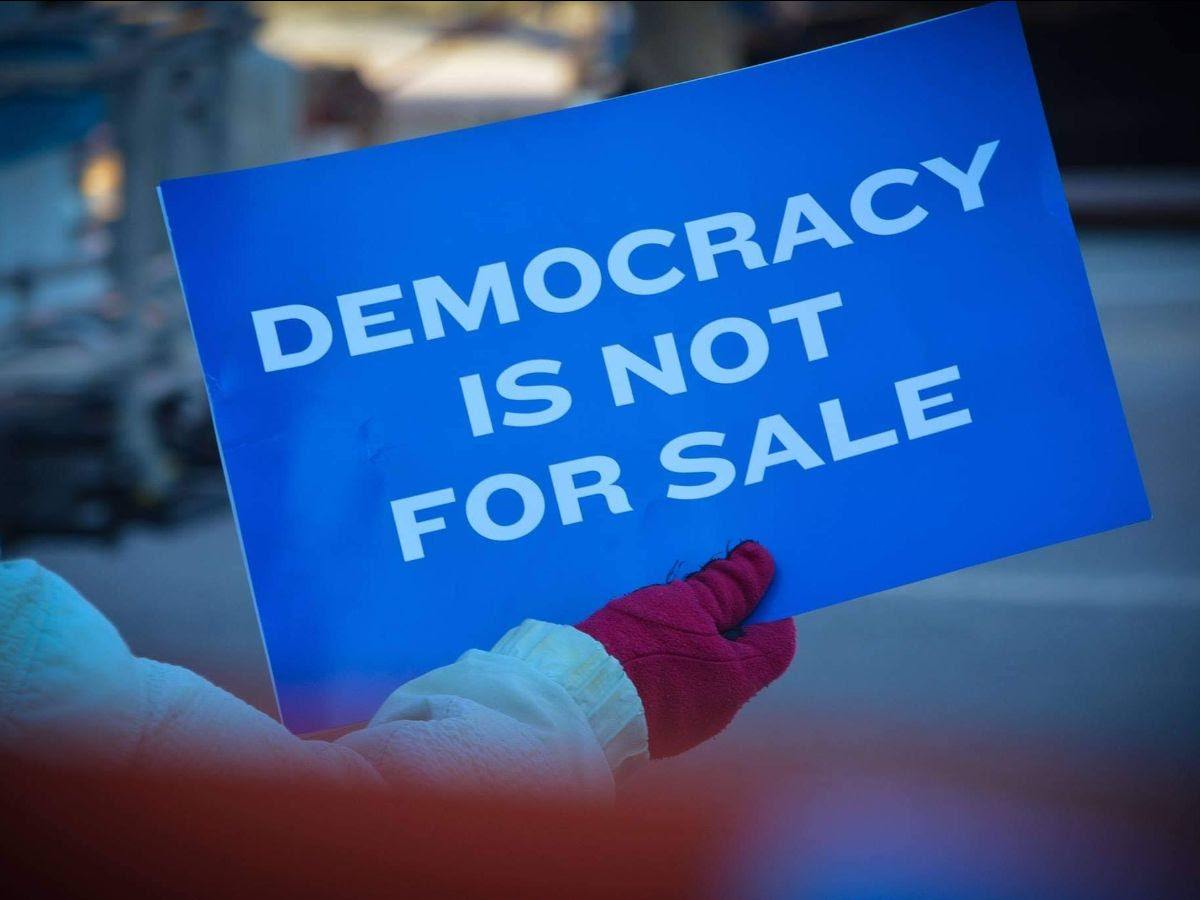 Want to help reduce the influence of special interest groups in state election campaigns and support progressive candidates for the Maine Legislature? Maine's Clean Elections Fund can help you do that! The Fund provides an equal and set amount of public funds to candidates who agree not to accept private donations or to spend more than they receive from the Clean Elections Fund. Maine voters can make one $5 contribution each to state candidates running in their district. For every $5 contribution, candidates receive $88 in funds. Make your contribution HERE. Deadline is Oct. 13. 
---
COLLINS CORNER
Last Friday was the first debate for candidates in the U.S. Senate race in Maine, one of the nation's most closely watched contests. Sen. Susan Collins (R) refused–again–to say whether she thinks Donald Trump should be our nation's leader. It's this kind of political sidestep and her increasingly partisan voting record that cost her the support of many Mainers who voted for her in 2014, including Suit Up Maine co-founder Karin Leuthy, who was included in an article about Collins last week in Slate. Learn more about Susan Collin's stand on issues in The Case Against Susan Collins.  
---
STATE ELECTION UPDATE
Maine's entire Legislature is up for re-election Nov. 3, and a number of key races for the House and Senate have caught our eye. Here are a few candidates you should know about, and ways to volunteer for their campaigns.
Gabe Perkins, a fifth generation native of the Bethel area, is running in Senate District 18. Perkins has extensive background in nonprofit work and forestry management and is focused on making health care accessible and increasing broadband access. He's picked up some progressive endorsements in the past week, including Equality Maine and MSEA-SEIU. Perkins is running to unseat incumbent Republican Lisa Keim, who opposed Medicaid expansion, voted to end overtime pay to 19,000 Mainers and to cut minimum wage. Perkins still needs $5 Clean Elections contributions from registered voters in his district, and you can make yours HERE. Learn more about his campaign and sign up to volunteer on his Facebook page or website. 
Democrat Charles Galemmo is in a tough battle against incumbent Republican Beth O'Connor to represent Maine District 5 in Berwick and part of North Berwick. Galemmo, an associate professor of at York County Community College, has served as town selectman in North Berwick and supports paid family leave, a living wage, reproductive rights, and a strong social safety net for Maine's children, seniors, and most vulnerable. Galemmo's opponent voted against Medicaid expansion and recently suggested armed militia should confront peaceful protesters at a planned Black Lives Matter protest in Portland, which was ultimately canceled due to threats of violence. Learn more about Galemmo's campaign and sign up to volunteer on his Facebook page.
---
QUICK READS
Trump's handling of the economy. A record number of Americans have filed for unemployment and over 50% of US households have been financially impacted by COVID-19, both of which punch holes in Trump's claims that he has done more for the American economy than any other president. This financial analysis in the Washington Post is worth a read.
Homeland Security whistleblower report. A devastating new whistleblower report charges that Chad Wolf, the illegitimate Department of Homeland Security director, ordered agency analysts to stop producing reports on threats from Russia. The report also describes how Wolf's second in command, Ken Cuccinelli, ordered agents to change intelligence assessments to make white supremacists "appear less severe" and to insert information about left-wing groups to warp the agency's role to fit Trump's political narrative. This report from Vox offers a good primer.
---
On our website you'll also find:
---
DemCast is an advocacy-based 501(c)4 nonprofit. We have made the decision to build a media site free of outside influence. There are no ads. We do not get paid for clicks. If you appreciate our content, please consider a small monthly donation.
---