---
There Are 55 Days Until the Election
It's not too early to make a voting plan. Good news – you can now apply for an absentee ballot electronically! Absentee is one of three ways you can vote this year:
Vote Early (Sat., October 24 – Sun., November 1)
Vote By Mail (Request by October 27; Return by November 3)
Vote on Election Day (Tuesday, November 3)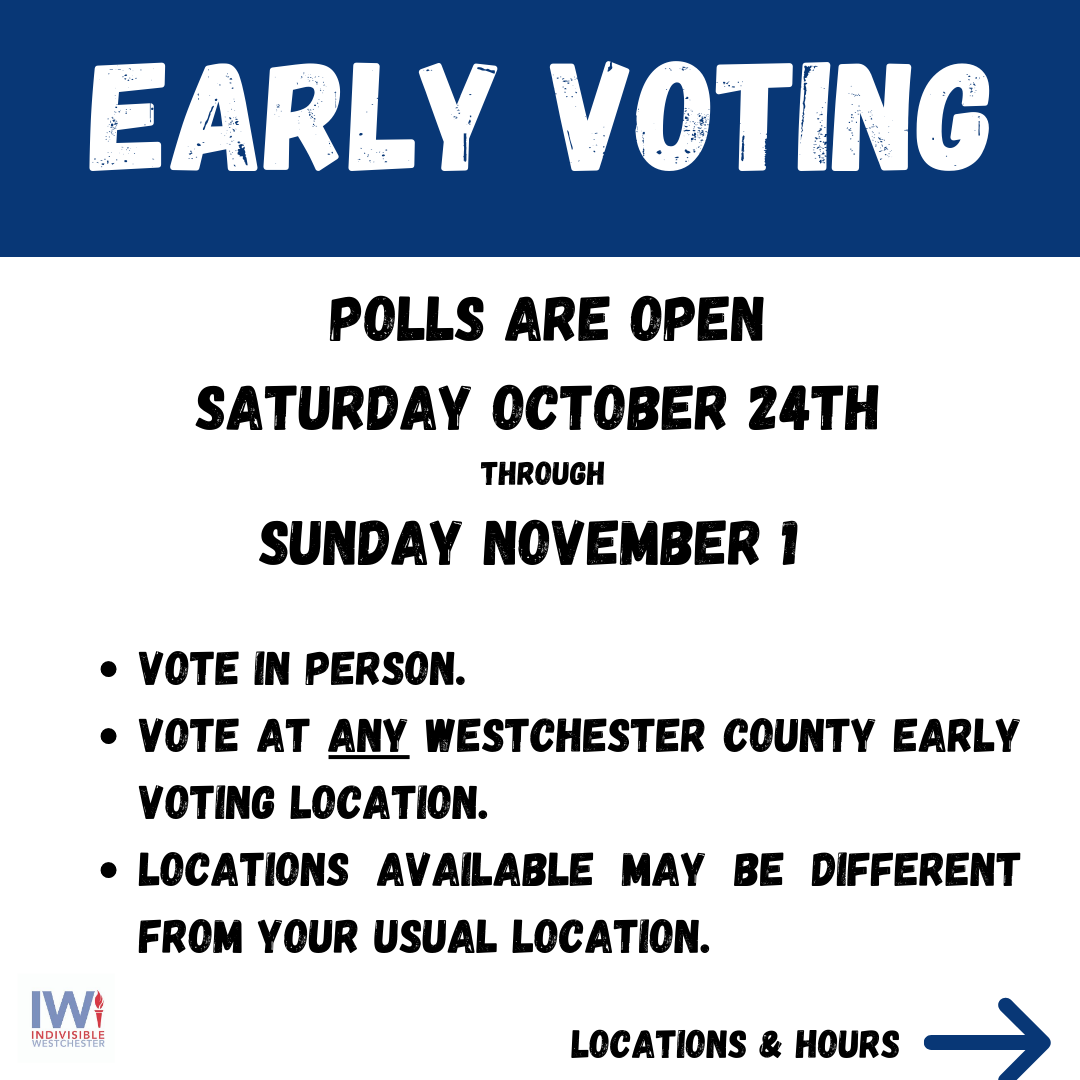 ---
Click here to register for the Biden Statewide Call to Action
Learn how New Yorkers are organizing to Get Out the Vote (GOTV) in New York and priority swing states, recruit new volunteers to the campaign, andwin this fight for the soul of America. Hear from Lt. Governor Kathy Hochul and other special guests.
Check out the Westchester for Biden & Harris Virtual Campaign Office and Phone Bank every Sunday evening at 5:00pm. Register here. 
---
Help Get Out the College Vote
Westchester resident and gap year student Abe Baker-Butler helped launch FroshVote to ensure that all college freshmen attending schools in swing states register and vote in the 2020 election. Their Ambassador Program embraces relational organizing by connecting recent high school graduates and current students with the resources they need to get their swing state friends and classmates registered and voting in swing states where they are beginning college. Check it out and share with your networks!
---
Swing State Canvassing
Contact the folks at Changing the Conversation Together if you are interested in joining some Westchester area activists who are door knocking in crucial parts of Pennsylvania to register voters and get out the vote for Biden/Harris.
---
Miss our recent social media bootcamps? Click here to watch a recap. You can sign up for our two part bilingual Spanish/English training on Sept 15 & 22 from 7-8pm EST.
---
Episode 40: The 2020 Election with Chris Lu
Former Obama Administration Official Chris Lu joins us to talk all things 2020 Election: Biden, Trump, voting and more. Click here to listen to the podcast or watch it on our You Tube channel.
---
---
Buying postage for postcards helps the USPS and postcarding helps us reach voters in key states. Email us at IWPostcarding@gmail.com and we will get you set up with cards and lists. Looking for other ways to get involved? The Indivisible Westchester website has a ton of ideas. Flip the West, Open Progress, Westchester for Biden and more are all here in once place. Click here to take action now! 
---
Winning swing states – Arizona, Florida, Michigan, Pennsylvania, North Carolina, and Wisconsin – is crucial to a Biden victory and the twin goal of flipping the US Senate. Click here to adopt one of these states thanks to Vote Save America. "No matter where you live, you can directly support the work of organizers, volunteers, and candidates in the six key battleground states that will be most important to delivering a progressive majority in 2020. Just pick a state below, sign up, and we'll get you everything you need to make a big difference this November."
---
Join Senator Pete Harckham for a Q&A on the environmental issues facing SD40. He will be joined by Stephanie Keegan (candidate for AD94). The conversation will be hosted by environmental activist, Courtney Williams. Click here to register.
---
Click here to watch a recap of the forum featuring the two candidates running to be the next chair of the Westchester Democratic Party. The virtual convention and vote is September 17th.
---
The Trump administration is fighting to wind down the Census count, which is why it's crucial that you fill out a Census form today. 
Click here to get started.
---
Together, we stand Indivisible against the Trump administration.
---
Indivisible Westchester
PO Box 214
Larchmont, NY 10538
---
DemCast is an advocacy-based 501(c)4 nonprofit. We have made the decision to build a media site free of outside influence. There are no ads. We do not get paid for clicks. If you appreciate our content, please consider a small monthly donation.
---